These flourless zucchini muffins are made with healthier swaps such as Greek yogurt, dark chocolate, and coconut oil. (Gluten Free Recipe)

So…there is already a zucchini muffin recipe here on the blog that is healthier and absolutely delicious. However, it's not flourless, so naturally there was a need for another zucchini muffin recipe. Right? Right! I wasn't sure I was convinced there was a need for another zucchini muffin recipe, but when an awesome reader emailed me and asked for a gluten-free version of zucchini muffins, I knew it was time to start experimenting!
My sister is gluten-intolerant and loves when I make treats that she can eat. Especially when those treats taste great too. 🙂 These muffins are packed with good-for-you ingredients and gluten free so long as you ensure your oats are certified gluten-free. I've also made these with dried currants which are definitely on par with the dark chocolate addition in these muffins. If you are a fan of dried currants + zucchini you are going to love the combo. Other healthy ingredients include Greek yogurt (vanilla flavored is the best in these!), coconut oil, and a mashed banana. The riper the banana the better these are!
In experimentation developing this recipe, I wanted to use as little sugar as possible while still keeping a great flavor. I also tried using honey as part of the sweetener. I preferred the batches without honey and found that about 6 tablespoons of lightly packed brown sugar was the perfect sweetness. That said, if you are a big fan of honey in muffins you could try doing using honey and some brown sugar. You could also try using maple syrup or agave nectar to replace some of the sugar.
Alternatively, if you aren't used to healthier treats and desserts, you may want to slightly increase the amount of sugar by 1-3 tablespoons. The dark chocolate does add some good sweetness along with the banana. In fact, the riper your banana is, the sweeter these muffins turn out. And I think that about wraps up all I've got to say about these muffins 🙂
P.S. I almost forgot; Happy 1st day of July!!
Healthy and Flourless Zucchini Muffins
Ingredients
1

cup

and 1/2 oat flour

blended oats

1

teaspoon

cinnamon

1

teaspoon

and 1/4 baking powder

1/2

teaspoon

baking soda

1/4

teaspoon

salt

1

large egg

1

teaspoon

vanilla extract

1

cup

and 1/2 lightly packed grated zucchini

1/2

cup

vanilla Greek yogurt

full fat

1/3

cup

coconut oil

measured when melted

3

tablespoons

very ripe banana

~1/2 large

1/4

cup

+ 2 tablespoons light brown sugar

lightly packed*

1/2

cup

dark chocolate chips or dried currants

optional
Instructions
Preheat the oven to 350 degrees F. Grease 12 cavities of a muffin tin and set aside.

In a bowl, stir together the oat flour (measured AFTER blending. I used regular old fashioned or quick oats and quickly pulse them in a blender or food processor until they resemble flour. Then measure and add to the bowl), cinnamon, baking powder, baking soda, and salt.

In another bowl, stir together the egg, vanilla extract, grated zucchini (make sure you have thoroughly dried the zucchini to keep it from being too wet/watery in the finished muffins), yogurt, coconut oil, mashed banana (very important for binding and sweetening), and brown sugar. Mix until well combined.

Combine the wet and dry ingredients and mix until just combined. Over mixing will yield denser muffins. Stir in the dried currants or dark chocolate chips if desired.

Fill up all 12 cavities evenly and bake for 16-18 minutes.

Remove and allow the muffins to cool.

Muffins are best eaten in 1-2 days. Store muffins in an airtight container in the fridge and warm up in the microwave for 10 seconds before enjoying.
Recipe Notes
*If you are used to healthier desserts/snacks you can reduce the amount to taste preferences. You could also try adding honey, agave nectar, maple syrup although my favorite versions were with just brown sugar. Alternatively, if you are NOT used to healthier snacks, you may want to increase the brown sugar 1-3 tablespoons.
Here are some more healthy and flourless snacks: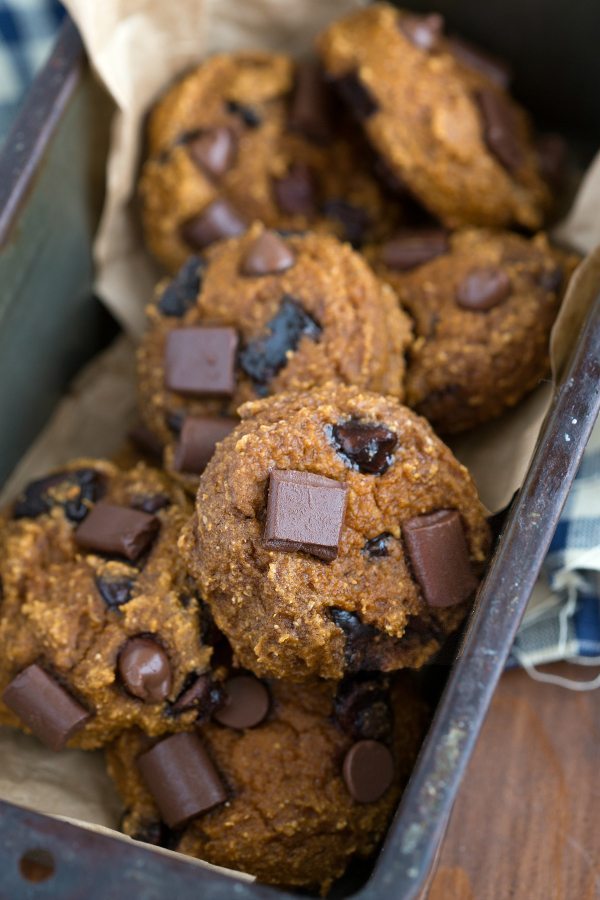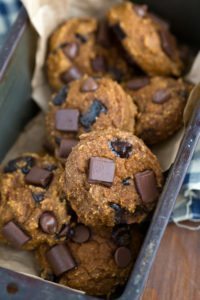 Pumpkin Chocolate-Chip Cookies
Skinny Peanut Butter, Chocolate, & Banana Muffins