Twice-baked zucchini boats made with Italian flavors. These zucchini boats are so delicious, fresh, and good-for-you.
These are hands-down so much better than twice-baked potatoes.
Okay, at least better for YOU. Because twice-baked potatoes make for some seriously amazing food.
But gosh, I think twice-baked potatoes seriously have some competition here. Because these are super fresh, they are light, they are Zesty, they are Italian-flavored, and then are so good for you.
Pluuuuuuus. So easy to make. You on board yet?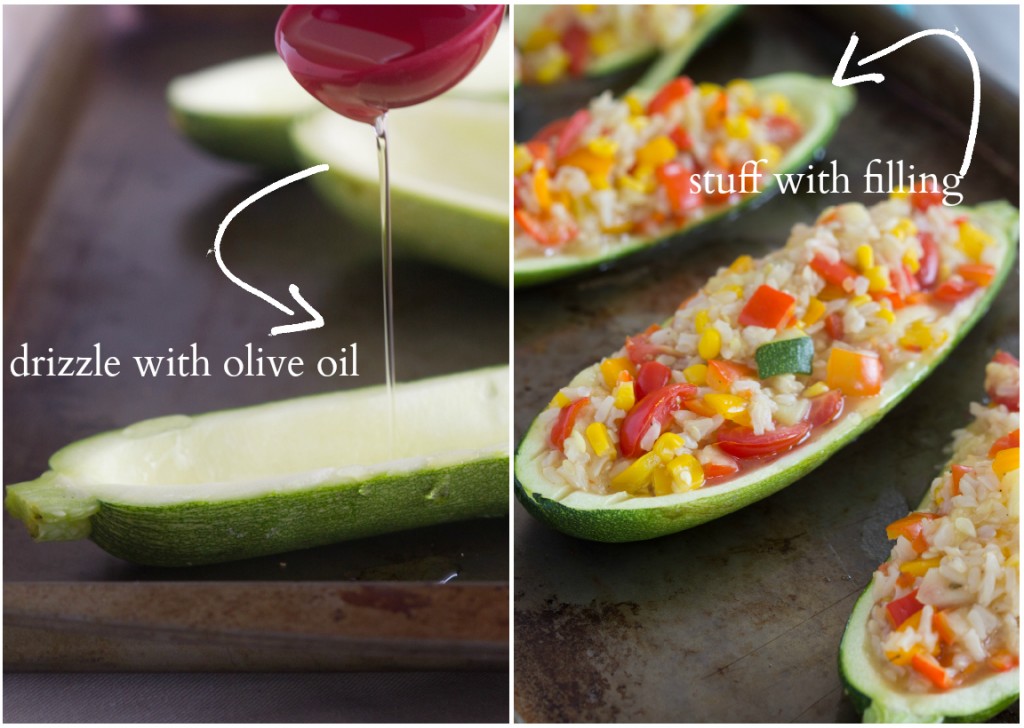 To make these zucchini boats, you start out by slicing your zucchini's in half. The recipe reflects two medium-sized zucchini's to make four boats. If you want more, double or triple to recipe. (These taste great as leftovers!)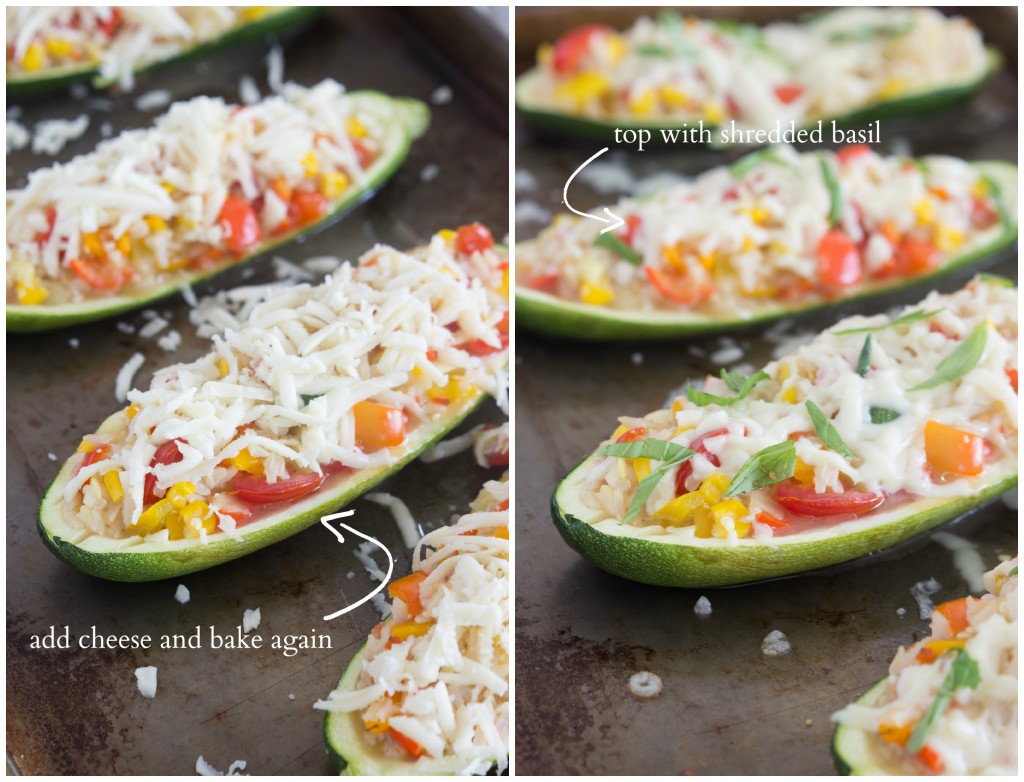 Once they are sliced in half, the insides get removed. I scooped out the insides with a spoon, but they can also be sliced out with a knife as long as you are careful to not cut through the skin. Drizzle the emptied boats with olive oil and in the oven the zucchinis go. While they are baking, the filling can be made and finished right in time for the boats to be done.
Basically just mixing and sauteing vegetables together in a saucepan while the skins are getting nice and tender.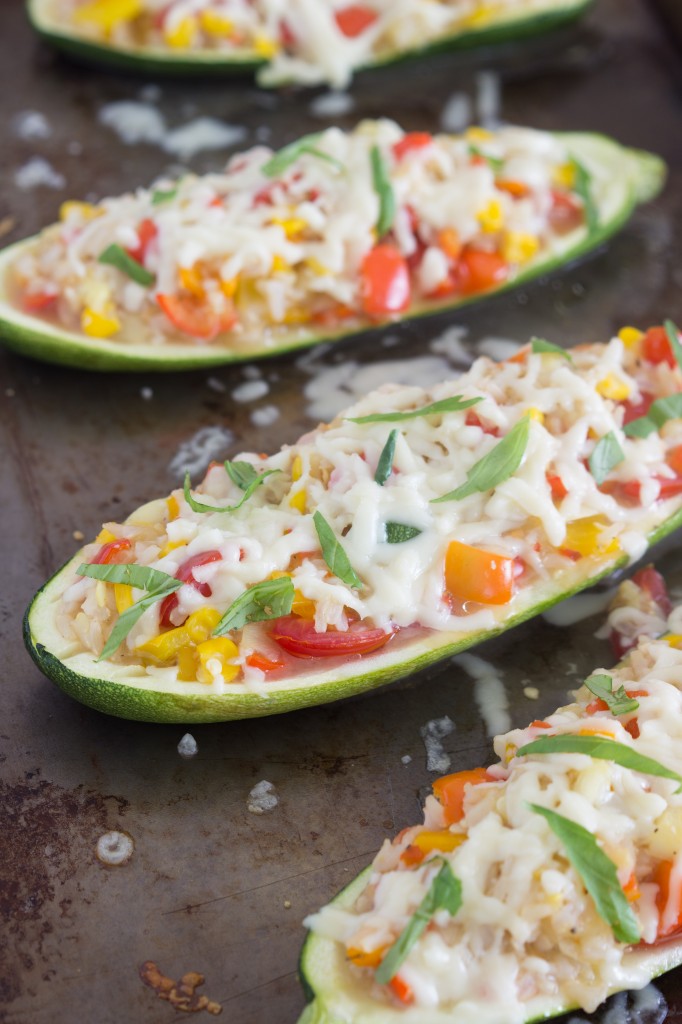 Once the skins are tender, and the filling is ready, the filling gets stuffed into the boats and they get covered with cheese.
And then all sorts of gooey, melty, and delicious.
As soon as they are done baking, you cover them in some shredded basil. (YUM). And eat them. All of them. Because you can, because they are that good. Plus, they are healthy and your body will thank you.
Zucchini Boats
Twice-baked zucchini boats made with Italian flavors. These zucchini boats are so delicious, fresh, and good-for-you. 
Ingredients
2

medium sized zucchinis

1

tablespoon

olive oil

1

cup

assorted sweet peppers

1/2

teaspoon

minced garlic

1/4

cup

yellow onion

1/2

cup

corn

1/2

cup

cherry tomatoes

1/3

cup

Zesty Italian dressing

1

cup

brown rice

cooked

1

cup

mozzarella cheese

Freshly shredded basil

to taste

Salt and Pepper

to taste
Instructions
Preheat the oven to 350 degrees F.

Slice the zucchinis in half and scrape out the fillings with a spoon. Drizzle the olive oil over all four zucchinis and brush to coat.

Place the zucchinis in the oven and bake for 15-18 minutes or until tender.

Meanwhile, chop up the filling in the zucchinis and place in a large skillet over medium heat. Add in the sweet peppers, garlic, and onion. Stir around for about 3-4 minutes. Add in the corn and cherry tomatoes. Stir for another 2-3 minutes or until the vegetables are mostly tender. (They get more tender when being baked)

Remove from heat and stir in the dressing and already cooked brown (or white if desired) rice.

Remove the zucchini skins from the oven and stuff with the filling, Return to the oven for about 8-10 minutes.

Remove the zucchini boats and cover each with about 1/4 cup of the shredded mozzarella cheese. Return to the oven for 4-5 minutes or until the cheese is all melted.

Remove from the oven and top with shredded basil, salt and pepper all to taste.

Enjoy immediately.
Here are some more vegetarian meals: