A delicious garlic parmesan chicken dinner with zucchini made on one pan! And the best 3-ingredient sauce to coat or dip the chicken in!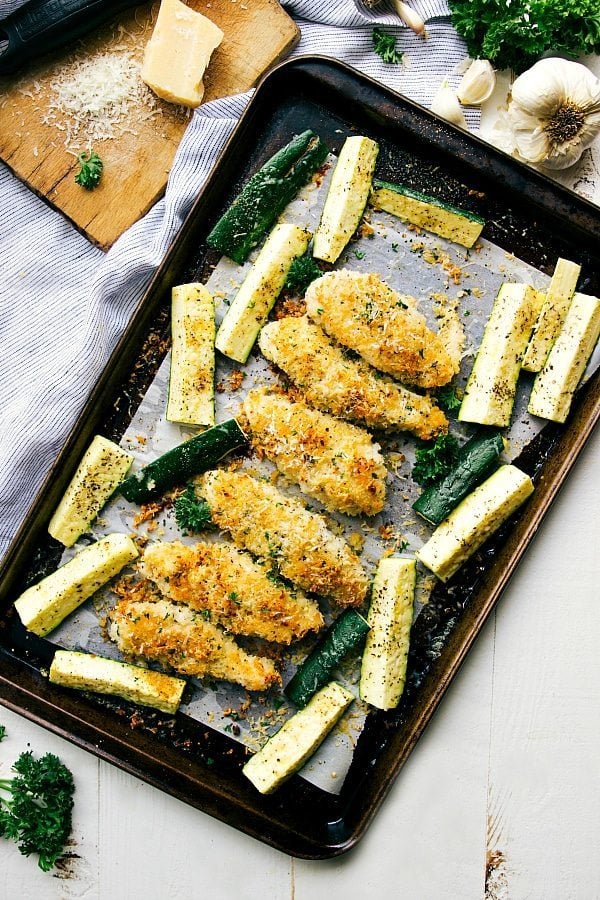 I'm not too sure why I'm all over the summer/warm weather recipes right now because it has been crazy weather lately here in Utah. I should be sharing about 10 more soup recipes and 1-2 more hot cocoa ones.
We went with our friends to the Thanksgiving Point Gardens' famous tulip festival last week and were completely stormed out. It was drizzling rain so we decided to venture out a bit but right when made it to the middle of the gardens we got caught in a crazy hailstorm. Bentley was put in my friend's stroller and Grey was clinging on to me as we ran for cover. We made it to a covered concession stand and just watched as tons and tons of hail shot down.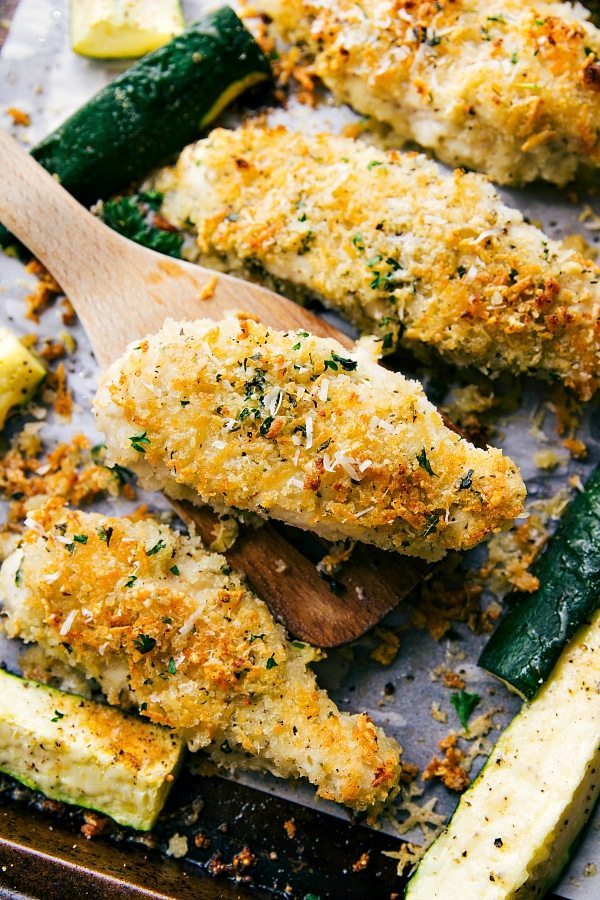 As we were running for cover, Grey was pretty upset about the hail hitting him. He kept yelling at it to stop and when it didn't listen to him he was begging me to ask it to stop. You know, because I have magical weather-changing abilities and all ??
His hailstorm injuries ended up to be nothing a good sized bag of popcorn couldn't fix as we huddled under the concession stand.
And then I went home and cooked zucchini with chicken and pretended it was summer-time. Because what else do you do in a crazy hail/snow/RIDICULOUS-weather-in-May storm?!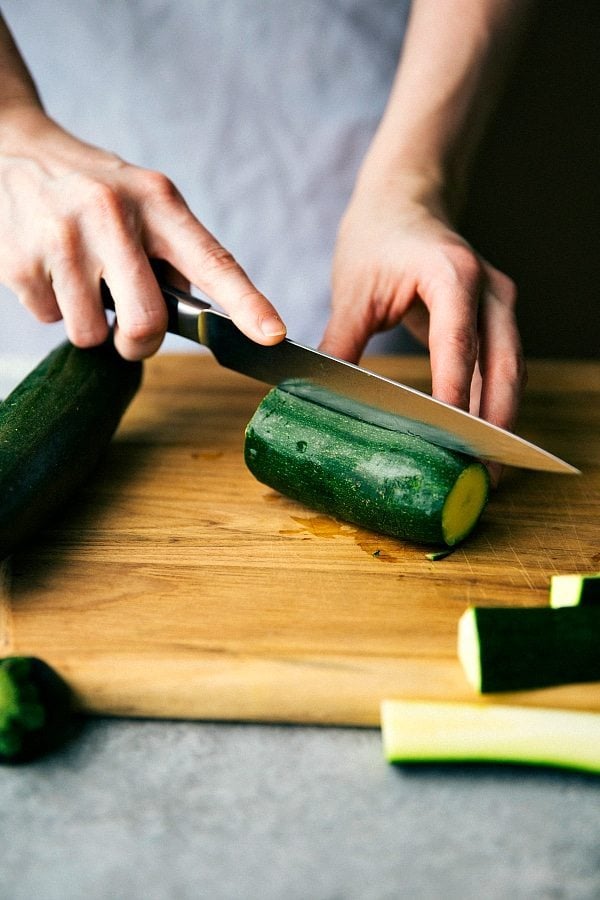 I've definitely been having a moment with one pan chicken + veggie dinners and this is far from the last one I'll be sharing. Plan on at least 3 more in the coming weeks that I've been experimenting with! (Hint: one has an easy balsamic glaze and is to.die.for)
This one pan lemon parmesan chicken + asparagus has been such a big hit (with my family and with all of you!) that I've been dying to share another twist on one pan chicken veggie dinners.
And this one is geared towards summer eating with ZUCCHINI. And perhaps the yummiest sauce you might ever eat. That happens to only be 3 ingredients. ? And 3 simple ingredients at that: coleslaw dressing, yellow mustard, & honey BBQ sauce. Truth: amazing things happen when you mix those three ingredients together.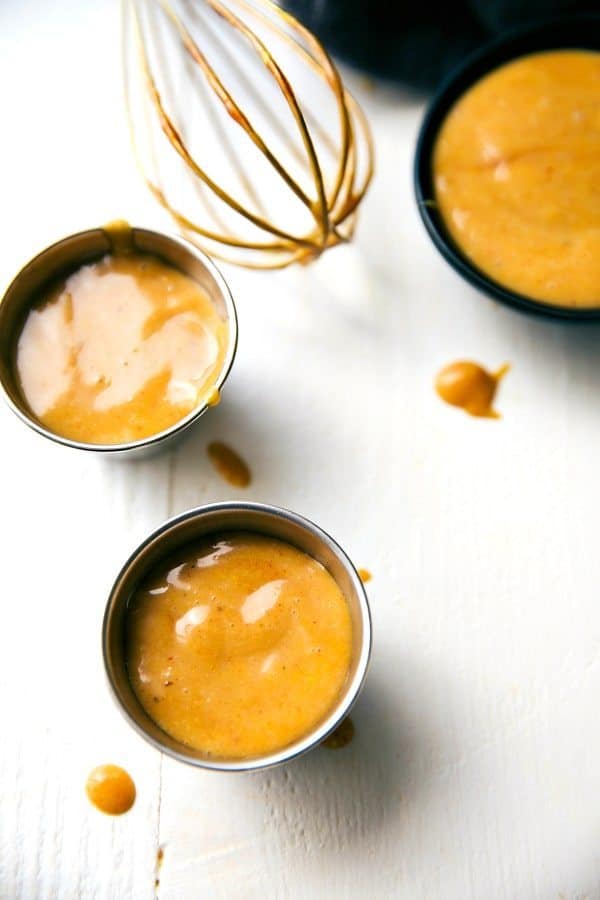 The rest of the recipe mimics the ease of the sauce: few ingredients + simple. The chicken gets a light breading in a Parmesan cheese (use freshly grated for WOW) + Panko + herb mixture and then baked.
Remove it about halfway and add the zucchinis (or another vegetable that will cook in about 10-15 minutes) with their own Parmesan + herb mixture. Return to the oven and before you know it — mega delicious dinner is ready to be served!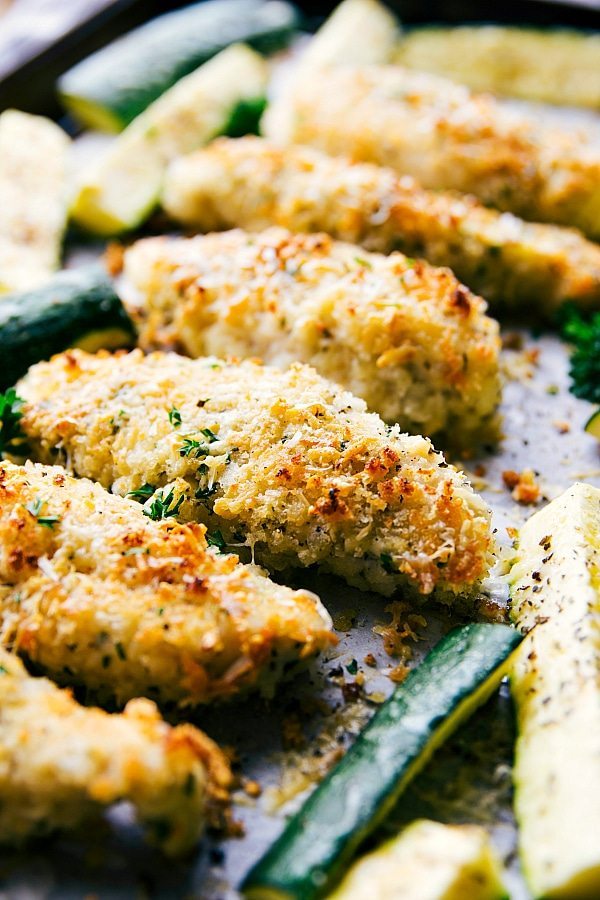 See how to make this recipe here: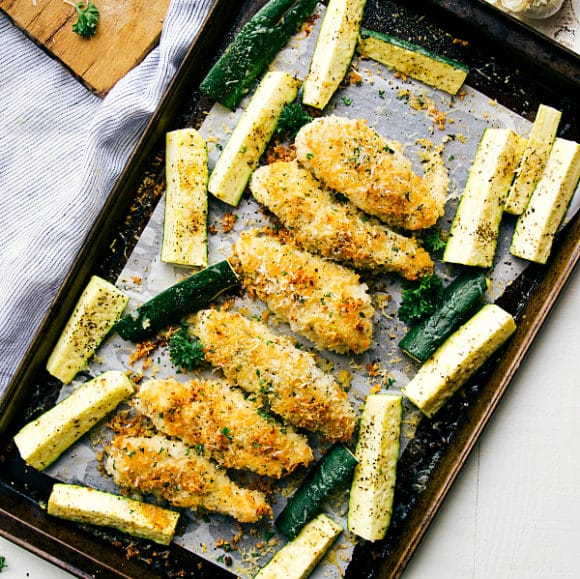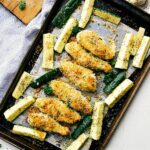 One Pan Garlic Parmesan Chicken and Zucchini
Ingredients
Chicken
1 and 1/2

pounds

boneless skinless chicken tenders or breasts

1/3

cup

flour

Seasoned salt and pepper

3/4

cup

panko*

1 and 1/4

cups

Parmesan cheese

separated

1 and 1/4

teaspoon

garlic powder

separated

1

teaspoon

dried parsley

1

teaspoon

Italian seasoning

separated

1/3

cup

+ 2 tablespoons olive oil

separated

1/2 - 1

tablespoon

full minced garlic

2-3

small zucchinis

1/2

teaspoon

dried basil

optional
Sauce
1/2

cup

prepared coleslaw dressing

1

tablespoon

yellow mustard

3

tablespoons

honey BBQ sauce
Instructions
Preheat the oven to 400 degrees F. Line a large sheet pan with parchment paper and set aside.

Grab three bowls. Add the flour to one bowl with about a 1/2 teaspoon salt and 1/4 teaspoon pepper. Stir.

Combine panko, 1 cup freshly grated parmesan cheese, 1 teaspoon garlic powder, dried parsley, &1/2 teaspoon Italian seasoning. Stir.

In the final bowl, add 1/3 cup olive oil with 1/2 to 1 full tablespoon garlic (depending on desired strength of garlic flavor.) Stir.

Slice chicken breasts to the size of tenders (about 1 and 1/4th inch strips) or use chicken tenders.

Coat in flour mixture, dredge in the olive oil mixture, and then heavily coat in the Parmesan panko mixture.

Place on prepared sheet pan. Use any remaining Parmesan panko mixture and press into the tenders.

Bake in preheated oven for 10 minutes and remove.

Flip the tenders to the other side.

Meanwhile, slice the zucchinis into small quarters as seen in the photos (or video above recipe).

Toss the zucchini with the remaining 2 tablespoons olive oil. Combine the remaining 1/4 cup parmesan cheese, remaining 1/4 teaspoon garlic powder, remaining 1/2 teaspoon Italian seasoning, and dried basil if desired. Add a pinch of seasoned salt and pepper.

Place the zucchini pieces around the chicken pieces on the pan. Top the zucchinis with the Parmesan and herb mixture.

Return to the oven and bake for another 10-15 minutes or until the internal temperature of the chicken has reached 165 degrees F.

Meanwhile, whisk together the 3 sauce ingredients.

Remove the meal from the oven and serve with a side-dish of the sauce (or cover the chicken in the sauce, but only cover what will get immediately eaten as to not make the chicken soggy)
Recipe Notes
*Panko is generally used in Japanese cooking and it can be found in the grocery store in the Asian foods aisle.
Love one pan dinners? Try these next!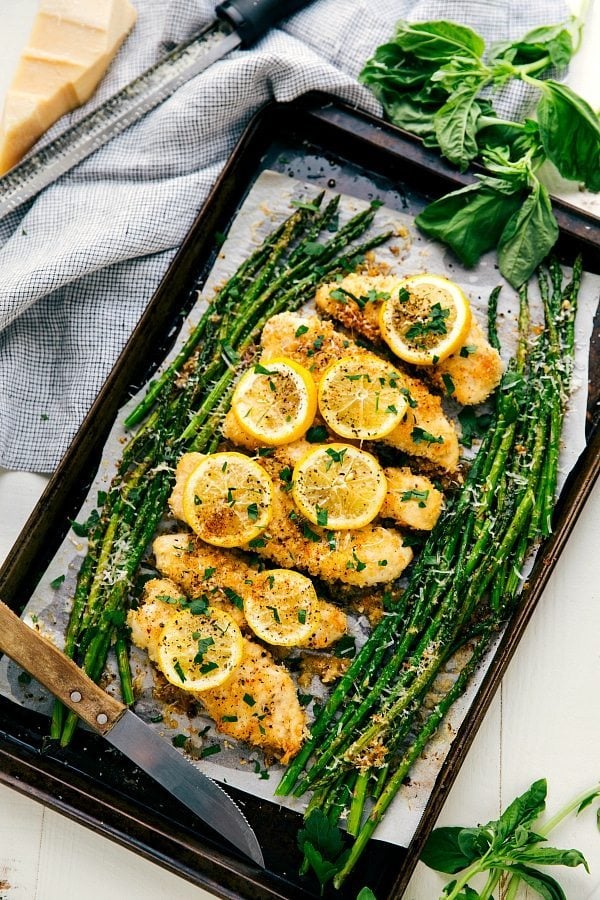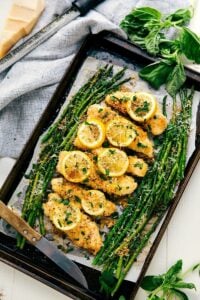 One Pan Lemon Parmesan Chicken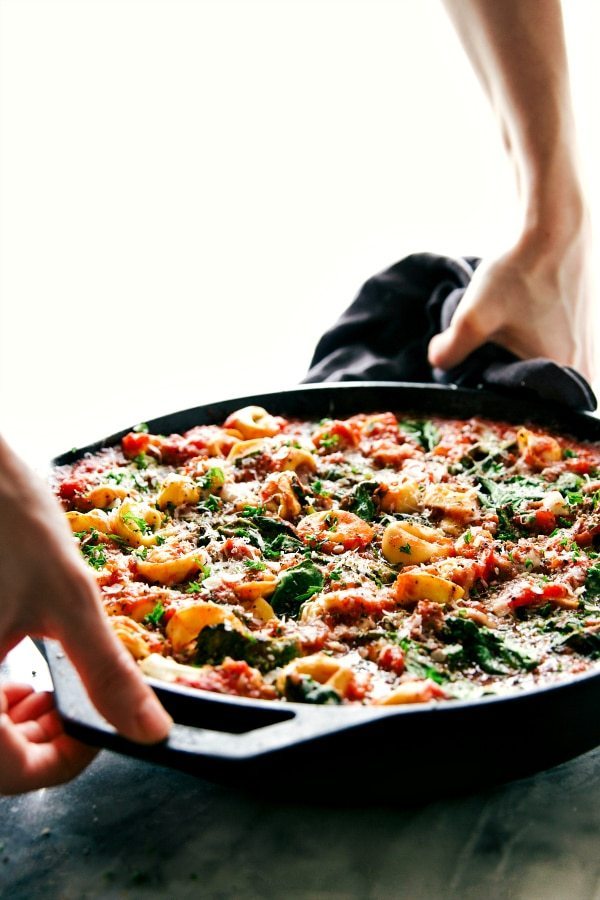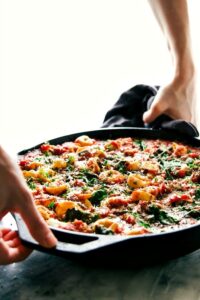 One Skillet Tomato Tortellini with Sausage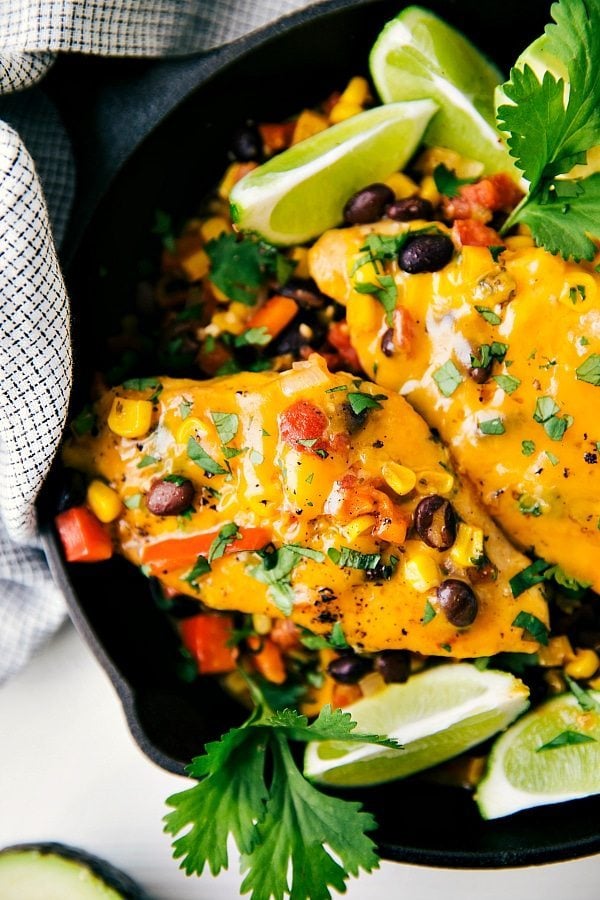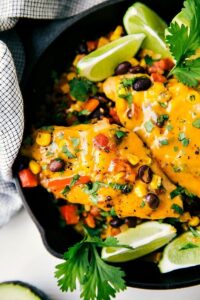 One Skillet Southwestern Ranch Chicken