A super simple and healthy roasted corn, zucchini, and avocado pasta salad. A great summer take along pasta salad that takes minutes to whip up!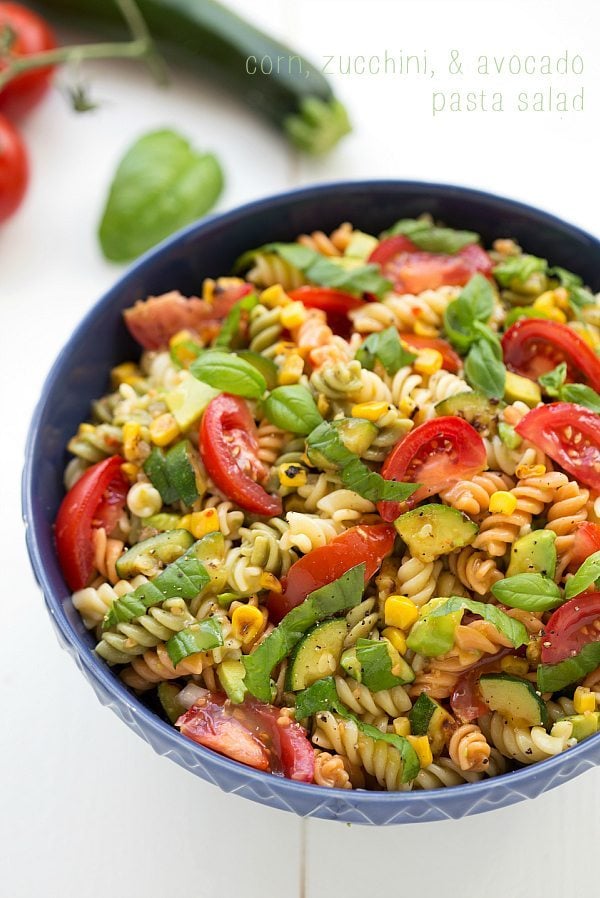 How was your weekend? And Father's Day? Here's a belated wish to all the Father's for a wonderful Father's Day and to know how grateful we are for you! Especially my own dad, my father-in-law, and my husband — the father of my little one (and a half!)
My cute sister-in-law came over this weekend and I taught her how to ice (royal icing) sugar cookies this week. It totally ignited in my the royal icing bug and on Saturday I decorated a ton of Father's Day cookies — ties, wrenches, hammers, saws, and pliers. You can see a picture of how they turned out here!
She is definitely a natural at it. I've been doing royal icing on sugar cookies for about two years now and in her first time I'm pretty sure her cookies are better than mine. 🙂 There was some family in town so she made some cute little dinosaurs and butterflies for the nieces and nephews. I didn't even realize I had a dinosaur cookie cutter, but now I want to make about a hundred different dinosaurs because they are pretty much the cutest looking cookie!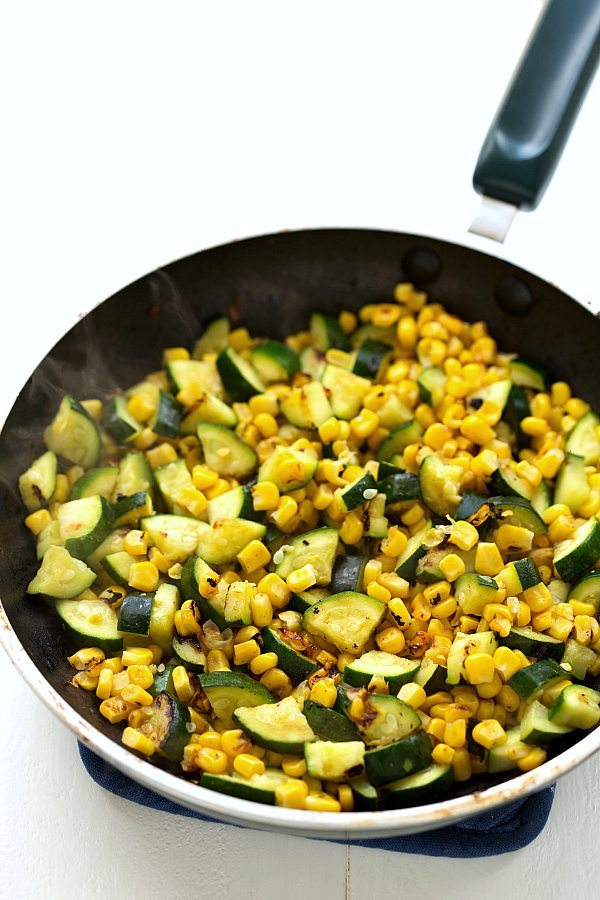 On our way home from my in-laws after a really great Father's Day dinner on Sunday, the husband and I were talking about how FAST the weekends fly. It feels like they are just beginning and then bam – already done!
So here we are, already back to Monday! Luckily I've got one of the easiest pasta salads that I'm really hoping you all love! It's based off a salad that most of you have probably tried somewhere before – the tri-colored noodles with Italian dressing and various veggies? Well, this is my take on that salad!
The more "typical" Italian-dressed pasta salad is a favorite at my home growing up. My mom makes it about weekly – usually for a Sunday dinner. She usually will put in sliced olives, chopped tomatoes, and some other various veggies. I thought it would be fun to do a super summery version – vine-ripened tomatoes, avocado, oven roasted corn + zucchini, and of course fresh basil!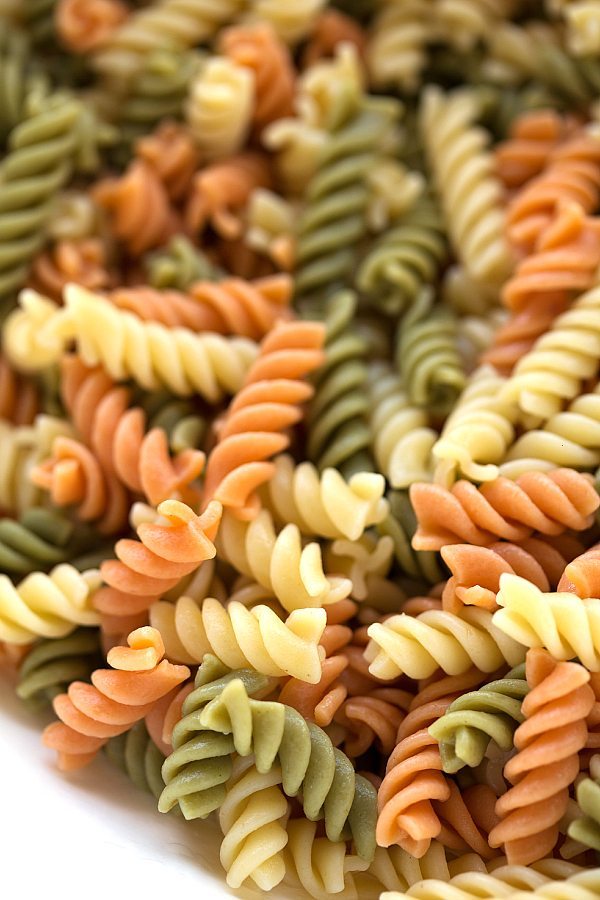 The rest of the ingredients are simple and fresh additions that taste great when added to the pasta. Last, but not least, is the Italian dressing. I used a lite Zesty Italian dressing which is our families favorite, but you could definitely whip up your own or use a different kind – whichever you like best. I love the flavor of the Zesty version, but plain is great too.
We also had some hot dogs that needed to be used so I grilled some up, chopped them, and threw them in the salad (after the pictures had been taken). I was pretty skeptical if they would even taste good but it was AMAZING. So, if you are a fan of hot dogs, or looking for some extra protein, definitely try them in this salad.
And of course, fresh basil + parmesan cheese are wonderful additions!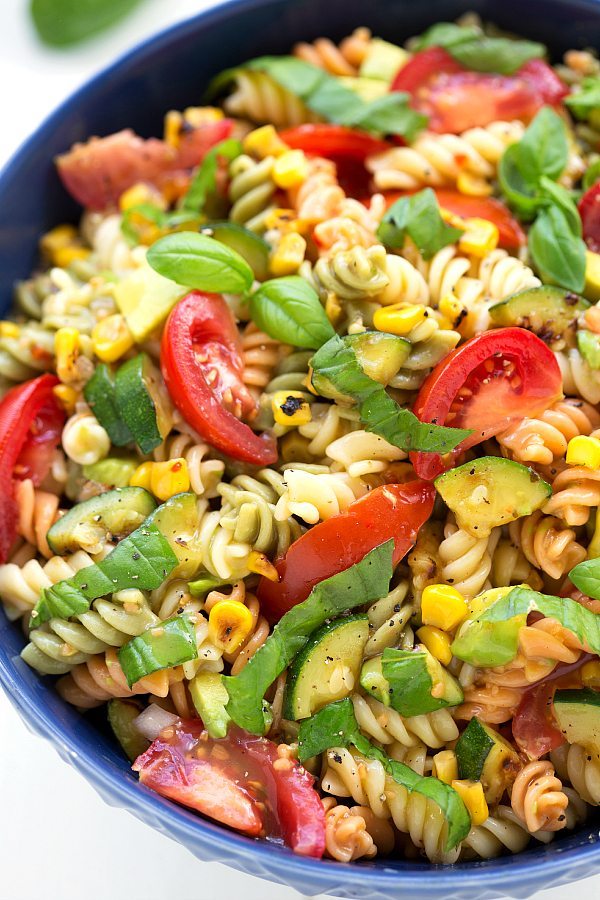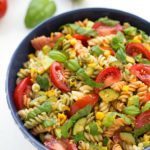 Corn, Zucchini, and Avocado Pasta Salad
Ingredients
1

package (16 ounces)

TriColor Rotini Pasta

2

small (heaping 2 cups)

zucchini

1

can (15 ounces)

corn

1 and 1/2

cups

sliced tomatoes

(cherry, roma, or vine-ripened)

1

large

avocado

chopped

1

tablespoon

lemon juice

Salt and pepper to taste

1

bottle (16 ounces)

Zesty Italian Dressing

I use light

Optional: parmesan cheese, fresh basil
Instructions
Prepare the pasta according to package directions. Drain, rinse under cool water, and set aside in a large bowl.

Drain and rinse the corn (or cut it off a cob) and chop the zucchini. If you rinsed canned corn, dry it off well.

In a nonstick skillet or cast-iron skillet (preferred), place the corn and chopped zucchini. Do not add any oil or butter but try to spread it in an even layer. Sprinkle with salt and pepper as desired and allow it to sit without stirring over medium-high heat. Let the corn and zucchini roast for a few minutes before stirring. Continue to let it sit in between stirring it until the corn and zucchini are lightly browned and roasted outside.

Meanwhile, slice or chop tomatoes (I used vine-ripened), and an avocado.

Toss the avocado with lemon juice.

Allow the corn and zucchini to cool and then toss it with the cooled pasta. Add in the tomato and avocado.

Pour half of the bottle of Italian dressing and toss well. Add salt and pepper if desired.

Cover and place in the fridge for 1-2 hours. (optional, but allows a great meld of flavors)

When ready to serve (or if not placing it in the fridge first), pour the remaining dressing in the salad (or to your taste preference) and top with fresh shredded basil and parmesan cheese if desired.

Enjoy immediately.
Recipe Notes
This salad is best enjoyed the same day you've made it. We also tried this salad with some grilled and chopped hot dogs and loved it! A great way to add some more protein and summer to this salad 🙂
More delicious pasta salads:
Tortellini and Pasta Pesto Salad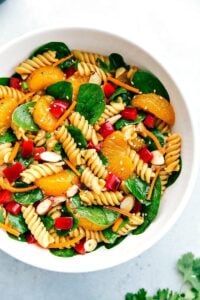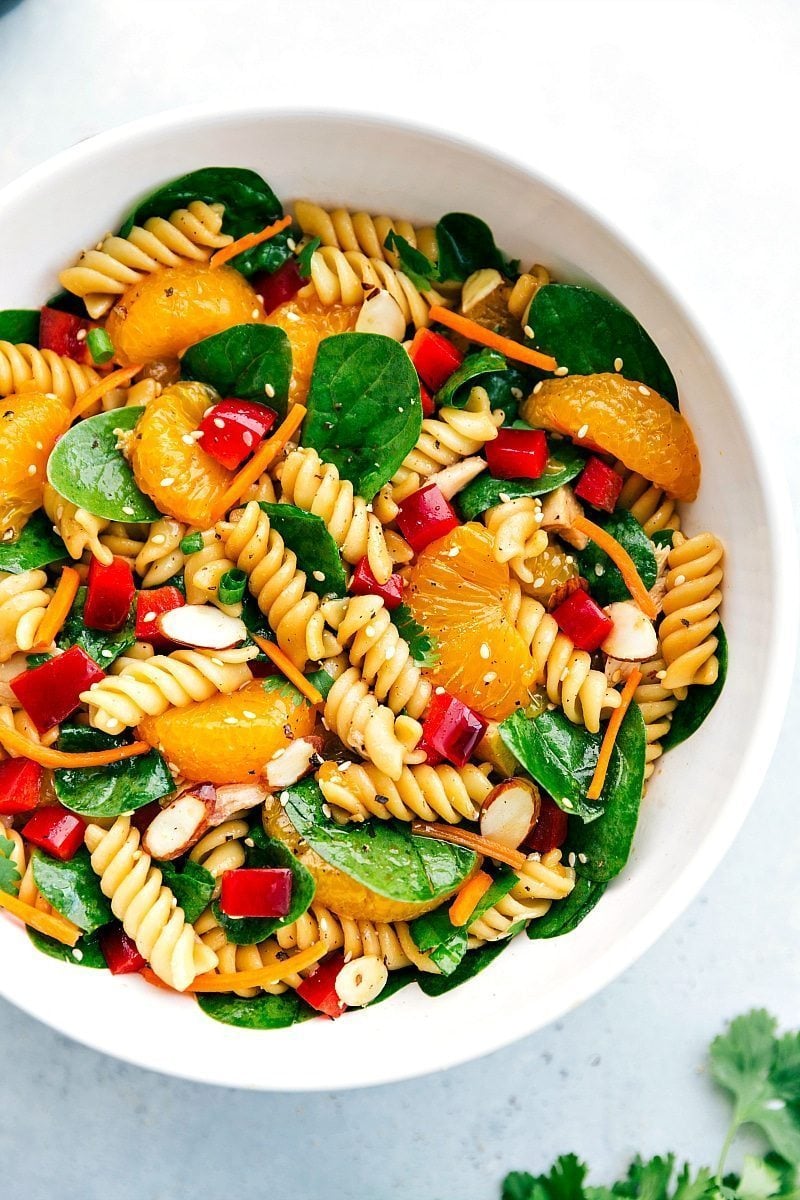 Delicious Mandarin Chicken Pasta Salad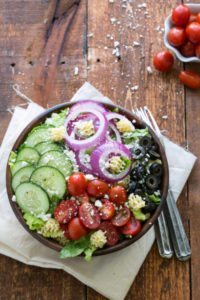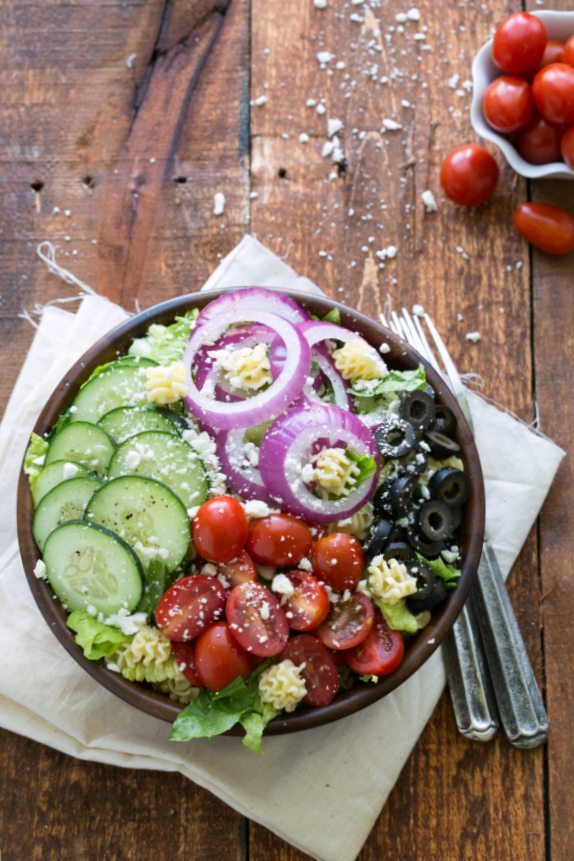 Greek Pasta Salad