This coconut curry chicken can be made in one pot and is packed with delicious flavors! This curry can be made in 30 minutes or less making it the perfect weeknight dinner.
Pair this coconut curry with rice and/or naan bread. A side of roasted carrots or roasted sweet potatoes would also pair nicely.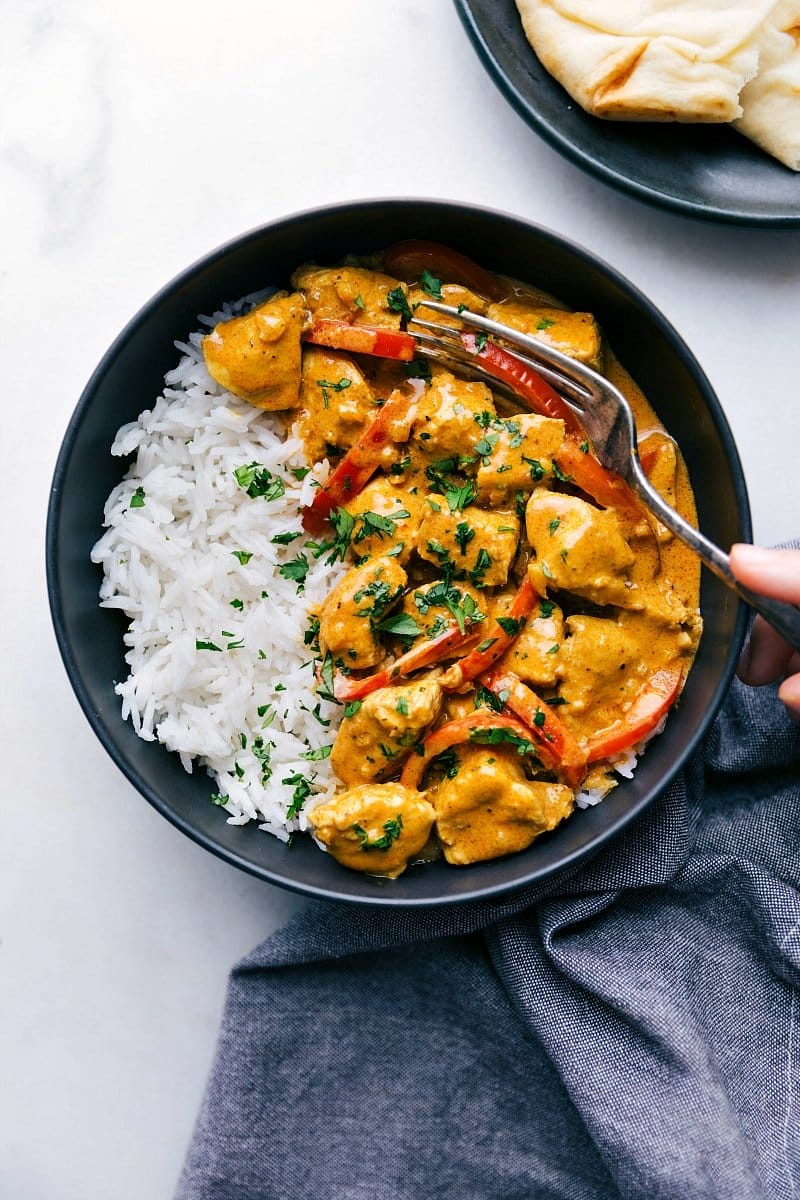 When you're not sure what to make for dinner, this creamy coconut curry chicken always comes through.
It's fast, flavorful, and healthy! This is one of my husband's all time favorite meals, and while I tend to prefer veggies over meat (hiiii butternut squash curry), this is one of my favorites as well.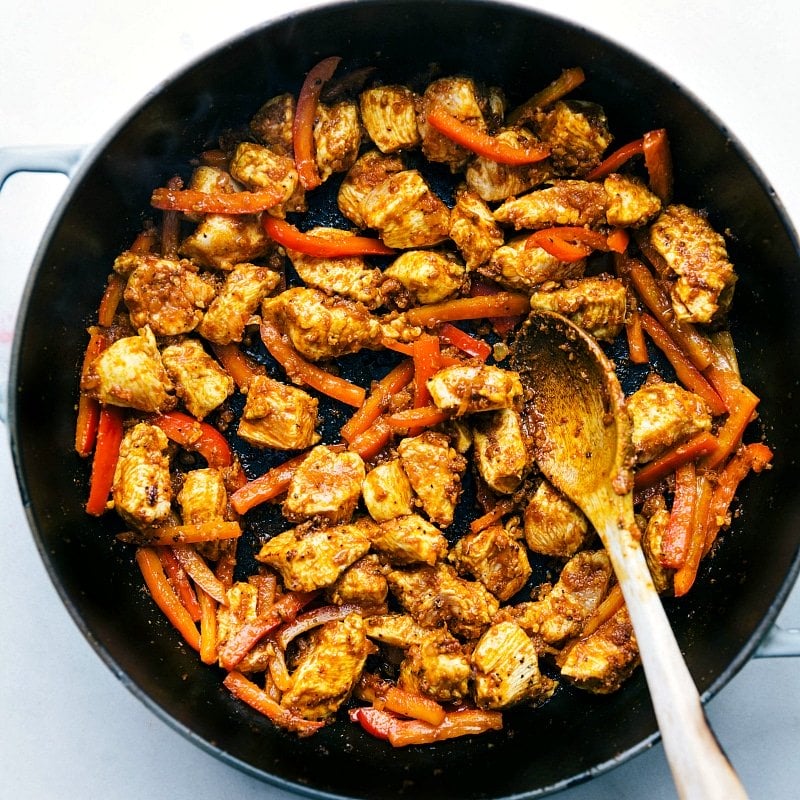 Coconut curry flavor
Today we're using red curry in this dish alongside yellow curry powder and a good amount of coriander. If you're wondering what coconut curry tastes like, it's a bit sweet, but mostly savory with hints of spice from the red curry. Red curry is typically made from crushed red chilies, garlic, lemongrass, shallots, ginger, and fish paste. We amp up those flavors with additional garlic, ginger, and onions.
So as far as spiciness: I would rate this dish as mild, but it does depend on the brand of red curry you use. I've found Thai Kitchen is generally quite mild.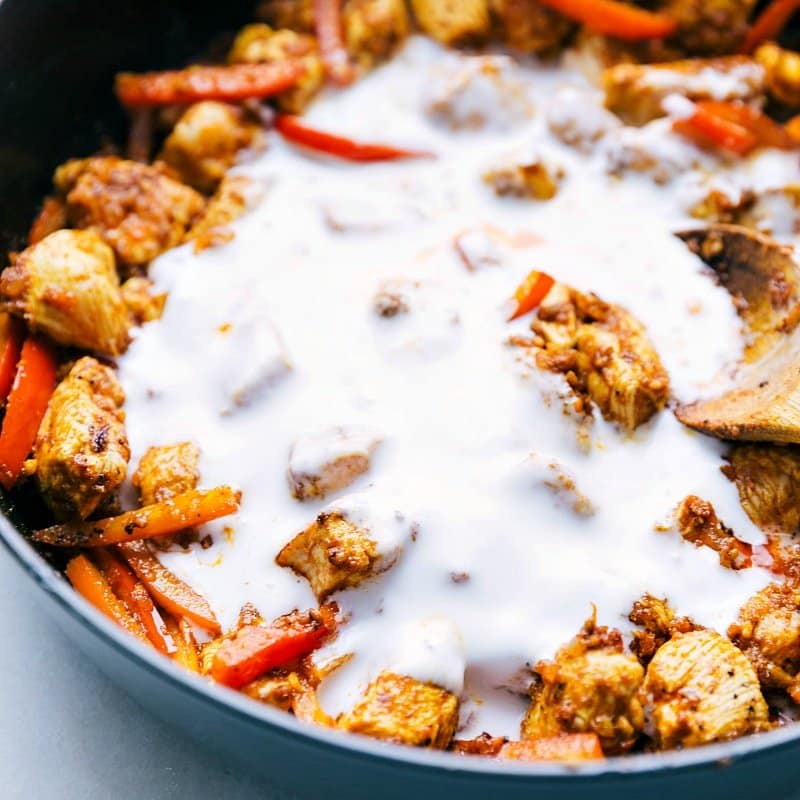 Coconut curry chicken flavor FAQs continued…
What makes curry sweet?
Cooking the onions slowly and for a longer period causes the onions to brown and develop a sweeter flavor
Coconut milk makes this curry sweeter than regular cream
We add a little bit of brown sugar (optional) for sweetness
Coriander is naturally a sweeter spice. Curry powder tends to be on the sweeter side as well (more on this below)
What does curry powder taste like?
Curry powder has a unique flavor with both savory and sweet spices. Cumin, turmeric, and bay leaf give curry powder a deep, earthy, and savory flavor while the sweet spices such as cinnamon and cloves add brightness and sweetness.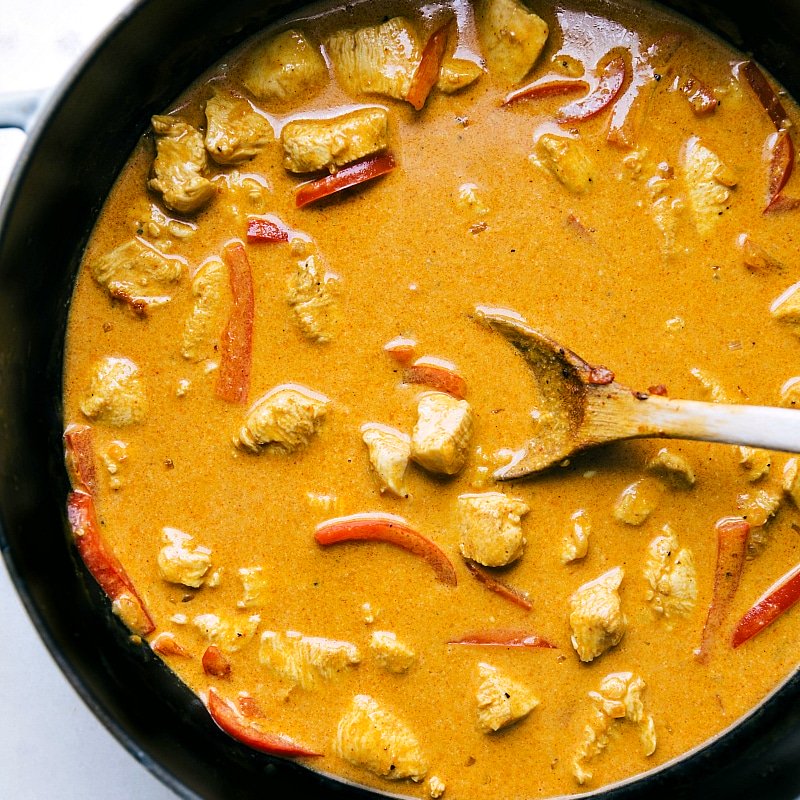 With all of the various coconut products, it's hard to know what will work best in your coconut curry chicken. To help, I'm breaking it down below.
Coconut milk vs coconut cream
Coconut milk has the liquid consistency of cow's milk. It's the basis of most Thai curries and is made by simmering 1 part shredded coconut to 1 part water.
Cream of coconut is a sweetened version of coconut cream. It's generally used in drinks or desserts. With all the added sugar, it's not a great substitute for coconut cream.
Coconut cream has a much thicker and richer consistency than coconut milk. Coconut cream is made from simmering 4 parts shredded coconut to 1 part water.
Can I use coconut cream in curry?
In this coconut curry chicken, we use full fat coconut milk. Lite coconut milk won't thicken and give you a rich full flavor like regular coconut milk. Cream of coconut is far too sweet and coconut cream tends to be too thick (and overpoweringly coconut flavored) for this coconut curry chicken.

Coconut curry chicken additions
With just a few ingredients, this creamy coconut curry chicken goes from good to WOW.
Our must have additions: fresh lime juice, finely chopped cilantro (or basil!), a little bit of brown sugar.
Other great additions: chopped peanuts or cashews, fish sauce
Variations
Coconut curry chicken and vegetables: this curry has some red pepper in it, but feel free to increase the veggies! You can add some carrot sticks (add along with red pepper) and spinach (stir in at the very end — residual heat will cook it down)
Coconut curry chicken thighs: thigh meat will work great instead of breast meat (grab boneless skinless and adjust for cooking time).
Chicken curry with coconut milk and potatoes: try adding baby yukon gold potatoes (to do this, I microwave full potatoes for 5-8 minutes or until tender; cut them into quarters, and add them in alongside the red pepper (this is to slightly crisp them and flavor them with spices not to cook them because the microwave should do that!]).
Coconut chicken curry slow cooker recipe: try this recipe!

More delicious chicken dinners
How to make coconut curry chicken: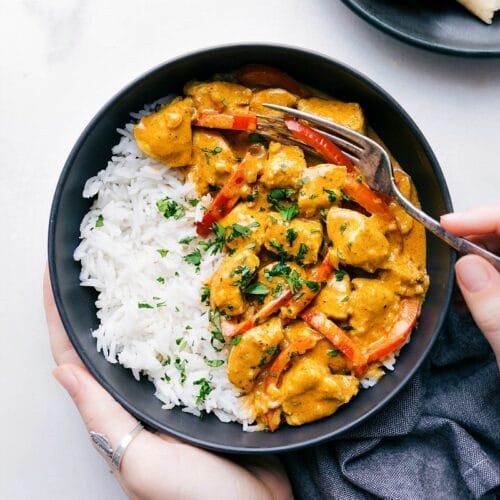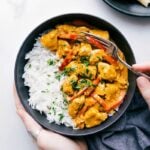 Coconut Chicken Curry
This coconut chicken curry is packed with delicious flavors and an easy one pot meal. This curry can be made in 30 minutes or less making it the perfect weeknight dinner!
Keyword:
coconut chicken curry
Ingredients
3

tablespoons

coconut oil,

separated

1/2

medium yellow onion,

diced (~1/2 cup)

3

cloves

minced garlic

(~1 and 1/2 teaspoons)

2

tablespoons

finely minced ginger

(from a 1 and 1/2 inch piece)

2

teaspoons

yellow curry powder

3

tablespoons

red curry paste

(I use Thai Kitchen; reduce or increase as desired for spice levels)

2

teaspoons

ground coriander

1

large

red bell pepper

1

pound

boneless skinless chicken breast or thighs,

cut into 1 inch pieces

Fine sea salt and freshly cracked pepper

1

can

full fat coconut milk (NOT lite)

1

tablespoon

lime juice

1-2

tablespoons

brown sugar

2

teaspoons

fish sauce,

optional

1/4

cup

cilantro and/or basil,

diced

Serve over/with: cooked basmati rice and naan bread with additional lime wedges

Optional: chopped peanuts or cashews
Instructions
Start by prepping ingredients: dice the onion, mince the garlic, and mince the ginger. I peel the ginger with a spoon or vegetable peeler and then finely mince it. Thinly slice the red bell pepper into long vertical strips and then cut those strips in half horizontally.

Heat 2 tablespoons coconut oil in a large deep skillet over medium-high heat. Add the onion and saute for 3-5 minutes or until onions are beginning to get golden. Add the garlic and ginger. Stir to coat everything with the oil. Lower the heat to low and add in the curry powder, red curry paste, and coriander. Stir often for 2-3 minutes or until lightly toasted and fragrant.


Return the heat to medium high. Add in the remaining 1 tablespoon coconut oil and the red pepper. Stir for 1-2 minutes and then add in the bite-sized pieces of chicken. Sprinkle on salt and pepper to taste (I add 1 teaspoon fine sea salt and 1/2 teaspoon pepper). Cook, stirring often for about 4-5 minutes or until the chicken is browned on both sides, but not cooked through.

Pour in the coconut milk, lime juice, and brown sugar (to taste; I start with just 1 tablespoon). Stir until chicken is cooked through (juices run clear and it is cooked to 165 degrees F) and curry is slightly thickened (Note 1). If desired, stir in the fish sauce.

Serve over rice and/or with naan bread. Garnish individual plates with cilantro, basil, and/or crushed peanuts/cashews. Serve additional lime wedges by the side if desired.
Recipe Video
Recipe Notes
Note 1: If you want a thicker sauce, you can remove 1-2 tablespoons of the sauce to a small bowl and (with a fork) whisk in 1 tablespoon cornstarch until smooth. Whisk this mixture into the curry.