White chocolate macadamia nut cookies with soft and chewy centers and crisp edges.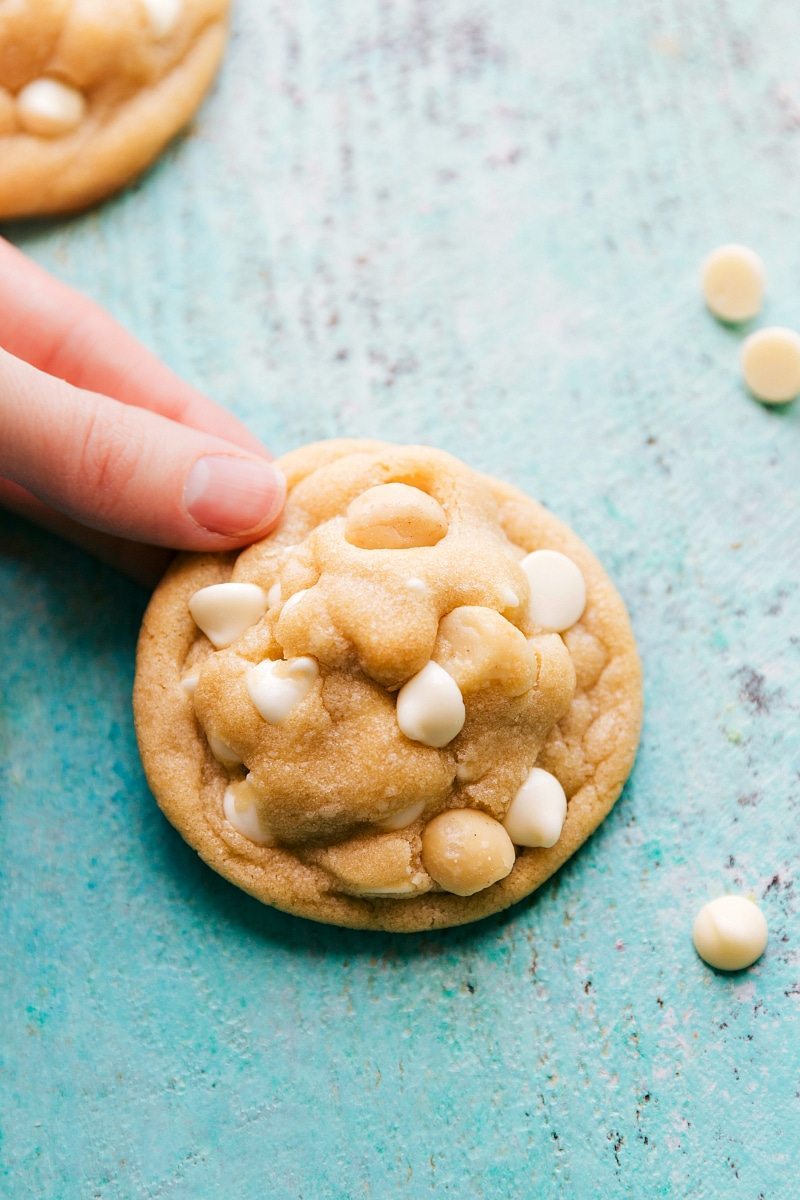 So with all the Christmas baking and treat-making; I've had to have quite a few little chats with the toddler of what is healthy and what is not healthy. AKA, "no you can not have white chocolate macadamia nut cookies for breakfast", "chips do not pass for lunch", and "if you had a cookie in the afternoon, you can not have a brownie after dinner."
The other day we were discussing what foods are healthy and what foods are not so healthy. It turned into a bit of a game where he'd ask me if a certain food was healthy and I would respond by saying, "What do you think? Is that food healthy?" He told me that brown sugar, Doritos, and M&M's are all listed under the category "healthy."
After correcting him, we opened the produce drawer in the fridge and found lots of healthy snacks that were, in fact, actually healthy and could pass for a good snack.
After thinking on our discussion for a bit he came up to me and asked if the cookies we'd just finished baking were healthy. I said, "What do you think; are cookies healthy?" He responded "Oh yes, mama. Cookies very healthy." To which I responded, "No, these cookies aren't very healthy Grey."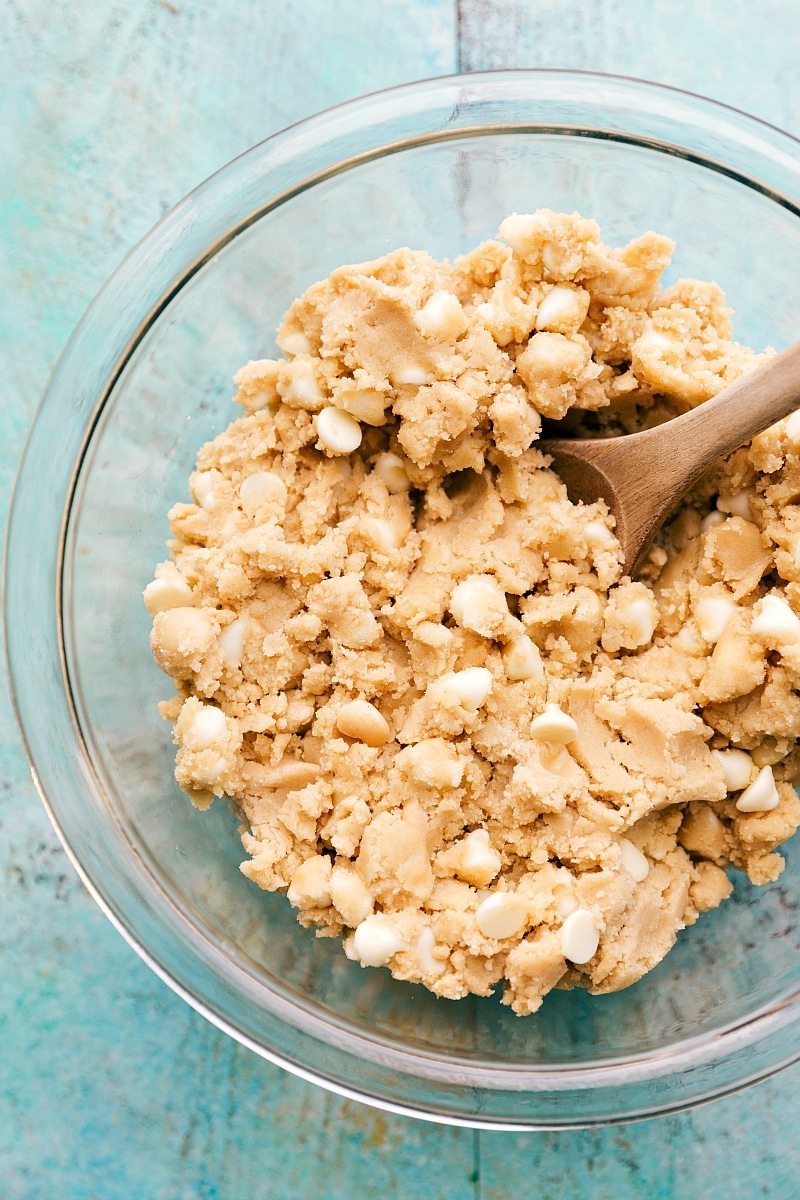 He frowned at me and thought for a minute.
Finally he responded, "Mom, I no like that cookies are not healthy."
"Me either babe, Me either." ?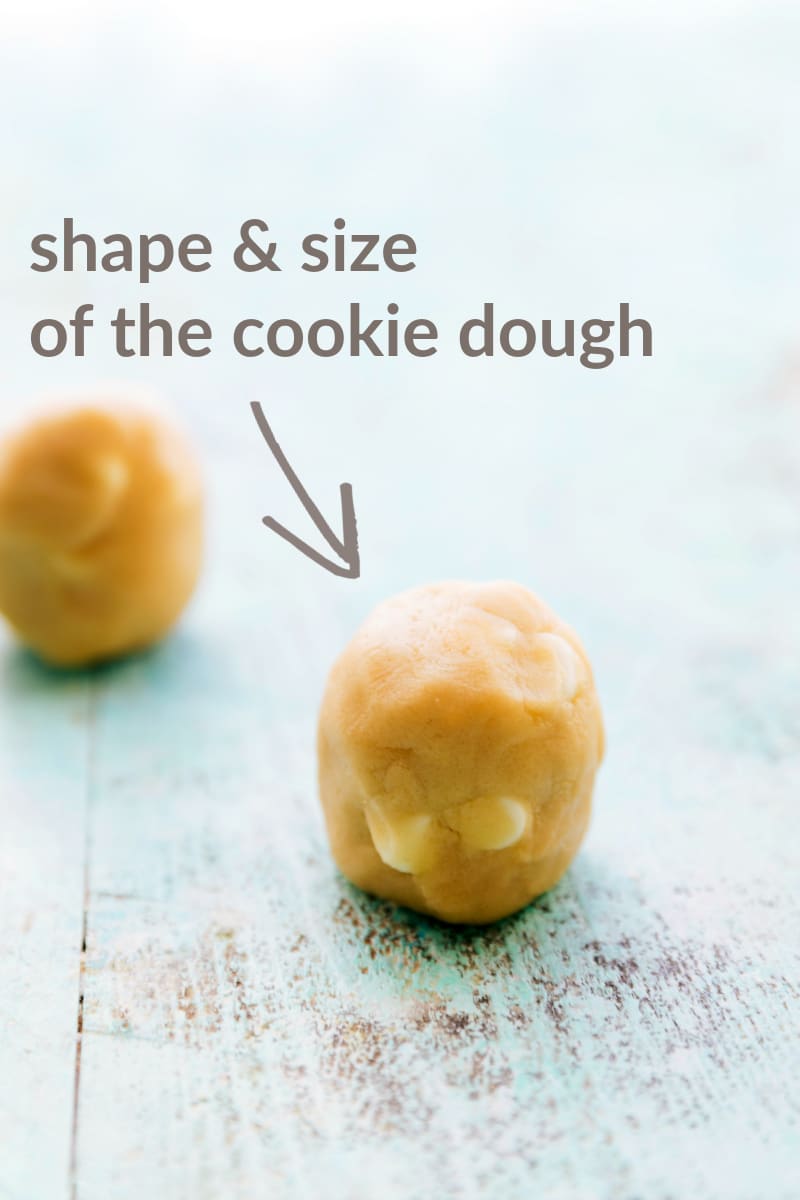 Because if these cookies were healthy, I'd be eating them for breakfast, lunch, and dinner! These are some of my favorite cookies ever.
They also happen to be the husband's favorite cookie, so I thought it was about time I created the best possible white chocolate macadamia nut cookie for him. And these have been a huge winner in his book.
I've got one more cookie recipe to share and one more post of treats for this year and then the unhealthy baking is going to take a break for a while. I've got tons of healthy recipes coming up for the New Year and so many things I can't wait to share!
But in the meantime, if you're looking for a cookie to bake for Santa….you should definitely consider these! ?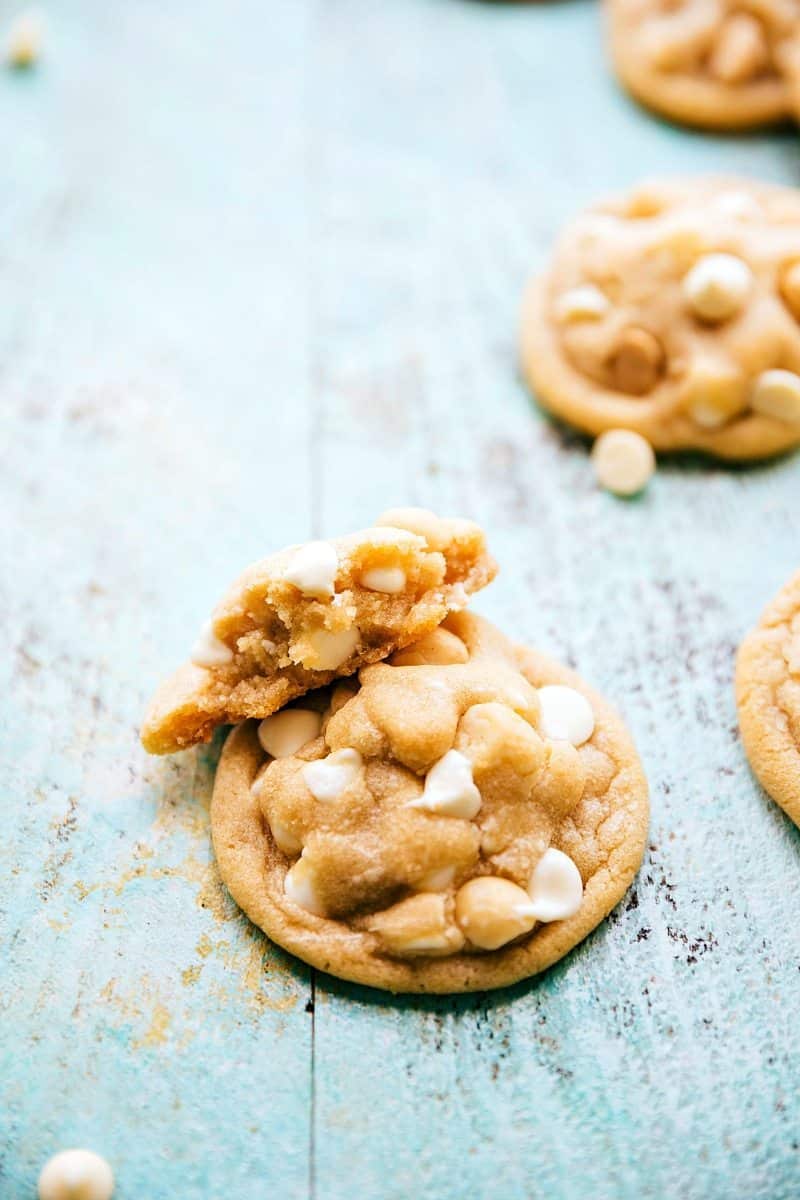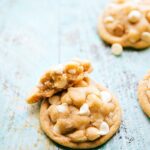 White Chocolate Macadamia Nut Cookies
White chocolate macadamia nut cookies with soft and chewy centers and crisp edges.

Ingredients
1/2

cup

unsalted butter

1/2

cup

regular shortening

3/4

cup

light brown sugar,

packed

1/2

cup

white sugar

2

large

eggs,

separated

1

teaspoon

vanilla extract

1/4

teaspoon

almond extract

2 and 1/4

cups

white flour,

spooned and leveled

1/2

teaspoon

sea salt

1

teaspoon

baking soda

1

cup

white chocolate chips

3/4

cup

macadamia nuts

coarsely chopped
Instructions
Partially melt the butter. There should still be chunks, but about 75% melted. (It is important to not melt the butter all of the way!) Add to a large bowl with the shortening.

Using hand mixers, beat in the brown sugar and the white sugar until smooth and creamy. Do not over-mix.

Beat in 1 whole egg, and 1 egg yolk (reserve the whites for another recipe or discard), vanilla, and almond extract.

Add in the *correctly measured flour, salt, and baking soda and mix until just combined. Do not over-mix.

Gently stir in the white chocolate chips and macadamia nuts.

Cover the bowl tightly and chill for 1 to 8 hours.

Preheat the oven to 325 degrees F. Line a pan with parchment paper or use a nonstick liner.

Roll balls of dough into tall cylindrical balls (see picture above for shape and size). Place 6-8 cookie balls on a sheet to give the cookies plenty of room to spread.

Bake for 8-12 minutes erring on the side of under-baking which keeps them soft and chewy! Remember the cookies will bake a little more out of the oven, so take them out as soon as the edges start to lightly brown!

Remove from the oven and press a few additional chocolate chips or macadamia nuts in the top if desired (makes them look pretty). Allow to cool on the baking tray for 5 minutes before transferring them to a cooling rack.

Recipe Notes
Cook time refers to chilling time.  
*When measuring the flour, do not press the measuring cup into the bag of flour as that packs in a ton more flour. Spoon the flour into the cup and then level. The flour should completely fill up the cup measurer without being packed in. Measuring the flour correctly is going to give you the most success with this recipe! If the cookies are spreading too much you likely didn't add enough flour; if the cookies are cakey and too thick, you have too much flour.
Recipe adapted from AllRecipes.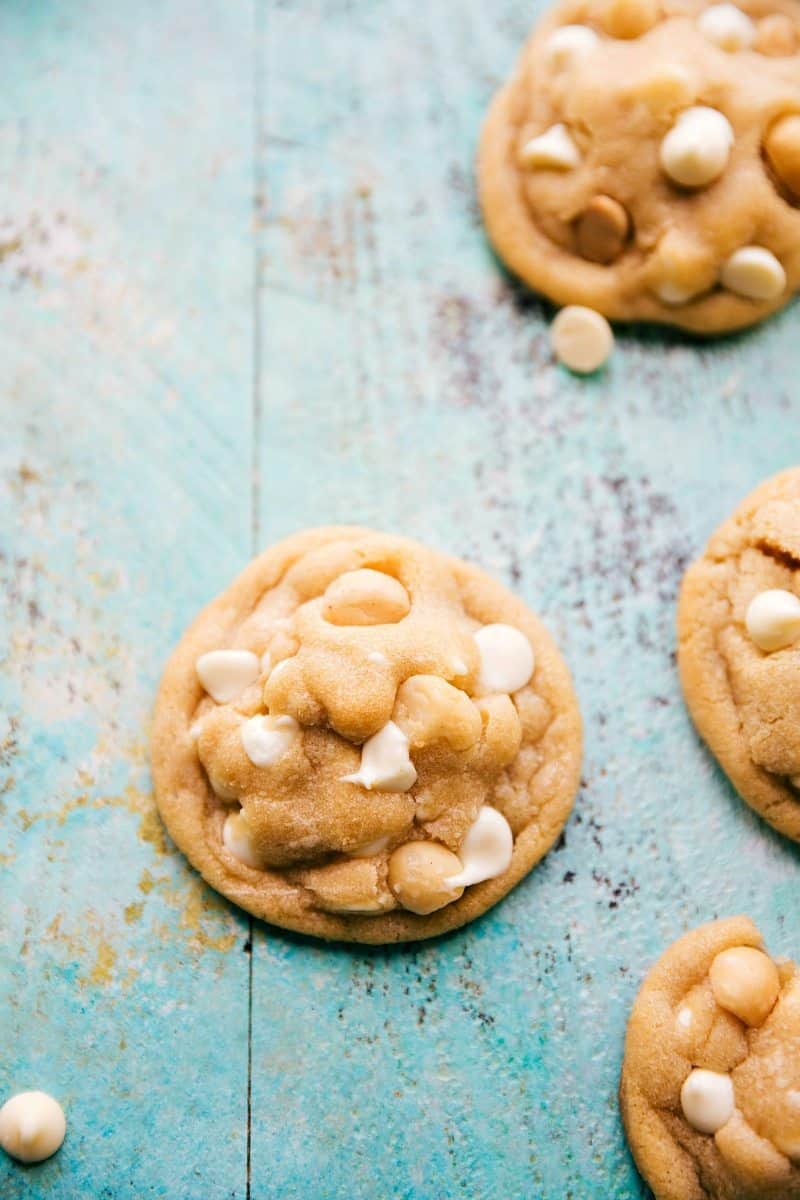 More Cookie Recipes: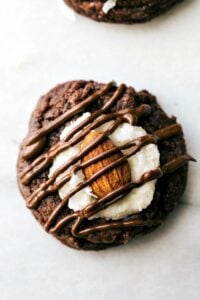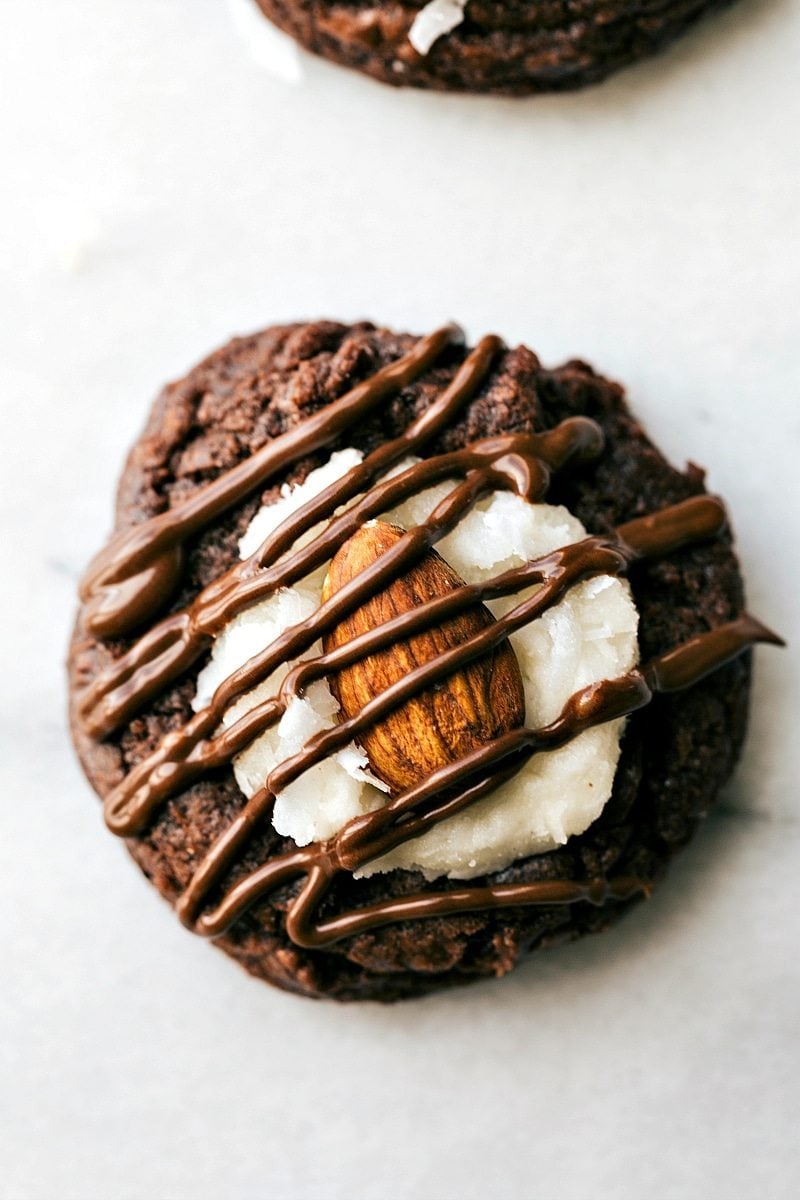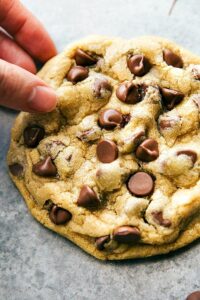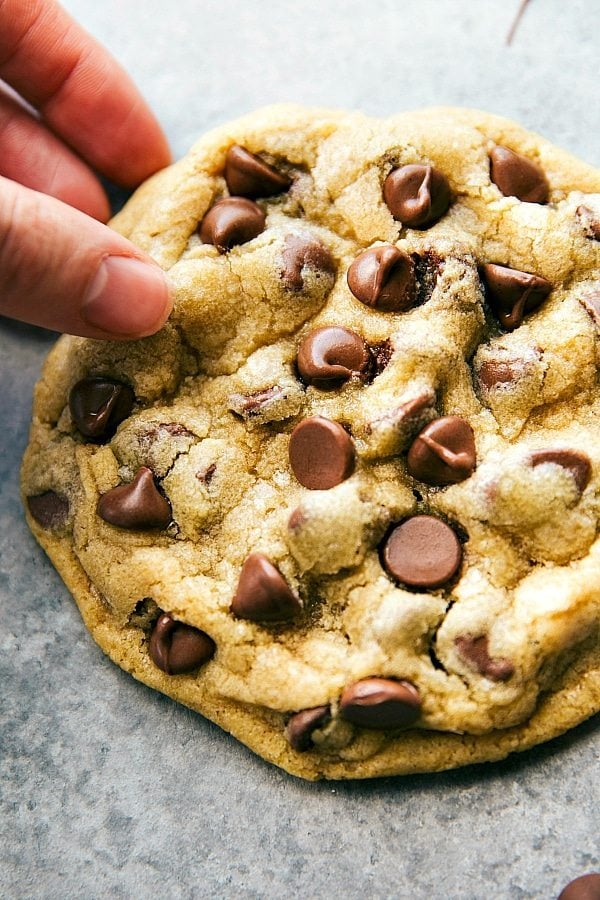 Single Serving Bakery Style Chocolate Chip Cookies