These white chocolate macadamia nut cookies are the best! They've got soft and chewy centers, crisp edges, and the perfect flavor! I'm sharing all of my secrets to get the very best macadamia nut cookies, including a few "secret ingredients" that take these cookies to the next level!
Other favorite cookies to try are these oatmeal chocolate chip cookies, these snickerdoodle cookies, or these coconut oil chocolate chip cookies.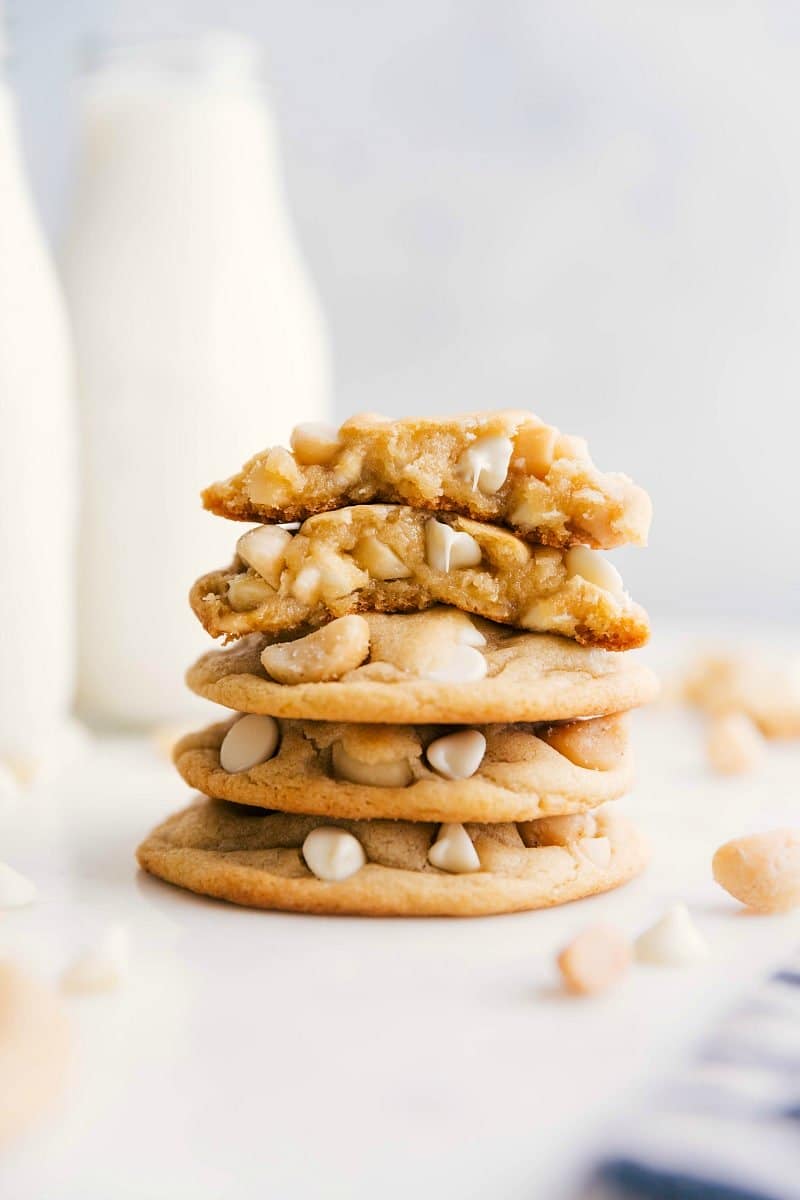 My husband's all-time favorite cookie are these very white chocolate chip macadamia nut cookies. And even though I'm a huge milk chocolate fan, I have to admit, these might be one of my favorites as well. They're soft, chewy, and perfectly sweet with a tropical-inspired flavor twist. A few "secret" ingredients give these cookies the perfect unique flavor that everyone goes nuts for (<see what I did there? haha) after just one bite!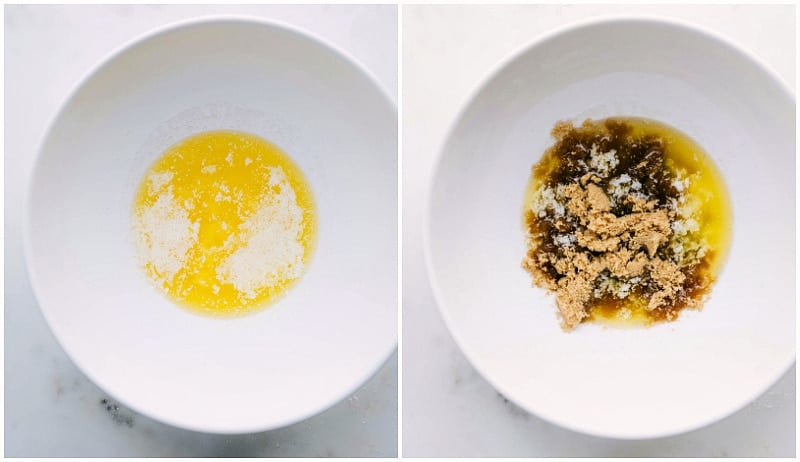 Ok, bad puns aside, let's get talking about these white chocolate macadamia nut cookies. Particularly, how easy they are to make! Mainly these cookies only require ONE bowl and a wooden spoon. No hand mixers or stand mixers needed for these cookies.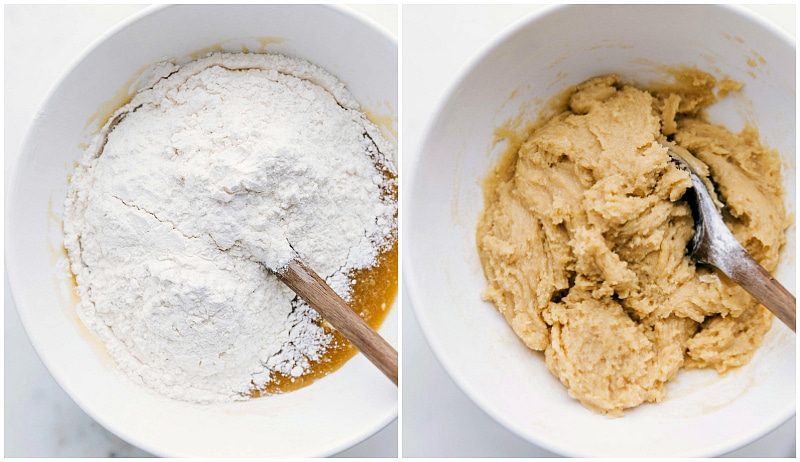 How to make white chocolate macadamia nut cookies
Melt the butter: melted butter yields deliciously soft and chewy cookies. The one important note here: let the melted butter COOL. If you add the sugars too quickly to the melted butter it is going to melt your sugars and give you greasy cookies.
Add sugars, egg, and flavor enhancers: once the butter is back to room temperature it's "safe" to add in the brown sugar and white sugar. Mix until smooth and then add in one large egg and vanilla extract.
Along with the egg addition comes my three "secret" ingredients: agave nectar, almond extract, and coconut extract. Weird cookie ingredients? Maybe. But once you try these, I don't think you'll ever turn back!

The agave nectar gives a flavor complexity, subtle softness, and a different touch of sweetness to these cookies.
The almond and coconut extracts gives these cookies a touch of tropical flavor that pairs perfectly with the white chocolate and macadamia nuts.
(All of these ingredients are generally found in the baking asile of your grocery store.)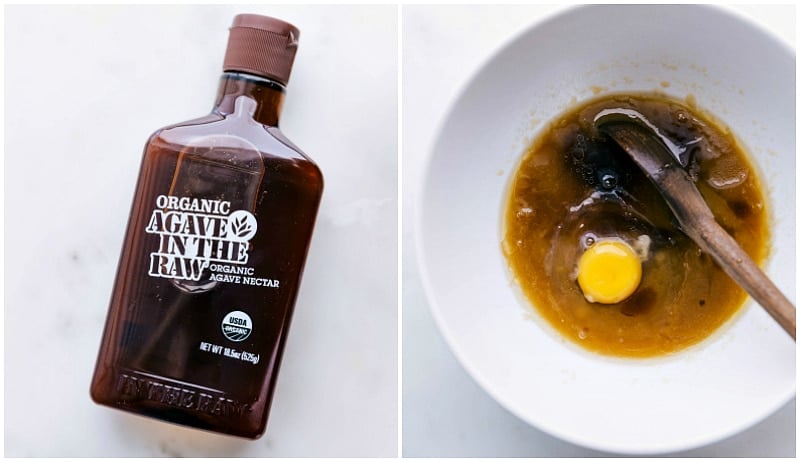 How to make white chocolate macadamia nut cookies cont
Add the dry ingredients: before adding flour, you'll stir in the baking soda, baking powder, salt, and cornstarch (for softness). Once those ingredients are mixed in, you'll add the flour and mix until just combined. Avoid over-mixing the flour as that will yield tough cookies.
Stir in chips and nuts: good quality white chocolate chips (I recommend Guittard, Ghirardelli, or Nestle as a third option) and coarsely chopped macadamia nuts go in next. I recommend grabbing a bag of toasted macadamia nuts for a better flavor. (Or toast your own!)
Chill the dough: since we melted the butter, the dough needs time to chill allowing for the butter to re-solidify. The chilling time also gives a chance for the flavors and textures to meld together and intensify. Once the dough has been chilled, it's time to bake!
Bake: see the picture below for how I roll the dough balls (which will guarantee for a crisp edge and soft & chewy center). Bake in a fully pre-heated oven for 8-12 minutes erring on the side of slightly underbaking for gourmet tasting white chocolate macadamia nut cookies!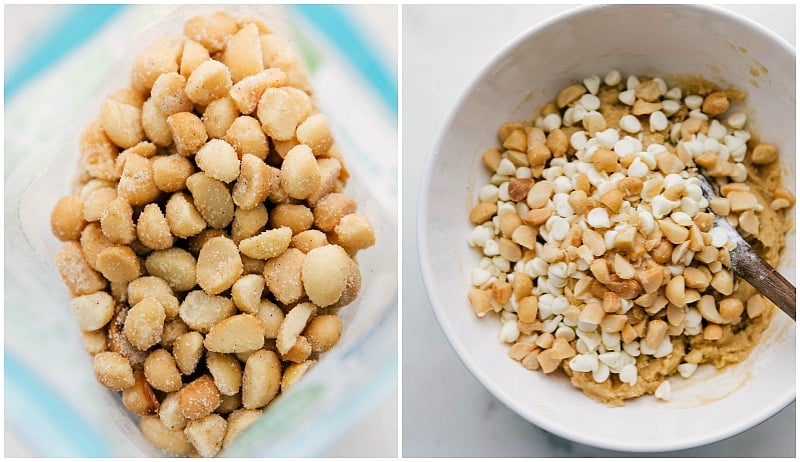 Cookie baking tips
Be precise when measuring the ingredients: the most important measurement is the flour. If you press a measuring cup into a bag of flour you are likely packing in way too much flour, which will mess up the texture of these white chocolate macadamia nut cookies (too much flour = cakey & less flavorful cookies). Make sure you spoon the flour into a measuring cup and level the top with the back of a butter knife.
Chill the dough. When you chill dough the butter solidifies which allows it to melt slower when it's baked. This creates a thicker cookie and prevents the cookie from becoming flat and crispy. Chilling the dough also gives the sugar time to absorb more of the liquid and become more concentrated. A more concentrated sugar is going to give you a chewier and sweeter cookie.
Use the right temperature of ingredients: when at room temperature, eggs and butter form an emulsion which traps air. While baking in the oven, that trapped air expands and produces a fluffy baked good. If possible, use room temperature eggs for this recipe. Soaking refrigerated eggs in a bowl of warm (not hot) water for about 5-10 minutes is a quick way to get eggs to room temperature.
Cookie storing tips
We like these cookies best on day 1 and 2 of being made. They do last up to 1 week, but they do begin to lose texture and flavor.
To store: place in an airtight container and keep at room temperature. Wait until cookies are completely cooled before adding to the container.
Instead of freezing already baked cookies, try freezing the dough! Drop the cookie dough balls on a large sheet pan and freeze until solid. Once solid, transfer the frozen cookie dough balls into an airtight container/bag and freeze for up to 3 months.
To bake: you can bake straight from the freezer; just add 1-3 minutes onto the cooking time. Alternatively thaw the dough in the fridge and bake according to directions.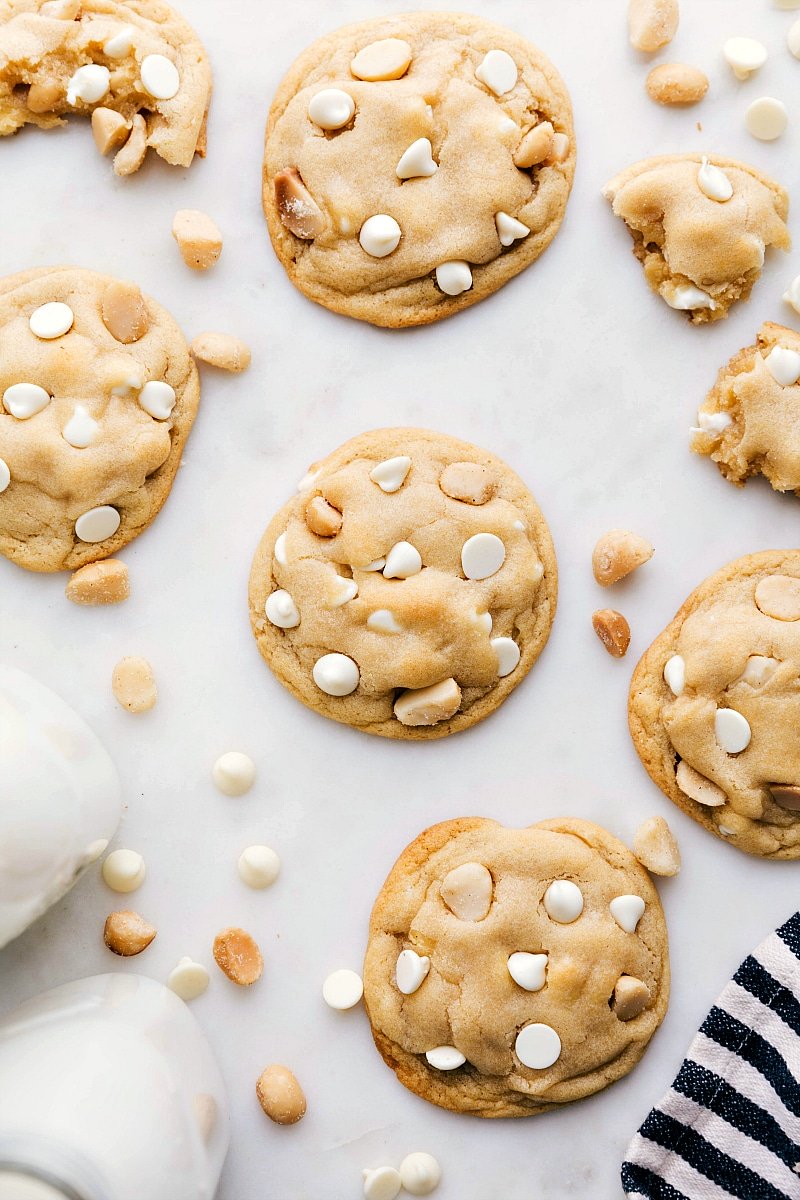 More amazing cookie recipes: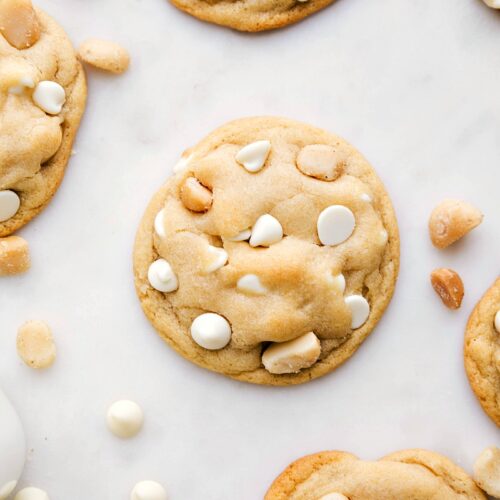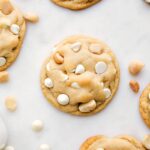 White Chocolate Macadamia Nut Cookies
White chocolate macadamia nut cookies with soft and chewy centers and crisp edges.

Keyword:
white chocolate macadamia nut cookies
Ingredients
8

tablespoons

unsalted butter

1/2

cup

light brown sugar,

packed

1/2

cup

white sugar

1

large

egg

1/2

teaspoon

pure vanilla extract

1/8

teaspoon

pure almond extract,

optional

1/4

teaspoon

coconut extract,

optional but adds a delicious tropical flavor!

2

tablespoons

agave nectar

2

teaspoons

cornstarch

3/4

teaspoon

fine sea salt

(if using table salt OR sensitive to salt, reduce to scant 1/2 teaspoon)

1/2

teaspoon

baking soda

1/2

teaspoon

baking powder

1 and 3/4

cups

all-purpose white flour,

spooned and leveled

3/4

cup

white chocolate chips

1/2

cup

roasted UNSALTED macadamia nuts,

coarsely chopped
Instructions
In a very large, microwave-safe bowl, melt the butter. Once melted, stick it in the fridge for 5 minutes. It's important the butter isn't hot when you add in the sugars or it will melt the sugar and make the cookies greasy.

Once butter is cooled to room temperature, stir in the light brown sugar and white sugar. Stir until smooth. Stir in the egg, vanilla extract, almond extract, coconut extract, and agave nectar. Stir until smooth.

Add in the cornstarch, salt, baking soda and baking powder. Again, stir until smooth. Add in the *correctly measured flour and mix until JUST combined. Don't overmix.

Gently stir in the white chocolate chips and macadamia nuts until combined.

Cover the bowl tightly and chill for 1 hour.

Preheat the oven to 350 degrees F. Line a pan with parchment paper or use a nonstick liner.

Roll balls of dough into tall cylindrical balls (see picture above for shape and size). Place 6-8 cookie balls on a sheet pan to give the cookies plenty of room to spread. Dough balls should be about 1.7 ounces.

Bake for 8-12 minutes erring on the side of under-baking which keeps them soft and chewy (We like ours right at 9 minutes)! Remember the cookies will bake a little more out of the oven, so take them out as soon as the edges start to lightly brown!

Remove from the oven and press a few additional chocolate chips or macadamia nuts in the top if desired (makes them look pretty). Allow to cool on the baking tray for 5 minutes before transferring them to a cooling rack.

Recipe Notes
Cook time refers to chilling time.  
*When measuring the flour, do not press the measuring cup into the bag of flour as that packs in a ton more flour. Spoon the flour into the cup and then level. The flour should completely fill up the cup measurer without being packed in. Measuring the flour correctly is going to give you the most success with this recipe! If the cookies are spreading too much you likely didn't add enough flour; if the cookies are cakey and too thick, you have too much flour.