These rolled oat oatmeal cookies are bursting with a molten lava caramel chocolate center. Plus they are drizzled with milk chocolate for an extra decadent holiday treat!
For long time (or even short time) readers of CMA, you likely know my obsession with oats. I have 'em in probably about 90% of my recipes. Okay, not quite that many, but gosh I use oats a lot!!
Some of the most popular recipes on this site list oats as one of the top ingredients. I'm particularly fond of grinding up oats in the blender and using that as a substitution for regular white flour. Making oat flour is one of my favorite things to do when baking — it takes about 10 seconds flat in the blender and lends the most unbelievable texture and flavor to recipes. You know the recipes I'm talking about right? The healthy pumpkin chocolate chip cookies perhaps or the banana and peanut butter muffins? And that's just two out of the dozens!
But today I'm talking about oats in their good old-fashioned form – whole oats mixed into cookies. Except these aren't just ordinary oatmeal cookies –they got a major make-over in the form of oozing and dripping caramel PLUS chocolate. These cookies are unbelievably chewy, flavorful, and also incredibly easy to make. Seriously – if you have a last minute party needing some cookies, this recipe is your savior. And that's just talking about time commitment to making these; I haven't even begun to tell you how popular you will be after bringing these cookies to said party! Hint: very.
These cookies only require 10 ingredients (but really, does salt and vanilla even count?!) and 8 ingredients if you leave off that extra chocolate drizzle. No chilling is required for these cookies either – in fact you don't even need to leave the butter out in advance to bring it to room temperature — score!
I know, I know, …we should probably just call these magic cookies. 🙂 The dough is simple – flour, old fashioned oats, brown sugar (make sure to pack it in), salt, butter, and vanilla. Once that dough is all mixed together you can grab off a large piece and flatten it in your hand. I liked to get it as flat as possible and then press two Rolos (unwrapped of course!) into the center. Wrap the dough around the chocolate caramel candies and roll the cookies until a circle is formed. The important thing for these cookies is to make sure those candies are completely covered. If not, they tend to leak caramel all over the baking sheet.
For recipe experimentation, I started with just one candy in the center. I quickly found these cookies definitely need two for an ultra gooey and flowing center so don't try and skimp with only 1 candy!! I also tried these cookies with quick oats but old fashioned oats are definitely the way to go!
Time to get baking; I'm quite confident this is going to be your new favorite holiday baking treat! 🙂
Molten Caramel Chocolate Oatmeal Cookies
Ingredients
1 and 1/2

cups

white flour

1 and 1/2

cups

Old Fashioned Oats

1

cup

packed brown sugar

3/4

teaspoon

baking soda

1/4

teaspoon

salt

1/2

cup + 1 and 1/2 tablespoons

unsalted butter

1

teaspoon

vanilla extract

Rolos

2 per cookie

1/3

cup

milk chocolate chips

1

teaspoon

vegetable oil
Instructions
Preheat the oven to 350 degrees F.

In a large bowl, stir together the flour, oats, brown sugar, baking soda, and salt.

Melt the butter and combine along with the vanilla extract.

Stir everything together until a thick dough forms. You may need to knead the mixture with your hands.

Place the dough in the fridge while you unwrap the caramel-filled chocolate candies.

Flatten the dough in your hand and press two caramel-filled chocolates into the center of the cookie. Press the edges up around the candies and completely seal into a large cookie. Make sure none of the caramel-filled chocolates are exposed or it will leak out during baking.

Bake for 9-12 minutes. Slightly underbaking these is the BEST! It lends a softer cookie with melted and gooey caramel. Overbaking these makes the caramel harden when cooled.

I pulled out the cookies generally at 9 minutes, allowed them to sit on the cookie sheet for another 2-3 minutes, and then transferred to a cooling rack to allow them to harden up a bit.

To top with chocolate, combine the chocolate chips and vegetable oil in a microwave safe bowl. Microwave for 30 seconds, stir for 15 seconds, and then microwave for bursts of 15 seconds until completely melted.

Take a spoon and dip it in the melted chocolate. Run the spoon from left to right over the cookies to get the chocolate drizzle.
 More recipes to use oats in: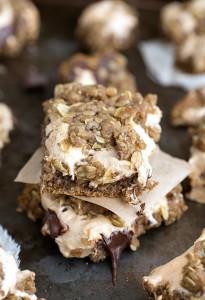 Oatmeal Cookie Pumpkin S'mores Gooey Bars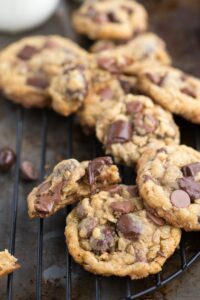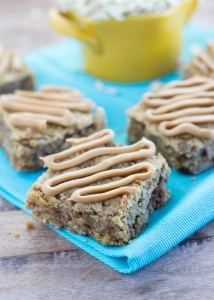 We had some friends over for a little party to try the cookies and of course they were too cute to not take pictures of!! 🙂
To have a match-y sort of table with the winter canisters, I wrapped various boxes (most were tissue boxes) in brown kraft paper. Using wire cutters, I cut apart some wreaths into small pieces. I got some snow spray and sprayed all of the little greenery pieces and pine-cones. I tied each box with some thick twine and then super-glued the green pieces and pine-cones on top of the boxes.