Homemade caramel oatmeal cookies with a gooey chocolate & caramel filling. These cookies are finished with a chocolate drizzle on top!
These jazzed up caramel oatmeal cookies are delicious and simple to make. If you're looking for other oatmeal cookies, try my famous oatmeal chocolate chip cookies or these oatmeal pecan cookies. These old fashioned oatmeal cookies are always a fun treat too!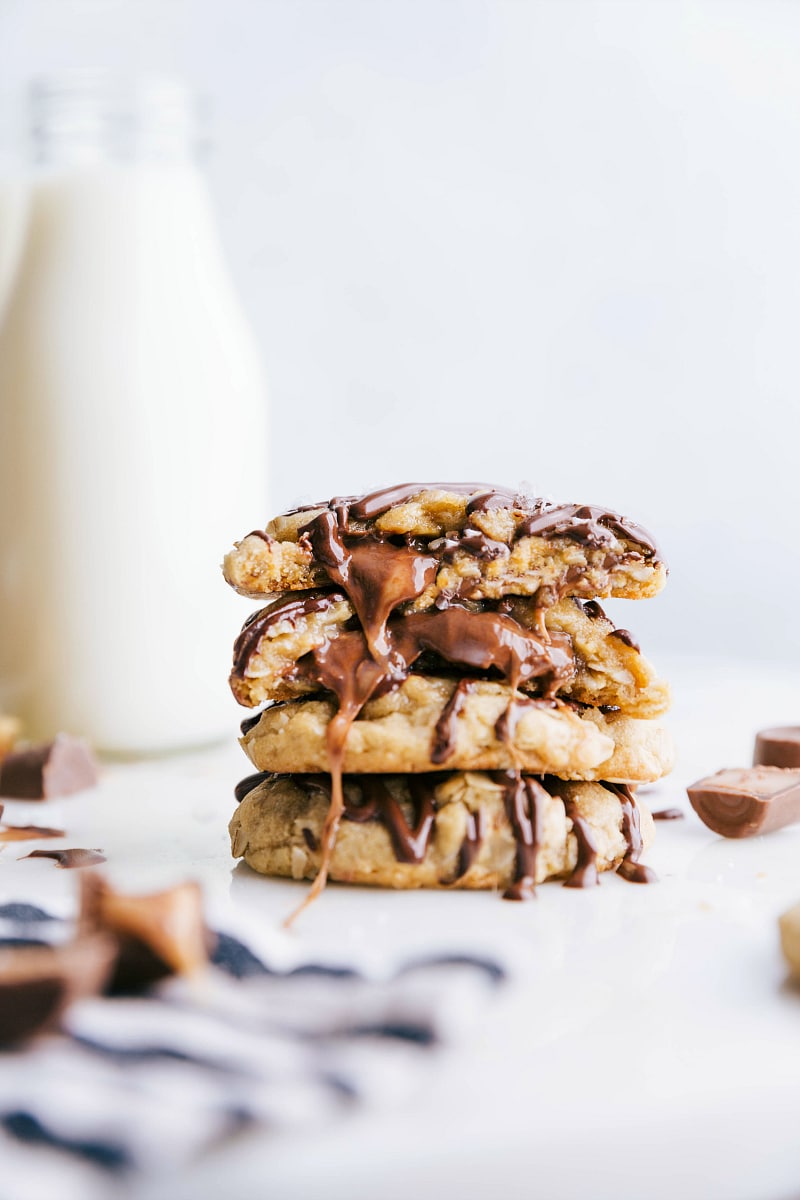 Today I'm combining one of my favorite candies ever (rolos) with my favorite type of cookies (oatmeal!). And it's the ultimate match-up. These cookies are thick, chewy, chocolatey, oozing with caramel, and all around delicious!
The rolos stay soft and melty inside creating a "molten" like effect with a bite of one of these cookies. Two rolos in the center and *just enough* dough to cover them is the secret to these cookies.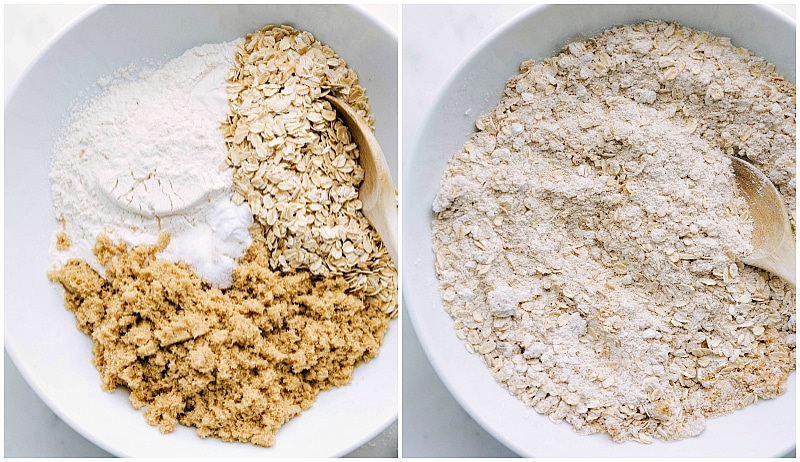 How to make caramel oatmeal cookies
Dry ingredients: in a LARGE bowl, toss together all your dry ingredients: white flour, old fashioned (not quick!) oats, baking soda, salt, and brown sugar. It's really important to level off all your ingredients to the top of the measuring cups/spoons.
Wet ingredients: melted butter, one large egg, and some vanilla extract is all you need for wet ingredients! Make sure the melted butter has returned to room temperature so you don't melt the sugars (which will result in greasy cookies). It's also important you use a large egg so there is enough moisture in the dough!
Combine wet and dry: everything gets mixed together. It's a thick dough so it can hold the rolos in well; mix until all ingredients are incorporated (I like using hand mixers).
Add 2 rolos into the center of each cookie: roll just enough dough to cover the rolos. Bake in a preheated oven.
Drizzle: since there aren't chocolate chips in the dough, it's important to finish these cookies off with some melted chocolate. Drizzle it right on top and enjoy! If you like salty sweet, hit the tops of these cookies with some Maldon sea salt flakes!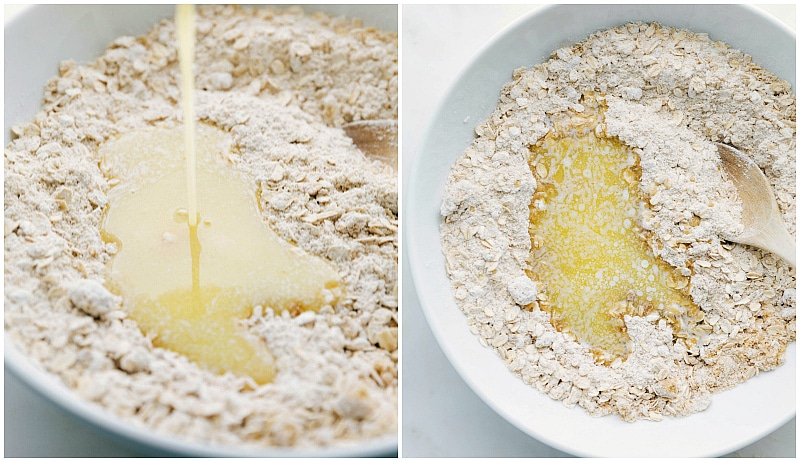 Tips for making the perfect caramel oatmeal cookies
Precise measuring – if you use too much flour, you'll end up with dense, overly puffy cookies. Spoon your flour into the measuring cup (if you scoop it into a measuring cup, it might get packed in too tightly) and level it off with the flat edge of a butter knife.
Slightly under bake for the delicious super soft and chewy texture we all love! Over-baked oatmeal caramel cookies aren't near as flavorful or tender.
Make sure dough completely encapsulates the rolos. Otherwise, the rolos will seep out and likely burn.
Use a silpat liner or parchment paper: these cookies bake best on a liner. Especially if a little caramel does ooze out — it won't make as big of a mess on a liner like it will on a tray.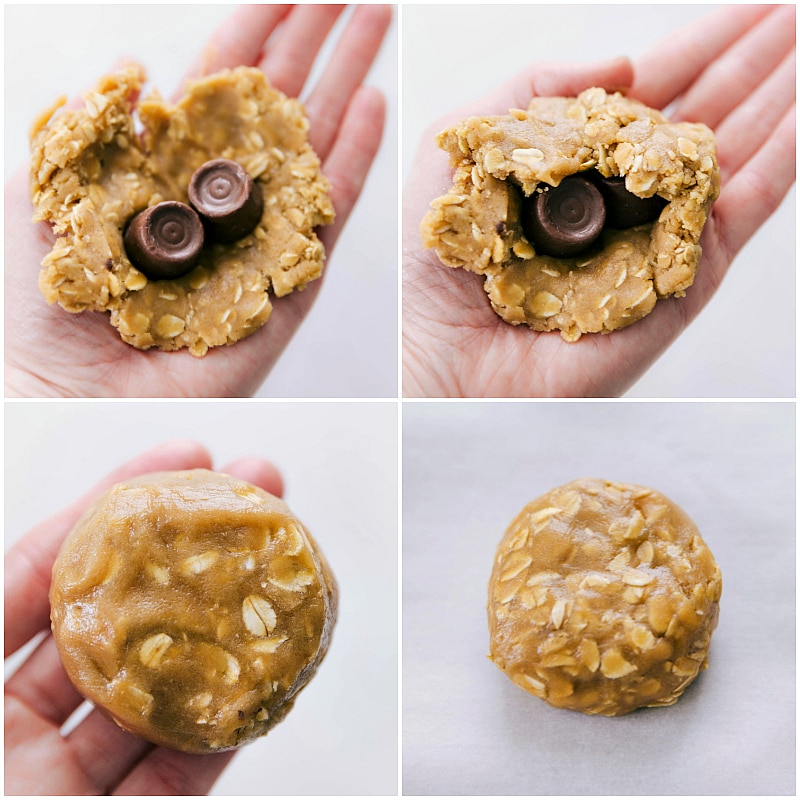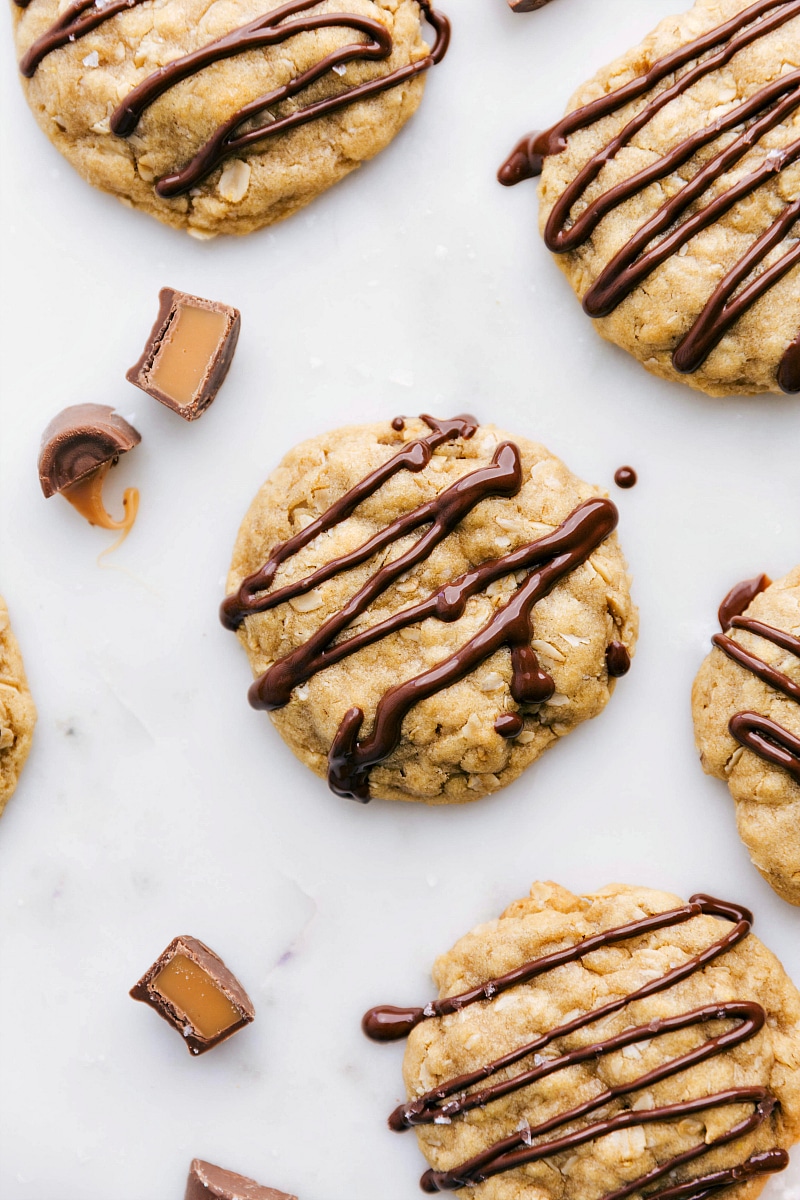 More delicious cookie recipes: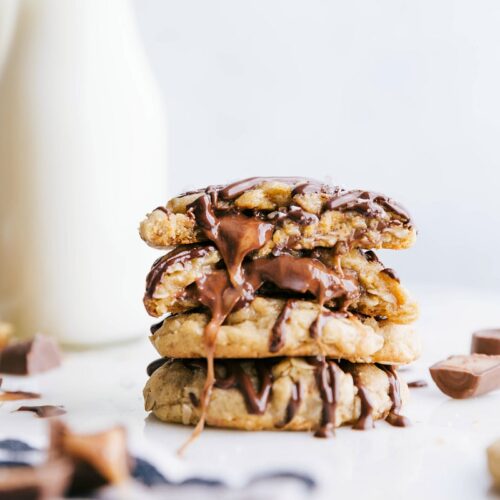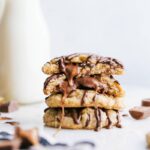 Caramel Oatmeal Cookies
Homemade caramel oatmeal cookies with a gooey chocolate caramel filling and a chocolate drizzle on top.
Keyword:
caramel oatmeal cookies
Servings
:
15
-16 large cookies
Ingredients
1 and 1/2

cups

white flour,

spoon and level measurement

1 and 1/2

cups

old fashioned oats

1

cup

packed light brown sugar

3/4

teaspoon

baking soda

3/4

teaspoon

fine sea salt

(reduce to 1/2 teaspoon if using table salt OR sensitive to salt)

10

tablespoons

unsalted butter,

melted and cooled to room temperature.

1

teaspoon

vanilla extract

1

large

egg

30-34

unwrapped rolos

(2 per cookie)

1/2

cup

milk chocolate chips

(or semi-sweet or dark; whichever you like best!)

1

teaspoon

vegetable oil
Instructions
Preheat the oven to 350 degrees F. Line a large sheet pan with parchment paper or a silpat liner and set aside.

In a large bowl, stir together the flour, oats, brown sugar, baking soda, and salt.

Melt the butter (allow to cool to room temperature so it doesn't melt the sugar and cause greasy cookies) and combine with the vanilla extract and egg. Pour into dry ingredients.

Stir everything together until a thick dough forms. You may need to knead the mixture with your hands.

Place the dough in the fridge, covered, while you unwrap the rolos. Unwrap the rolos.

Flatten the dough in your hand (about 2.5 to 3 tablespoons of dough) and press two rolos into the center of the cookie. Press the edges up around the candies and completely seal into a large cookie -- the dough should just cover the rolos but not make a ton extra. Make sure none of the rolos are exposed or it will leak out during baking.

Place 6 - 8 cookies on prepared sheet pan giving the cookies plenty of room. Place the tray in the fridge for 10 minutes to firm up before adding to the oven.

Bake for 9-12 minutes. Slightly underbaking these is the BEST! It lends a softer cookie with melted and gooey caramel. Overbaking these makes the caramel harden when cooled.

I pull out the cookies generally at 9-10 minutes, allow them to sit on the cookie sheet for another 2-3 minutes, and then transfer to a cooling rack to allow them to firm up a bit.

To top with chocolate, combine the chocolate chips and vegetable oil in a microwave safe bowl. Microwave for 30 seconds, stir for 15 seconds, and then microwave again in bursts of 15 seconds, stirring in between each burst for 10 seconds until completely melted.

Take a spoon and dip it in the melted chocolate. Run the spoon from left to right over the cookies to get the chocolate drizzle. Alternatively transfer chocolate to a small plastic bag, snip off the top with scissors, and drizzle all over. Let stand.

Cookies best enjoyed within 1-2 days of making; best on the same day they're made!