The best ever lemon cookies with a simple lemon glaze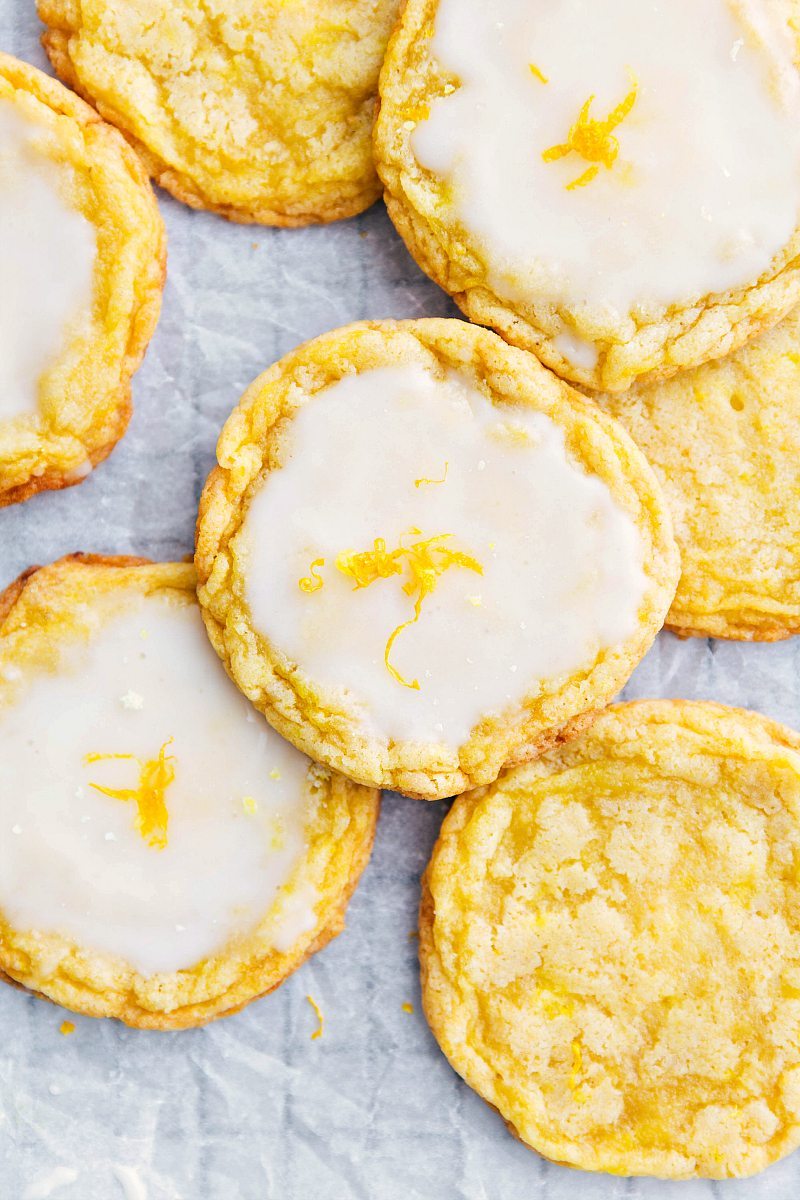 These from scratch, easy-to-make, soft & chewy lemon cookies are truly the best! Thanks to a few "secret ingredients" these cookies are tangy, lemony, and overall so delicious!
I've made so many lemon cookies over the years and struggled to find the "perfect lemon cookie" with the texture of a typical cookie. I've shared my very favorite soft, puffy, and cake-like lemon cookies here. But as far as a soft and chewy cookie with crisp edges, plenty of lemon flavor, and the perfect glaze, THESE are my version of the "perfect" lemon cookies!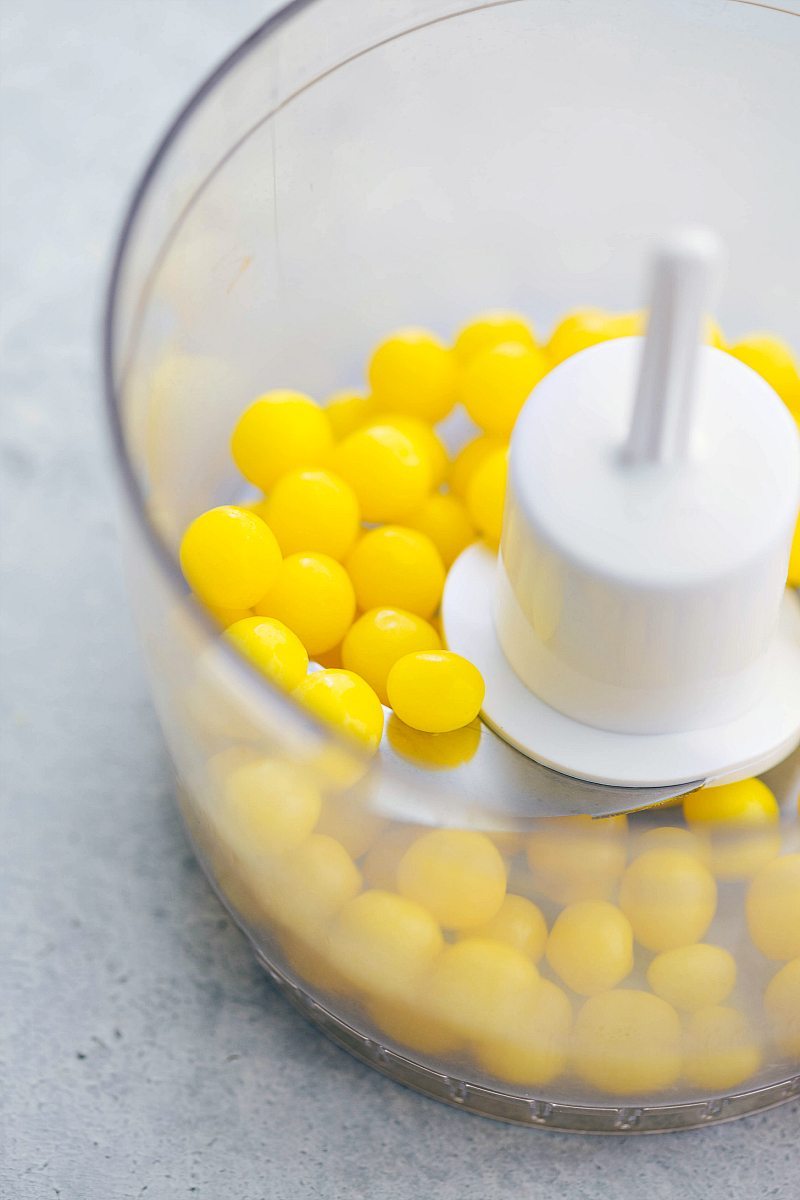 And the biggest secret? LEMONHEADS! You know, those crazy good & tangy lemon candies you used to be able to buy in little boxes? Yes, those. We pulse them in a food processor until they basically resemble flour and use those in the cookies. It gives these cookies the perfect sweetness and burst of delicious tart lemon flavor.
Although lemonheads aren't readily sold in little boxes at the grocery stores anymore, I've never had a problem finding them in a bag somewhere along the candy asile. (Or if you're a Clicklist shopper, it's as easy as typing out "lemonheads" in your computer :))
Measure those lemonheads BEFORE pulsing them and then toss them in a food processor or blender until you've got fine bits of lemon candy to add to the dry ingredients.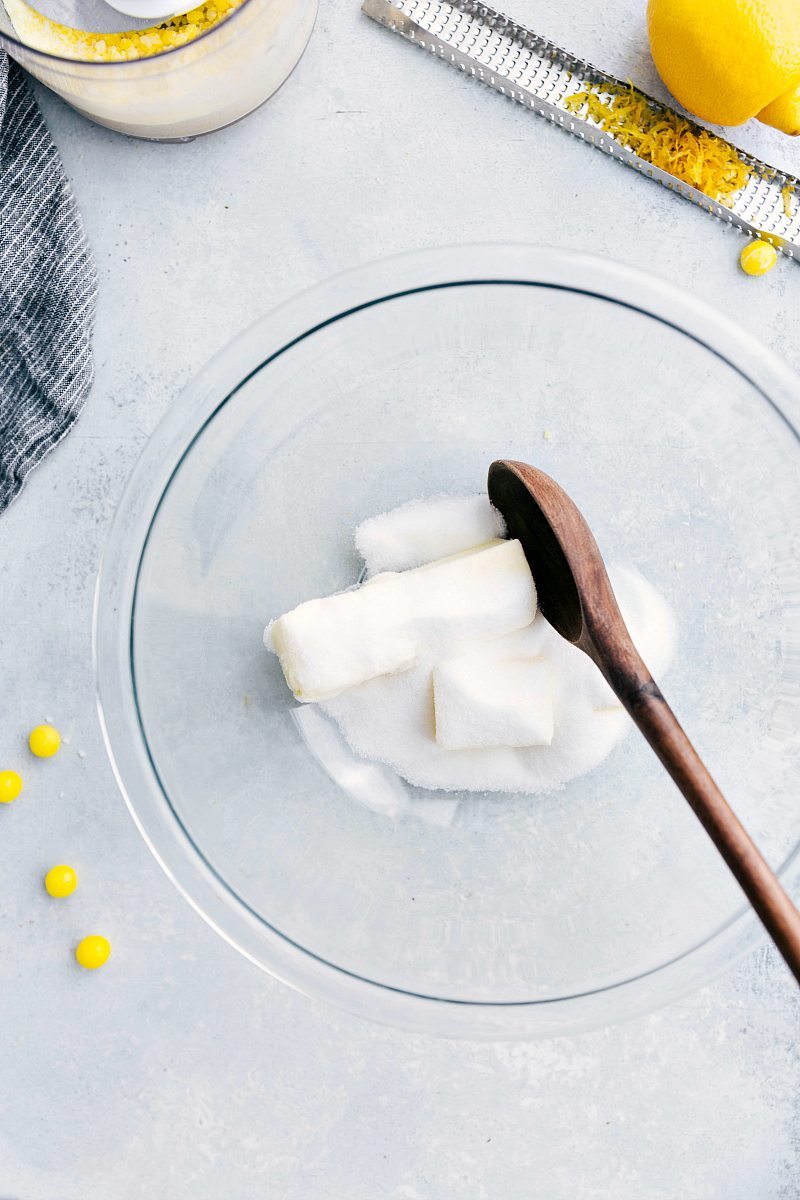 Besides the lemonheads, we're also using lemon extract OR lemon emulsion.
Just like vanilla or almond extract, you can also buy lemon extract. It's quite different than regular lemon juice as it's a much more concentrated flavor.
Although I use lemon extract in these cookies and love it, I do prefer using lemon emulsion. Extracts are alcohol based while emulsions are water based. As you probably know, alcohol cooks off at high temperatures so the lemon extract does somewhat cook off in high heat while as the flavor of emulsions do not bake out. You'll still get a great flavor with a lemon extract, but a slightly more intense flavor with the emulsion.
The substitution from extract to emulsion is 1:1 so you can either use 1 teaspoon lemon extract or 1 teaspoon lemon emulsion in these cookies. I would not recommend lemon juice because it simply does not have the same strong/concentrated flavor as an extract or emulsion. If you add more lemon juice to make up for that lack of flavor, the cookies won't have the right texture and will likely spread too much.
We also use lemon zest in these cookies to give it one last punch of lemon flavor. These cookies are very lemon flavored which I'm totally obsessed with! They do not have a faint lemon flavor so if you aren't a huge lemon fan, you may not not love these cookies.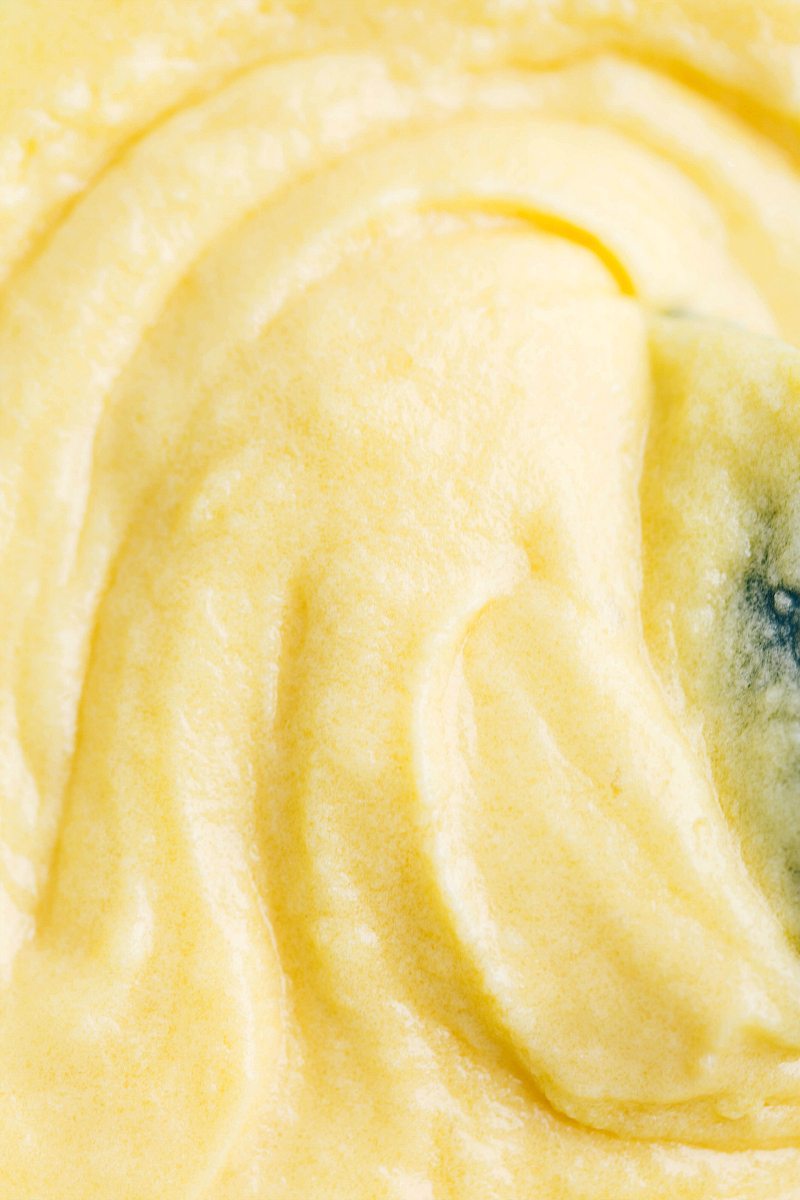 Here are a few more tips to make the best lemon cookies:
It's best to chill the dough. Chilling the dough also gives the sugar time to absorb more of the liquid and become more concentrated. A more concentrated sugar is going to give you a chewier and sweeter cookie. The recommended chill time on these cookies is 30 minutes to an hour.
Use real butter and beat it with the sugar: Butter gives these cookies body, texture, and flavor. By beating it with the sugars at the start you're fluffing up the butter with air which gives these cookies that perfect foundation for a great texture.
Chop the lemon zest: after zesting a lemon, give that zest a quick coarse chop. That allows the lemon zest to get more evenly into each cookie (better flavor for ALL the cookies) and you never get a bite with a big piece of zest in it 🙂
Room temperature ingredients: it's really important that the butter and eggs are at room temperature for the perfect texture and flavor of these cookies. Leave these ingredients out for 45 minutes to an hour and they'll be perfect. OR, soak the eggs in some warm water for about 5 minutes to bring them to room temperature. And for the butter, open it up and place it on a plate. Run some super hot water through a bowl, dry completely, and cover the butter on a plate with this dried but warm bowl. Give it about 5 minutes and it will also be at perfect room temperature.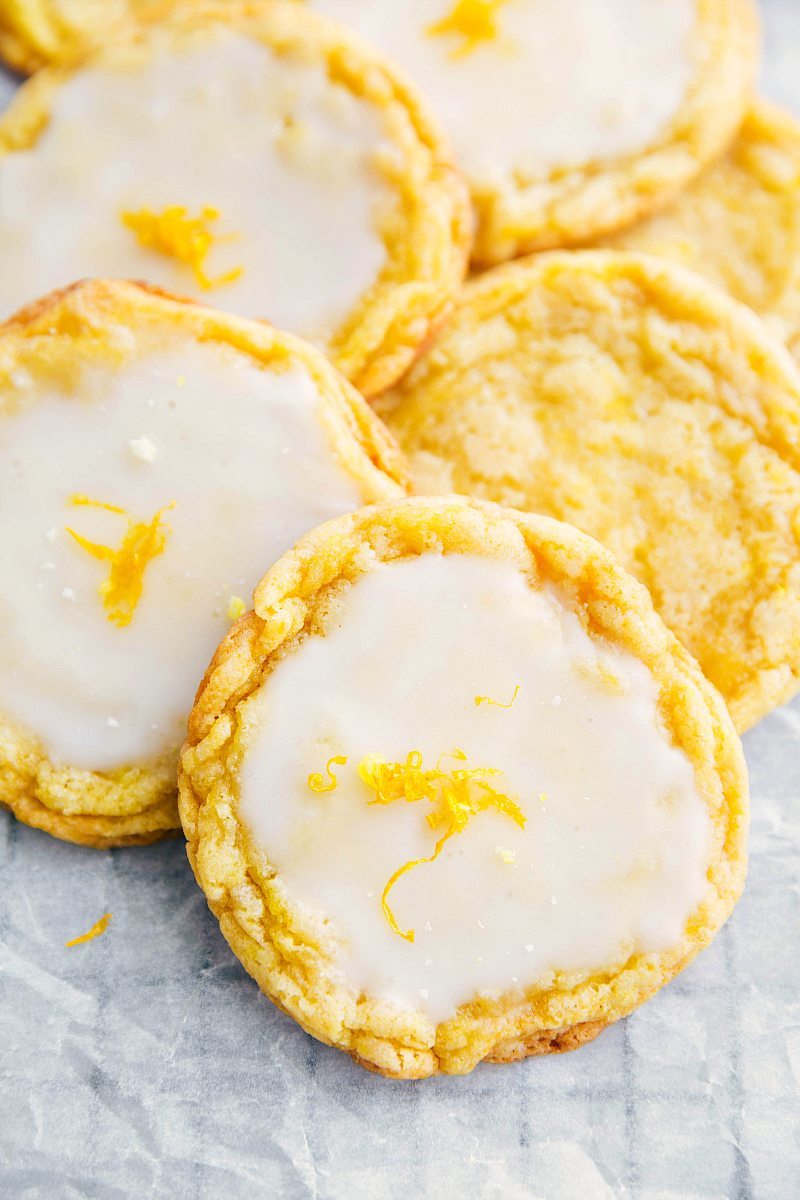 More Lemon Desserts:
Healthier Lemon Zucchini Bread
For more delicious recipes, follow along on Pinterest, Instagram, Facebook, and YouTube 🙂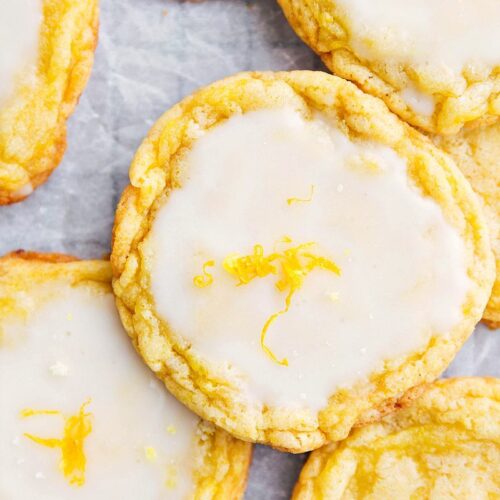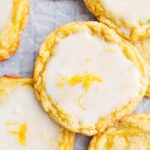 Lemon Cookies with a Lemon Glaze
The best ever lemon cookies with a simple lemon glaze
Ingredients
1

cup

white sugar

3/4

cup

unsalted butter

1

large

egg

1

large

egg yolk

1

teaspoon

pure vanilla extract

1

teaspoon

lemon extract (OR use 1 teaspoon lemon emulsion)

2

cups

white all-purpose flour

3/4

teaspoon

baking soda

3/4

teaspoon

baking powder

1/2

teaspoon

fine sea salt

1

teaspoon

finely chopped lemon zest

(zest of 1 lemon)

1/2

cup

lemonhead candies

(measured BEFORE being pulsed)
Glaze
1

cup

powdered sugar

3

tablespoons

freshly squeezed lemon juice

Optional: additional lemon zest
Instructions
In mixing bowl, cream sugar and butter. Add in the egg and egg yolk, vanilla extract, and lemon extract.

In another bowl, stir together the flour, baking soda, baking powder, salt, and lemon zest. In a food processor, pulse the lemonhead candies. Add into the dry ingredients. Whisk everything together and then add to the wet ingredients. Mix until JUST combined.

Cover the dough and chill in the fridge for 1 hour. Roll into balls and bake on a parchment lined baking sheet (do not skip the parchment paper/silpat liner or these cookies won't come off the pan!)

Preheat the oven to 350 degrees F. Bake for 10-12 minutes. Let cool on the pan for a few minutes.

Prepare the glaze: whisk together the freshly squeezed lemon juice and powdered sugar until smooth. Brush generously over cooled cookies and if desired top with additional lemon zest.