The BEST sweet lemon poppyseed dressing (no mayo), easy candied pecans, and fresh berries over a bed of spinach. This berry spinach salad is delicious and great to serve to a crowd!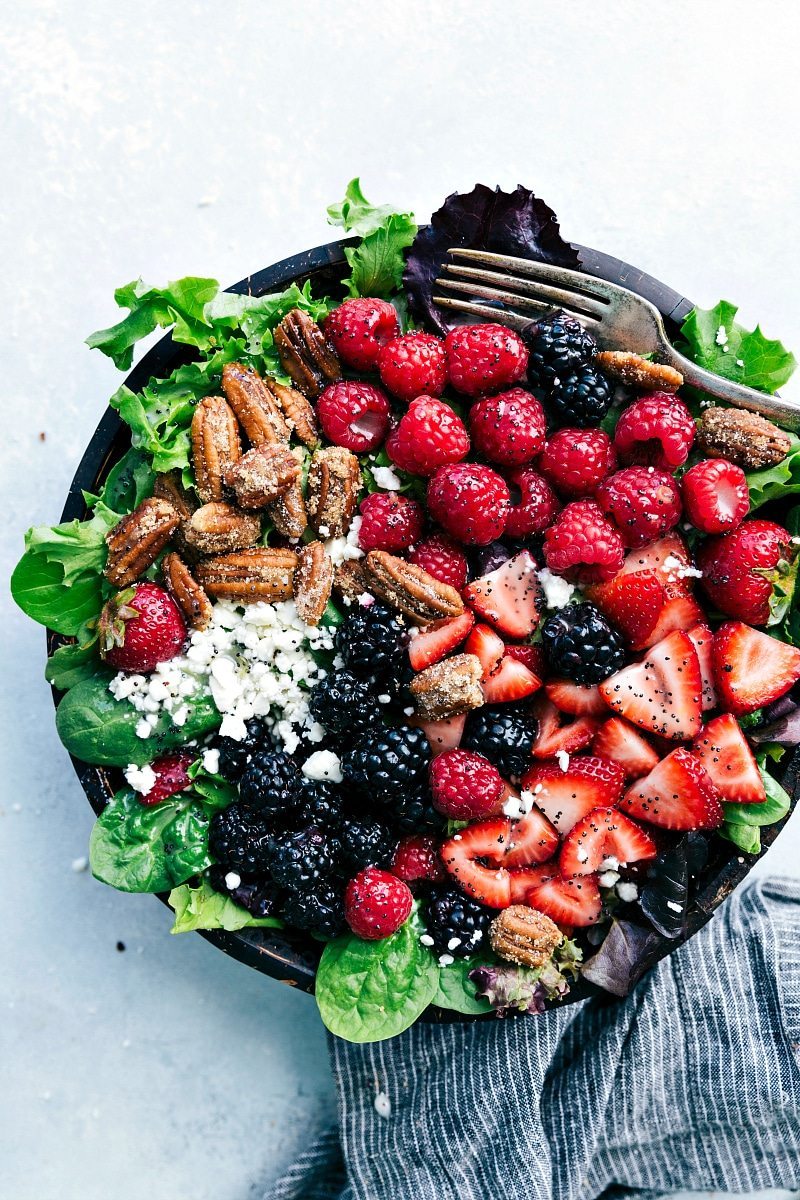 A few weeks ago blackberries, raspberries, and strawberries all went on sale for $1.25 per carton. Because of the mega-exciting life that I lead, this was probably the most exhilarating thing to happen in a few weeks. I live for berry season and so naturally we stocked up like crazy. I'm talking five of each container.
Usually when they go on sale, I'll buy a ton and freeze them, but this time not a single berry was frozen and not a single went to waste. They were SO good. They ended up in yogurt or oatmeal for breakfast every morning, in salads for lunch, a constant source of snacking, and in big spinach salad dinners with grilled chicken.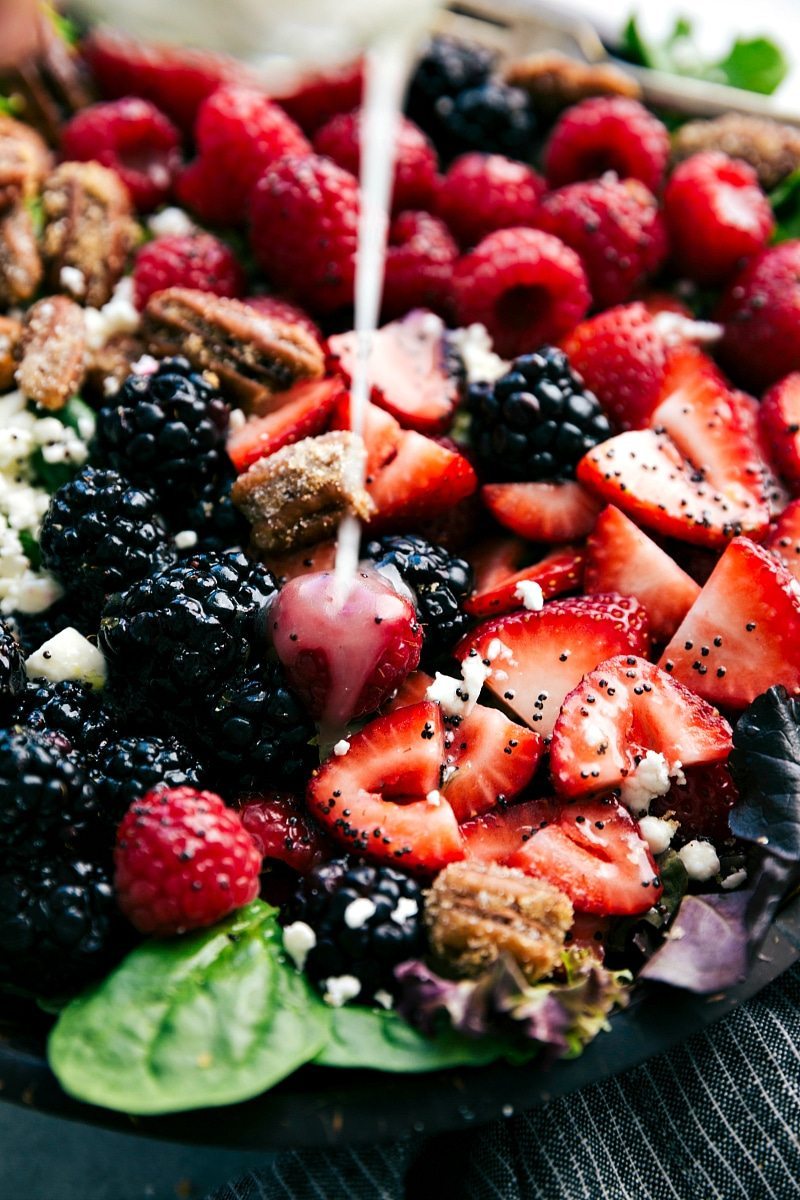 Although this salad isn't anything too evolutional (I mean, its berries and spinach right?!) it's been eaten and enjoyed like CRAZY around these parts and I thought I owed it to you to share the dressing which is crazy good. And you also need the recipe for candied pecans. With those two parts of the salad you can add just about any fresh fruit or berry and I can pretty much 100% guarantee a complete salad obsession.
This dressing is one of my favorite creations. I first developed it last Fall and since then have made it no short of twenty times. I've slightly tweaked it for this recipe and to help it pair with the sweet berries. If I am ever bringing salad to an event THIS is the dressing I bring.
It does have some sugar, but it is mayo-free! Which is pretty amazing since you still get a relatively thick dressing that sticks well to the fruits and lettuce. The key to this consistency is blending the dressing instead of just whisking or shaking it in a jar. That and a little dijon mustard!

The candied pecans are also so easy and add so much to a salad, BUT if you are looking to cut out some sugar or make a healthier salad I would recommend lightly toasting the nuts which is also really easy and adds a lot of flavor.
To toast the nuts: pour the nuts into an even layer in a small, dry (no need to add oil or anything) skillet over medium-heat and stir them around a bit until they are fragrant, lightly browned, and toasted to your liking.
Enjoy!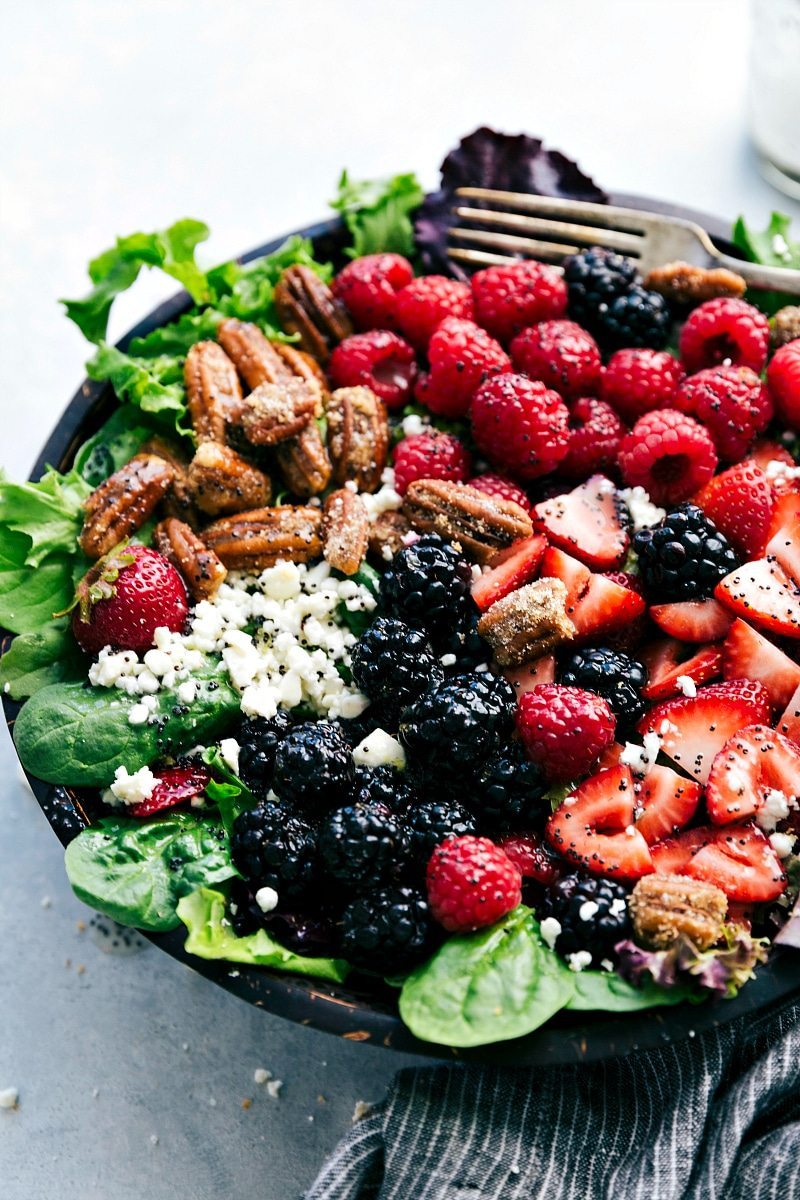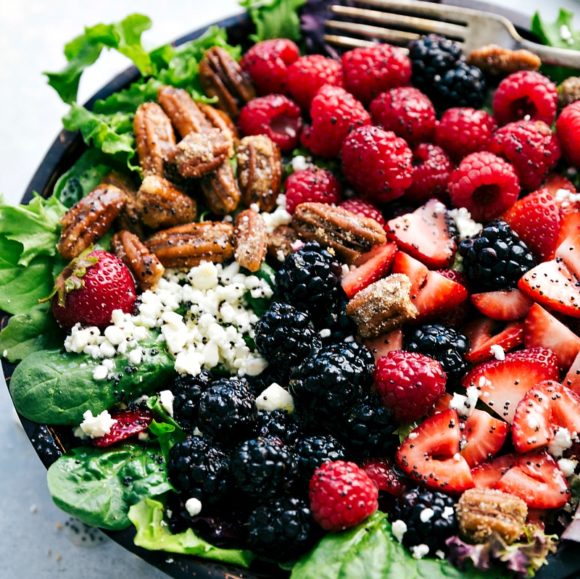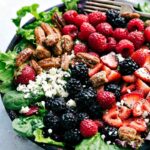 Triple Berry Salad with Candied Pecans
The BEST sweet lemon poppyseed dressing (no mayo), easy candied pecans, and fresh berries over a bed of spinach. This berry spinach salad is delicious and great to serve to a crowd!

Servings
:
4
-6 (as a side)
Ingredients
Salad
1

bag (6-8 ounces)

fresh spinach OR salad blend (mixed greens and spinach)

~7 cups

1

cup

heaping strawberries

1

cup

heaping raspberries

1

cup

heaping blackberries

4

ounces

feta cheese
Candied Pecans
1

large

egg white

2

teaspoons

water

1

teaspoon

vanilla

1

cup

white sugar

3/4

teaspoon

salt

1

teaspoon

cinnamon

4

cups

pecan halves

(1 pound)
Dressing
4

tablespoons

freshly squeezed lemon juice

1

teaspoon

heaping lemon zest

1/4

teaspoon

onion powder

1/2

teaspoon

Dijon mustard

do not use regular mustard

1/4

teaspoon

salt

3

tablespoons

white sugar

1/3

cup

vegetable oil

1/2

tablespoon

poppyseeds
Instructions
Salad
Wash and THOROUGHLY dry (wet lettuce won't allow the dressing to adhere well) the spinach. Remove any long stems.


Wash and thoroughly dry the fruit.


Toss the fruit with the spinach. Add in the candied pecans and feta cheese.


Top with dressing only RIGHT before serving.


If you plan on having leftovers, do not toss in with dressing as it doesn't store or sit well.

To candy the pecans
Preheat oven to 250 degrees F and generously grease a baking sheet.


In a mixing bowl, whip together the egg white, water, and vanilla until frothy. In a separate bowl, mix together sugar, salt, and cinnamon.


Add pecans to egg whites, stir to coat the nuts evenly. Remove the nuts, and toss them in the sugar mixture until coated. Spread the nuts out on the prepared baking sheet.


Bake for 1 hour, stirring and tossing every 15 minutes.

Dressing:
Combine the freshly squeezed lemon juice, lemon zest, onion powder, dijon mustard, salt and sugar in a blender or food processor. Blend or pulse until completely smooth. Slowly pour in the vegetable oil and blend. Stir in the poppyseeds.

Recipe Notes
The amounts of toppings are general guidelines -- we like a lot of toppings to the amount of lettuce 🙂 Add or remove toppings to personal preference.
More Amazing Salads: