This post may contain affiliate links. Please read my disclosure policy.
How to build your own yogurt bowl! This post contains all my tips and tricks to making the perfect yogurt bowl with EIGHT flavor variations.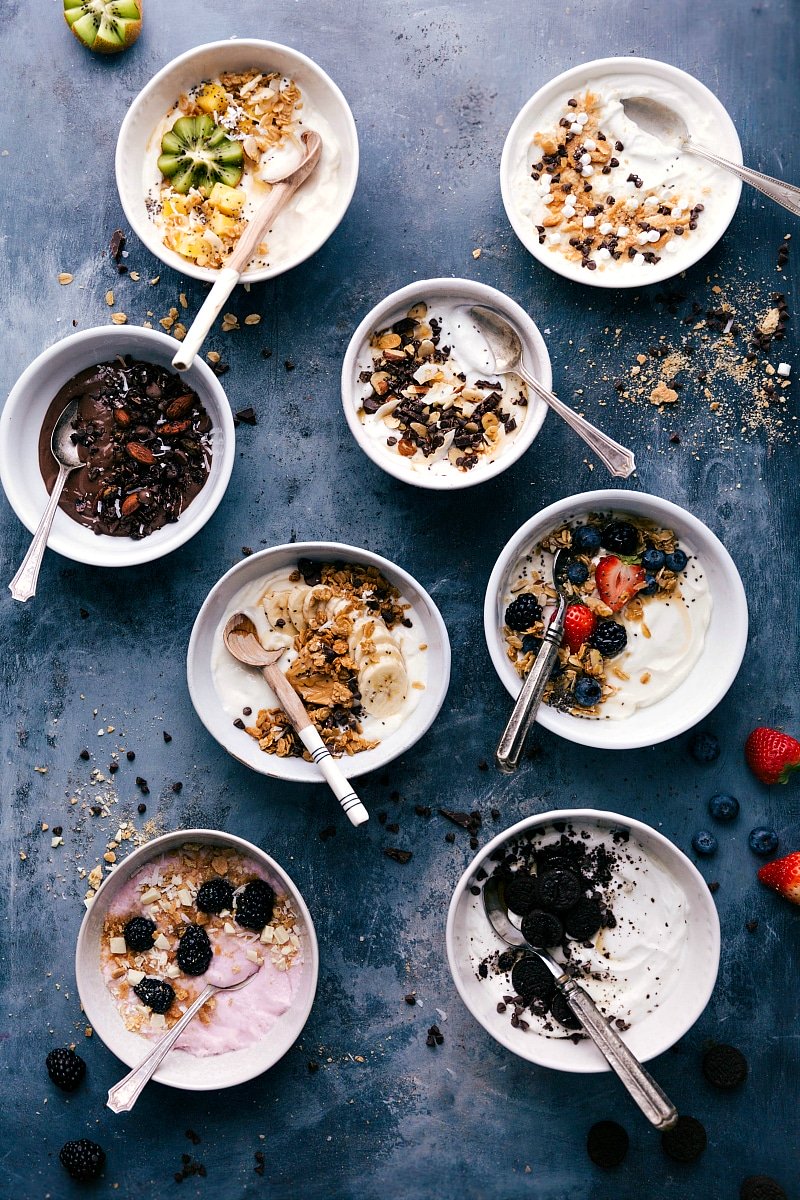 Yogurt bowls make a great breakfast or snack!
Step aside
acai bowl
, these yogurt bowls are the new breakfast in town! Okay, just kidding, I love and eat both on a regular basis 🙂
Plain yogurt is fine and all, but when you add just a few toppings, it goes from fine to WOW. Today I'm sharing 8 different ways to top a yogurt bowl (my personal favorite ways), but also including lots of ideas so you can make the yogurt bowl of your dreams. So, first things, first:
What can I put in yogurt for breakfast?
I mean, the sky is the limit here, just about anything can go in a yogurt bowl 🙂
Yogurt: pick your favorite flavor and brand to start your bowl. I can't recommend Greek God's Honey Vanilla Greek Yogurt enough; it is the best Greek yogurt for these bowls. (Not sponsored).
Bite-sized pieces of fresh fruit: bananas, pineapple, kiwis, strawberries, raspberries, blueberries, blackberries, mango, etc. Whatever fresh fruit you like will pair well with yogurt.
Small frozen fruit: I prefer fresh, but frozen berries are quite good in yogurt.
A handful (or two) of granola: granola adds the perfect texture and crunch to top the bowl with.
A handful (or two) of nuts: roasted and chopped nuts are delicious with yogurt. Try sliced or slivered almonds, chopped pecans, chopped walnuts, chopped pistachios, chopped cashews, peanuts, etc.
Chia seeds: these small unassuming seeds are packed with good nutrients, are rich in antioxidants, and provide fiber, iron, & calcium. They add a nice textural topping to the yogurt. More on chia seeds below.
Dried fruits: raisins, dried cranberries, currants, dried cherries, chopped dates, etc. are all great on top of yogurt.
Drizzle or dollop a spoonful of nut butter: almond butter, cashew butter, or peanut butter drizzled over yogurt is delicious.
Coconut: toasted unsweetened coconut adds a nice texture and flavor
Can you just put chia seeds in yogurt?
Chia seeds tend to swell with liquid and become less crunchy the longer they sit. I do think they make a nice (and healthy) addition to yogurt, but just add them right before eating!
How to make yogurt more filling
Use Greek yogurt: Greek yogurt is more filling than plain yogurt and is packed with protein which will keep you fuller for longer.
Add fiber rich toppings: fiber helps you to feel more full. Granola, berries, chia seeds, and nuts are loaded with fiber.
Drink water: it might sound silly, but drinking water while eating your yogurt bowl will make it more filling. Oftentimes our brains confuse thirst with hunger.
Here are some more ways to boost the nutrition of your yogurt and make it more filling.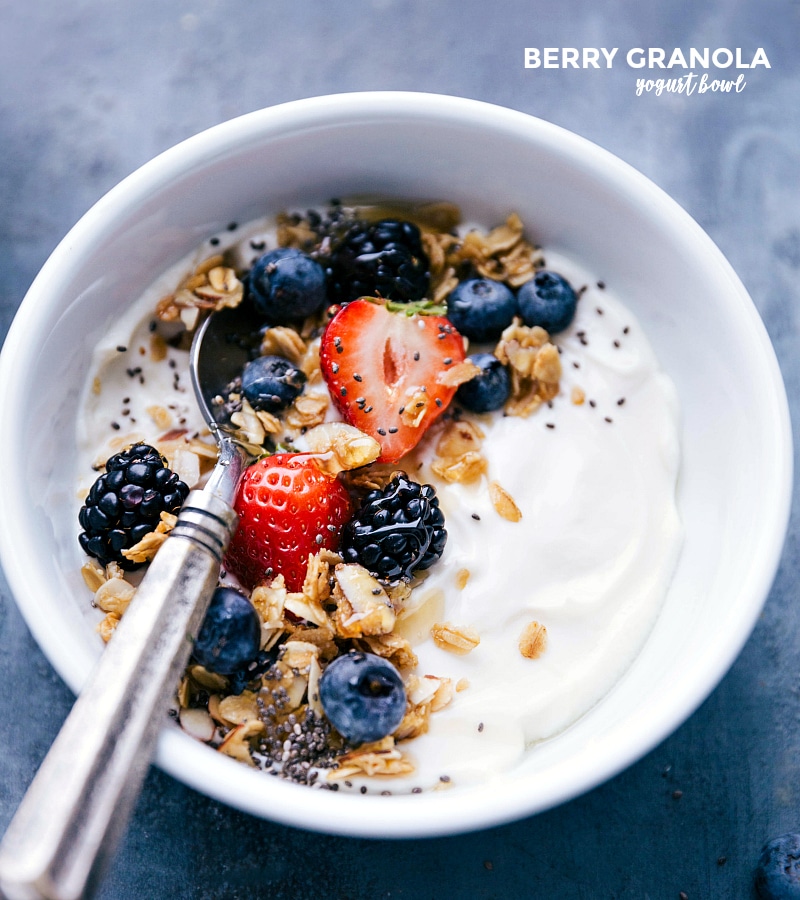 Below is my standard yogurt bowl recipe; keep scrolling for more information and 7 additional recipes!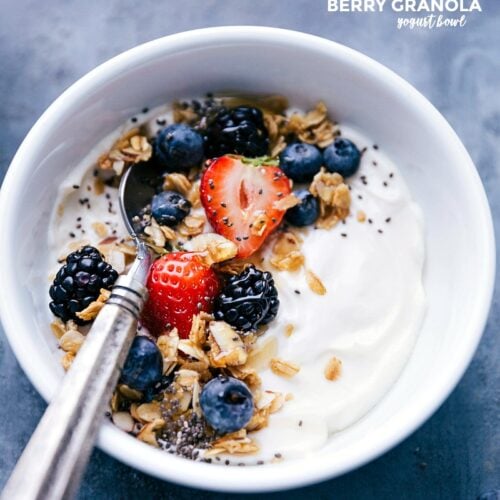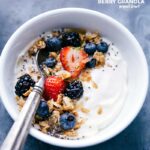 Yogurt Bowl
How to build your own yogurt bowl! This post contains all my tips and tricks to making the perfect yogurt bowl with EIGHT flavor variations. 
Ingredients
3/4

cup

Honey Vanilla Greek Yogurt

(I use & recommend Greek God's)

1/2

cup

mixed berries of choice

(such as blueberries, blackberries, raspberries, strawberries, etc.)

2-3

tablespoons

granola

(homemade or store bought)

1-2

tablespoons

sliced almonds or similar nuts

Optional: 1 teaspoon chia seeds

Optional: drizzle of honey or pure maple syrup
Instructions
Add yogurt to a bowl and smooth down. Add berries on top, then granola, then nuts, and finally chia seeds if desired. Add a drizzle of sweetener on top if desired. Enjoy immediately.
Now for the 7 other yogurt bowl recipes: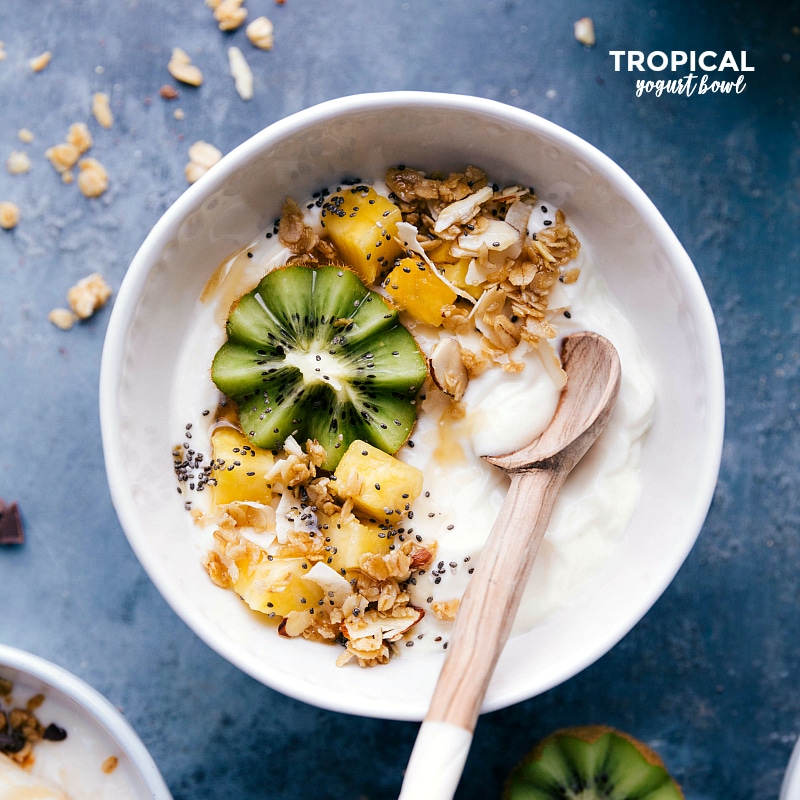 TROPICAL YOGURT BOWL
serves 1
ADD THE FOLLOWING TO A BOWL:
3/4 cup coconut Greek yogurt I like Yoplait Whips Yogurt Mousse Coconut Creme
TOP EACH BOWL WITH THE FOLLOWING: (Below are my recommendations; add your favorite toppings and add to your desired quantity. These topping suggestions are for one yogurt bowl.)
Handful of almond granola, or a similar store bought/homemade granola
1/2 cup fresh pineapple, chopped into small pieces
1/2 fresh kiwi
1 teaspoon chia seeds
1-2 tablespoons toasted coconut
1 teaspoon honey or pure maple syrup optional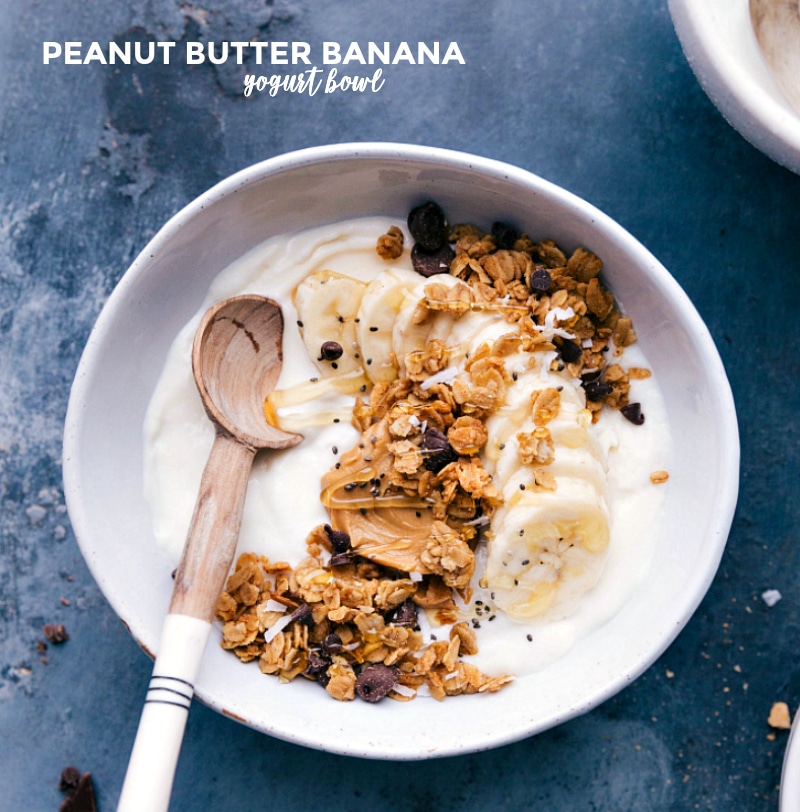 PEANUT BUTTER BANANA YOGURT BOWL
serves 1
ADD THE FOLLOWING TO A BOWL:
3/4 cup honey vanilla Greek yogurt I like Greek God's honey vanilla yogurt
TOP EACH BOWL WITH THE FOLLOWING: (Below are my recommendations; add your favorite toppings and add to your desired quantity. These topping suggestions are for one yogurt bowl.)
Handful of peanut butter granola, or a similar store bought/homemade granola
1 tablespoon peanut butter drizzled over everything or spooned in the center
1/2 cup fresh banana, thinly sliced
1 teaspoon chia seeds
1 teaspoon honey or pure maple syrup optional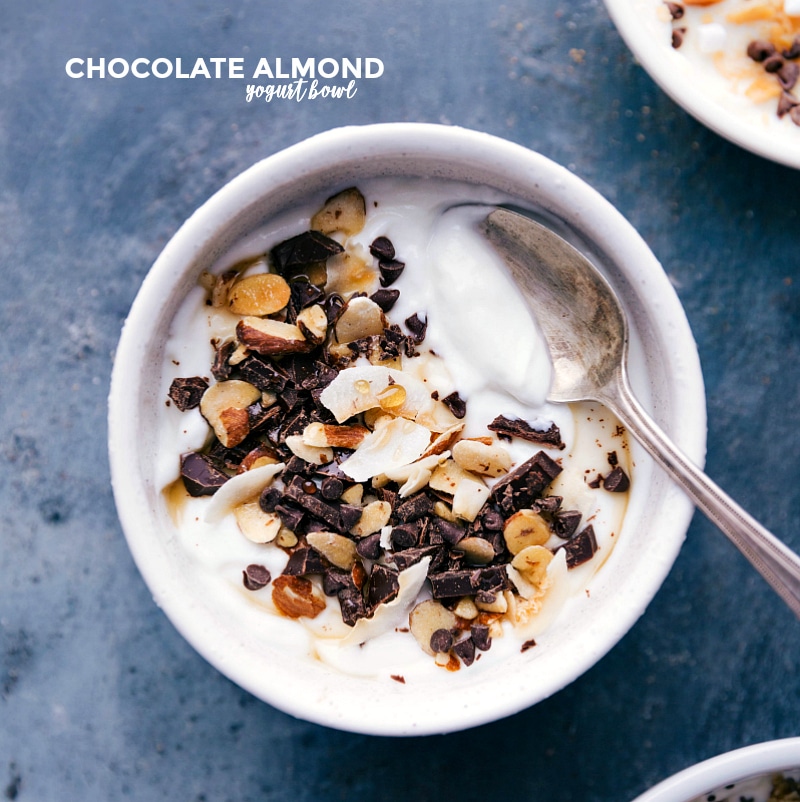 CHOCOLATE ALMOND YOGURT BOWL
serves 1
ADD THE FOLLOWING TO A BOWL:
3/4 cup coconut Greek yogurt I like Yoplait Whips Yogurt Mousse Coconut Creme
TOP EACH BOWL WITH THE FOLLOWING: (Below are my recommendations; add your favorite toppings and add to your desired quantity. These topping suggestions are for one yogurt bowl.)
1-2 tablespoons chopped dark chocolate
1 tablespoon miniature chocolate chips
3 tablespoons honey roasted sliced almonds I like Fresh Gourmet sliced almonds that are honey roasted
1 teaspoon honey or pure maple syrup optional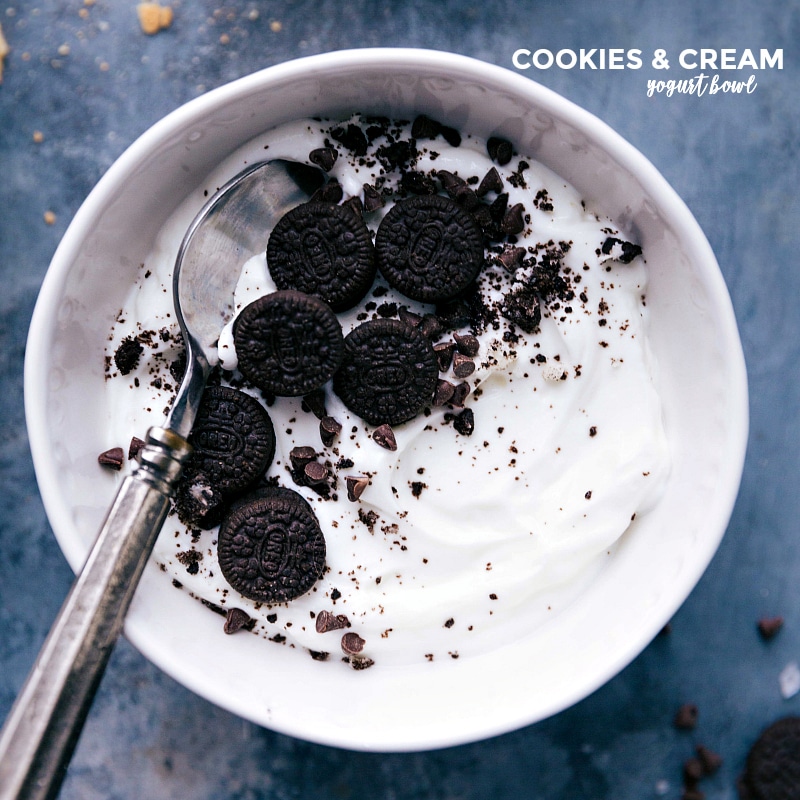 COOKIES & CREAM YOGURT BOWL
serves 1
ADD THE FOLLOWING TO A BOWL:
3/4 cup honey vanilla Greek yogurt I like Greek God's honey vanilla
TOP EACH BOWL WITH THE FOLLOWING: (Below are my recommendations; add your favorite toppings and add to your desired quantity. These topping suggestions are for one yogurt bowl.)
1-2 tablespoons chopped dark chocolate
1 tablespoon miniature chocolate chips
Handful of miniature Oreos or crushed full sized Oreos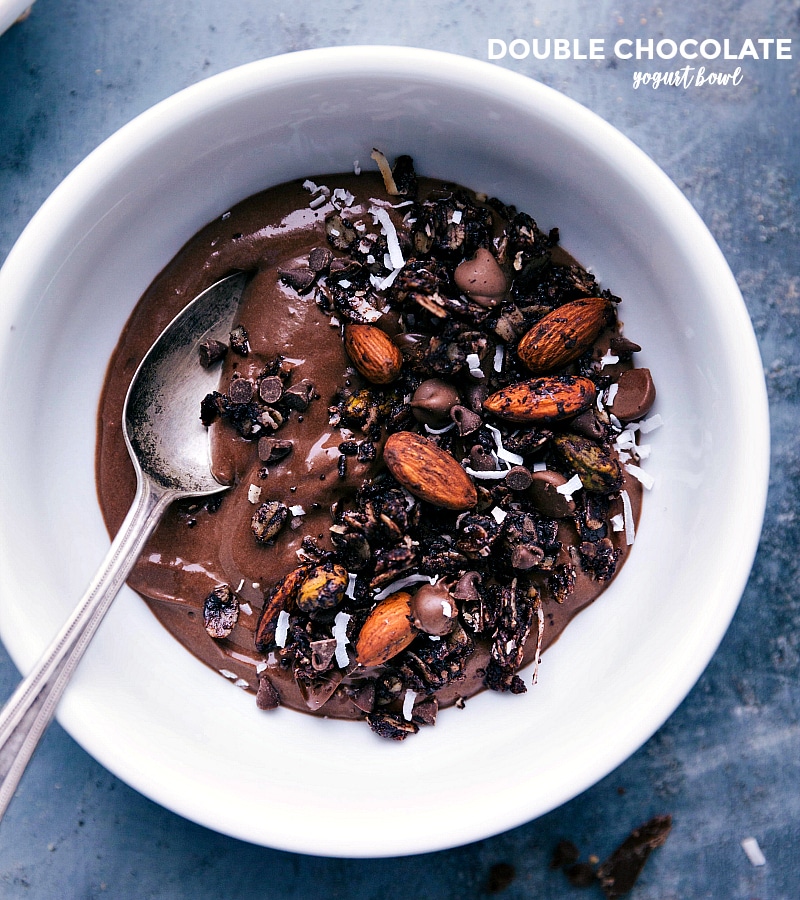 DOUBLE CHOCOLATE YOGURT BOWL
serves 1
WHISK THE FOLLOWING IN A BOWL UNTIL SMOOTH AND COMBINED:
1/2 cup honey vanilla Greek yogurt I like Greek God's honey vanilla
2 tablespoons dutch process cocoa powder (regular cocoa powder doesn't taste right; here's the exact cocoa powder I use (and highly recommend; affiliate link). Hershey's makes a "Special Dark" dutch process cocoa powder found at most grocery stores.
1 tablespoon + 2 teaspoons pure maple syrup
TOP EACH BOWL WITH THE FOLLOWING: (Below are my recommendations; add your favorite toppings and add to your desired quantity. These topping suggestions are for one yogurt bowl.)
Handful of chocolate granola, or a similar store bought/homemade granola
1-2 tablespoons miniature chocolate chips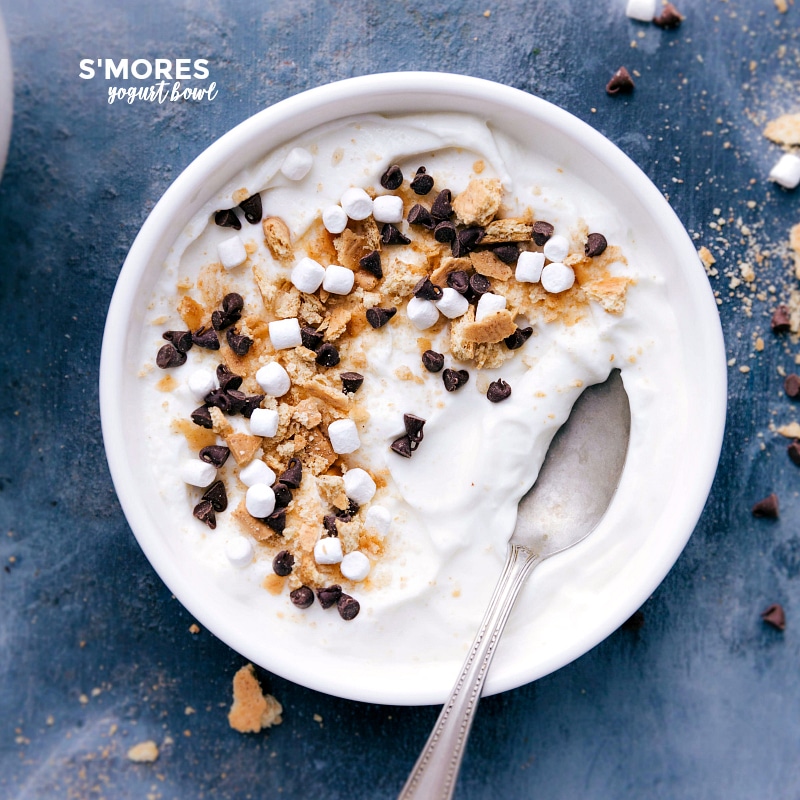 S'MORES YOGURT BOWL
serves 1
ADD THE FOLLOWING TO A BOWL:
3/4 cup honey vanilla Greek yogurt I like Greek God's honey vanilla
TOP EACH BOWL WITH THE FOLLOWING: (Below are my recommendations; add your favorite toppings and add to your desired quantity. These topping suggestions are for one yogurt bowl.)
2 tablespoons dehydrated marshmallows
2 tablespoons miniature chocolate chips
3 tablespoons crushed graham cracker crumbs about 1 crushed graham cracker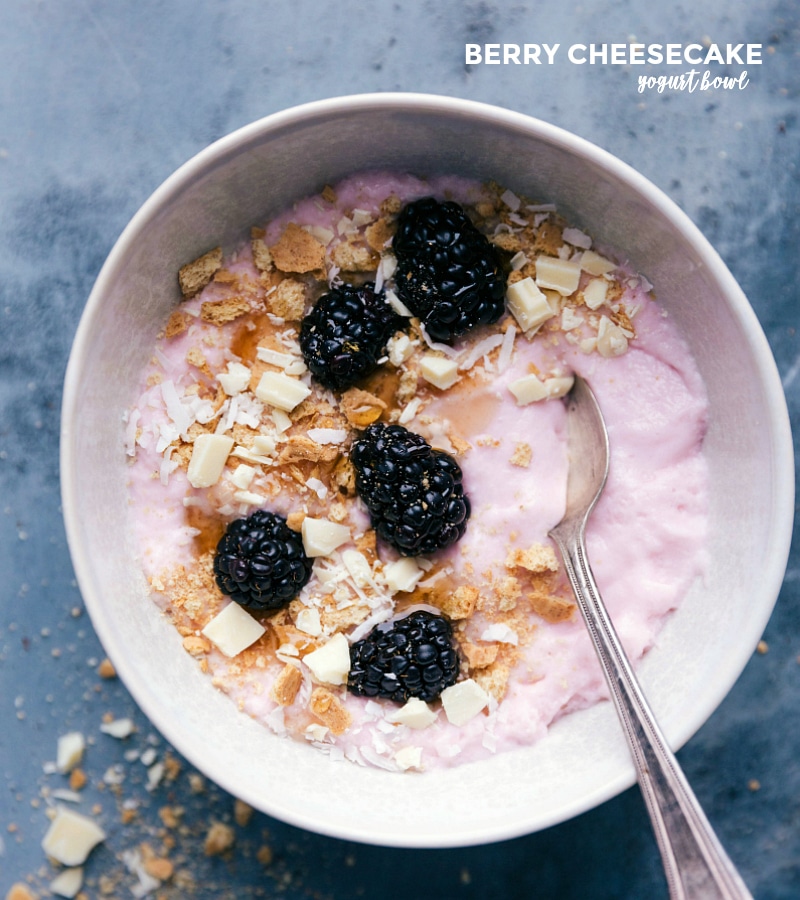 STRAWBERRY CHEESECAKE YOGURT BOWL
serves 1
ADD THE FOLLOWING TO A BOWL:
3/4 cup strawberry yogurt I like Yoplait Whips Strawberry Mist Lowfat Yogurt Mousse
TOP EACH BOWL WITH THE FOLLOWING: (Below are my recommendations; add your favorite toppings and add to your desired quantity. These topping suggestions are for one yogurt bowl.)
1/2 cup fresh blackberries or other mixed berries of choice
2 tablespoons chopped white chocolate
3 tablespoons crushed graham cracker crumbs about 1 crushed graham cracker
1 teaspoon honey or pure maple syrup optional