Delicious berry salad with candied pecans and an incredible raspberry vinaigrette!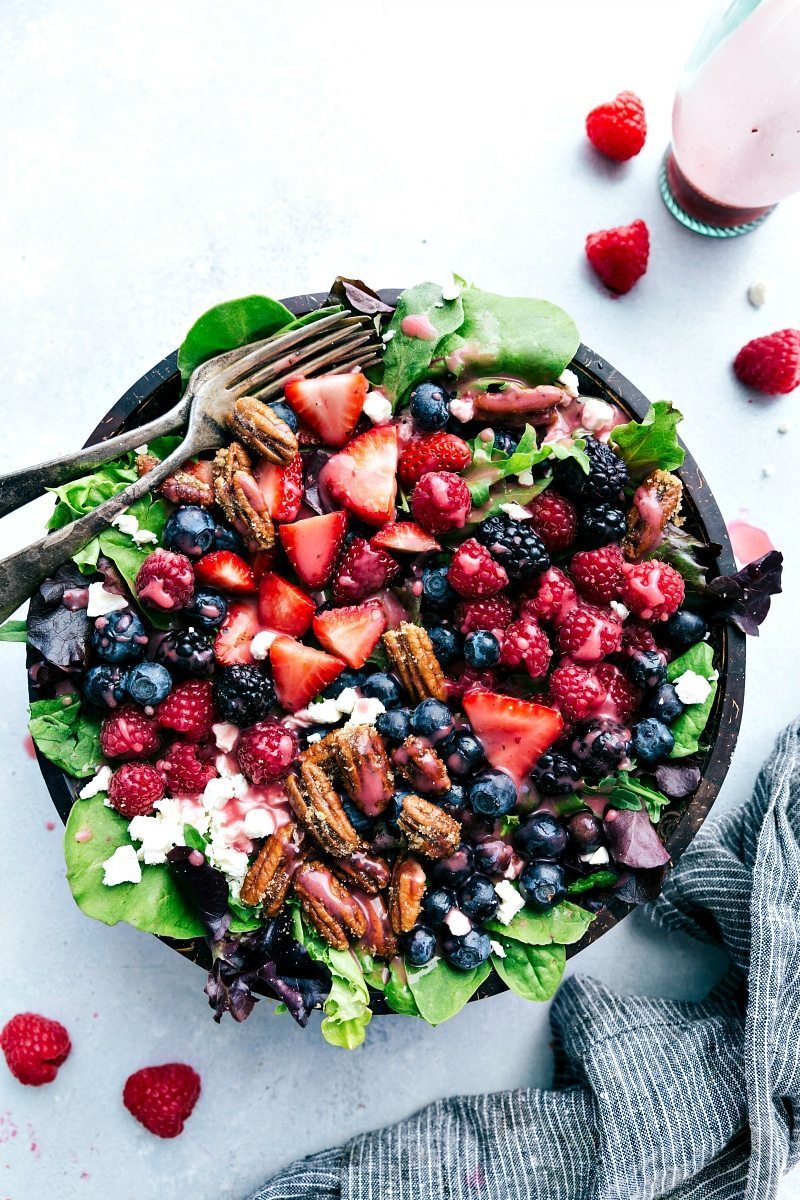 My in-laws have amazing strawberry and raspberry plants in their yard. They invite us over every now and again and we definitely take advantage of those plants — the kids get stuffed on berries and we take far too many home.
But there is seriously nothing like fresh grown berries. That is, until you throw them in THIS salad. ? If I'm able to save any on the trip home, they absolutely get tossed in this salad (which I'm quite certain I could eat for days and never get sick of).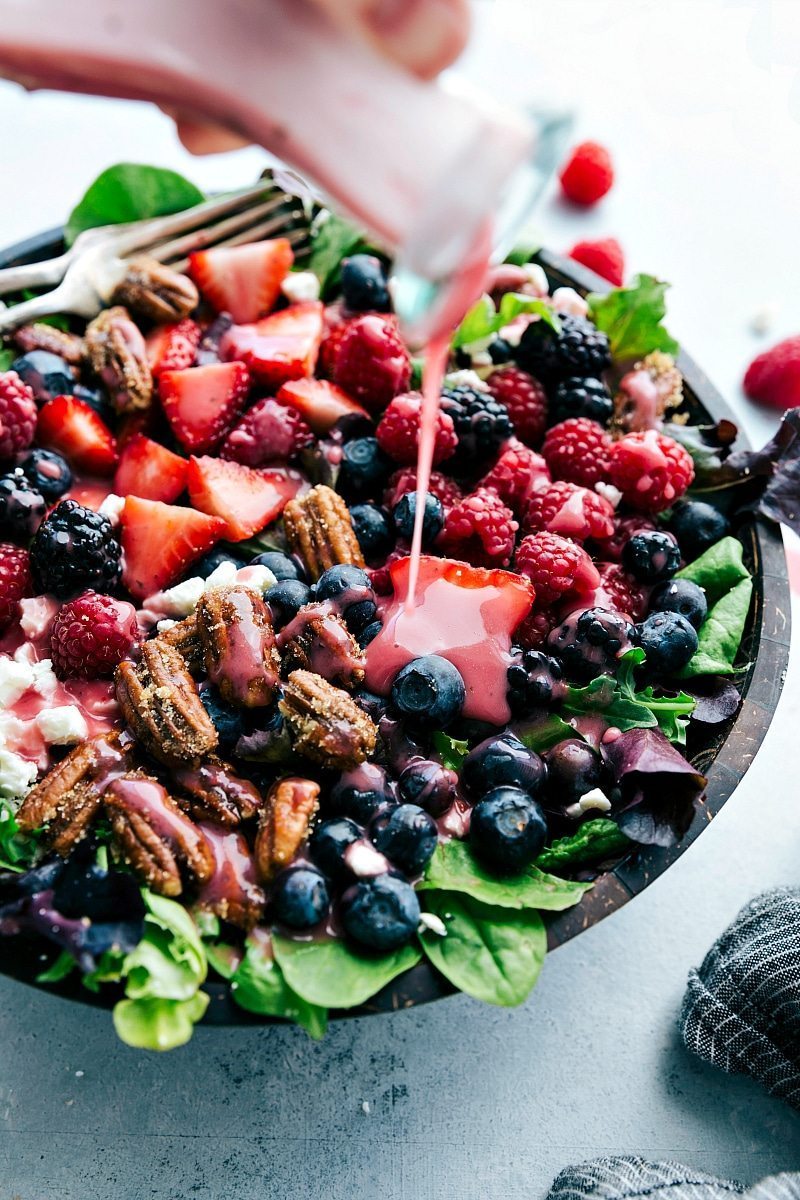 I'll admit that the ingredient list on this recipe does look a little overwhelming. But I promise you, it is actually a quick salad and well worth the effort!
Each component of the salad — the actual salad, the candied pecans, and the dressing each have very simple steps and come together easily. Start with candy-ing the pecans first, work on the dressing next, and lastly: combine all the salad ingredients and toss it all together! The nice thing about the salad is there is practically no effort involved in chopping up ingredients. You'll slice the strawberries, but other than that, everything can just be thrown in!
If you are in a pinch for time or don't have a desire to make a homemade dressing, a good alternative is mixing together (in equal parts) pre-made creamy poppyseed dressing with a raspberry vinaigrette.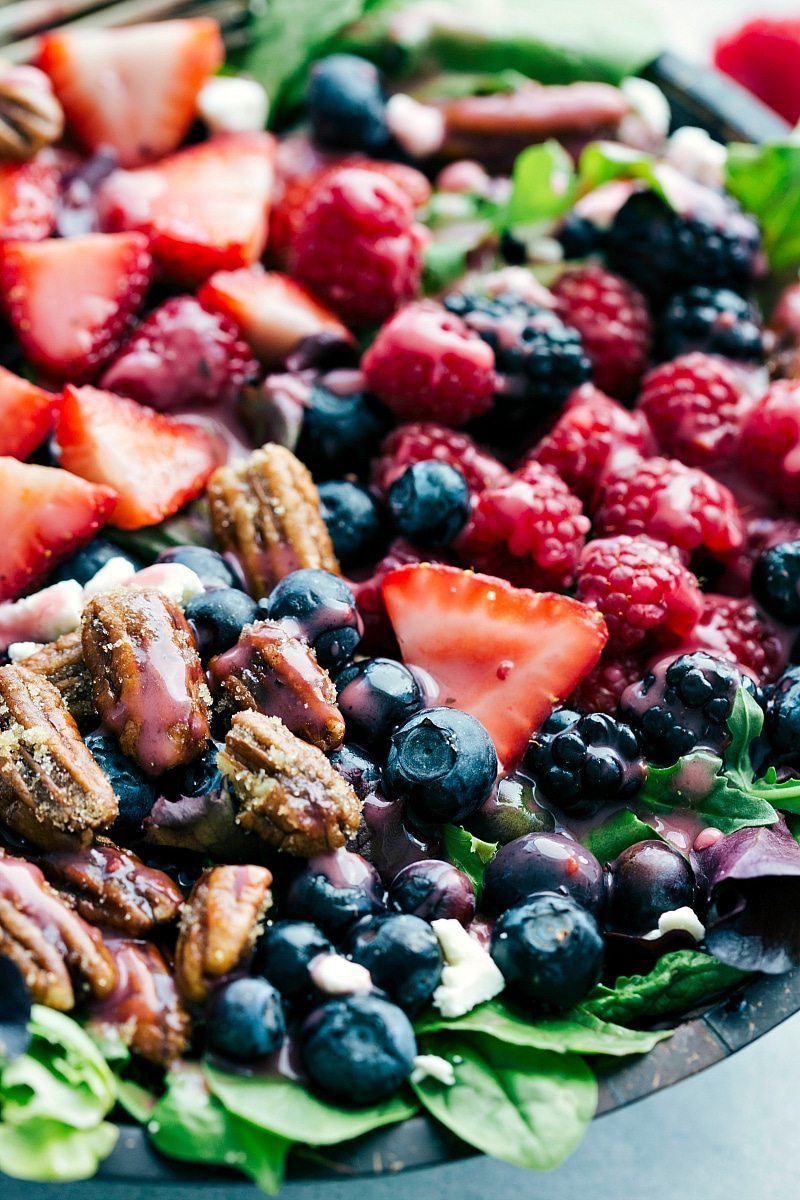 And the candied pecans?! Insanely good!! I'll make 'em just by themselves as a snack/dessert quite often. But when you take those candied pecans and cover a salad in them? Absolute perfection!
The recipe below makes quite a few candied pecans — far more than you'd serve with this salad. The reason for this is if I'm going through the effort of making candied pecans, I want a ton. They store and keep really well in an airtight container (at room temperature) and are great to snack on or throw in future salads. If you don't want to have extra you'll want to halve (or third) this recipe.
I'll also sometimes give the candied pecans a quick coarse chop before throwing them in the salad just so you have more pecans per bite and they don't disappear at the bottom of the salad bowl 🙂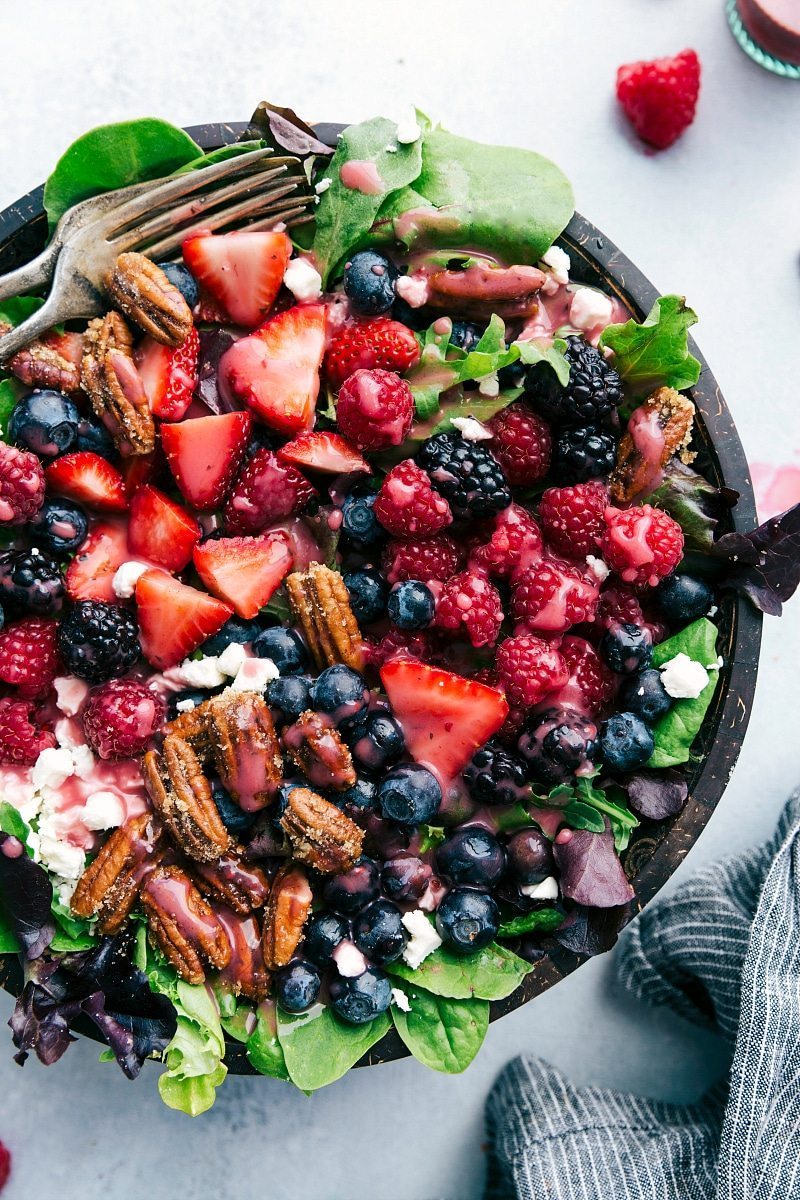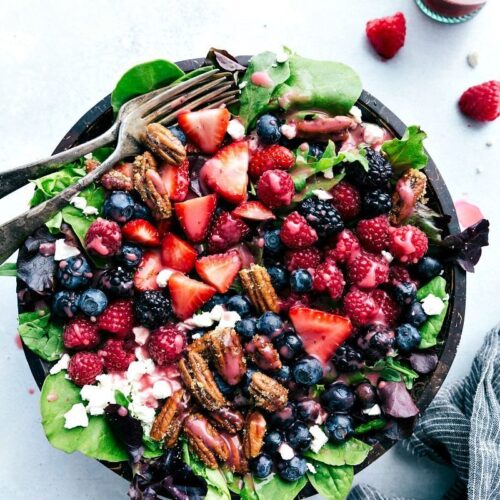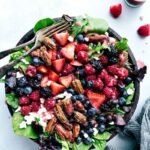 Berry Salad with Raspberry Vinaigrette
Delicious berry salad with candied pecans and an incredible raspberry vinaigrette!
Ingredients
Candied Pecans*
2

egg whites

2

teaspoons

water

1

teaspoon

vanilla

1

cup

white sugar

3/4

teaspoon

salt

3/4

teaspoon

cinnamon

4

cups

(1 pound) pecan halves
Salad
1

bag

(6-8 ounces or about 6-7 cups) fresh spring mix

2

cups

strawberries,

stemmed and sliced

1

cup

blueberries

1

cup

raspberries

1/2

cup

blackberries

4

ounces

feta cheese
Dressing
3

tablespoons

red wine vinegar

5

tablespoons

white sugar

1/2

teaspoon

salt

1/2

teaspoon

dijon mustard,

do not use regular mustard

1/2

cup

frozen raspberries,

completely thawed

1/2

cup

vegetable oil (canola or olive oil will work)
Instructions
For the candied pecans
Preheat oven to 250 degrees F and line a baking sheet with parchment paper.

In a mixing bowl, whip together the egg whites, water, and vanilla until frothy. In a separate bowl, mix together sugar, salt, and cinnamon.

Add pecans to egg whites, stir to coat the nuts evenly. Remove the nuts, and toss them in the sugar mixture until coated. Spread the nuts out on the prepared baking sheet.

Bake for 45 minutes to 1 hour, stirring and tossing every 15 minutes.
For the salad:
Toss together the spring mix, strawberries, blueberries, raspberries, and blackberries.

Toss to combine. Add the feta cheese after adding the dressing.
For the dressing:
Combine all of the ingredients except for the oil in a blender or food processor. Pulse until the ingredients are well combined. Slowly add in the oil in a steady stream. Blend until emulsified and smooth.

This dressing is supposed to be pretty thick -- when you toss it with the salad it does thin out a little with the juices from the salad ingredients.

Toss the dressing and candied pecans with the salad. Only dress and add pecans to what you will eat because leftovers don't do so well! Add feta cheese last. You can store the salad, pecans, feta, and dressing separately for delicious leftovers!
Recipe Notes
*This recipe makes far more candied nuts than you'll want to toss in this salad, but I'd rather make a big batch and have leftovers for future salad. If you don't want leftovers halve the recipe! (Prep/Cook time does not include the candied nuts)
More Amazing Salad Recipes: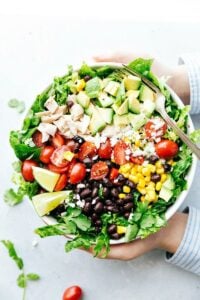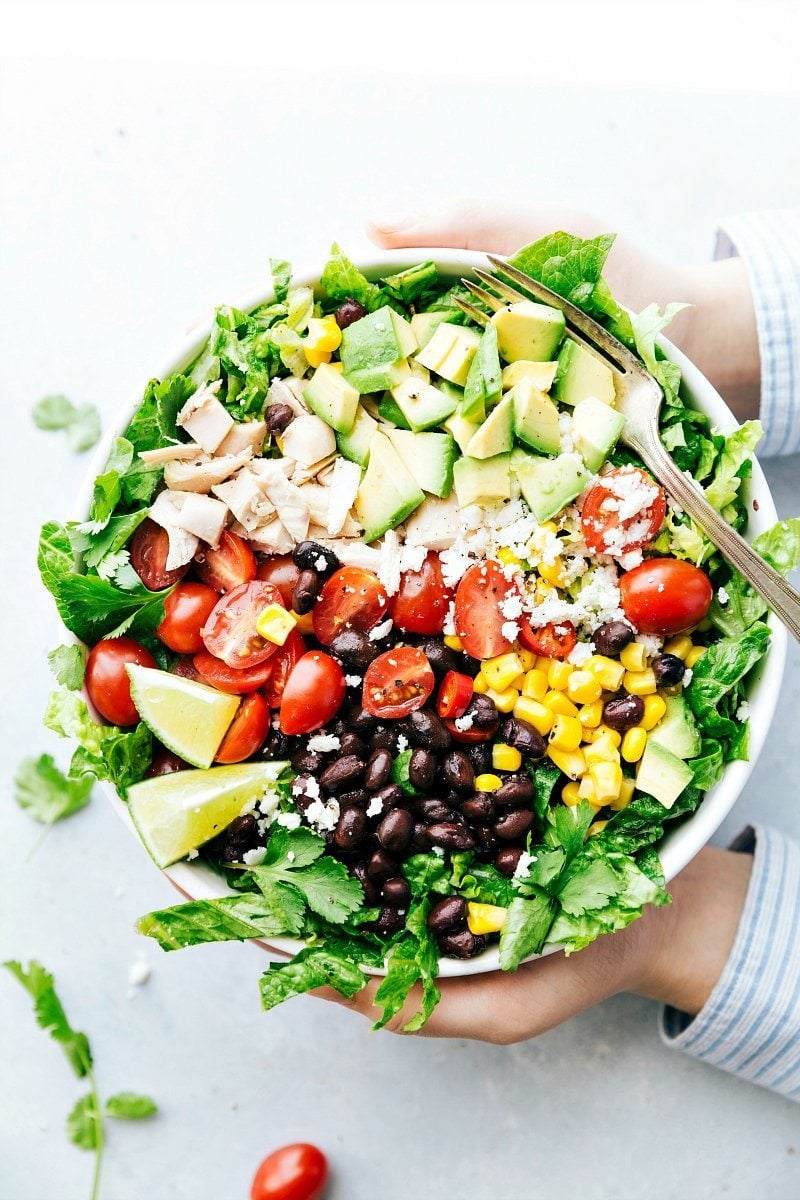 Almond Berry Chicken Spinach Salad