Luscious Creamy Balsamic Dressing coats a spring Cobb salad featuring hard-boiled eggs, chicken, bacon, and seasonal veggies. This salad is vibrant, textural, and packed with fresh seasonal produce.

Spring Cobb Salad
This salad is fresh, vibrant, and the perfect way to celebrate springtime We've got crisp fruits and veggies with savory bacon and tender chicken all tossed in the most life-changing creamy balsamic dressing.
This dressing is my latest addiction — it's incredibly easy to make (throw everything in a blender and let it whirl), it's made with wholesome ingredients — we're using Greek yogurt (instead of mayo or heavy cream which is typically found in creamy dressings), and it's completely delicious. It's robustly flavored, creamy, thick, sweet, tart, and ever-so-slightly garlicky. I think you're really going to love it!

Creamy Balsamic Dressing ingredients
Greek yogurt: Use a good Greek yogurt — the flavor really matters in this dressing. It lends an incredible creaminess and great dressing flavor. Our absolute favorite yogurt to use in this dressing is Greek Gods® honey vanilla yogurt. (Not sponsored, just a fan). Whatever brand you get, aim for a vanilla or honey-flavored yogurt, not just plain.
Balsamic vinegar: This vinegar is thicker than regular vinegar and has a sweet-tart flavor profile with a fruity flavor. Some balsamic vinegars are no thicker or different than regular run-of-the-mill vinegar. Read this article that explains what you need to look for!
Dijon mustard: The mustard helps to thicken the dressing and adds a distinctly intense mustard flavor. I really love Grey Poupon ® Dijon mustard in this dressing (Not sponsored, just a fan).
Garlic: I use 1/4 teaspoon freshly minced garlic, but garlic powder also works. If you're using garlic powder, I'd start at 1/8 teaspoon and increase from there if desired.
Salt and pepper: These important seasonings balance and intensify flavors. I like to use fine sea salt and freshly cracked pepper.
Olive oil: The oil gives flavor to the dressing and is essential for emulsification to happen with the balsamic vinegar.
Maple syrup: Syrup gives the Creamy Balsamic Dressing some much-needed sweetness to counteract the acidity and tartness of the other dressing ingredients. While there is a good amount of maple syrup in the dressing, I've found it's the perfect complement with all the raw veggies and fruits.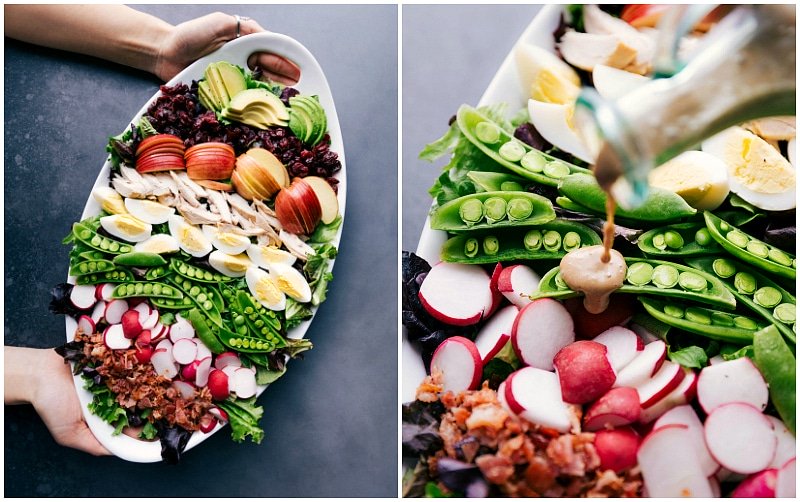 Salad ingredients
This salad recipe is very forgiving; you can add in just about any seasonal produce you like and it will work well with Creamy Balsamic Dressing and mixed greens. Below is what we use and recommend in this salad and I give some other recommendations. As long as the quantities remain consistent, use any combination of seasonal produce.
Fuji apples: Crisp and cold (straight out of the fridge), these sweet apples add a great crunch and nice sweetness.
Radishes: They add a nice crisp texture and pungent peppery flavor.
Sweetened dried cranberries or dried tart cherries: We love either in this salad; they add a nice sweetness and chewy texture.
Avocado: Such a yummy way to add good, healthy fats to the salad as well as a nice creamy texture.
Sugar snap peas: The whole pod can be eaten in this salad; they add a nice crunchy texture and sweet flavor.
Protein: This salad has quite a bit of protein in it: chicken, bacon, and hard-boiled eggs. You can do all three or just choose one or two to add to the salad. Here are the shortcuts I use for the protein in this salad:

Rotisserie chicken saves time and energy, plus it's delicious and tender. You can also use any leftover grilled chicken.
Hard-boiled eggs: While hard-boiled eggs are simple to make, they can be time consuming. A lot of stores sell prepared hard-boiled eggs if you'd like to cut down on some prep time.
Bacon: Again, if you'd like to cut down on prep time you can always buy pre-cooked bacon for this salad. Warm it through according to package directions and it's ready to go.
Other salad additions (or substitutions)
Shaved or chopped asparagus spears
Bleu cheese crumbles
Green beans
Cucumbers
Roasted carrots (cooled and chopped) or raw shredded carrots
Red onion
Micro greens
Artichoke hearts
Sweet peas
Cherry tomatoes
Thinly sliced strawberries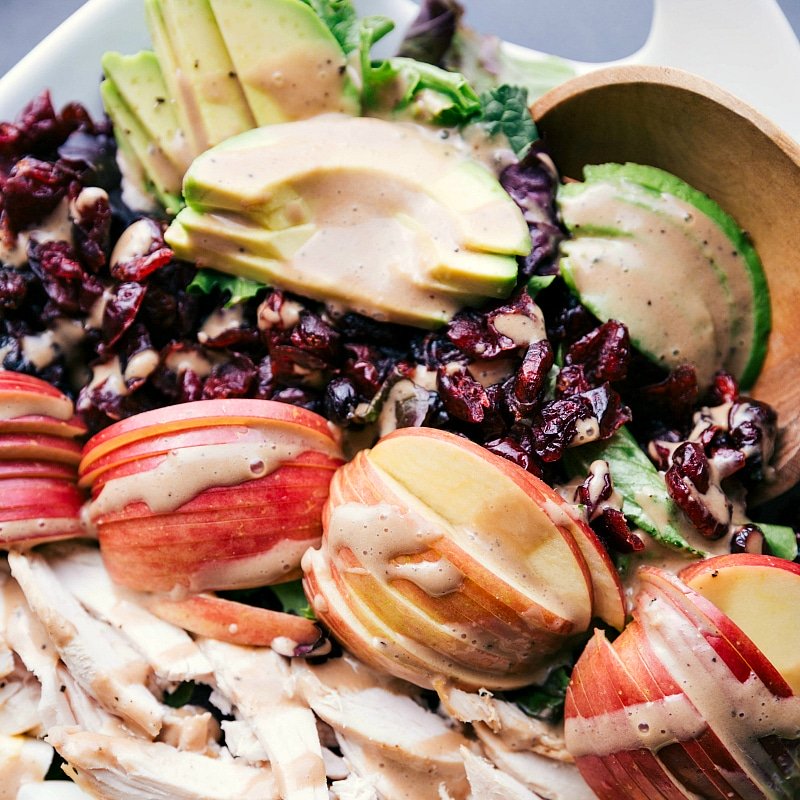 Creamy Balsamic Dressing tips
Good quality ingredients make all the difference. In particular, pay attention to getting good, sweet, and flavorful Greek yogurt. Low-fat or fat-free Greek yogurts will leave the dressing too thin and lacking in flavor.
Taste and adjust. After blending the dressing, be sure to taste it and adjust any ingredients to personal preference. If you're worried about sweetness, add maple syrup slowly and taste as you go. If you'd like more tang, add a touch more Dijon mustard or balsamic vinegar.
Chill the dressing. If you have time, prep the dressing ahead of time, transfer it to a mason jar, and chill it in the fridge until ready to serve; it's especially delicious cold. Just make sure to give it a quick shake before adding to the salad.
Add leftover Creamy Balsamic Dressing to these recipes
If you have leftover dressing or want to make a double batch, add some to the following recipes:
Roasted Carrots: Let the carrots cool to room temperature and then add a drizzle of the dressing on top.
Spring Quinoa Salad: Replace the lemon vinaigrette with Creamy Balsamic Dressing.
Massage some kale (read about the process in this kale salad recipe) and add some Creamy Balsamic Dressing on top.
This dressing will last 5-7 days in an airtight container in the fridge. It will likely separate and may clump; to fix this simply shake the dressing together again until smooth (If it's still clumpy, let it stand at room temperature for 15-20 minutes and then shake again; the clumps are the fats separating and solidifying).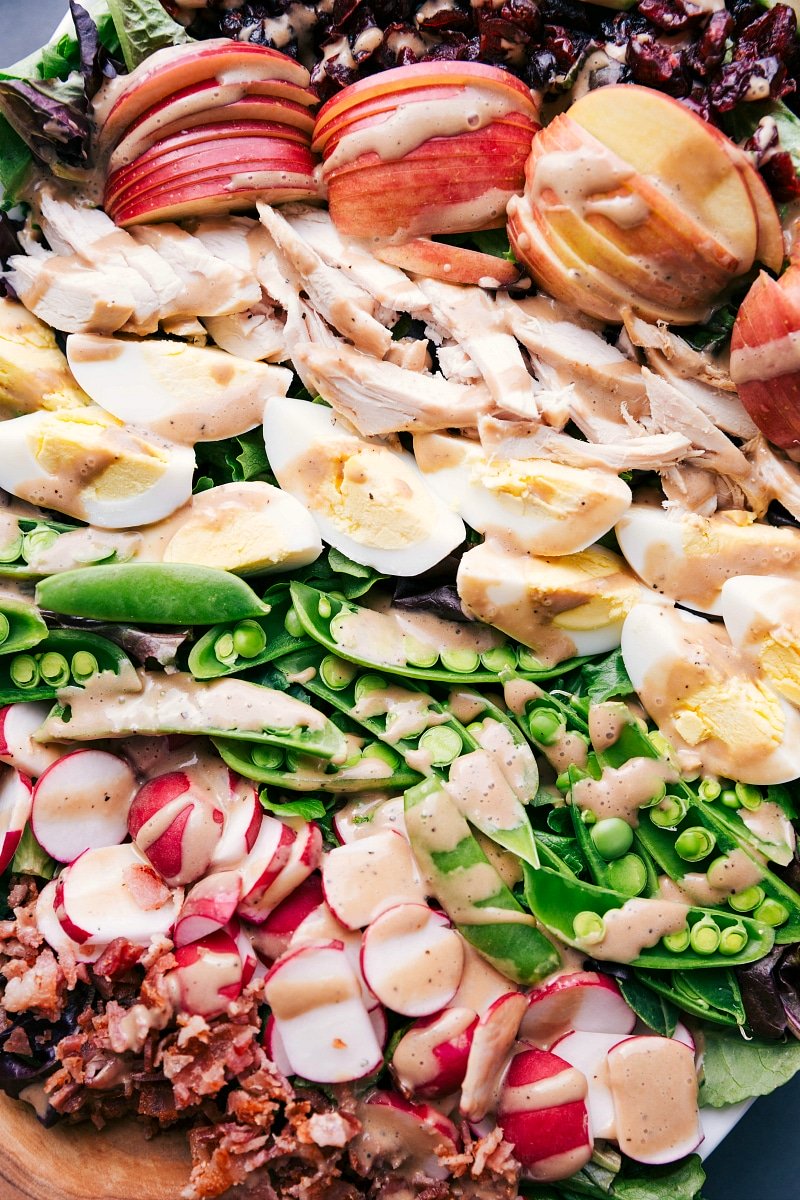 More salad recipes: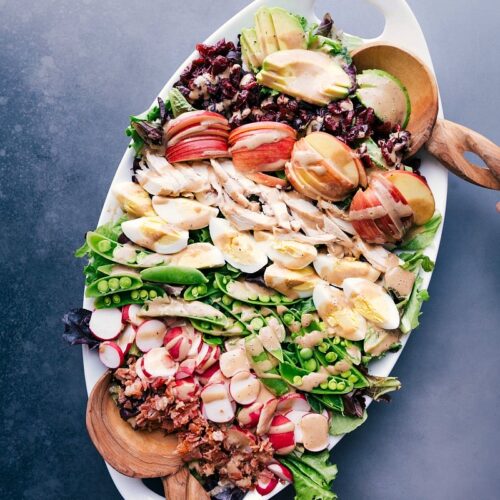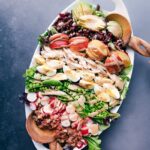 Creamy Balsamic Dressing on a Spring Cobb Salad
A luscious Creamy Balsamic Dressing coats a springtime-inspired Cobb salad with hard-boiled eggs, chicken, bacon, and seasonal veggies.
Course:
Dinner, lunch, Main Course, Salad
Keyword:
creamy balsamic dressing, spring cobb salad
Ingredients
Salad
8

cups

mixed greens

1 and 1/4

cup

prepared rotisserie chicken,

shredded and/or chopped

6

slices

center-cut bacon,

cooked and diced

3-4

hard-boiled eggs,

chopped or halved

1

bunch

radishes,

thinly sliced (~1 cup)

2

Fuji apples,

thinly sliced or chopped

1

cup

sugar snap peas,

halved or coarsely chopped

3/4

cup

sweetened dried cranberries

1

large

ripe avocado,

thinly sliced
Creamy Balsamic Dressing
1/4

cup

honey vanilla Greek yogurt

(I recommend Greek Gods)

2

tablespoons of EACH:

balsamic vinegar, pure maple syrup (not pancake syrup!), olive oil

1/2

tablespoon

Dijon mustard

1/4

teaspoon EACH:

finely minced garlic, fine sea salt, freshly cracked pepper
Instructions
DRESSING: Add the 1/4 cup Greek yogurt, 2 tablespoons balsamic vinegar, 2 tablespoons pure maple syrup, 2 tablespoons olive oil, 1/2 tablespoon Dijon mustard, 1/4 teaspoon garlic, 1/4 teaspoon salt, and 1/4 teaspoon pepper to a small blender jar. Blend until combined, creamy, and emulsified. Transfer dressing to a mason jar and store in the fridge until ready to eat. Shake up the dressing in the mason jar before dressing the salad.

SALAD: In a very large bowl or salad platter (or make individual salad plates) add the 8 cups mixed greens lettuce. Shred or chop the rotisserie chicken and add that on top. Cook the bacon (See Note 1), dice, and add to the salad. Chop the hard-boiled eggs and add to the salad. Thinly slice the radishes and add to the salad. Thinly slice or coarsely chop the apples and add to the salad. Halve or coarsely chop the peas and add to the salad. Add the cranberries to the salad. Thinly slice or chop the avocado and add to the salad.

SERVE: Drizzle the dressing over the salad to desired preference. Toss the salad and enjoy. This salad doesn't sit well once prepared and dressed, so dress right before eating.

LEFTOVERS: The salad stores doesn't store well -- the bacon loses it's crispness, the hard boiled eggs flavor everything eggy, the avocado browns, etc. If the salad won't be enjoyed the same day, I recommend halving the recipe or making smaller portions.
Recipe Notes
Note 1: To save time you can use pre-cooked bacon, following package directions to warm through, and then dice. Alternatively, cook the bacon on a griddle or skillet until it's reached desired crispiness. Transfer to a paper towel-lined plate, let cool slightly, and then dice it for the salad.
These calories are for the salad fully dressed with the creamy balsamic dressing.