Soft lemon poppyseed muffins made with healthier ingredient swaps and lower sugar content than most muffins!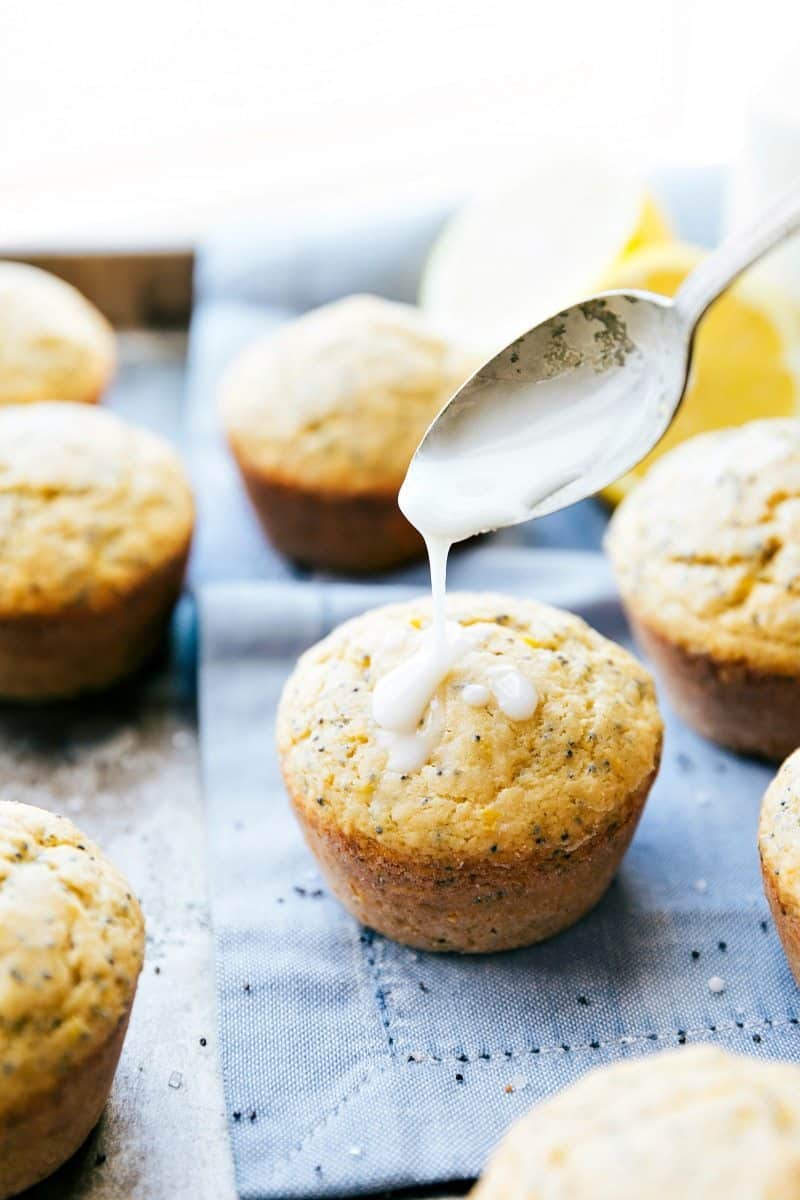 The toddler has decided that yellow is his favorite color and it has remained his favorite for about a year now. (Which is impressive to me since I changed my "favorite color" on about a monthly basis my entire childhood).
He also will tell you that Oreos are his favorite cookie and he'd eat them all day long if I let him. (I don't.)
The other day I came home from the store with Golden (yellow) Oreos for a new recipe I'm working on. He hadn't seen me grab them in the store, but he saw them as I pulled them out of the bag.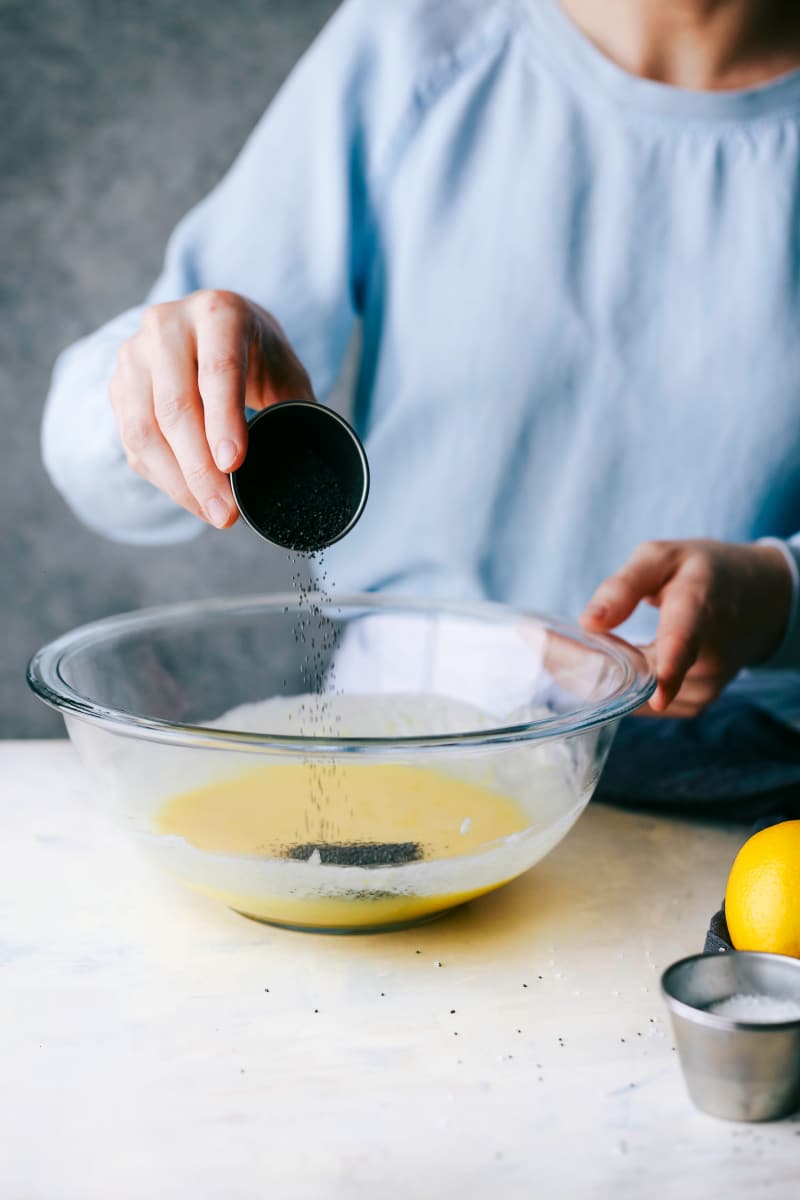 He ran over to me and hugged my legs tightly. In the sweetest voice, he said, "Mommy! You bought these for me? You bought me yellow cookies because yellow is my favorite color?!"
What else could I say, but "of course! I bought you your favorite cookies in your favorite color."
And there's nothing like his constant thank yous "for buying me yellow cookies because yellow is my favorite color" to make me feel guilty for not actually thinking of buying him his favorite color cookies. ?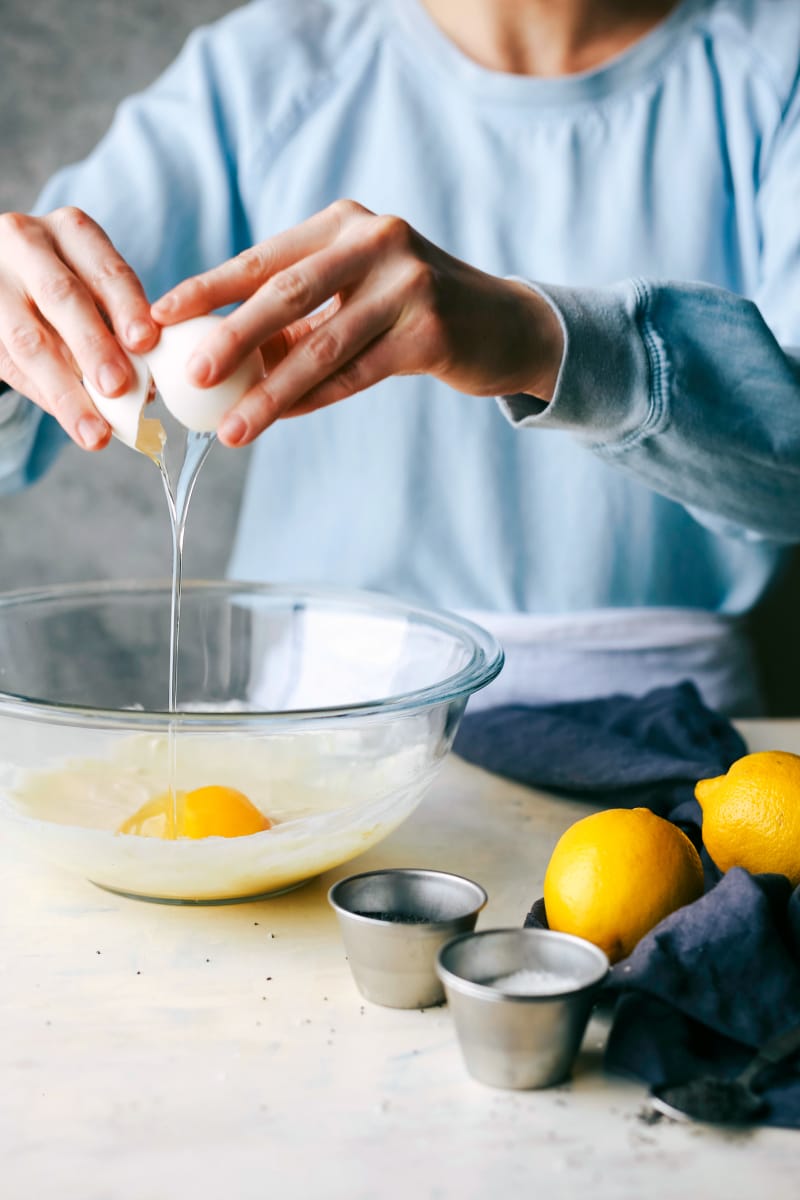 BUT I was totally ahead of the game with these muffins. When I finally got a batch that worked the way I wanted them too, I made them while he was at preschool and surprised him with them when he got home.
"Grey! I made you yellow muffins, because yellow is your favorite color!"
And then he asked me if he could just have the yellow cookies instead. Toddlers… ?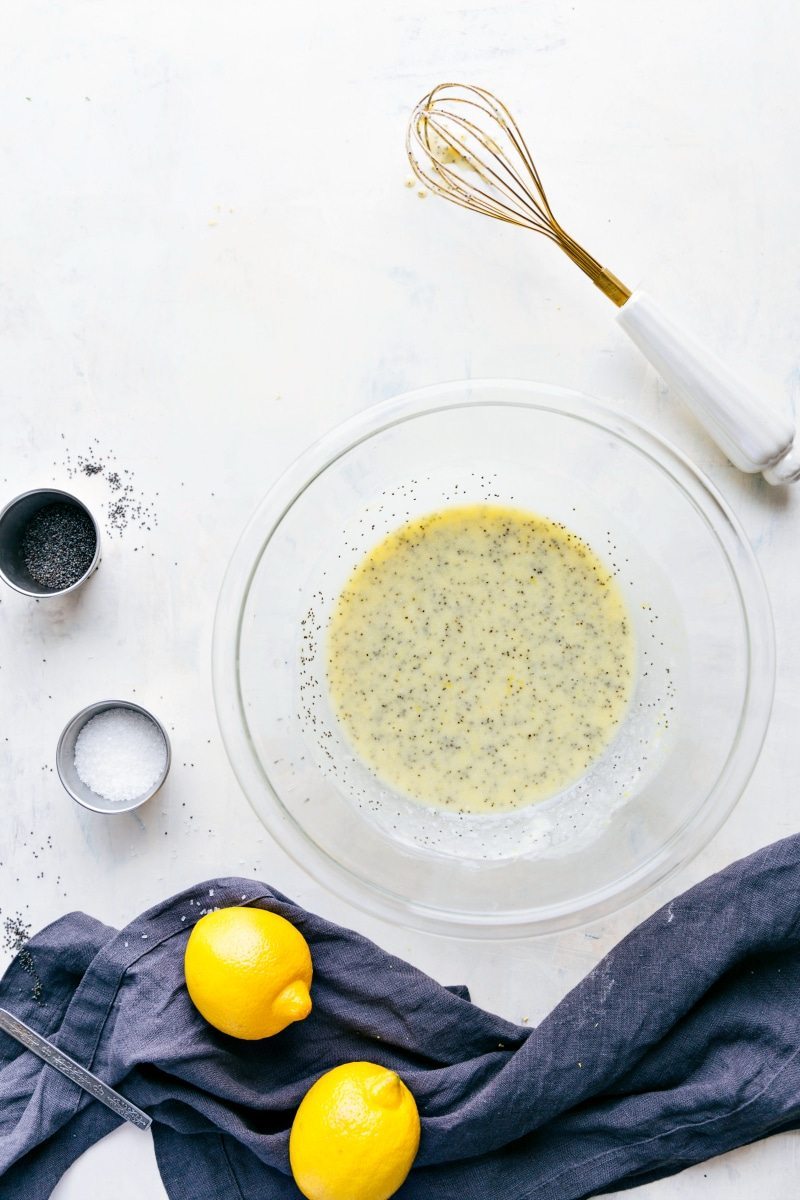 These muffins have been a while in the workings. I could not get them quite right! And finally I feel like they are perfect, but there is not a whole lot of room for recipe substitutions.
The biggest issue I had was not enough lemon flavor and when trying to add the lemon they either got too wet and dense or right consistency and not a great lemon flavor. So, there is no actual lemon juice in the muffins (it's used in the glaze).
Instead there is a whole bunch of lemon zest and then pure lemon extract. If you've never heard of lemon extract, it's not a super common ingredient, but not weird either. You can find it at really any grocery store by the other baking extracts (vanilla extract, almond extract, peppermint, etc.). In these muffins I would not recommend any substitutes for this extract.
The other hint of lemon comes from the Greek yogurt. I use lemon Greek yogurt in these muffins. However, I have also made them with vanilla yogurt and while slightly less lemon-y, they are still delicious. So if you can't find lemon Greek yogurt, go for vanilla-flavored Greek yogurt.
And last thing to watch out for, make sure your baking powder is fresh! I also made these with some old baking powder and they were not so awesome.
Enjoy!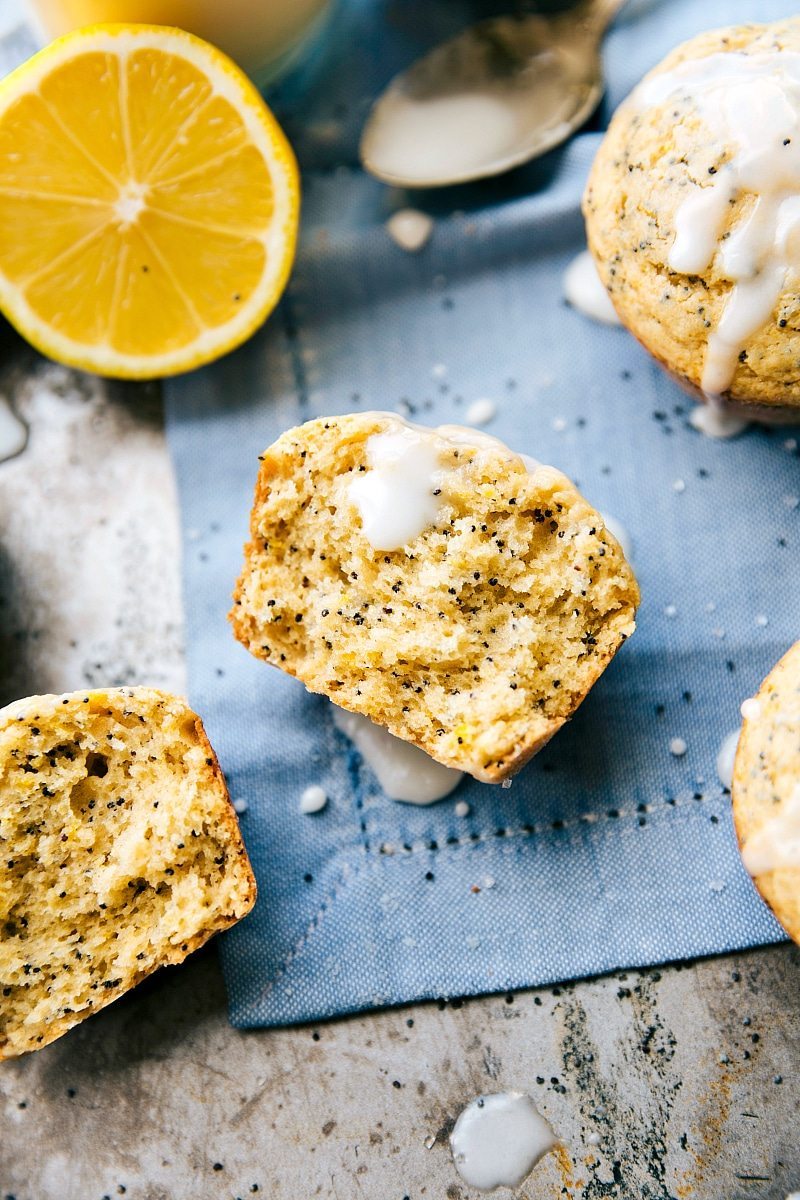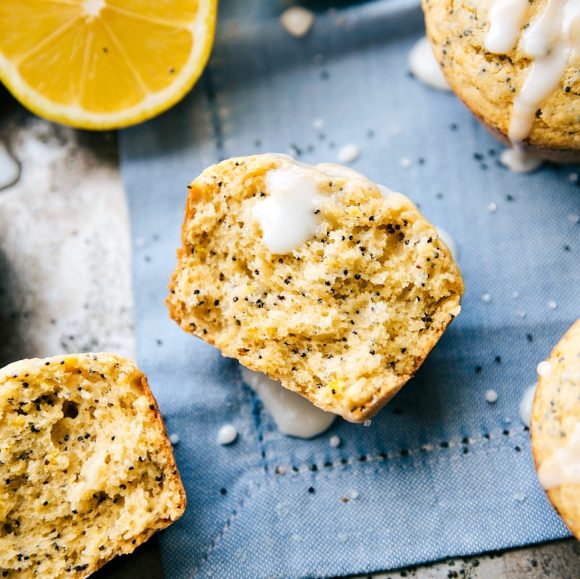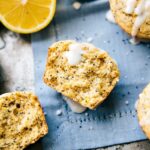 Greek Yogurt Lemon Poppyseed Muffins
Soft lemon poppyseed muffins made with healthier ingredient swaps and lower sugar content than most muffins!
Ingredients
1

cup

white or white whole wheat flour

1

tablespoon

cornstarch

1/2

tablespoon

baking powder

1/4

teaspoon

salt

1 and 1/2

tablespoons

poppyseeds

2

large

eggs

separated (1 egg, 1 egg yolk)

1/2

cup

lemon-flavored or vanilla-flavored Greek yogurt

not regular yogurt

1/4

cup

coconut oil

measured when melted

1

heaping tablespoon

lemon zest

2

teaspoons

lemon extract

no substitutes*

1/2

cup

brown sugar

lightly packed
Optional glaze
1/4

cup

white sugar

1/4

cup

lemon juice
Instructions
Preheat the oven to 350 degrees F. Spray and generously flour (do not use muffin liners as these stick) 8-9 of the muffin cavities and set aside. Pull out the wet ingredients to allow them to get to room temperature (eggs, yogurt, and melted coconut oil)

In a bowl toss together the flour with the cornstarch, baking powder, salt, and poppyseeds until mixed. (Tip: when you measure the flour spoon and level the measurement so you don't pack in too much flour into the measuring cup; you want this to be a loose measurement.)

In another bowl (important to use 2 bowls so the ingredients don't get over-mixed resulting in dense muffins), lightly beat the room temperature* egg and egg yolk with a fork for 20 seconds. Stir in the room temperature Greek yogurt, room temperature coconut oil (measure when it is melted and then let the melted oil cool to room temperature), lemon zest, lemon extract, and brown sugar.

Combine the wet and dry and mix until just combined.

Fill up 8-9 of the muffin tins (muffins should be just over 3/4ths the way full).

Place in the oven and bake for 18-22 minutes or until a toothpick comes out clean when inserted inside.

Remove from the oven and allow to cool for a few minutes before removing from the muffin tin. Allow to cool an additional 10-15 minutes before adding the glaze.

Optional glaze: Combine 1/4 cup white sugar plus 1/4 cup lemon juice in a small saucepan. Stir until the sugar is completely dissolved and a thick syrup forms. Let cool for a few minutes and then brush or spoon over the muffins.

Store muffins in an airtight container in the fridge. Best eaten within 3-4 days.
Recipe Notes
*It's really important that all of the wet ingredients (yogurt, eggs, and oil) are all the same room temperature when you mix them together.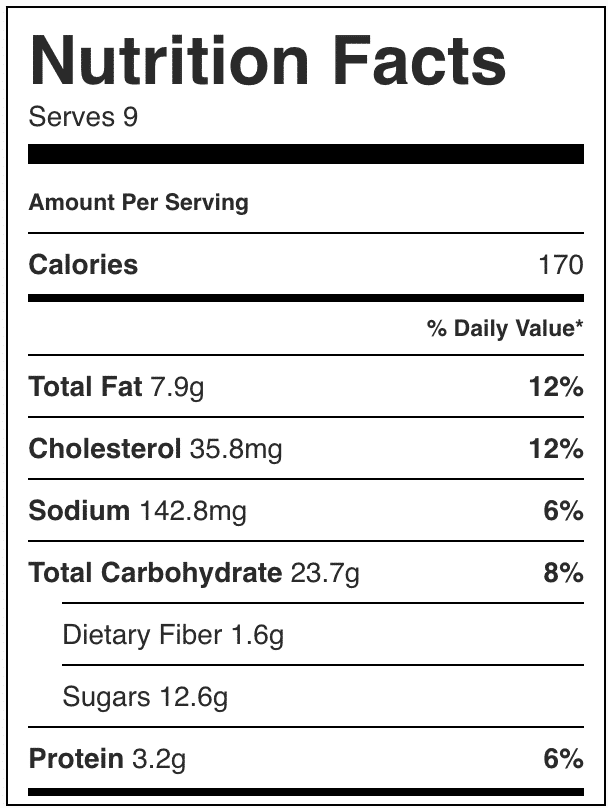 More Healthier Baked Goods: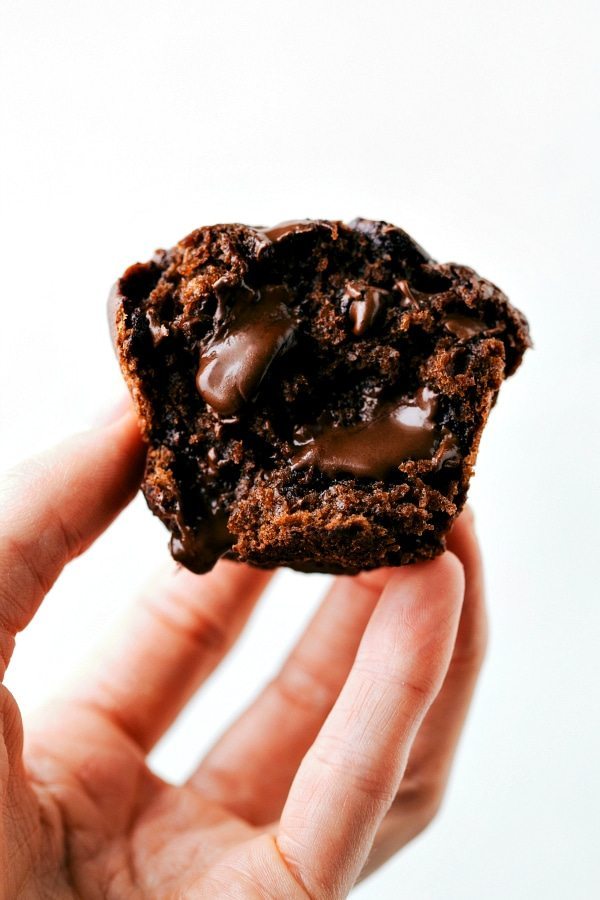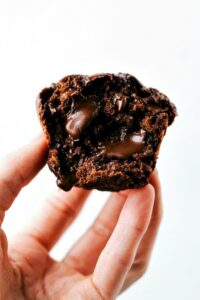 "Bakery Style" Chocolate Banana Muffins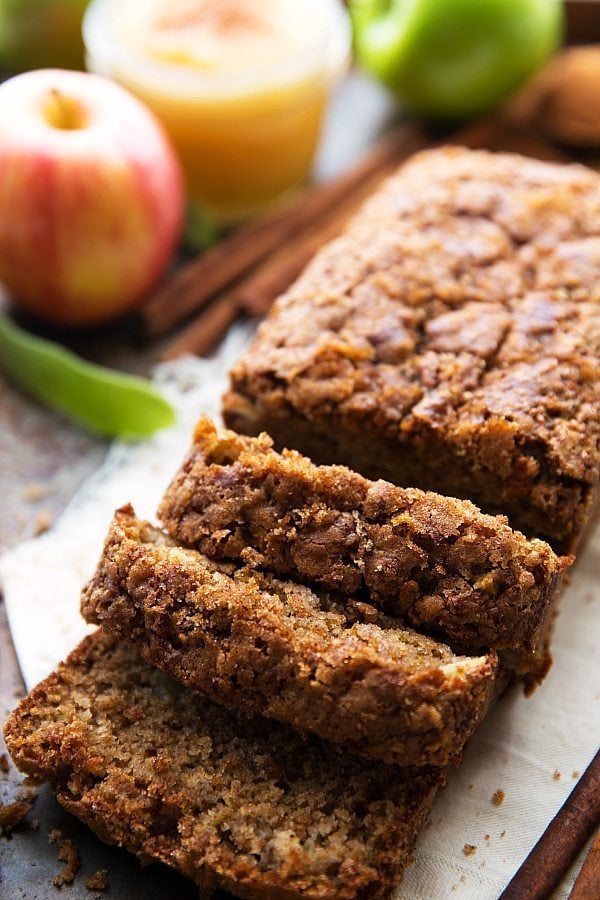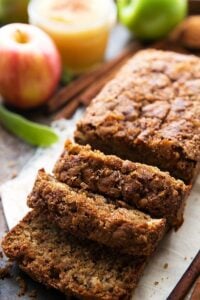 Healthier Greek Yogurt Applesauce Spice Bread