These chocolate chip snowball cookies are buttery, light, and flaky. They're stuffed with miniature chocolate chips and coated in powdered sugar.
Looking for different variations of this cookie? Try out these peppermint snowball cookies or the original version — these Mexican wedding cookies next!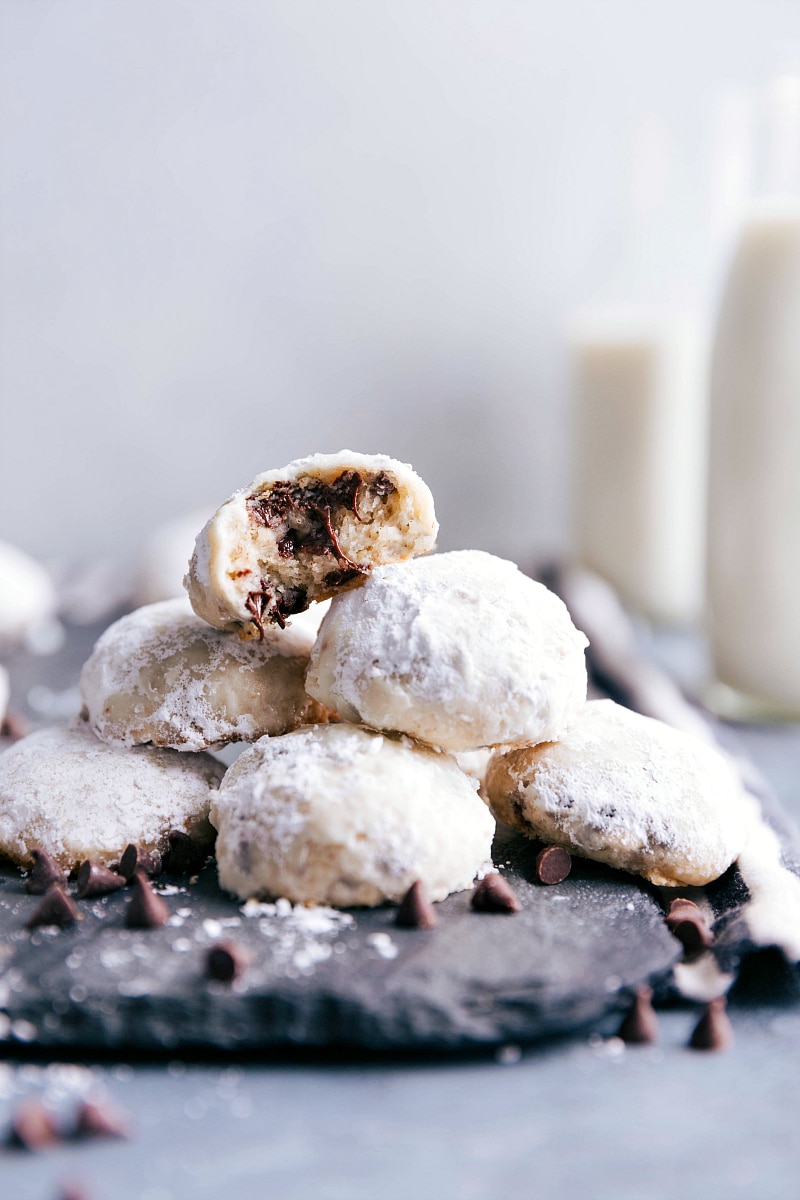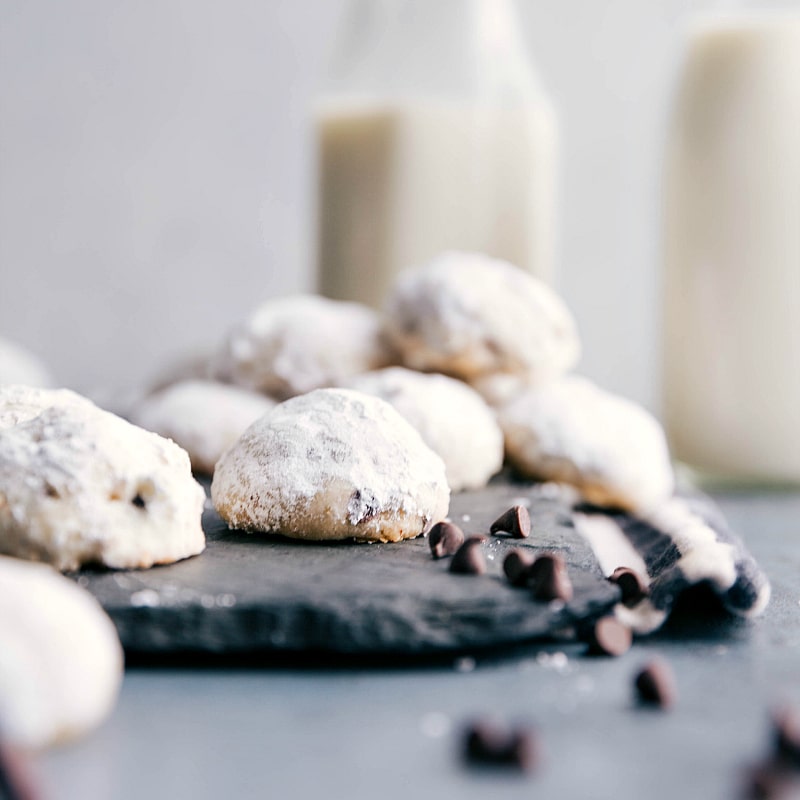 More delicious cookie recipes: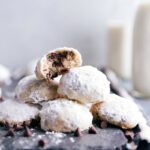 Chocolate Chip Snowball Cookies
These chocolate chip snowball cookies are buttery, light, and flaky. They're stuffed with miniature chocolate chips and coated in powdered sugar.
Keyword:
chocolate chip snowball cookies
Ingredients
1/3

cup

42g whole pecans

1

cup

226g unsalted good quality butter Note 1

3/4

cup

78g powdered sugar

2

teaspoons

pure vanilla extract Note 2

1/2

teaspoon

fine sea salt

1

tablespoon

cornstarch

1

and 3/4 cups

211g white flour

3/4

cup

140g miniature chocolate chips

Powdered sugar for coating the cookies

(1 to 1 and 1/2 cups)
Instructions
TOAST PECANS: Preheat the oven to 350 degrees F. Spread the pecans in an even layer on the sheet pan. Bake for 5-7 minutes or until they smell fragrant. Watch carefully, you don't want to burn them. Remove and allow to completely cool before transferring them to a mini food processor or cutting board. Pulse on the "chop" setting or finely chop. You want very small pieces. Avoid over-pulsing in the food processor or you'll end up with pecan butter.

WET INGREDIENTS: Either in a bowl of a stand mixer with the whisk attachment OR a large bowl (and using hand mixers) combine butter and 3/4 cup powdered sugar. Cream together until smooth and creamy, about 3-4 minutes. Add in the vanilla, salt, cornstarch, and pulsed/chopped pecans. Beat until smooth and combined. Add in the flour and beat, slowly, until combined and smooth. Add in chocolate chips and mix until combined. It will seem sandy and crumbly at first, keep mixing, it will come together 🙂 Once combined, do not overmix.

CHILL: Wrap the dough in plastic wrap and put it in the fridge for 1 to 2 hours to chill (at the least 1 hour)

BAKE: After being chilled, measure out cookie dough using a 1 tablespoon measuring cup (each ball should be exactly 1 tablespoon). If the dough gets overly warmed from being rolled or sitting in a warm kitchen, put in the freezer for 10-15 minutes. Preheat the oven to 375 degrees F. Line a light colored sheet pan with a silpat liner (Note 3) Bake for 7-11 minutes (mine always take 10 minutes). Remove from the oven, let stand on tray for 3-5 minutes and then transfer to a wire cooling rack. Let cool for 2-3 or so minutes.

POWDERED SUGAR: Add powdered sugar to a bowl (I start with 1 cup, you may need slightly more). Roll the warmed cookie in the powdered sugar and then return to the wire cooling rack. Let cool down a few more minutes and then roll in the powdered sugar again.

STORAGE: store in an airtight container at room temperature. Re-roll in additional powdered sugar as needed. Best enjoyed within 1-3 days.
Recipe Notes
Note 1: it's important to use really good quality butter, not margarine. Use unsalted so you can control the salt amount. Make sure the butter is at room temperature, not melted or softened. 1 cup is the equivalent of 16 tablespoons or 2 sticks.
Note 2: I'll also occasionally use vanilla bean paste; 1 teaspoon of paste if using!
Note 3: I tested this recipe with no parchment paper, with parchment paper, and with a silpat liner. Bottoms of cookies turned out best every-time with the silpat liner. The darker the trays, the darker the bottoms of the cookies. The best results I found were with a light colored tray.