An easy to make and delicious pear salad — candied pecans, pears, pomegranates, dried cranberries, & feta cheese with a raspberry poppyseed dressing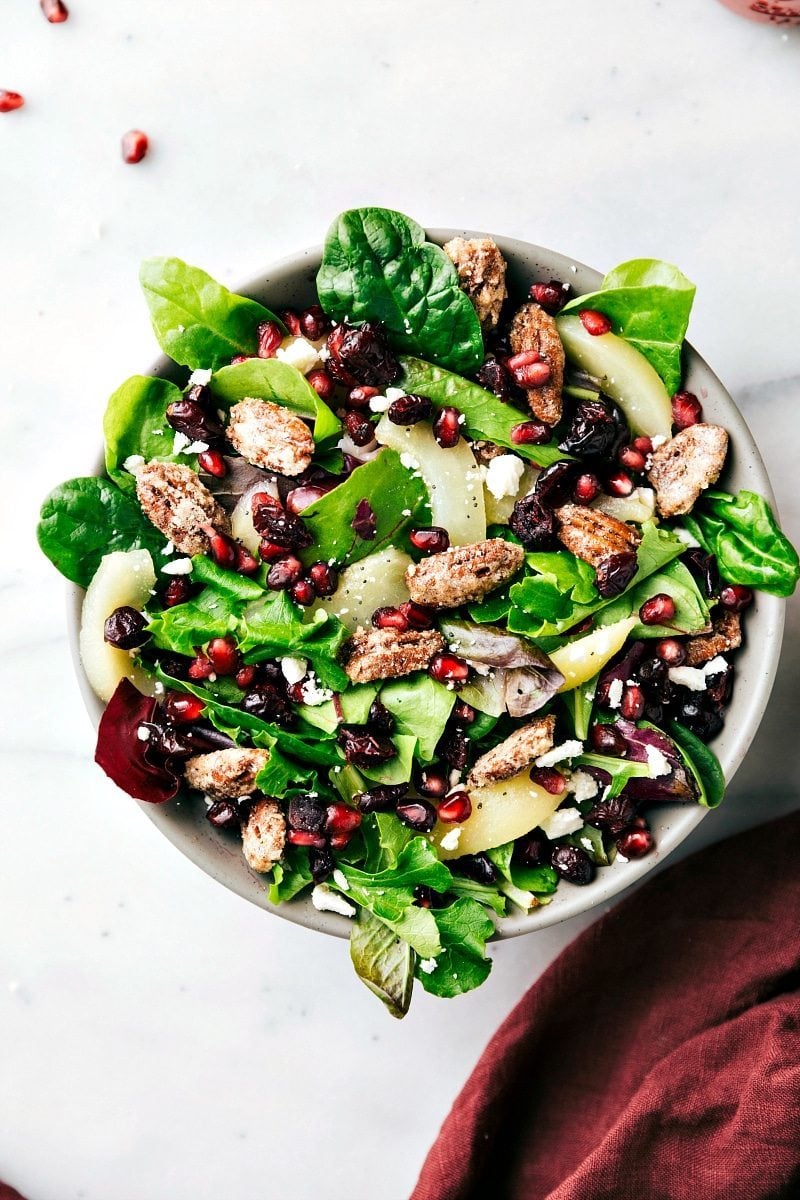 Pear Salad
We had Christmas dinner at my in-laws house last year. My father-in-law is practically famous for his crazy delicious rolls (top secret recipe of his!) and they are always my favorite. These rolls are no joke — they are massive and very filling. So, obviously, there has to be some strategy of how you can eat all the rolls and still fit in the other dishes.
Anyways, last year, there might have been a contender for those rolls….a very seemingly unpretentious pear salad. It consisted of mixed greens, pears, dried cranberries, candied nuts, and crumbled cheese.
I can't believe it has taken me this long to re-create a similar pear salad, BUT I do have it right in time for Christmas! This salad is filled with fresh fruit, crunchy & sweet nuts, and the most amazing raspberry dressing ever. The dressing is an easy blender dressing, but it is packed to the brim with flavor. It's also super thick WITHOUT using any mayo!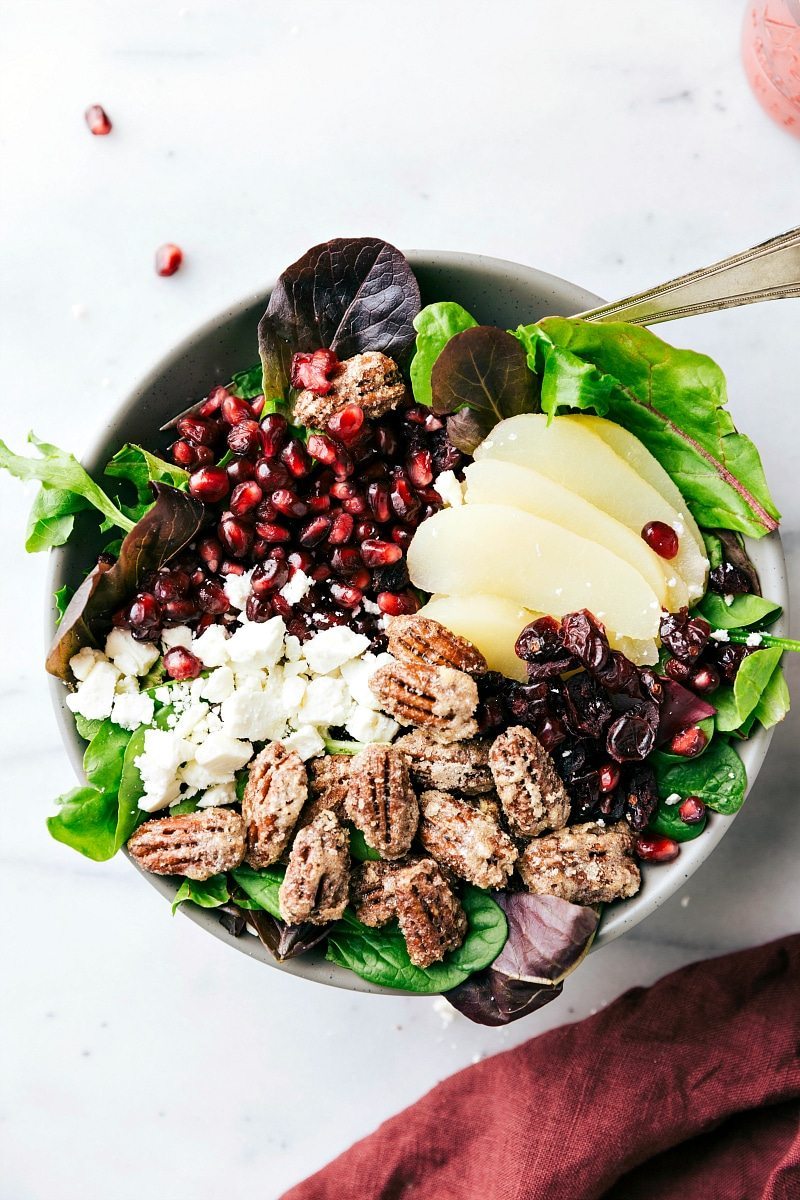 So; I'll admit, the ingredient list on this pear salad recipe does look a little overwhelming. But I promise you, it is actually a quick salad and well worth the effort! Especially if you are putting on a nice Christmas or holiday dinner this year 🙂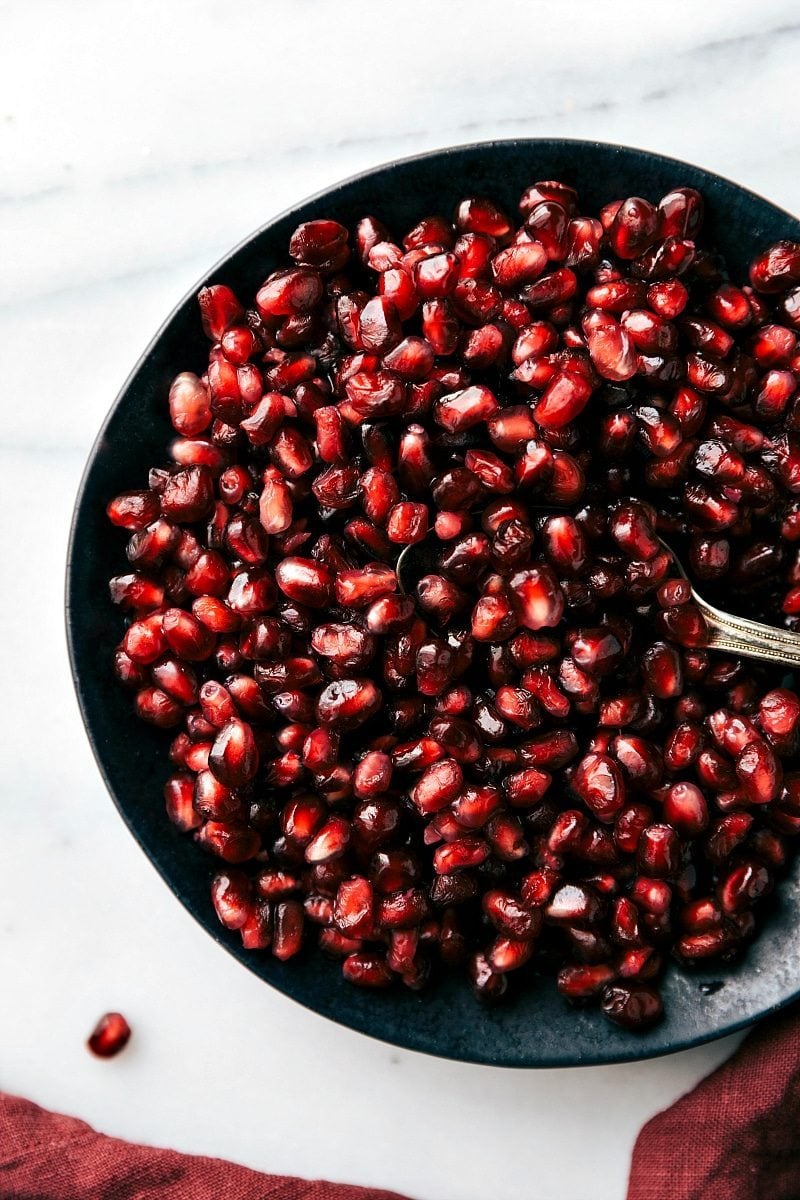 Each component of the pear salad — the actual salad, the candied pecans, and the dressing each have very simple steps and come together easily. Start with candy-ing the pecans first, work on the dressing next, and lastly: combine all the salad ingredients and toss it all together!
If you are in a pinch for time or don't have a desire to make a homemade dressing, a good alternative is mixing together (in equal parts) pre-made poppyseed dressing with a raspberry vinaigrette. Another time saver is getting packaged pomegranate arils so you don't have to deal with removing all the arils yourself. Enjoy!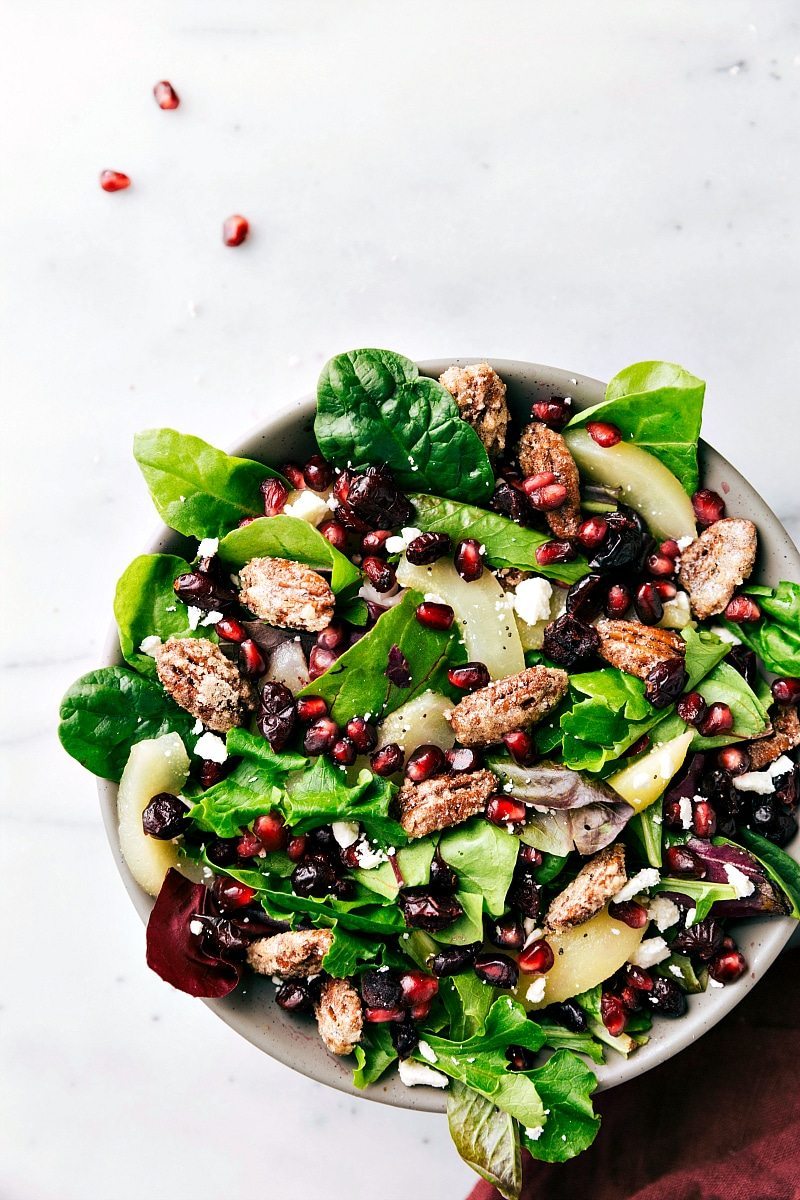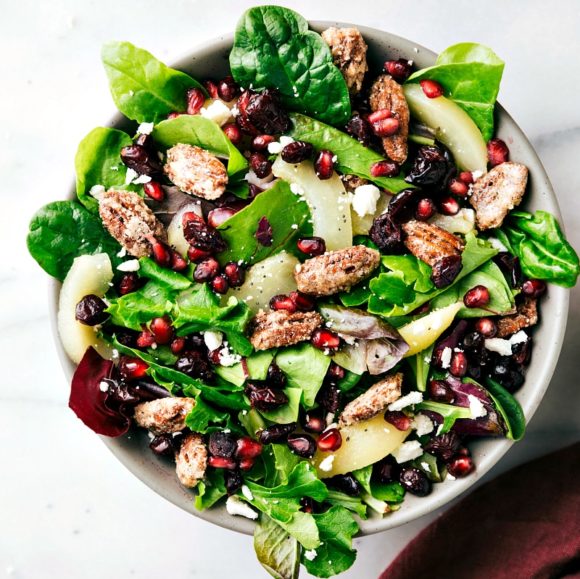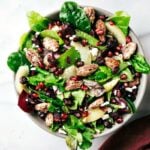 Pear Salad
Ingredients
Candied Pecans
1

large

egg white

2

teaspoons

water

1

teaspoon

vanilla

1

cup

white sugar

3/4

teaspoon

salt

1

teaspoon

cinnamon

4

cups (1 pound)

pecan halves
Salad
1

bag (6-8 ounces or about 8 cups)

fresh spring mix

1

cup

heaping pomegranate arils

3/4

cup

dried cranberries

1

can (15 ounces)

pear halves*

4

ounces

feta cheese
Dressing
3

tablespoons

red wine vinegar

5

tablespoons

white sugar

1/2

teaspoon

salt

1/2

teaspoon

dijon mustard

do not use regular

1/2

cup

frozen raspberries

completely thawed

1/2

cup

vegetable oil

canola or olive oil will work

1 and 1/2

teaspoons

poppy seeds
Instructions
For the candied pecans
Preheat oven to 250 degrees F and line a baking sheet with parchment paper.

In a mixing bowl, whip together the egg white, water, and vanilla until frothy. In a separate bowl, mix together sugar, salt, and cinnamon.


Add pecans to egg whites, stir to coat the nuts evenly. Remove the nuts, and toss them in the sugar mixture until coated. Spread the nuts out on the prepared baking sheet.


Bake for 45 minutes to 1 hour, stirring and tossing every 15 minutes.

For the salad:
Thoroughly drain the pear halves and set on a cutting board. Very thinly slice the pears.


Toss together the spring mix, pomegranate arils, dried cranberries, pears, and feta cheese.

For the dressing:
Combine all of the ingredients except for the oil and poppyseeds in a blender or food processor. Pulse until the ingredients are well combined. Slowly add in the oil in a steady stream. Blend until emulsified and smooth.

Stir in the poppyseeds. This dressing is supposed to be pretty thick -- when you toss it with the salad it does thin out a little with the juices from the salad ingredients.

Toss the dressing and candied pecans with the salad. Only dress and add pecans to what you will eat because leftovers don't do so well! You can store the salad, pecans, and dressing separately for delicious leftovers!

Recipe Notes
*I use canned pears because of the texture (soft!) and sweetness to them. Feel free to substitute fresh pears if desired.
The amounts of toppings are general guidelines -- we like a lot of toppings to the amount of lettuce.