I've teamed up with DiGiorno to show you just how easy it is to create a balanced meal! As always, all opinions are my own.
Delicious and easy-to-make Butternut Squash Salad — a great holiday side dish. Pair with DiGiorno Crispy Pan Pizza for a tasty balanced meal.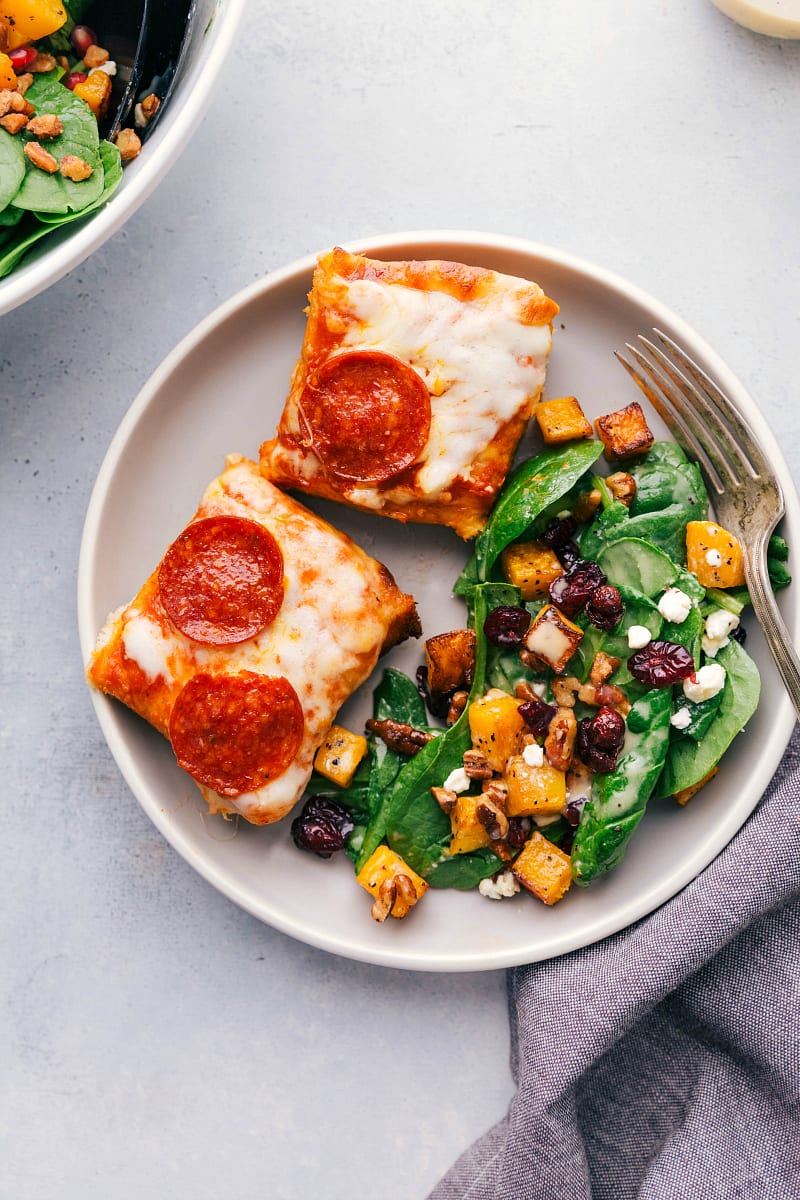 Butternut Squash Salad
As the holidays approach, there are few things as appreciated as some kitchen short-cuts! Between holiday shopping, social engagements and prepping for family gatherings, finding the time each night to put a full balanced meal on the table each night is no easy feat. But with some help from the frozen section, it's much easier than you would think!
Today I'm pairing this butternut squash salad with DiGiorno Crispy Pan pizza. This pizza is quick, so tasty, and easy to prepare in about 20 minutes — and unlike delivery, it's baked fresh from your own oven with a piping hot and crispy caramelized crust, which is one of the main reasons I've teamed up with them. In that time, you can quickly whip up this butternut squash salad and have a balanced meal on the table in a flash! Less time in the kitchen = more time to spend with friends and family.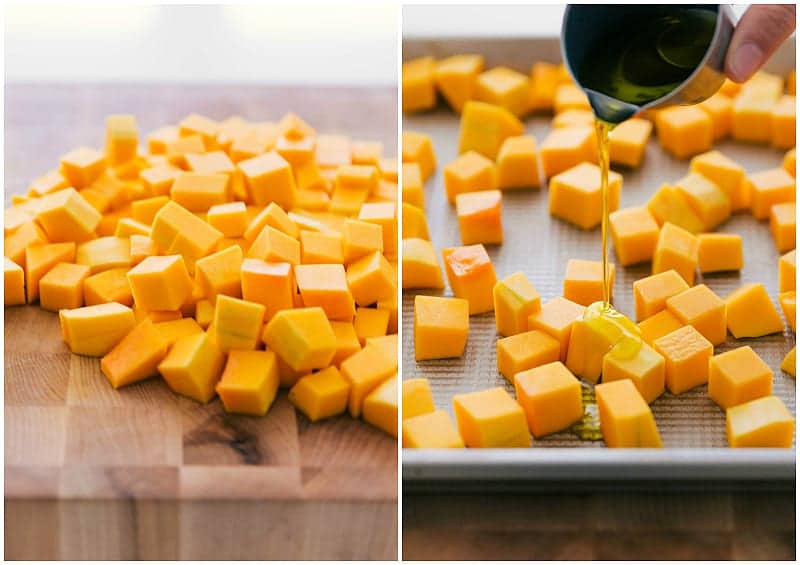 What is the best way to prepare roasted butternut squash?
Preheat the oven to

400° F.

(Which is super convenient, because that's what this pizza cooks at!)

To prepare the butternut squash: slice off the stems at both ends and then peel the entire squash. Slice the squash in half where the thinner end begins to widen around the middle.

Slice the thick end in half and with a sharp spoon, scoop out and remove the seeds (you can roast the seeds too for a fun snack!).

Dice the squash into even 1-inch cubes —

the more even your pieces are, the more perfectly the squash will roast!

Toss the squash on a large sheet pan olive oil, salt, and pepper.

Cook in the preheated oven and toss about halfway through the bake time to get an even roasting! After you've tossed the butternut squash halfway through, you can also add in the DiGiorno pizza.

How to make this Roasted Butternut Squash Salad & Pizza:
Start by roasting the butternut squash (see previous section).

Once the squash is roasted, you can cook the pizza. Follow package directions to bake! DiGiorno's Pepperoni Crispy Pan Pizza comes in its own pan, and the gooey mozzarella melts over the edge to perfectly caramelize the crust as it bakes!

While the pizza is cooking, whip together the dressing by combining all the ingredients into a mason jar and shaking to combine.

Add all the salad ingredients to a large bowl: spinach, squash, dried cranberries, goat or feta cheese, and pecans.
Toss the salad with the dressing and serve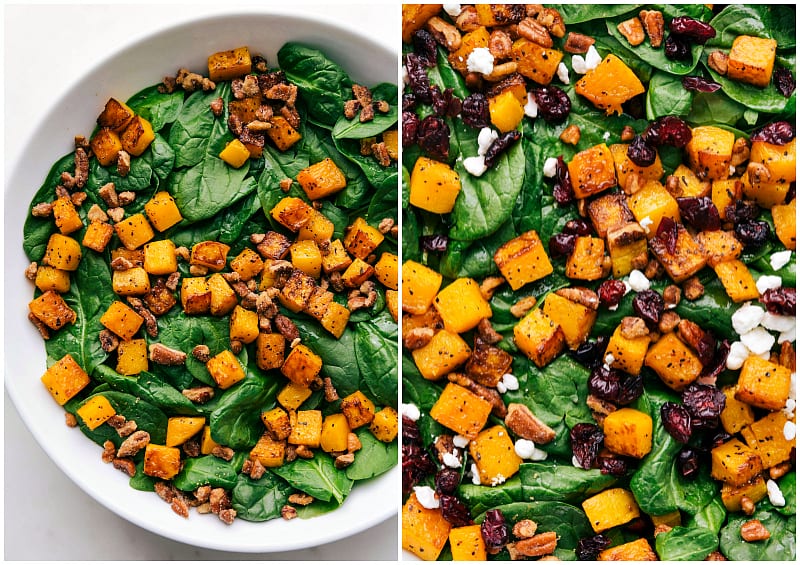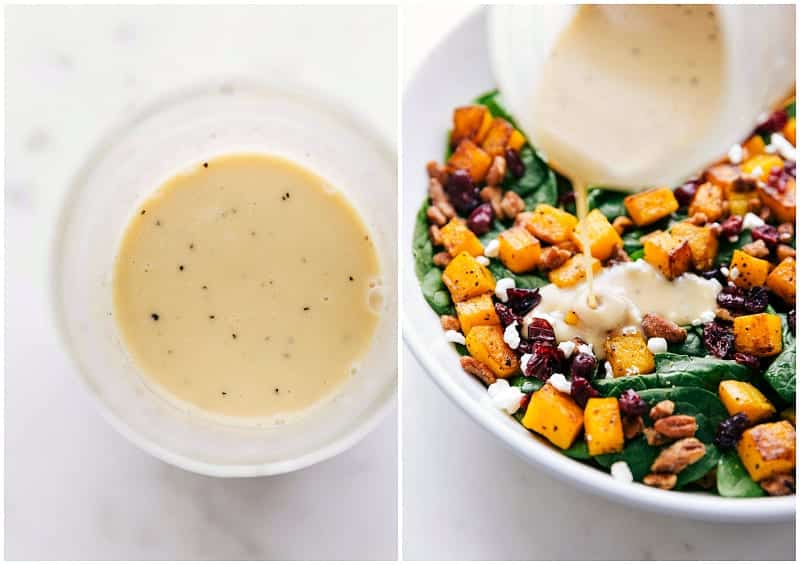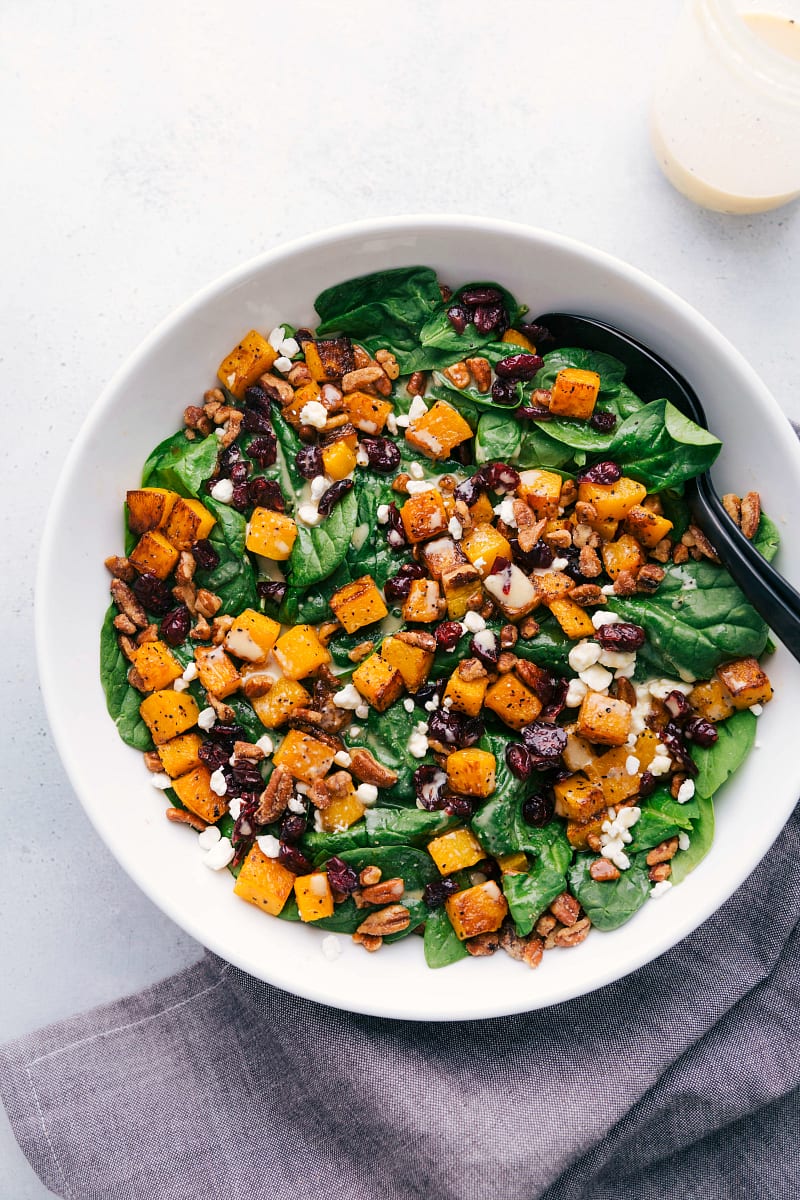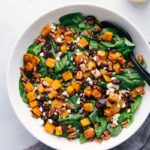 Butternut Squash Salad
Delicious and easy-to-make Butternut Squash Salad -- a great holiday side dish
Keyword:
butternut squash salad
Ingredients
Maple Dressing
1/4 cup + 1

tablespoons

pure maple syrup

2

tablespoons

Dijon Mustard

2

tablespoons

White Balsamic Vinegar

1/4

cup

mayo

3

tablespoons

half & half

Salt and pepper
Salad & Pizza
1

DiGiorno Pan Pizza

1

medium

butternut squash,

peeled and cut into bite-sized pieces (~4 cups)

1 and 1/2

tablespoons

olive oil

6

ounces

baby spinach

3/4

cup

candied OR honey roasted pecans,

coarsely chopped

3/4

cup

dried cranberries

4

ounces

feta or goat cheese,

crumbled
Instructions
Preheat the oven to 400 degrees F. Peel and chop the butternut squash into small bite-sized pieces. Place on a large sheet pan and toss with olive oil, salt and pepper (to taste; I add about 1 teaspoon salt and 1/2 teaspoon pepper). Toss the squash and put in an even layer on the tray. Bake for 15 minutes then remove from oven and toss. Return to oven and bake for an additional 10-15 minutes longer or until tender. Set aside and allow to cool for a bit before adding to salad.

Cook the pizza at the same oven temperature! Meanwhile, prepare the rest of the salad: add the spinach to a large bowl. Top with coarsely chopped pecans, dried cranberries, and feta or goat cheese. Prepare the dressing by combining all of the dressing ingredients (season with salt and pepper to taste; I use about 1/2 teaspoon each) in a mason jar. Place the lid on the jar and shake to combine. Add cooled squash to salad, toss with dressing, and enjoy.

This salad doesn't sit well with the dressing, so only dress what will be enjoyed same day. Store any leftover salad and dressing separately.