The BEST cranberry chicken salad. Perfect dip or sandwich filling!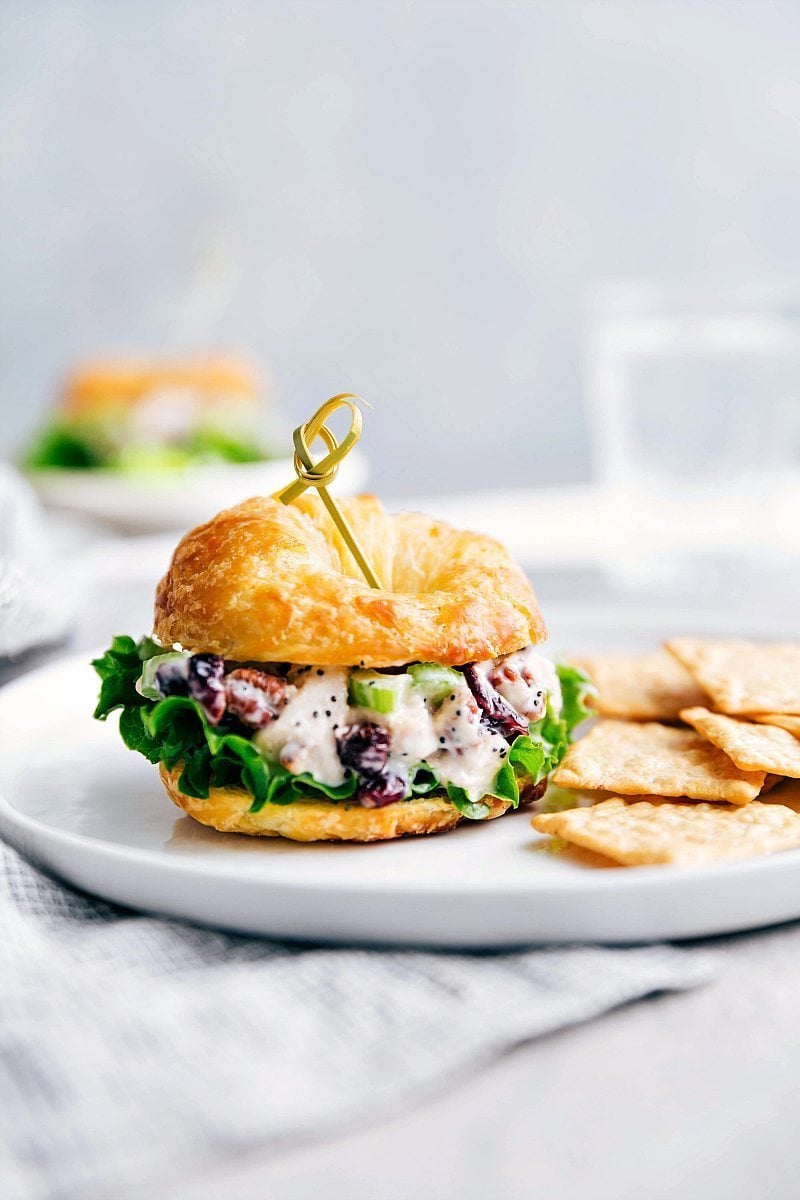 Cranberry Chicken Salad
This pecan, celery, and cranberry chicken salad is one of my very favorite things to eat as a meal or snack on throughout the day and it makes the perfect holiday appetizer! If we're hosting a get-together (or get invited to one) this cranberry pecan chicken salad is the first thing I think of to bring for an easy and DELICIOUS appetizer or light meal. 
My toddler has recently started telling a few lies. Luckily for me, he's not very good at it yet and so hopefully I have a chance to reverse that a little. He told me the other day that it was his brother that got into the Halloween candy stash (his brother clearly has talents I don't know about because this was all done while his brother was napping)….
He also told me, when I asked what he learned at school, that his teacher said to tell me that "they don't learn anything and to stop asking him so many times!" Somehow I doubt his teacher sent along that message for him to give to me…
And one of the best lies yet: he couldn't try this cranberry pecan salad because his "tummy told him not to." Even better is when he expounded about how him and his stomach communicates…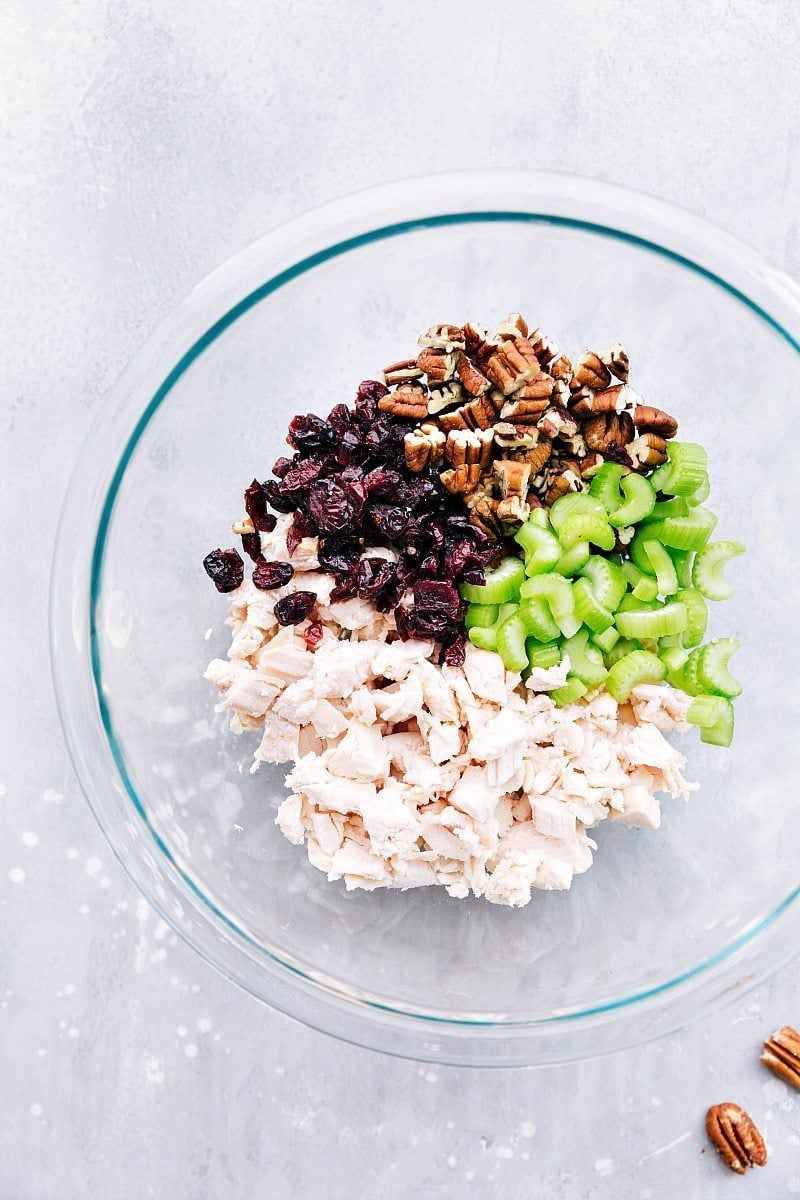 When I finally did convince him to try this cranberry chicken salad, he practically ate the entire bowl. He probably would have finished it off and licked it clean had I let him 🙂
Chicken salad is a favorite in my family and this fall-inspired version is the BEST! Toasted pecans, crunchy celery, super flavorful chicken, and chewy cherry-juice-infused cranberries all tossed in a sweet poppyseed dressing? Amazing! And even better when it's served as a dip with crackers, fruit, and veggies!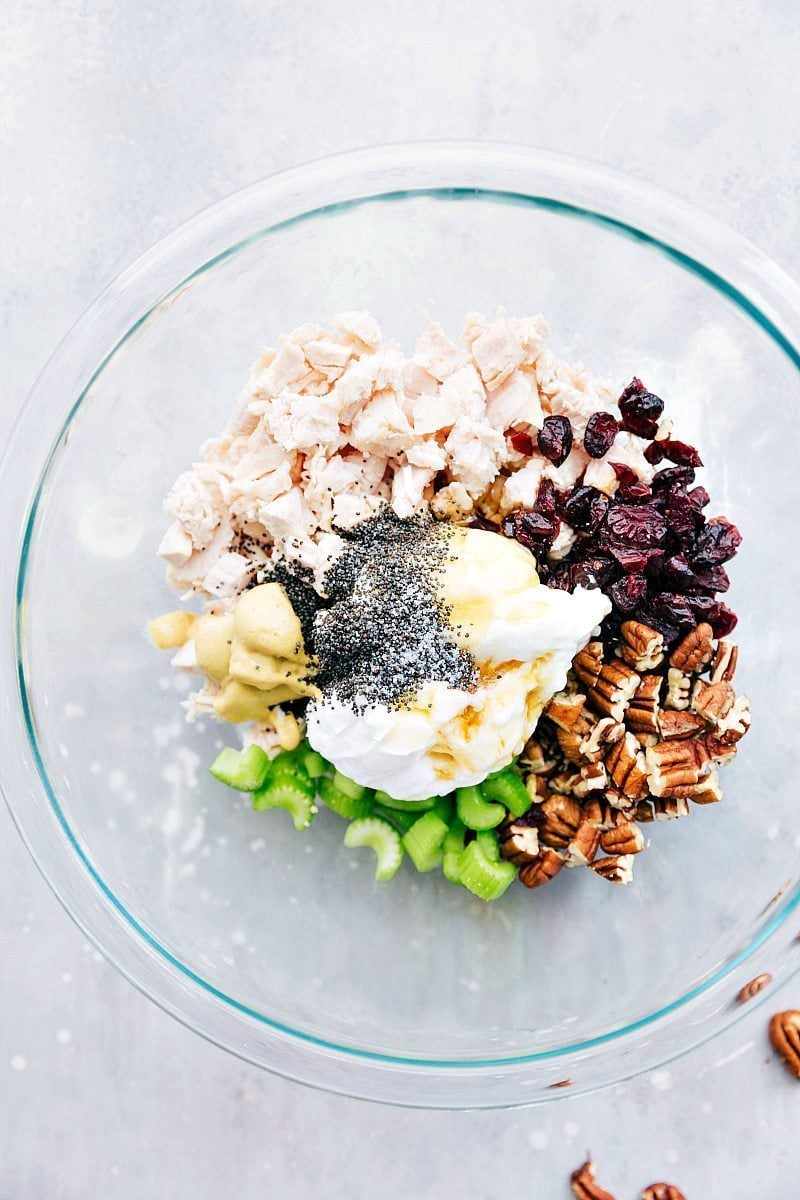 How to make cranberry chicken salad:
This recipe is extremely easy which is perfect for this busy holiday season! You can whip it all together in 10-15 minutes and serve it right away! The "dressing" requires only a few ingredients: mayo, sour cream (you can make a lower fat chicken salad by using fat free sour cream), poppyseeds, a little lemon (adds a delicious freshness), Dijon mustard, and some honey for a little sweetness. Add a sprinkle of salt and pepper and you now have the perfect compliment for your chicken salad.
As far as the actual salad, there are only FOUR ingredients: pecans, celery, dried cranberries, and chicken. The "secret" to having the best chicken salad? Using really tender and flavorful chicken. And how do you get super flavorful chicken in a flash? A pre-made rotisserie chicken. I grab a rotisserie chicken and chop up the meat from that (about 2 cups) and then use the remaining chicken in one of the many recipes on my site that call for rotisserie chicken 🙂 (See here, here, and here!) If you're in a super big hurry, a lot of grocery stores even have rotisserie chicken they've already cut up for you!
Can you double this cranberry chicken salad?
If you're planning on making this for a lot of people, this recipe easily doubles, triples, etc. If you get a colossal-sized rotisserie chicken you'll get about 6 cups of meat which you could use for this recipe and just triple all of the other ingredients!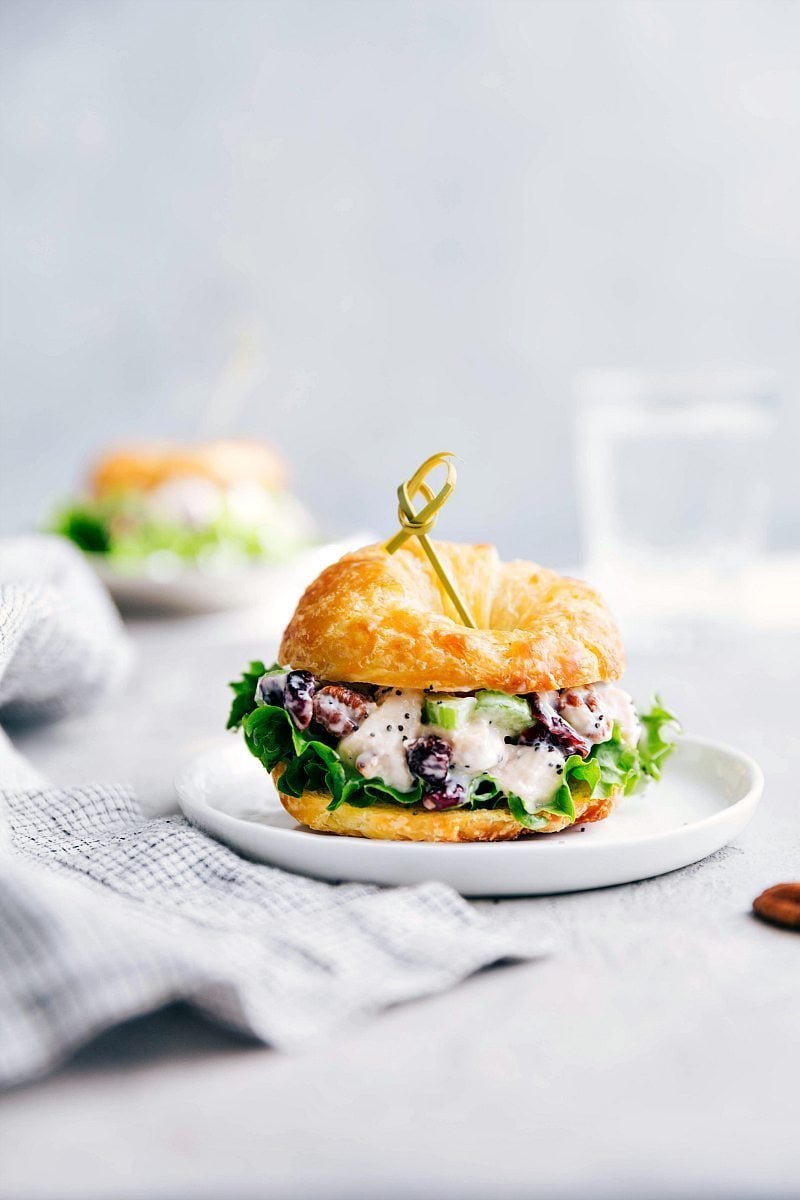 So now that you've got the (best ever) cranberry chicken salad, how to serve it?
Our favorite way to serve chicken salad is on croissants! If you're looking for a great appetizer, you can serve this chicken salad on miniature croissants. (Full size croissants make a great lunch!)
Serve as a dip: place the chicken salad mixture in a bowl and surround it with chips, veggies, and thinly sliced apples.
Serve on top of thinly sliced apples (or make a low carb "sandwich" with apples as the bread)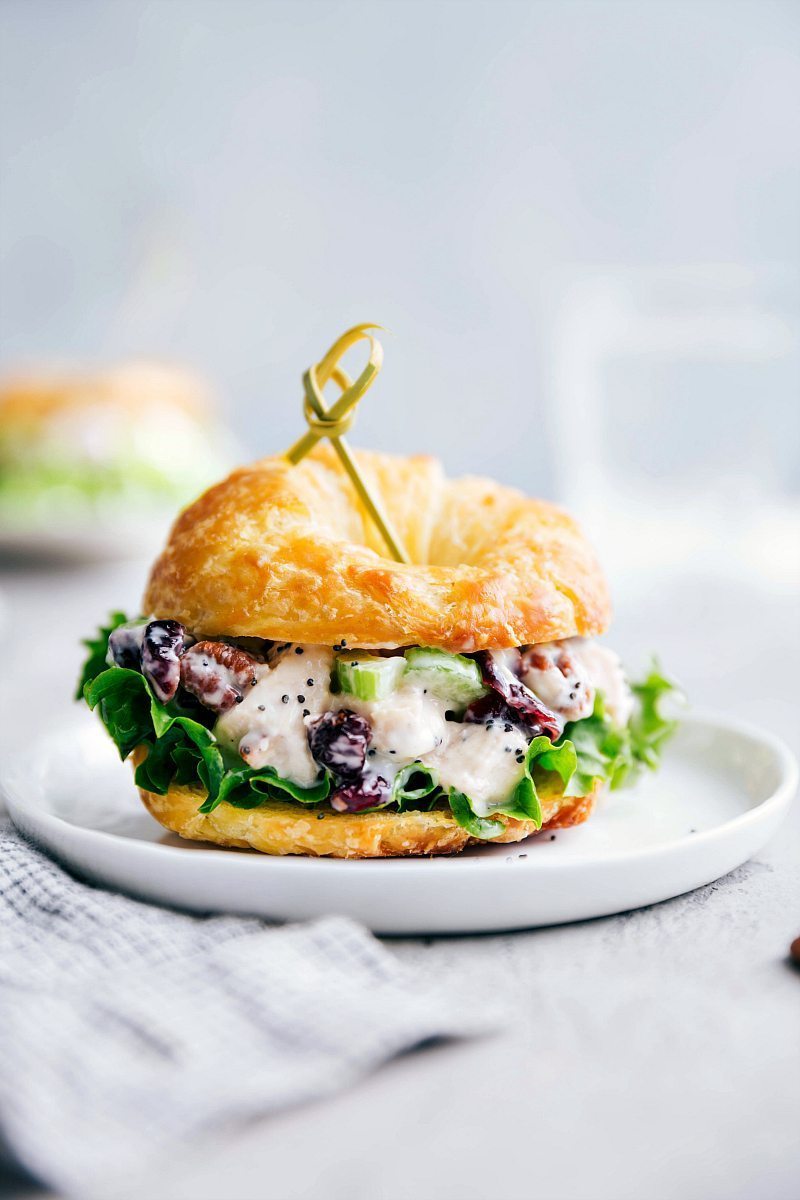 More Delicious Salads:
Sweet Potato and Wild Rice Salad
Low-Calorie Chicken Sandwiches
10 Variations on your Standard Salad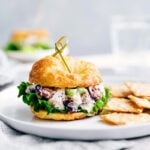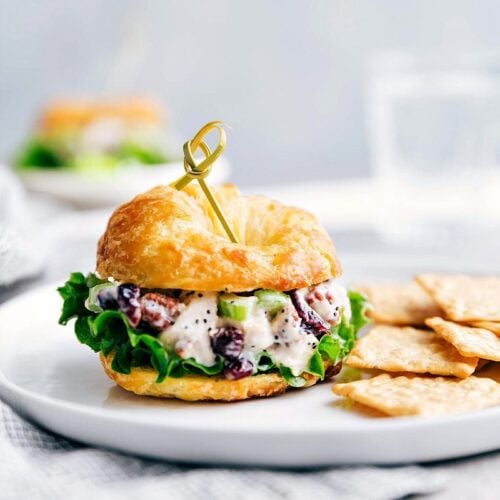 Cranberry Chicken Salad
The BEST cranberry chicken salad. Perfect dip or sandwich filling!

Keyword:
cranberry chicken salad
Ingredients
2

cups

prepared rotisserie chicken,

chopped into small pieces

1/2

cup

pecans,

toasted and coarsely chopped

1/3

cup

dried cranberries (cherry infused for an even more delicious chicken salad!)

2

stalks

celery,

thinly sliced

1/4

cup

full fat mayonaise

2

tablespoons

sour cream (fat free or light is great!)

1

tablespoon

honey

1 and 1/2

teaspoons

Dijon mustard

1 and 1/2

teaspoons

poppyseeds

1

teaspoon

freshly squeezed lemon juice

Salt and pepper,

to taste
Enjoy With:
Croissants or other Sandwich Rolls (add some lettuce for a sandwich)

Thinly sliced apples

Celery Sticks

Crackers
Instructions
To toast the pecans: pour the pecans into an even layer in a small, dry (no need to add oil or anything) skillet over medium-heat and stir them around a bit until they are fragrant, lightly browned, and toasted to your liking. Watch carefully to avoid burning the nuts (they can go from toasted to burned VERY quickly)


In a large bowl, add in the chopped rotisserie chicken, toasted and chopped pecans, dried cranberries, and thinly sliced celery.

Add the mayo, sour cream, honey, Dijon mustard, poppyseeds, lemon juice, and a generous (or to taste) sprinkle of salt + pepper.

Gently stir all of the ingredients together until combined. Taste and adjust for seasonings (salt, pepper, additional lemon, etc.)

Enjoy with crackers, apples, and celery sticks OR layer it on a croissant and add some lettuce. Enjoy immediately.