A small batch, single-serving-sized bakery style large chocolate-chip cookies.

Because sometimes you need a giant delicious chocolate-chip cookie, but you don't need an entire batch. Or even a half-batch for that matter… That's where these small batch cookies come in!
AND unlike pretty much every other cookie recipe here on Chelseas's Messy Apron, these cookies do not require an hour of chilling.
As much as I love what chilling does to a cookie recipe, if you are wanting a single-serving, small batch cookies, you are probably wanting it ASAP, am I right? The way we get around the chilling in this recipe is by not melting the butter at all and by popping them in the freezer for just 5 minutes while the oven finishes pre-heating. You totally can't call a 5-minute wait time chilling right? It's like flash freezing or something else ?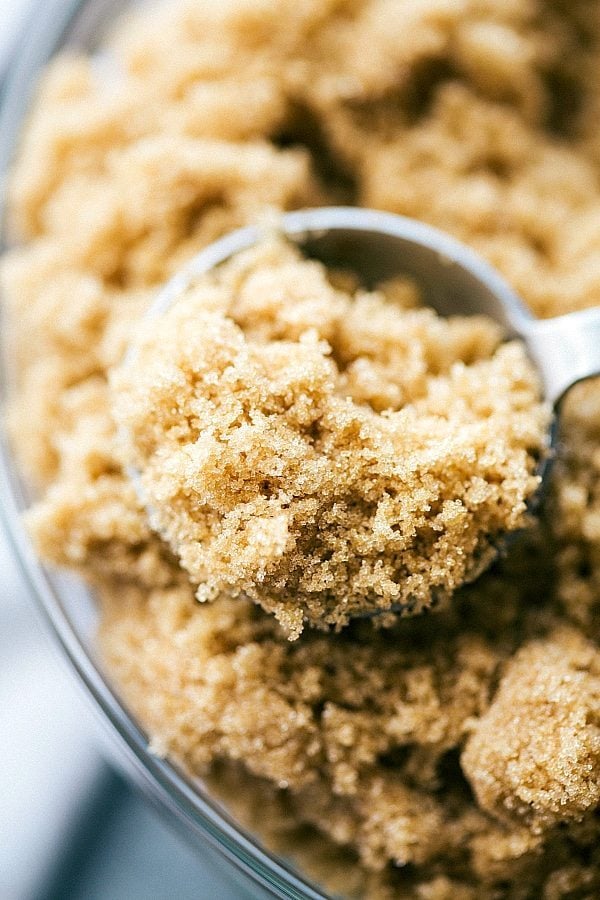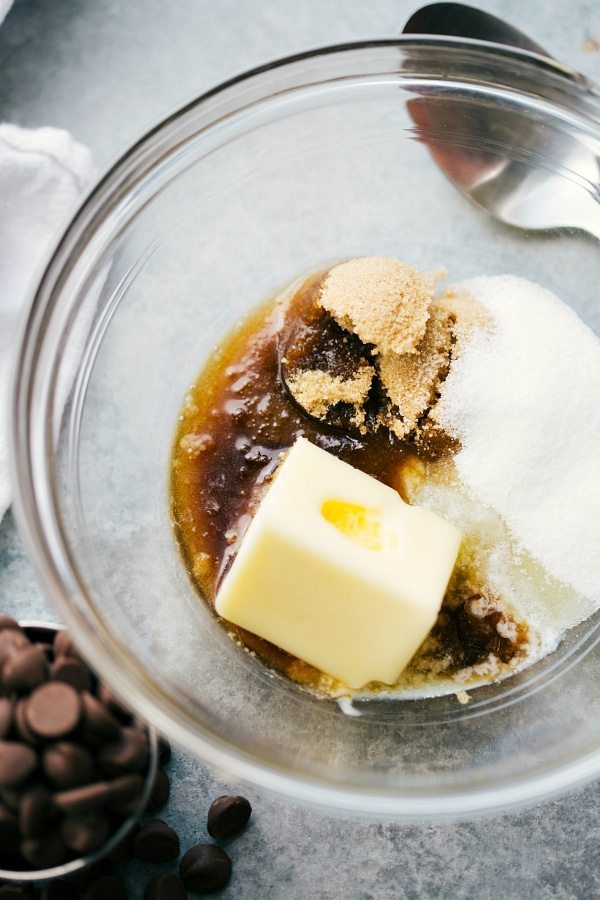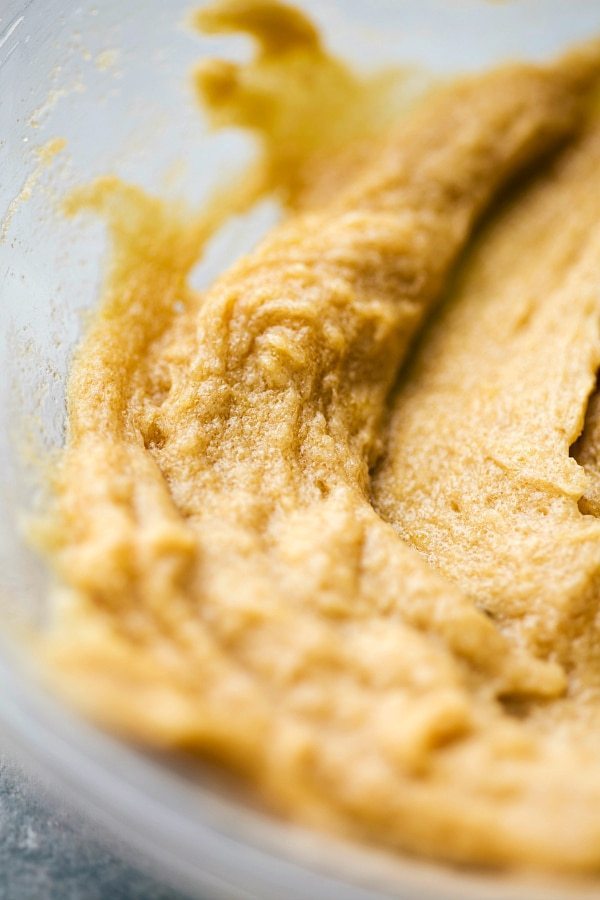 I've honestly made this recipe no short of a dozen times. A few weeks ago when I needed to bring a batch of cookies to a function, I did this recipe about 10 times to have the right amount and to thoroughly test this recipe 🙂
Because I've made it so many times I know what will work and what won't and honestly if you can get the butter right, these are totally foolproof! Such a simple ingredient, but if the butter is melted even a little bit these cookies spread like crazy and the texture is all off. I've tried even melting the butter for very short amounts (10 seconds) in the microwave and even that throws them off.
If you want these cookies to work perfectly, do not melt the butter at all! Let it come to room temperature just to where you can mix it with hand mixers (if you can stir it with a spoon it's too soft). It should still give you a little bit of push-back in the mixing because it is still solid butter and not at all melted.
After that, you'll just want to quickly mix all the other ingredients to keep that butter as not-melted-as-possible (especially if you have a warm kitchen — you do not want the butter getting melty!) before you've formed these into cookies and popped them in the freezer.
Along with having room temperature butter, having a room temperature egg yolk is important too. Pull out the butter AND egg at the same time and let them come to room temperature before starting on these cookies.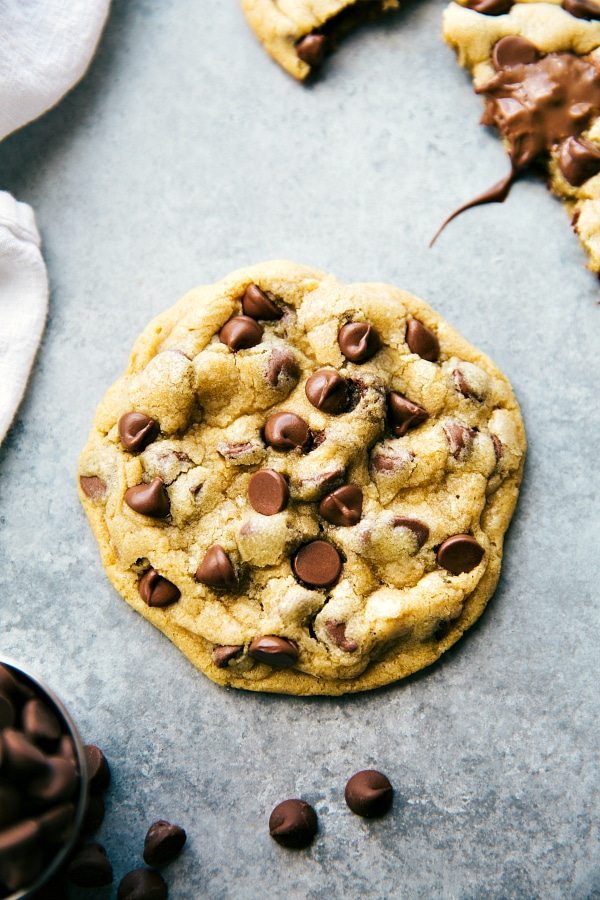 My two favorite ingredients to take chocolate chip cookies from good to GREAT: the chocolate chips and the vanilla. If you are able to find Mexican vanilla it is a huge game changer for flavor. And more than anything, the chocolate you use is key! I love Ghirardelli or Guittard milk chocolate chips.
Not only are these cookies packed with chocolate-chips before being baked, but I also add some onto the tops of the cookies right out of the oven. It's not just to make them look pretty (although it does that too!), it also gives them a better texture and a boost of chocolate (obviously: more chocolate chips = more chocolate!). I don't know about you, but if I'm eating a chocolate-chip cookie I want plenty of chocolate in every.single.bite.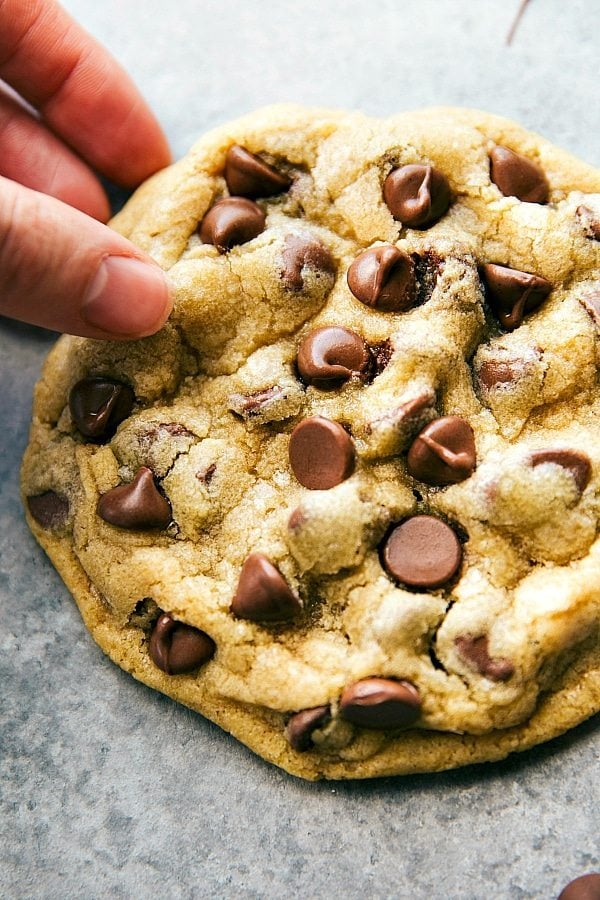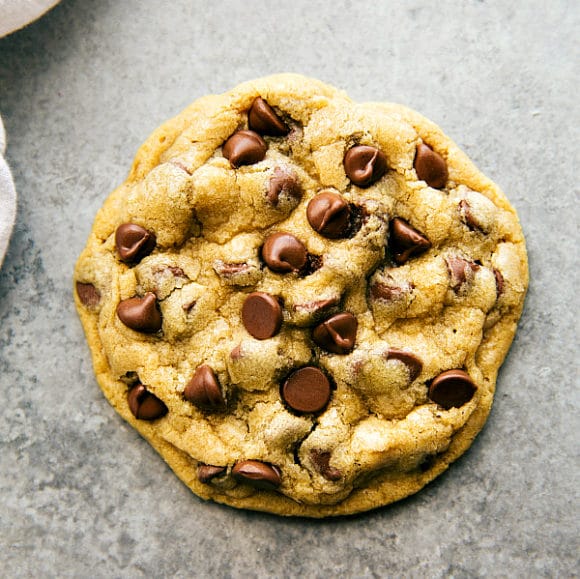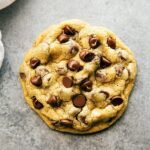 Single-Serving Size Chocolate-Chip Cookies
Servings
:
2
-3 large cookies
Ingredients
3

tablespoons

salted butter

at room temperature

3

tablespoons

packed brown sugar

1 and 1/2

tablespoons

white sugar

1/2

teaspoon

vanilla extract

1

large egg yolk

discard or save whites for another recipe

1/4

teaspoon

baking soda

1/2

teaspoon

cornstarch

optional

1/2

cup

flour

6

tablespoons

chocolate chips

I prefer milk
Instructions
Preheat the oven to 350 degrees.

In a bowl, beat together the ROOM TEMPERATURE butter (if it is melted at all these cookies will be flat. Don't microwave it) with the brown and white sugar until creamy.

Add in the vanilla extract, egg yolk, baking soda, and cornstarch. (Add 1/4 teaspoon salt here if using unsalted butter)

Beat until just combined.

Add in the flour and chocolate chips and beat until just combined.

Form 3 large and tall balls of cookie dough (see video for shape and size, video right above recipe).

Place the cookie sheet with cookie balls in the freezer for 5 minutes.

Remove and immediately bake for 10-14 minutes or until very lightly browned around the edges. (Cookies are always best slightly under-baked!)

If desired (pretty appearance + more chocolate!), press a few additional chocolate chips into the tops of the cookies right after pulling them out of the oven.