A delicious crockpot sweet potato casserole with pecans. One way to save some oven space for Thanksgiving is to use the crockpot!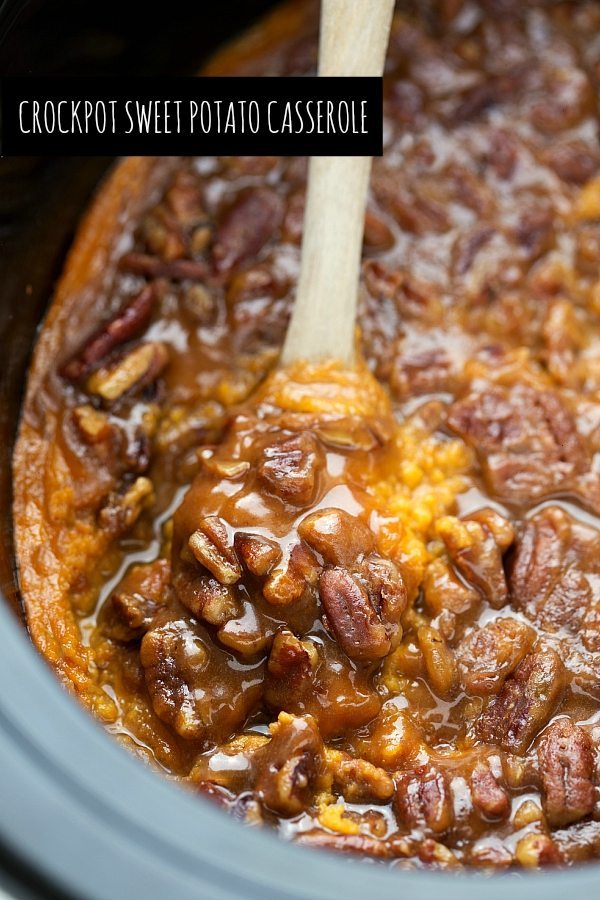 It's time for some Thanksgiving recipes!! The husband, well, he's pretty excited that he's basically getting Thanksgiving for a lot of the month of October/November. He has requested that I "recipe experiment" with making several hams before the actual holiday. Basically, I need to buy ham and prepare it more because he loves it. Got it!
Anyways, in kicking off these Thanksgiving recipes I've got for you all, I had to start with a personal favorite. SWEET POTATOES! I love sweet potatoes. I eat them year round, but Thanksgiving gives me even more of an excuse to eat them, well, pretty much every day. And in all honesty, out of all the delicious Thanksgiving recipes available, sweet potato casseroles have always been my favorite. I know, I'm crazy.
So here's the good news though. You know how there is likely a bazillion and one things to cook in your ovens on Thanksgiving? Well this recipe is going to save you some of that limited oven space! It is all made in the slow cooker. That's right! Mixed in the slow cooker and then cooked in the slow cooker. And if you are like me — eaten right out of the slow cooker. Since it wasn't a formal dinner or anything (yet), it was totally acceptable.
PLUS, this sweet potato casserole can also be made the night before and then popped into your slow cooker the day of. (Win!)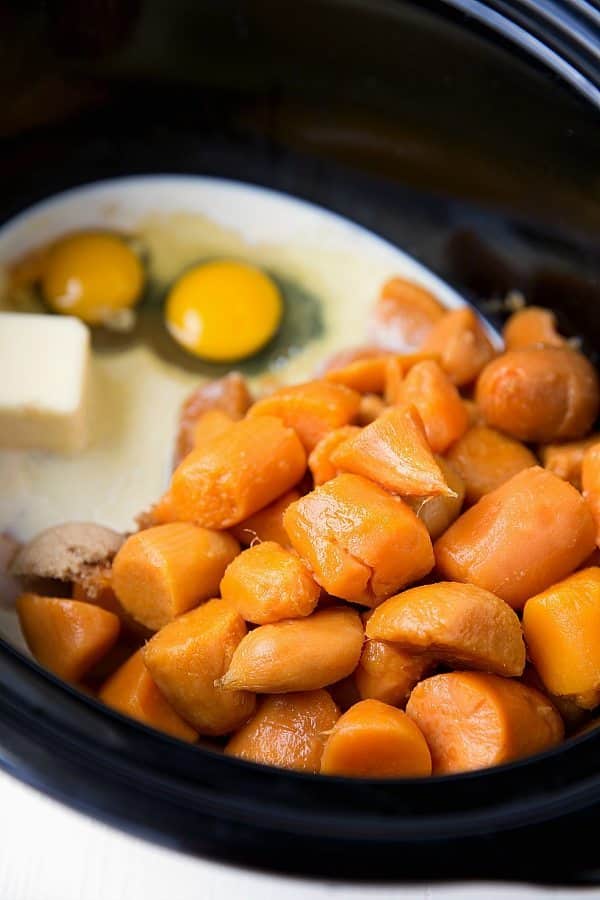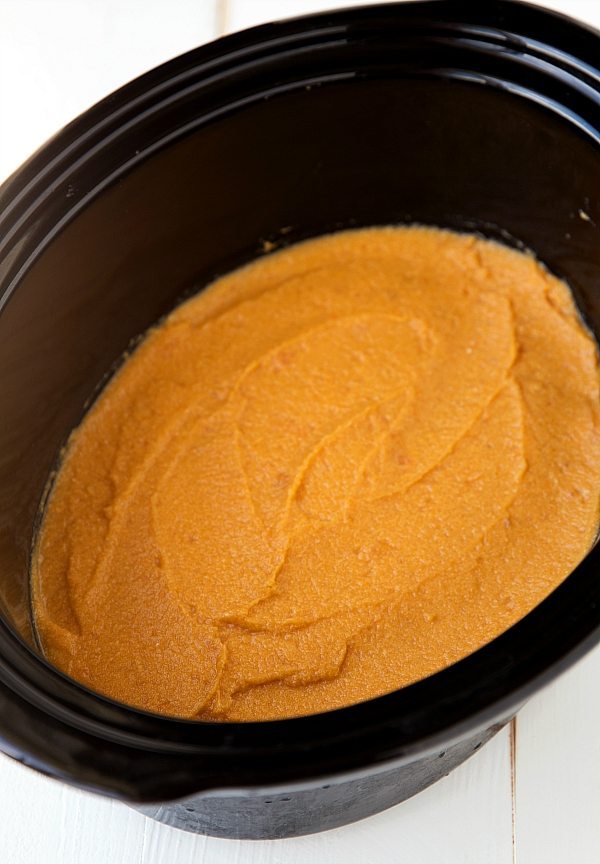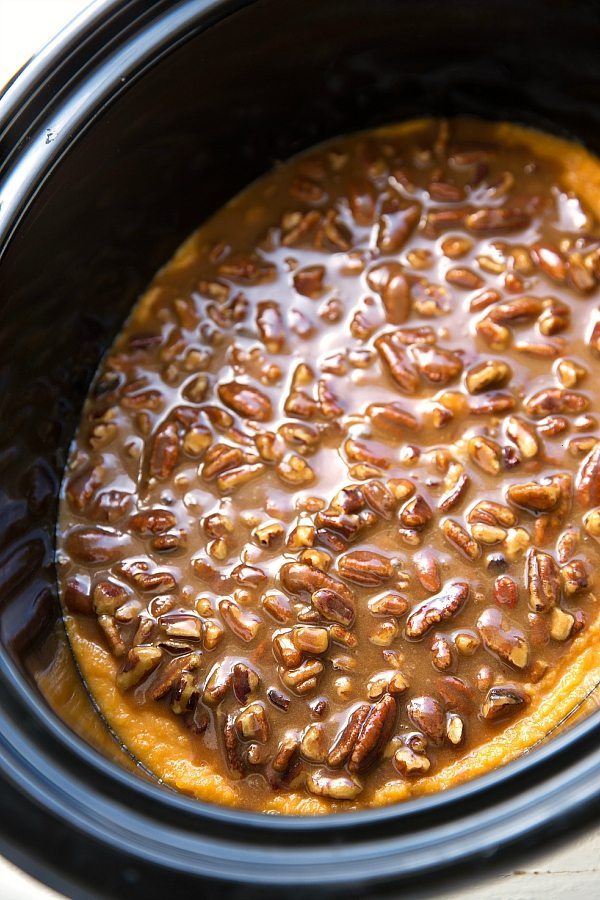 So let's talk about the ingredients, first off, sweet potatoes – they are canned. So I tried this recipe with both fresh and canned sweet potatoes, and honestly, the canned were better in my opinion. Plus, the ease with the canned, it's a pretty big difference! But if you want to use fresh sweet potatoes, totally acceptable and tastes fantastic; you'll just have a few extra steps. You'll need to peel, chop, and boil the sweet potatoes until they are soft enough to mash. Then you are right up to speed with the rest of the instructions 🙂
As far as the other ingredients in the casserole, there is some butter, sugar (both brown and white), some eggs, milk, vanilla, and orange juice. Don't forget the orange juice – it gives the casserole a little bit of "zing" and such a great flavor! You could also add a little bit of cinnamon here, but that's totally up to you.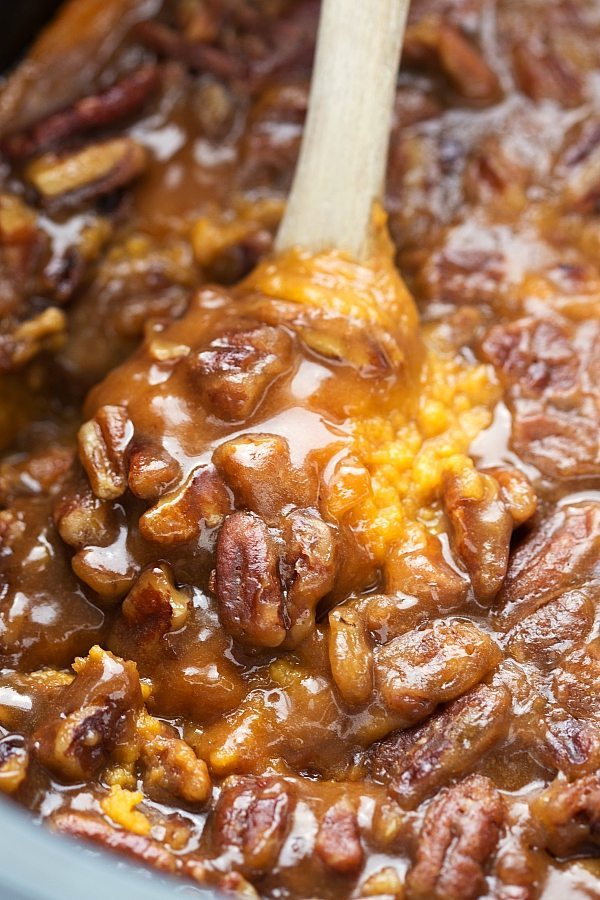 Next, the "topping." It's basically just brown sugar, flour, pecan chips, butter, and a little vanilla. Delicious. I loved this topping cooked in the slow cooker, but if you want it a little crispier, you can pop this casserole in the oven to crisp the top. You literally just blend all of the ingredients together (I did this IN the crockpot) and then smooth them with a spatula. Mix together that topping and spread it on top. And that's it!!
This casserole may taste like you slaved away all day in the kitchen, but it can be our secret that it only took about 10 minutes prep 🙂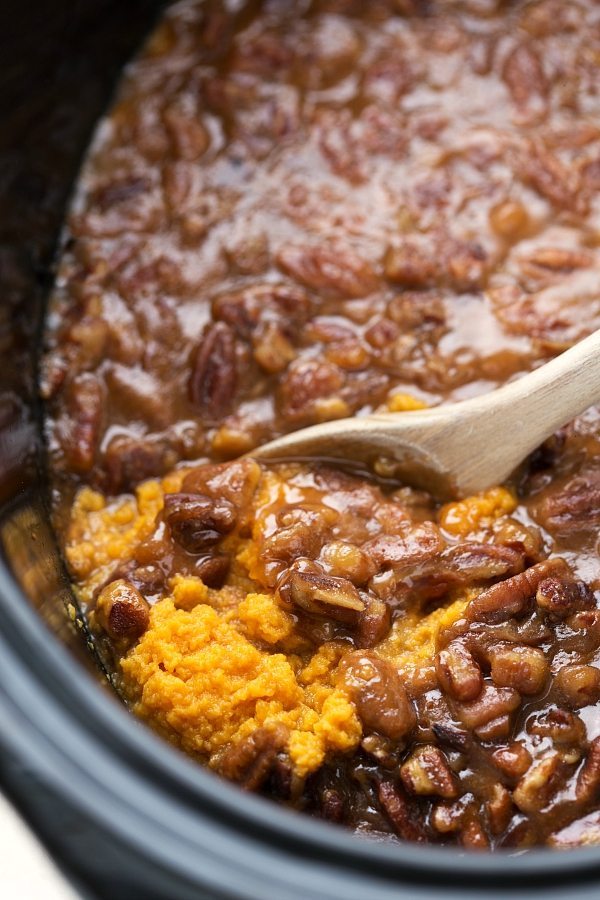 VIDEO TUTORIAL: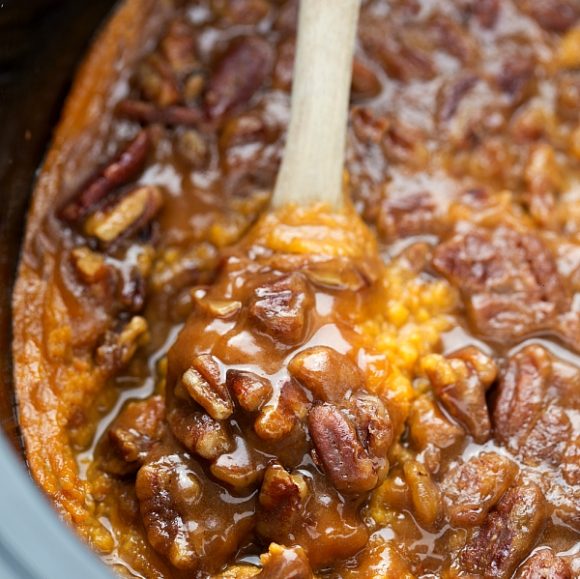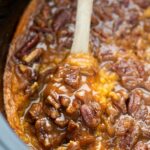 Crockpot Sweet Potato Casserole
A delicious crockpot sweet potato casserole with pecans. One way to save some oven space for Thanksgiving is to use the crockpot!
Keyword:
Crockpot Sweet Potato Casserole
Ingredients
2

(29 ounces each)

canned sweet potatoes

1/4

cup

butter

softened

2

tablespoons

white sugar

Pinch of salt

2 and 1/2

tablespoons

brown sugar

1

tablespoon

orange juice

2

large

eggs

1-2

teaspoons

vanilla extract

1/2

cup

milk

I used whole
Topping
3/4

cup

pecan chips

2/3

cup

brown sugar

lightly packed

1/4

cup

white flour

1

teaspoon

vanilla extract

1/4

cup

butter

melted
Instructions
Either line your slow cooker with a disposable liner or spray generously with nonstick spray. I use a 6 quart slow cooker for this recipe.

Drain the sweet potatoes. Add the sweet potatoes, butter, white sugar, pinch of salt, brown sugar, and orange juice in the slow cooker.

In a small bowl, lightly beat the eggs with a fork. Pour in the lightly beaten eggs, vanilla extract, and milk into the slow cooker.

Beat until completely smooth. (Alternatively, you can beat all of these ingredients in a different bowl).

Smooth the mixture with a spatula.

In a small bowl, stir together all of the topping ingredients. Spread the topping mixture evenly on top of the sweet potatoes.

Cover the crockpot and cook on high for 2 and 1/2 to 4 hours depending on how hot your slow cooker cooks.