How to grill the most delicious, juicy, and tender steak! Plus, an insanely good steak marinade recipe.
Looking for more steak recipes? Check out these Asian Steak Bites, this skillet steak, and this Grilled Flank Steak.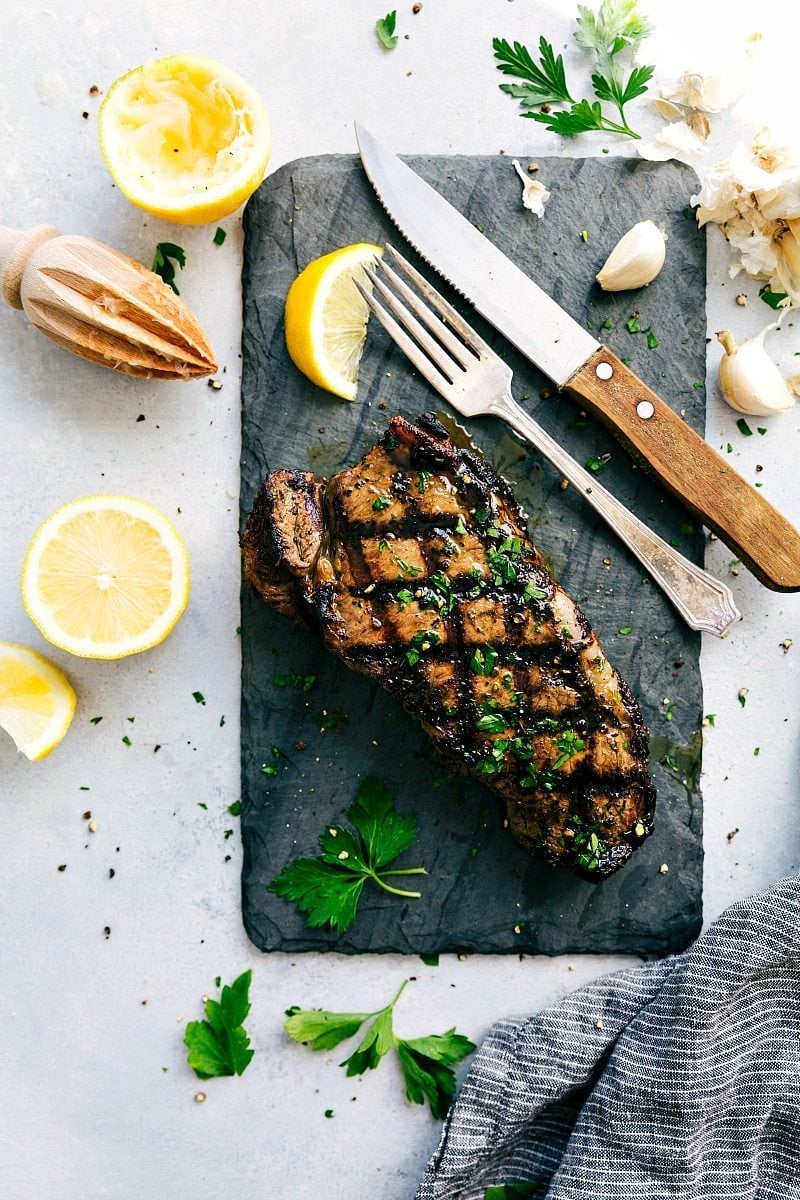 The boys have been playing outside pretty much nonstop. We don't have our yard in yet and they are LOVING that. They go out with little buckets and miniature shovels and can play for hours on end.
The other day I decided to vacuum out my car while they played in our "dirt bed" by the garage. It started getting pretty warm outside so I asked the toddler to go grab sunscreen so I could put it on them.
After explaining exactly where it is, (and telling him NOT to put any of it on himself) he nodded and went inside. When he didn't come out for a bit, I knew there would be trouble.
Sure enough, my instincts were right.
He'd found what he thought was the sprayable sunscreen, but was actually sprayable DIAPER RASH cream. And of course sprayed his entire body with it.
Turns out diaper rash sprayable cream is even stickier and grosser than sunscreen on a dirt-covered body.
Who said being a boy mom was easy?
But one thing that IS easy is this delicious steak recipe and steak marinade:) Read on for more!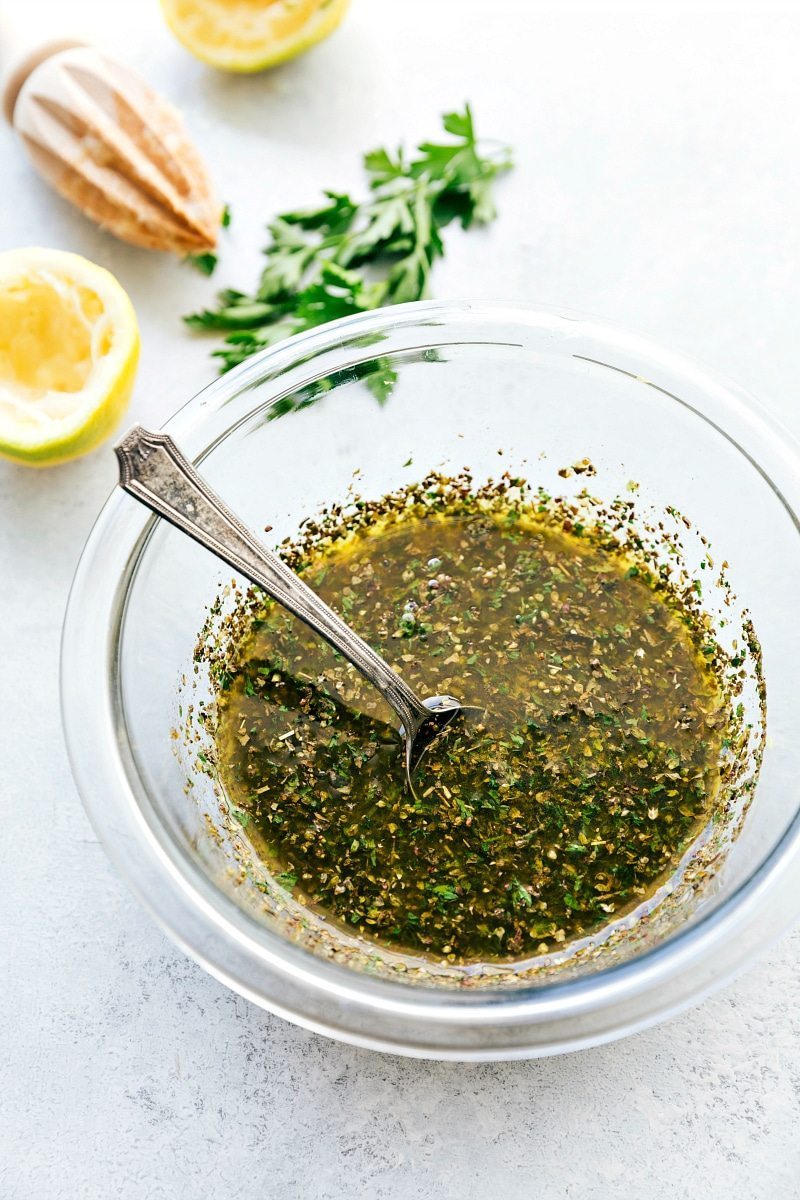 Steak Marinade
Ever since attending the grilling camp I shared about here I've been OBSESSED with grilling. Seriously, it's my newest hobby and I've grilled just about every day this month. Before going to that bootcamp I grilled a bit, but it was usually just been chicken or shrimp and occasionally a steak — nothing too crazy.
Since coming back from the camp and reading just about everything I can about grilling (really, I'm so weird.), I can't get enough.
And one of the things I've learned is that when grilling steak, the steak marinade you use makes a big difference. Lucky for you I have a great steak recipe I'm sharing with you below, complete with a steak marinade recipe as well.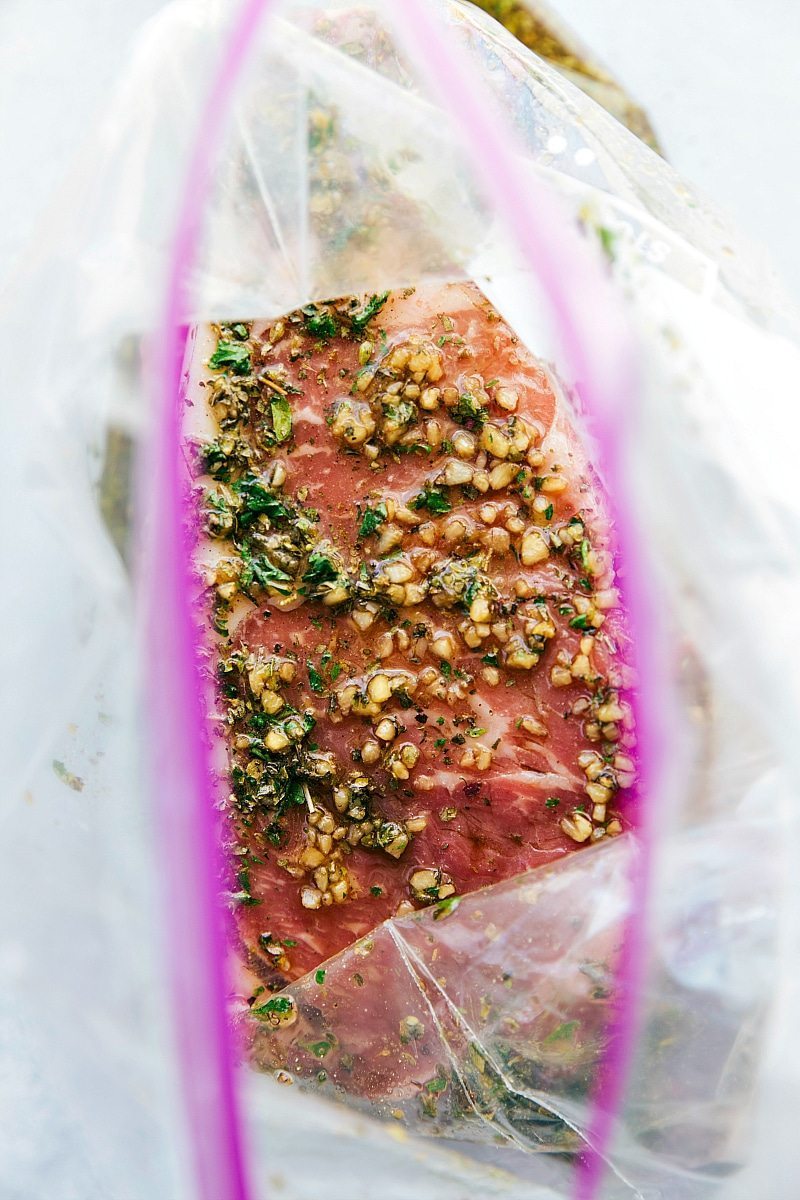 What Are The Best Steaks To Grill?
I love this list of the top 10 steaks to grill by Steven Raichlen. (These photos are a NY Strip Steak, but my favorite GRILLED steak (right now) is probably a rib-eye)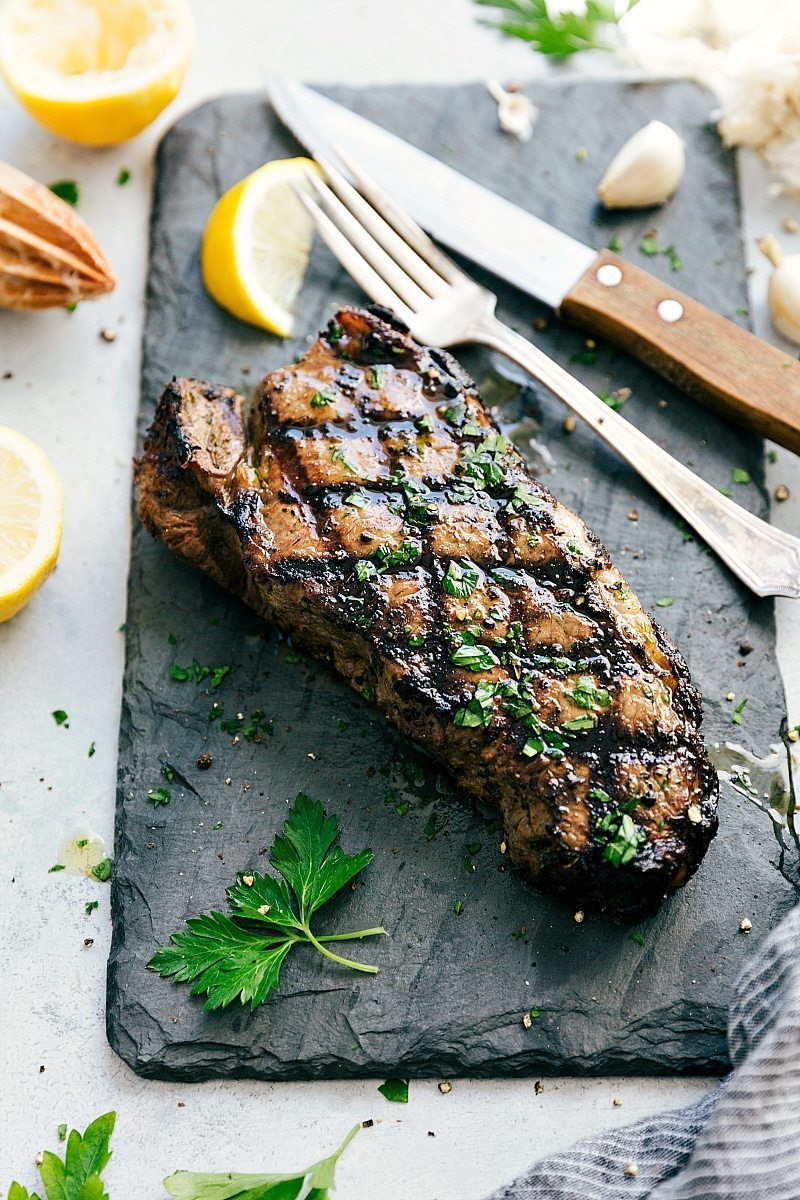 Here are my top tips for grilling a steak:
The meat you buy matters! Typically the more expensive the meat, the better it's going to be. I'll occasionally splurge, but for weeknight dinners, I'll usually get a good value steak at the grocery store. The steaks from the butcher will be likely double the cost (and you likely wouldn't want to add a marinade to those anyways — just a generous sprinkle of coarse salt and pepper.) So, for this marinade recipe, a good value steak from the grocery store will work great! I think this marinade takes a good value steak to a WOW steak!
Look for thickness: Try to get a steak at least an inch thick and preferably 1 and 1/2 – 2 inches thick. The thickness helps you get a beautiful red center.
Try to get the center cut — the center cut helps to ensure even cooking which is super important on the grill.
Trim the skin — before grilling, trim off the edge silvery skin that runs along the side of some steaks. Avoid cutting into the steak and don't remove any of the other marbling fat within the steak (the fat within a steak adds a lot of flavor!)
Generously OIL your grill grates. When the grill is fully heated, clean it well with a wire brush, and then roll up a few paper towels, drench them in oil (I use canola), and (using tongs that are holding the paper towel wad), rub it along the grill grates generously. Cleaning the grill and brushing it with oil will give your steak gorgeous grill marks and contribute to a beautiful sear.
Make sure the grill is completely heated before you add your meat. High heat is going to sear the surface of the meat which will give you a juicier steak and allow the steak to get an amazing char.
Use tongs to flip the meat. Don't stick a fork in your steak and flip it that way because the delicious juices will have a chance to escape.
Use a meat thermometer. The best way to ensure your meat is perfectly cooked to your liking is by using a meat thermometer. If you grill a ton you can often tell just by looking at a steak or by gently pressing on it if it's done, but I still like knowing FOR SURE with a thermometer.

Rare: 120-125 degrees F
Medium-Rare: 135 degrees F (about 4-5 minutes on one side and another 3-5 minutes on the other side; high heated grill)
Medium: 140 degrees F (about 5-7 minutes on one side and another 3-5 minutes on the other side; high heated grill)
Medium-Well: 150 degrees F (about 8-10 minutes on one side and another 3-5 minutes on the other side)
Well-Done: 160-175 degrees F.
**Time of course depends on the steak's thickness, your grill, and actual temperature of your grill**
I usually pull off the steak about 5 degrees below what I want it to be at — it cooks a bit more after being taken off the grill.

For DIAMOND Grill marks: Place the steaks on the grill grate diagonal to the bars of the grate After 2-3 minutes, rotate the steaks 90 degrees to get a crosshatch of grill marks.
Let the steak rest before cutting into it. Once the steak is perfectly grilled, it needs a bit of time to rest so the juices can re-distribute evenly throughout the meat. By letting the meat rest, you will have a juicier steak! I cover the steak in foil and let it sit for 5-10 minutes before cutting into it.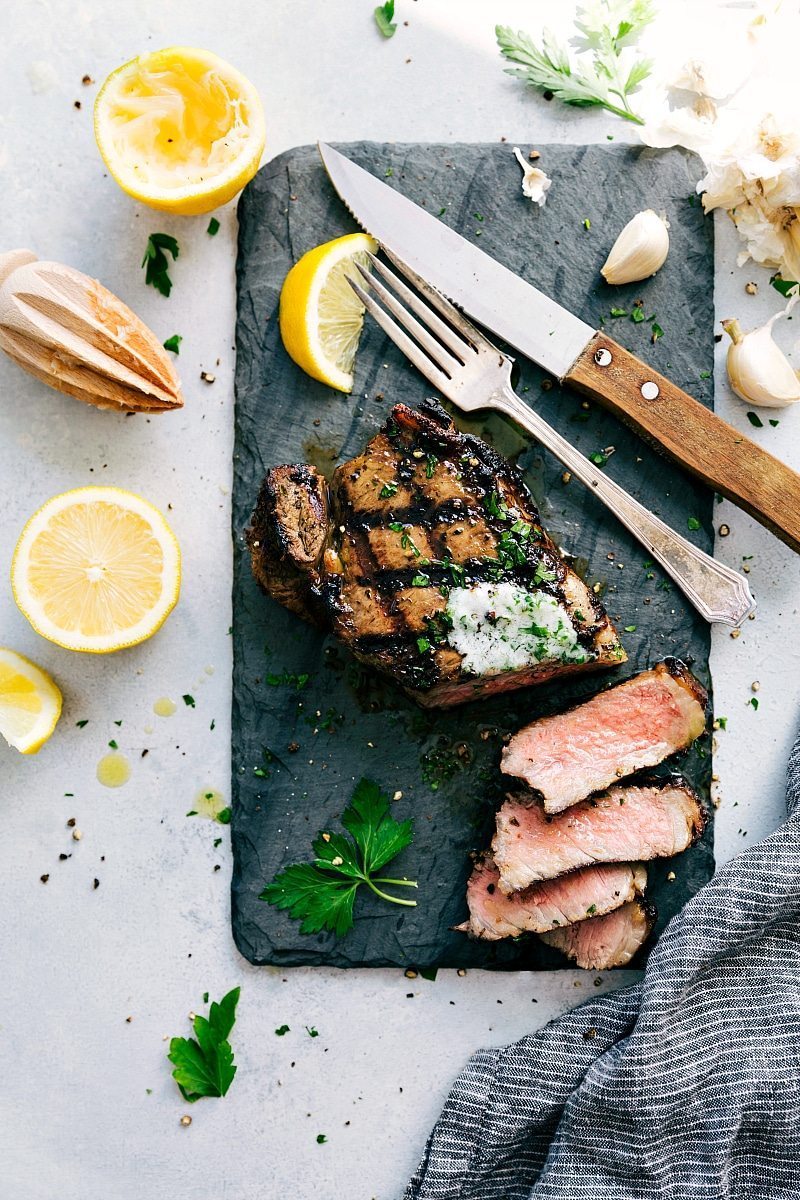 More Summer Recipes: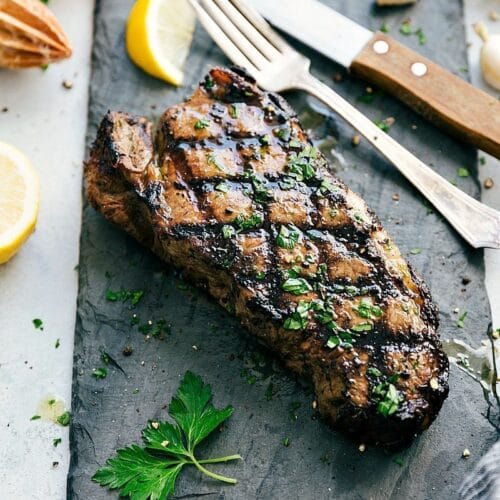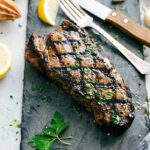 Easy Steak Marinade
This easy steak marinade takes minutes to whip together and takes a value/budget steak from good to AMAZING!
Ingredients
1/2

cup

olive oil

1/3

cup

low-sodium soy sauce

2

large

lemons

(1/4 cup freshly squeezed lemon juice, 1/2 teaspoon lemon zest)

1

tablespoon

minced garlic

1/4

cup

Worcestershire sauce

3

tablespoons

dried basil

1 and 1/2

tablespoons

garlic powder

1 and 1/2

tablespoons

dried parsley

1

tablespoon

dried oregano

1

teaspoon

ground white pepper

Coarse sea salt,

optional

Steaks of your choice

Canola oil,

for grill grates
Instructions
In a medium-sized bowl, add in the olive oil, soy sauce, lemon juice and lemon zest, minced garlic, Worcestershire sauce, dried basil, garlic powder, dried parsley, dried oregano, and white pepper.

Whisk until ingredients are combined and incorporated.

Pour the mixture over steaks of your choice (the pictures show a NY Strip Steak; read the post for the "best grilling steaks")

Cover (or seal the bag) and place in the fridge for up to 6 hours (too much longer than that and the acidity starts to "cook" the meat).

About 20 minutes before grilling, remove the steaks and let sit (still covered) at room temperature (not outside).

Heat the grill to high heat. Once the grill is hot, clean it with a wire brush. Roll up a few paper towels and drench them in canola oil. Using tongs, rub the paper towel wad along the grill grates generously.

Remove the steaks from the marinade and sprinkle coarse salt over the top (Optional. Don't add salt if you didn't use a low sodium soy sauce or are sensitive to salt).

Place the steaks on the grill and cook about 4-5 minutes (rotate 90 degrees at 2 and 1/2 minutes for diamond grill marks)

Using tongs, flip the steak over and continue to grill for 3-5 minutes for medium-rare (internal temperature of 135 degrees F).*

The grill time will GREATLY vary based on your actual grill, your steak (thickness), and the actual temperature of your grill. For best results, use a meat thermometer and remove the meat when it is 5 degrees below your desired internal temperature. (It will cook a bit more after being removed from the grill.)

Once the steaks are cooked to your desired doneness, remove them to a plate or cutting board and tent loosely with foil for 5-10 minutes to give the juices chance to re-distribute (juicier steaks!)
Recipe Notes
*Different temperatures for the doneness of steaks are found in the last section of text for this recipe along with tons of other grilling tips!