A deliciously simple and cornbread dressing filled with flavor! Perfect for Thanksgiving dinner, PLUS you can make the actual cornbread that goes in the stuffing ahead of time!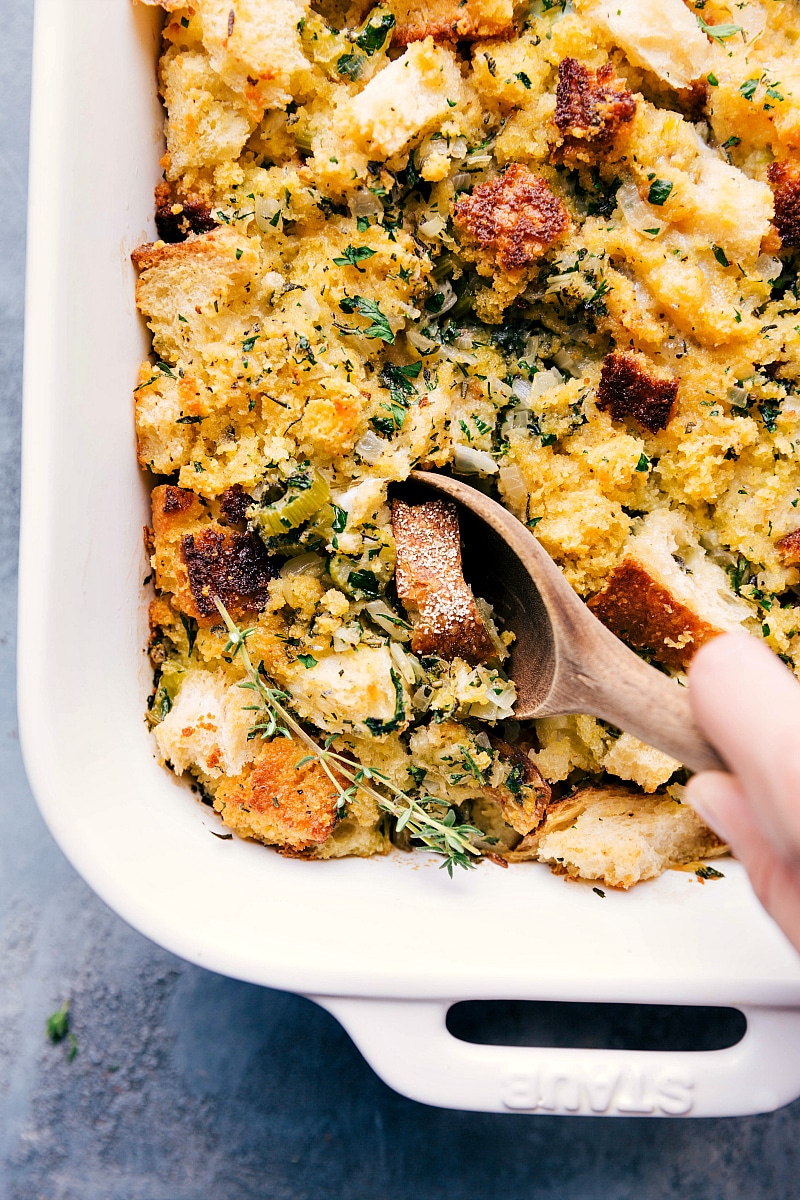 Okay who's excited for Thanksgiving?! I'll put both hands up. I mean I am a food blogger after-all. I think it would be some kind of cardinal sin for a food blogger to not be crazy about a day centered around EATING.
Before you judge me; I'm just kidding. I know Thanksgiving is a lot more than just eating which is really why I love it so much. Being with family and celebrating all that we have – it's a pretty awesome day. And as a super family-obsessed gal, it's definitely a top ranking holiday in my book.
This cornbread dressing is to prepare you for the big Thanksgiving feast. And these Brussels with bacon and almonds would go perfectly as a side dish for said feast; we've already got both on the menu plans!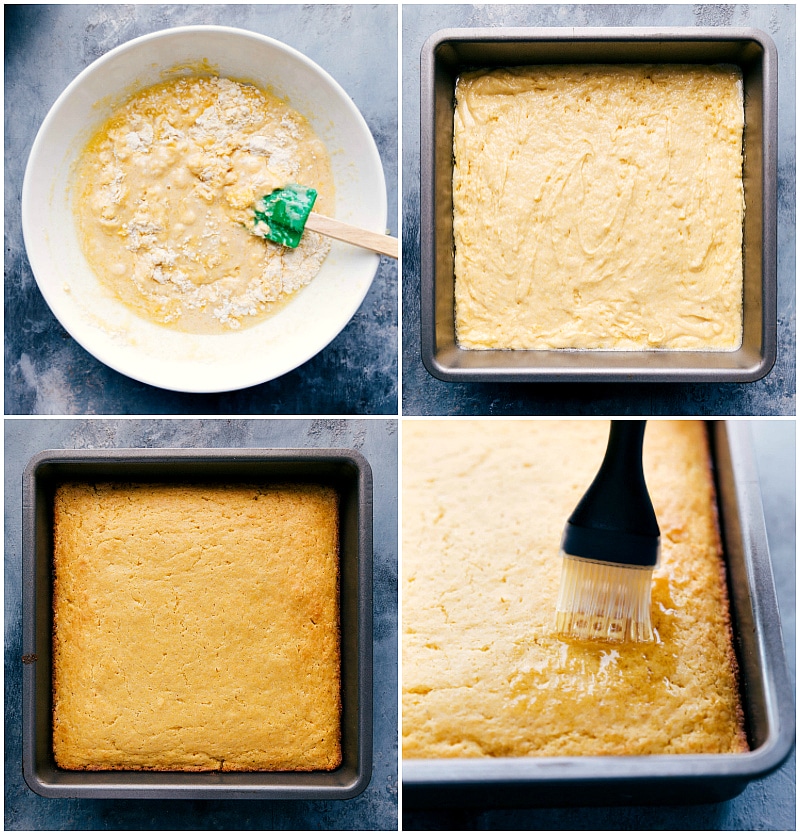 Ever since I was a little girl, cornbread has always been my favorite. My dad would make us cornbread in his dutch ovens every single Saturday night. We all went crazy over that cornbread! So naturally I'm obsessed with a dressing made out of cornbread. And here's the great news – the cornbread all comes from a delicious package. All you do is mix in an egg, some butter, and some milk. With everything else going on in the kitchen, it's nice to have a little bit of a shortcut here!
Speaking of which, this is one of those things you can make the day before! I always make a list : what I can make in advance, and what needs to be made the actual day. So it's pretty perfect that the cornbread can be done a day before.
You can cut it into cubes and put it on a tray and then just wrap that up and wait 'til the next day to finish it. The finishing touches are super easy, too.
When you are ready to finish this dressing, the tray of cornbread gets and baked to create cornbread croutons. And while those are getting baked and delicious, the chopped celery and yellow onion get mixed with some olive oil in a skillet on the stovetop. Once the vegetables are tender, they get stirred in with the baked cornbread croutons.
Add in some chicken broth + the seasonings, and the dressing is nearly finished. Everything that has been all mixed together gets placed into a casserole dish and into the oven it goes.
About 30-35 minutes later and the best ever cornbread dressing is ready for your turkey!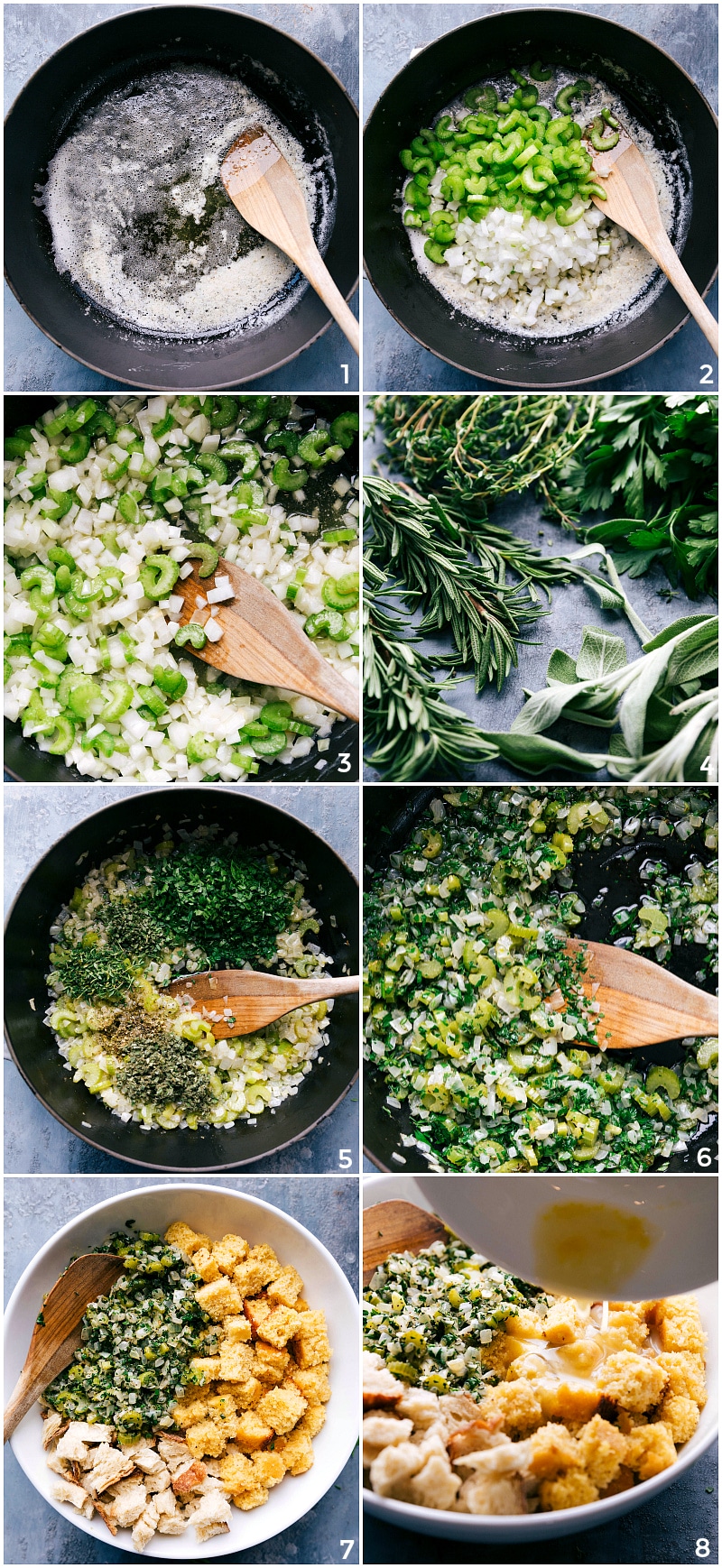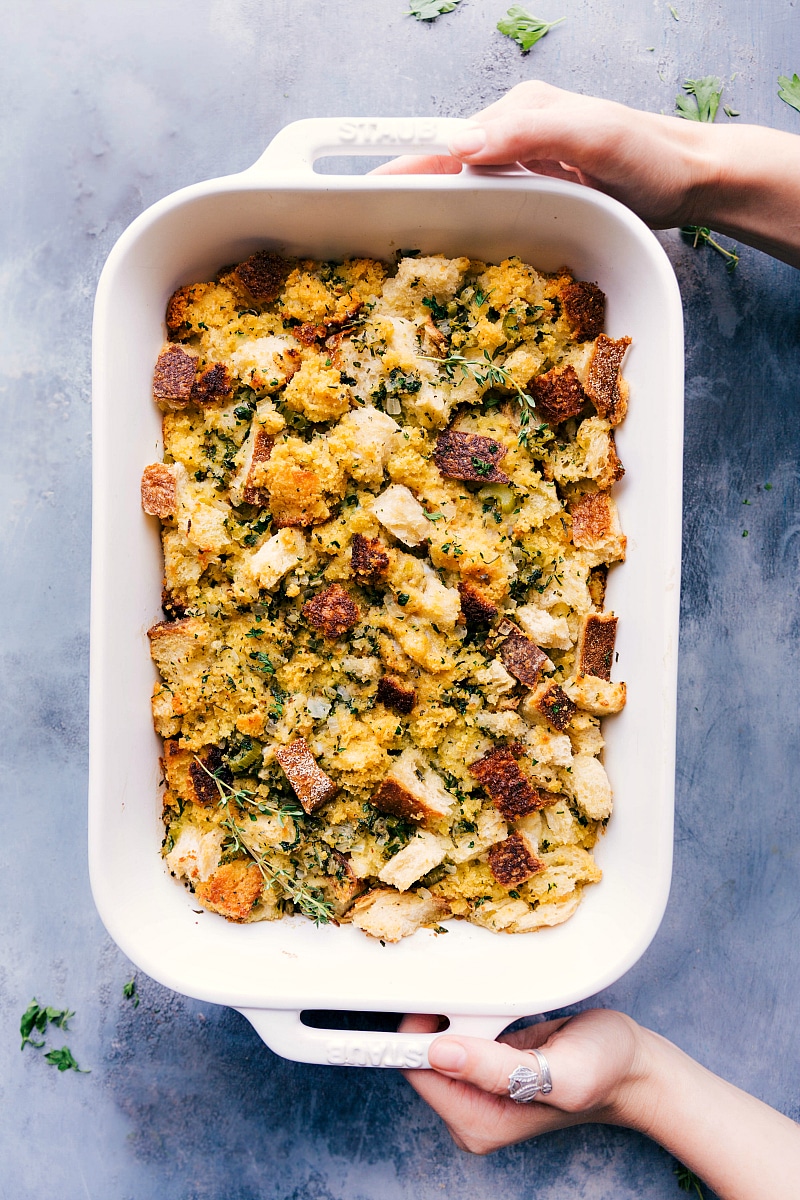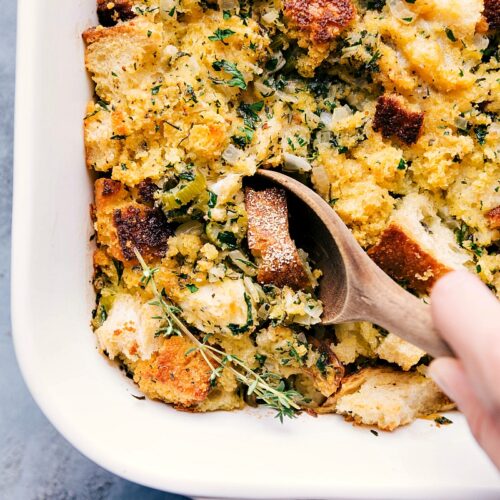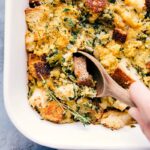 Cornbread Dressing
Ingredients
1

(15 ounces)

package cornbread mix

I used Fleishmann's Simply Homemade Cornbread Baking Mix

2/3

cup

milk

I used 1%

1/3

cup

butter

1

large egg

2

tablespoons

olive oil

1

cup

yellow onion

chopped

2

stalks celery

chopped

2

tablespoons

parsley

2

teaspoons

sage

1/2

teaspoon

salt

1/2

teaspoon

pepper

2

cups

chicken broth
Instructions
Preheat the oven to 375 degrees F. Grease a 9 x 13 pan and set aside.

Prepare the cornbread mix according to package directions. Pour the mixture into the prepared pan and bake for 18-22 minutes or until it is lightly golden brown.

Remove from the oven and allow it to cool completely.

Cut the cornbread into one-inch cubes and spread evenly on an ungreased baking sheet.

Bake at 350 degrees F for 15 minutes and allow to completely cool.

Spray a 9 x 13 baking pan with nonstick spray and set aside.

Pour the olive oil in large skillet over medium heat. Add the chopped onions and celery and cook for 5-8 minutes or until tender.

Combine the cooked cornbread croutons, onion and celery mixture, parsley, sage, salt and pepper in a large bowl. Stir in chicken broth and mix well.

Pour into prepared pan. Bake uncovered 30 to 35 minutes, or until slightly golden brown.
Recipe Notes
The cornbread can be made the night before.