A delicious and simple to make sweet potato black bean burrito bowls — brown rice, seasoned & roasted sweet potatoes, bell peppers, black beans, and avocado with the most incredible chipotle lime sauce.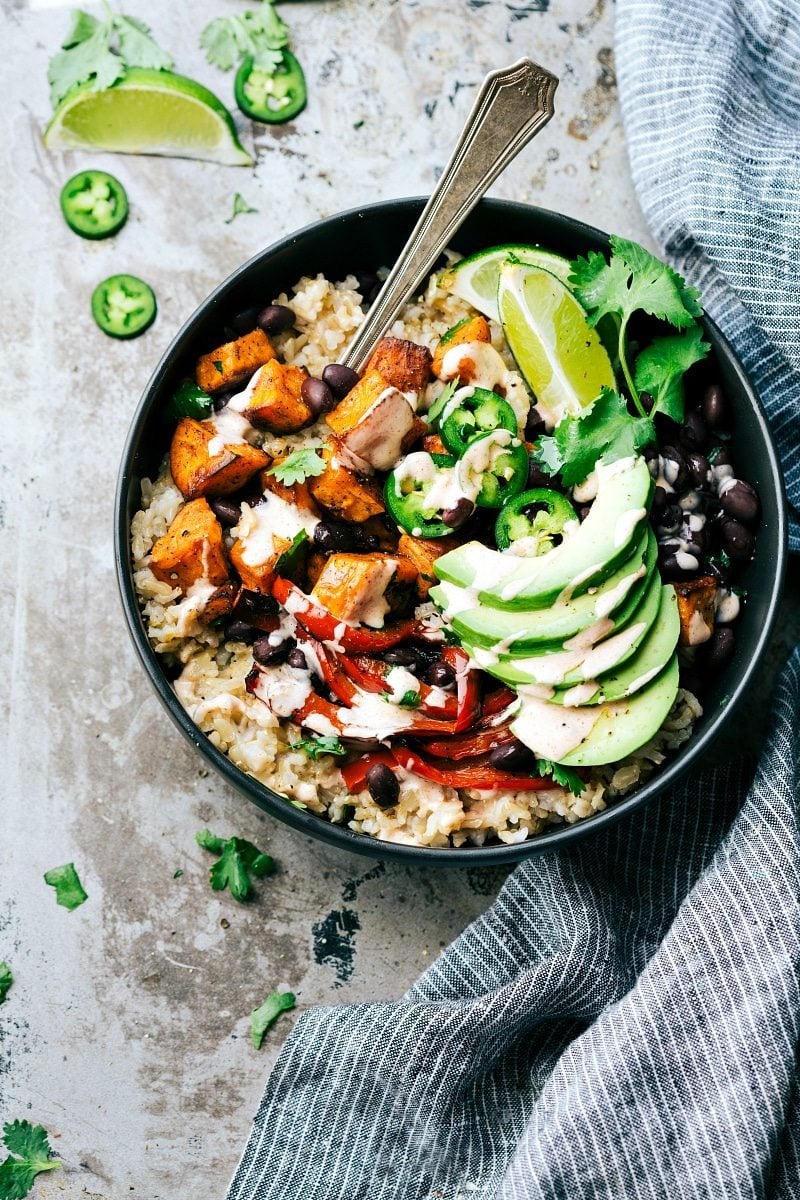 This meal has been a huge dinner win in my home. It's so easy to prepare, it's healthy, makes a great meal prep, and it's super filling (and hey, that's even without meat!). Brown rice topped with roasted veggies + black beans and then the most delicious sauce coats every bite. Seriously – this sauce is going to make you want to put it on ev.ery.thing. Add some avocado, lime, and cilantro (jalapeño if you love some heat) and you are well on your way to dinner heaven.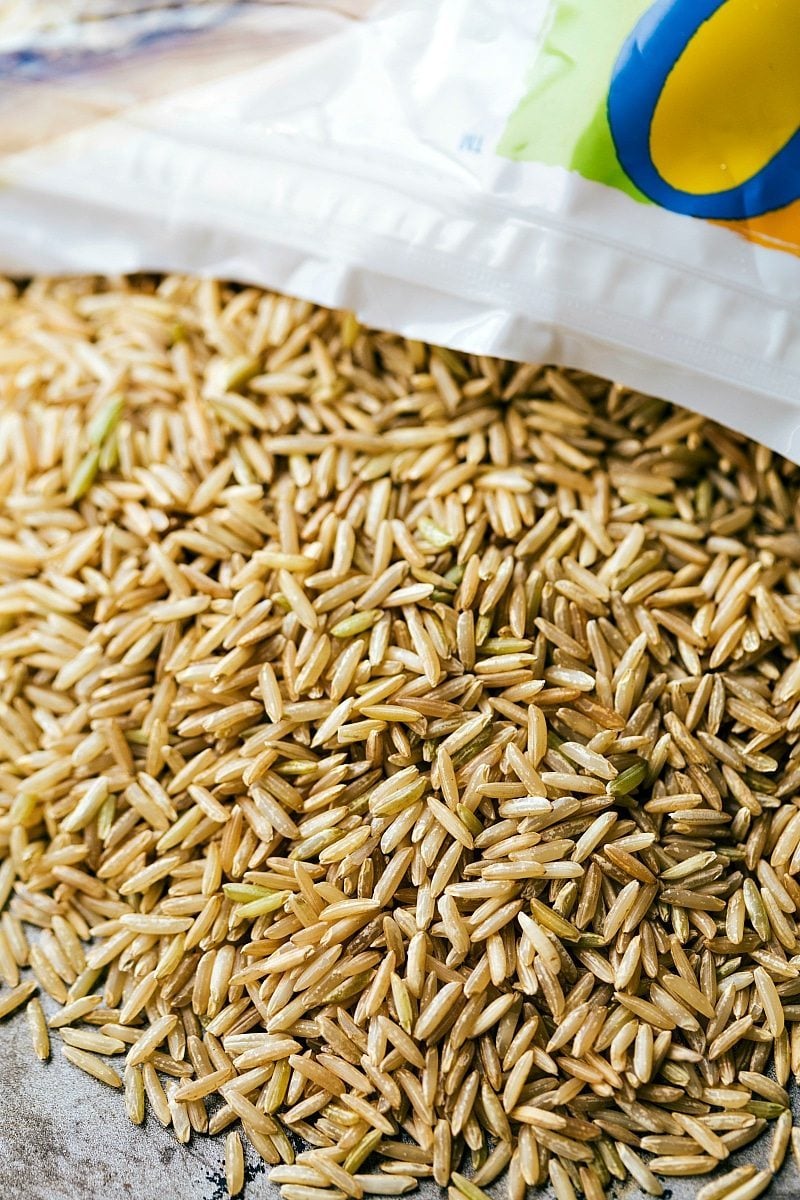 This meal is very simple to prepare. You start by prepping out the rice and get that cooking while you preheat the oven for the veggies. Quickly chop up the sweet potatoes (or buy pre-chopped if you are in a hurry!) and some bell peppers and then throw those in the oven with a few seasonings.
While everything is cooking you can prep the sauce that coats it all and just take it easy for a bit. Once everything is done, the assembly begins — basically throw it all together and mix it up and dinner is served.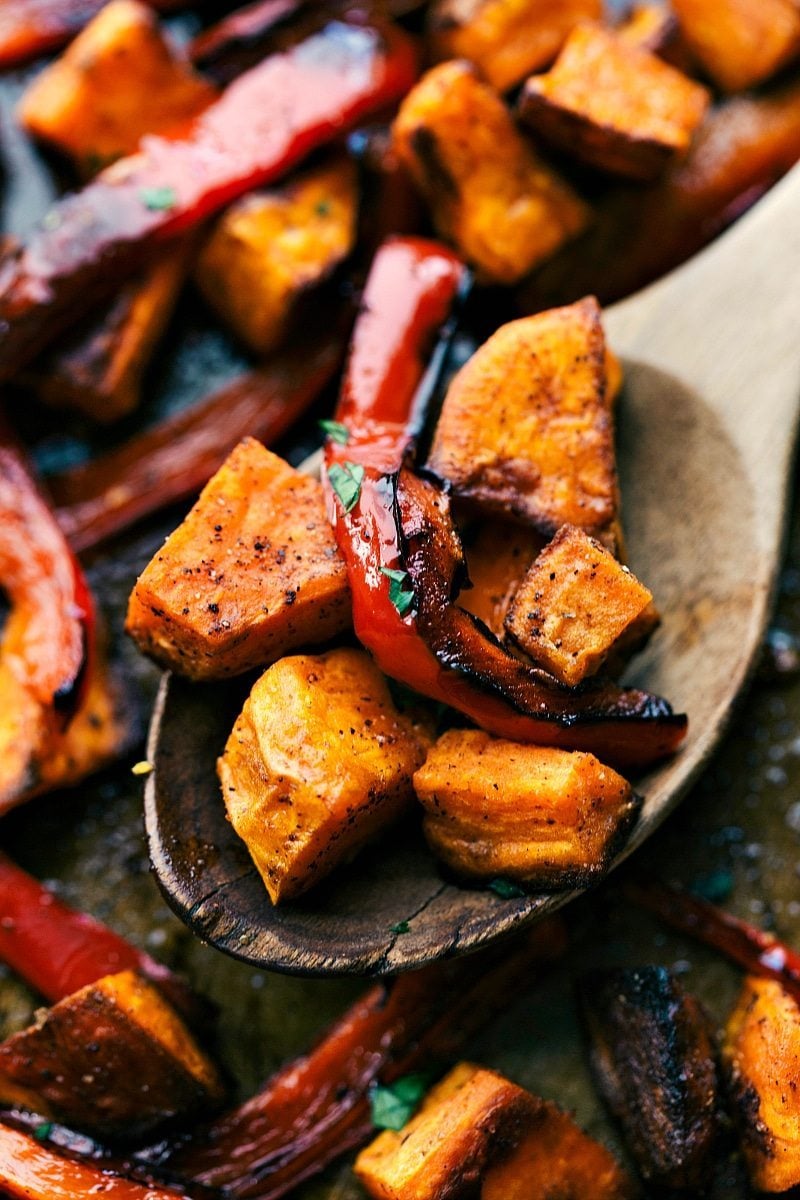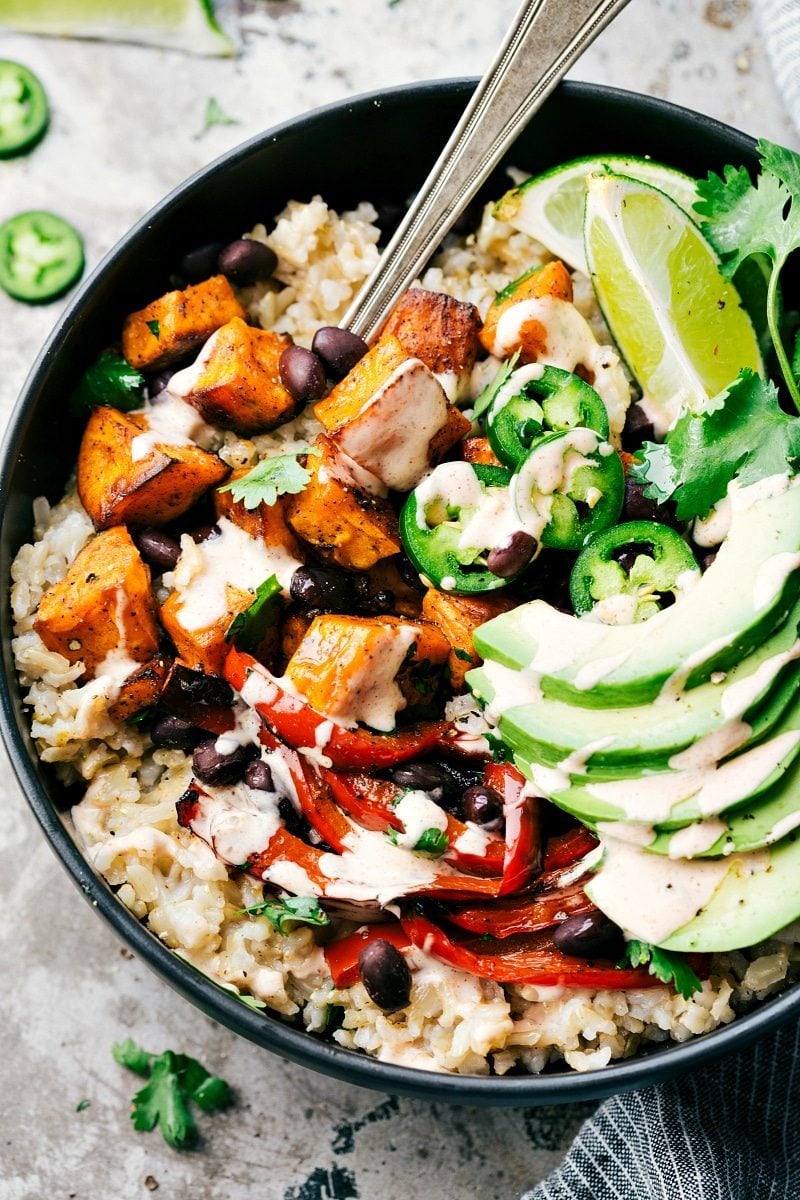 More Vegetarian Meals: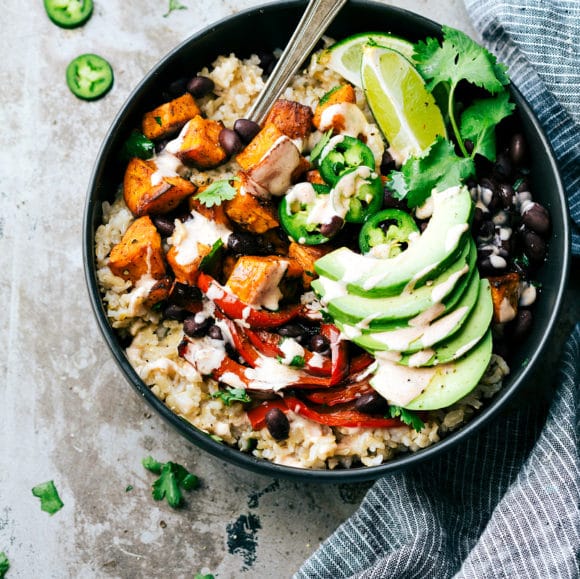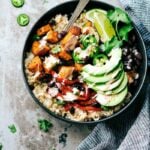 Easy Sweet Potato & Black Bean Burrito Bowls
Ingredients
1

cup

brown basmati rice + ingredients called for

2

large sweet potatoes

~4 cups

2

red bell peppers

1/4

cup

olive oil

separated

1/2

teaspoon

paprika

1/2

teaspoon

chipotle chili powder

Salt and pepper

1/2 teaspoon each

1

can (15 ounces)

black beans

drained and rinsed

Toppings: cilantro, fresh lime, avocado(s), jalapenos (optional)
Dressing
1/2

cup

full fat regular mayo

no substitutes

3

tablespoons

freshly squeezed lime juice

1/4 teaspoon lime zest

1/8

teaspoon

ground cumin

1/4

teaspoon

paprika

1/2

teaspoon

chili powder

1

teaspoon

Sriracha or hot sauce

Pinch of salt and ground black pepper
Instructions
Preheat the oven to 425 degrees F.

Start by cooking the brown rice according to package directions. Allow to cool before assembling the final bowls.

Peel the sweet potatoes and chop into bite-sized chunks. Slice the bell peppers and set aside.

Toss the potatoes with 3 tablespoons olive oil, paprika, and chipotle chili powder.

Place the potatoes in the oven for 15 minutes. Remove from oven and add in the sliced peppers and toss around with the remaining 1 tablespoon oil.

Return to the oven and cook for another 15-20 minutes or until the peppers are crisp tender and the potatoes are tender.

Remove and toss on the tray with the rinsed and dried black beans.

Allow these roasted veggies to cool down to just above room temperature.

While everything is cooking, in a small bowl, combine all of the dressing ingredients (mayo, lime juice and zest, ground cumin, paprika, chili powder, and Sriracha) and whisk together until completely combined.

Prep the toppings: chop cilantro, slice an avocado, slice a jalapeno, and slice a lime.

Make the bowls: fill a bowl with cooked and cooled rice, top with cooled veggies and beans, and add toppings and dressing.

Enjoy immediately.
Recipe Notes
*Chipotle chili powder is just a variety of chili powder with all the other seasonings. Regular chili powder will work fine.