A pop-tart filled "skinny" protein shake.
I love pop-tarts. I don't necessarily think they taste the greatest, but it's the idea of them that I love. Quick & on the go food. Heat them up or eat em cold. Sprinkles. Exciting flavors…the list goes on.
As great as pop-tarts are, they aren't the healthiest breakfast option. Namely the 400 calories of refined and processed sugars in just one package.
Since pop-tarts don't offer any great nutritional value, I thought I'd make a healthy breakfast, post-workout, or snack shake that tastes like a pop-tart, but a lot healthier. Yay!
This shake is packed with protein from the vanilla Greek yogurt and strawberry protein powder.
The optional ingredients are what really make this shake taste like pop-tarts. They are: sprinkles and a Special K Pastry Crisp. Special K has some delicious pastry crisps that taste like a healthier pop-tart. I love them! They make a great and low calorie (100 calories for 2 pastry crisps) treat.
Some other great news about this shake:
You can eat it on-the-go just like pop-tarts. Just pour the prepared shake in a bottle with a lid and you are ready to go!
The preparation time isn't too much longer than pulling out a toaster and waiting for two pop-tarts to get warmed all the way through.
With all of the protein in this shake, it should keep you fuller for longer than the processed and refined sugars in a normal pop-tart.
Aaaaaand, your body will feel better eating this shake over eating a package of pop-tarts. (And isn't that the best reason of all?!)
Pop-tart Protein Shake
A shake that tastes like pop-tarts blended up without the processed and unhealthy ingredients (or the calories).
Ingredients
1/2

cup

Vanilla 0% Greek yogurt

1/2

cup

unsweetened vanilla almond milk

can sub another milk

3

tablespoons

strawberry protein powder

1

frozen banana

1/2 to 1 full

cup

ice

depending on the desired thickness

1/2

teaspoon

truvia

can sub another sweetener

Optional: 1/2 teaspoon sprinkles, 1 Special K Strawberry Pastry Crisp
Instructions
Combine yogurt, milk, protein powder, frozen banana, truvia, and ice. Blend until smooth.

Stir in sprinkles and enjoy immediately. Crumble a pastry crisp on top if desired.
Recipe Notes
* I like to have small pieces of the pastry crisp throughout, so I don't blend it all the way. However, you can blend it with the other ingredients if you don't want any chunks left over.
Craving more "dessert" breakfast shakes?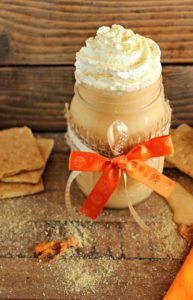 Skinny Pumpkin Pie Protein Shake