This is my absolute favorite Green Smoothie recipe! This smoothie is packed with good-for-you ingredients while still tasting great! No more plugging your nose to chug down greens; you'll crave this smoothie every morning!
After you've gotten hooked on this Green Smoothie, be sure to try out our other healthy breakfast recipes: healthy banana bread, healthy blueberry muffins, and healthy zucchini bread.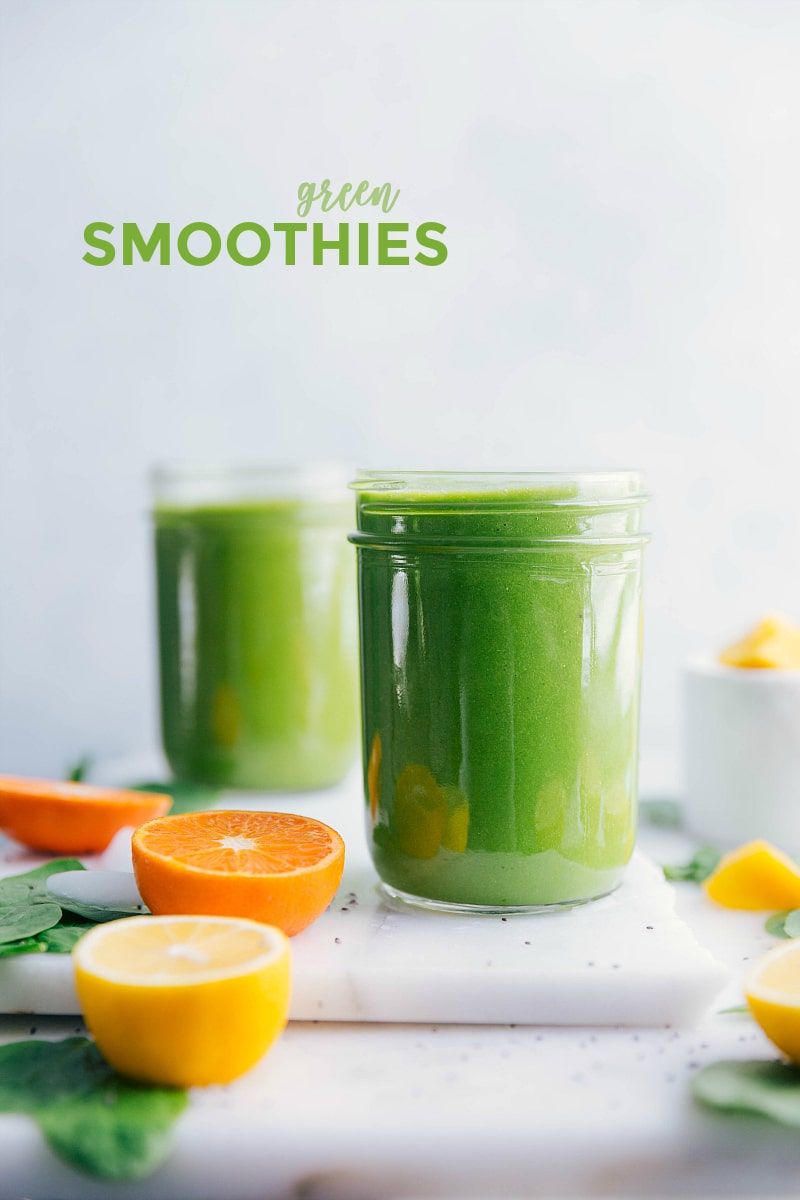 First things first, a Green Smoothie (as its name suggests) is green in color. This smoothie gets its green color from the green fruits and/or vegetables that are added to the smoothies. Generally, green smoothies are made with leafy vegetables, a myriad of fruits, and a nutrient-rich liquid such as a nut milk, rice milk, or coconut water.
There are so many benefits to drinking a Green Smoothie (more on this below), and plenty of ways to switch up your recipe to gain benefits from various fruits and vegetables.
While I do have my background in health (B.S. Exercise & Wellness) I am not a doctor or certified nutritionist. Make sure to consult your doctor or certified nutritionist as needed.
How to make a Green Smoothie
Blender: Make sure you're using a powerful blender for this smoothie. I use this Blendtec blender and love it. While cheaper blenders can definitely do the trick, it may take a bit more patience and blending to get the perfect consistency.
Measure: While it might seem silly to actually measure out ingredients for a smoothie instead of just throwing everything in, I recommend measuring ingredients the first few times you make this until you have a feel for the right quantities. (Throwing random ingredients in a blender can often end up giving you way too much smoothie or tasting, well, gross.)
Blend greens: Start by blending the greens with the liquid. This helps break down the greens and fully ensure you aren't going to have small chunks of spinach in your final green smoothie.
Blend fruit: Next, add in the frozen fruit and a little more liquid (the lemon). Blend until smooth.
Taste and adjust: While this Green Smoothie recipe details exactly how I make it, sometimes you'll need to make minor adjustments. For example, if your banana wasn't very ripe, you might need to add a teaspoon or so of honey to add some sweetness. If the oranges weren't juicy, you may need to add additional citrus. Taste, adjust, enjoy!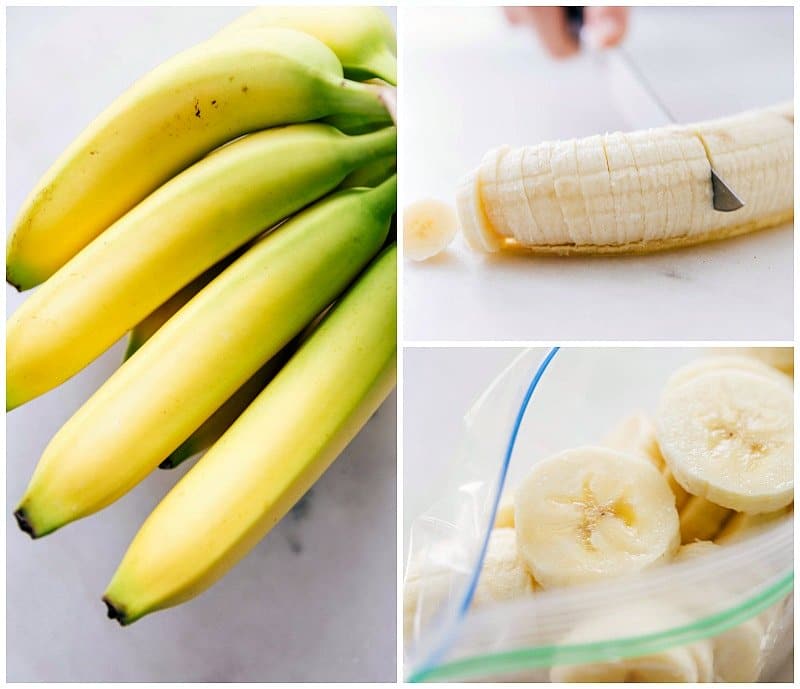 Benefits of Green Smoothies
Check out the ingredients used in this green smoothie recipe and a few of the health benefits associated with each one. Just to be clear, while I do have my background in health (B.S. Exercise & Wellness) I am not a doctor or certified nutritionist. Make sure to consult your doctor or certified nutritionist as needed.
Variations and Substitutions
Chia seeds: Sometimes I'll sprinkle a handful of chia seeds on top right before eating for some added nutrition. Don't store leftover smoothie with chia seeds or the seeds will begin to gel.
Ginger: I don't love ginger in my green smoothie recipe, but many people swear by it for a zip of flavor and the health benefits. Feel free to add a half- inch slice or so of fresh grated ginger if desired.
Hulled hemp seeds: Blend in about an ounce for added protein and energy.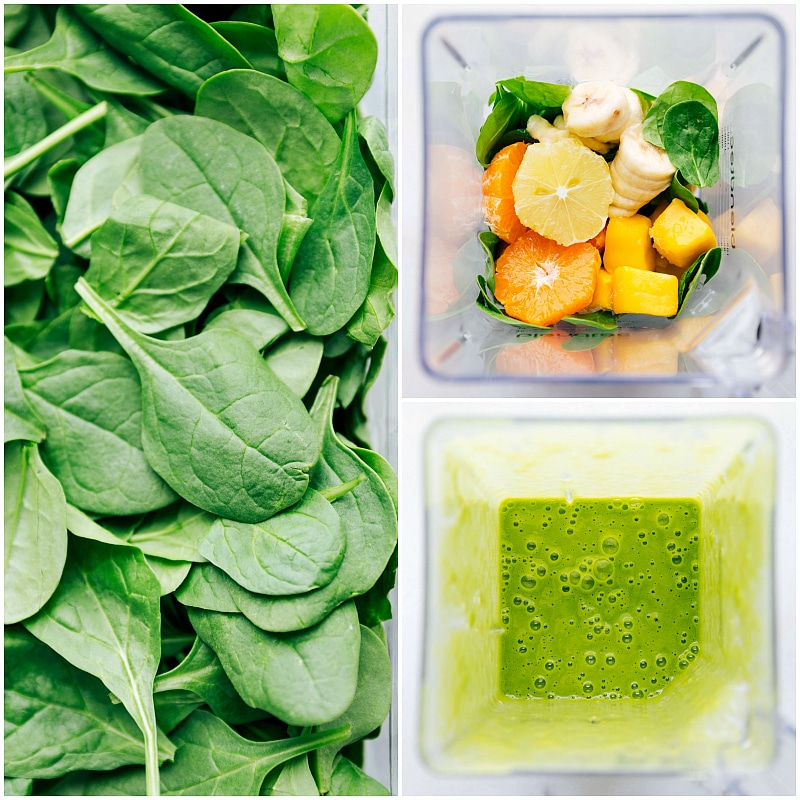 Green Smoothie FAQs
Do Green Smoothies help you lose weight?
Green Smoothies are packed with vitamins and minerals that support overall health and wellness. They are a great addition to a weight loss regimen. While there is no magic weight loss potion, filling up on a Green Smoothie can greatly help you with your weight loss goals.
Is drinking Green Smoothies good for you?
Don't you just love it when something delicious is also good for you? They're generally filled with fiber which helps offer relief to the symptoms of common digestive issues. Green Smoothies also help rejuvenate your body! Chlorophyll, the substance found in green plants, can improve the immune system and rejuvenate the entire body. And lastly, Green Smoothies can help improve skin health through the high amount of vitamins, fiber, and antioxidants they contain.
Can I drink a Green Smoothie every day?
Green Smoothies are a great way to get in the recommended daily servings of fruits and vegetables. While a diet of ONLY Green Smoothies (or any single food) isn't recommended by nutritionists, drinking a Green Smoothie each day as part of a healthy diet can be very beneficial to your overall health. I would recommend switching up the ingredients in your green smoothie or trying an acai bowl (four recipes in that post) for variety.

Three quick notes
Start simple: This Green Smoothie recipe is what I like to call an introductory green smoothie. It's genuinely delicious and fairly sweet, thanks to the quantity of fruit used. If you're new to Green Smoothies, this is the recipe to start with! Once you get more accustomed to Green Smoothies, you can introduce new greens or replace fruit with vegetables.
Ingredients matter: The quality of the ingredients you use definitely matters. Ripe bananas, juicy citrus, and good quality frozen mango and pineapple make all the difference! Our absolute favorite ingredients are juicy Halo clementines, Meyer lemons, Dole® frozen mango, Dole frozen pineapple, and Simple Truth® Organic coconut water (none of these are sponsored; these are just what we use and love!).
You can freeze fresh spinach: Worried you won't use all the spinach before it goes bad? Fresh spinach freezes well for green smoothies. Pack one-cup portions in airtight container(s) and store in the freezer; add it frozen to your green smoothies.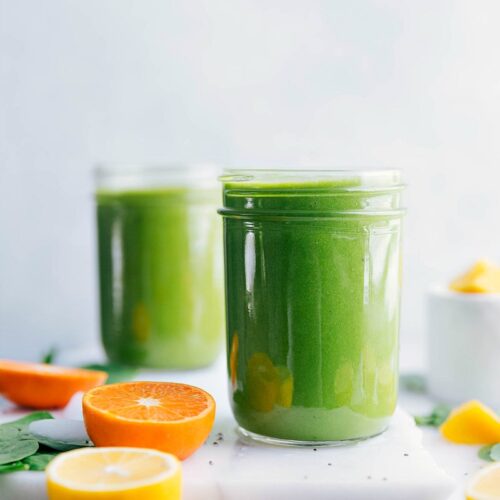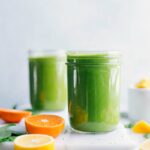 Green Smoothie
This is my absolute favorite Green Smoothie recipe! This smoothie is packed with good-for-you ingredients while still tasting great!
Course:
Breakfast, Drinks, lunch, Snack
Cuisine:
American, Healthy, Vegan, Vegetarian
Keyword:
green smoothie, green smoothie recipe
Servings
:
1
large green smoothie
Ingredients
3/4

cup

coconut water

(or unsweetened vanilla almond milk)

1

packed cup

baby spinach

1/2

cup

frozen pineapple

(or 2 clementines; Note 1)

1/2

cup

frozen mango

1/2

large

banana

(about 1/2 cup)

1/2

of 1

lemon,

peeled
Instructions
The night before making your smoothie, remove the peel on a ripe banana and cut into coins. Put the coins in an airtight freezer bag and place in the freezer.

The next day, combine the coconut water, baby spinach, and peeled clementines (if using) in a blender bottle. Blend until smooth.

Next, add in the frozen pineapple (if you didn't use clementines), frozen mango, frozen banana, and lemon. Blend until smooth. Serve immediately.
Recipe Notes
Note 1: When clementines are in season and ripe/flavorful I like adding those. Other times of the year we do frozen pineapple.