A copycat version of Naked Juice's Mighty Mango. 100% natural and all fruit based filled with mangoes, apple, banana, orange, and lemon.
A couple weekends ago the husband, baby, and I ventured to an indoor recreation place filled with trampolines.
Seriously the coolest place ever. They give you these bright orange socks with grippy dots on the bottom and then you can go to an area filled with a huge foam pit, into a huge trampoline section, or … the best part – an indoor trampoline dodgeball court.
Yeah. Dodgeball on trampolines. It's basically as awesome as it sounds.
P.S. I am not a horrible mother making my seven month old dodge balls. We were there with some friends and switched off babies. Thought I should include that in here somewhere 🙂
Anyways, I love dodgeball, but for some reason my talents do NOT lie in dodging balls. Or throwing them for that matter.
In fact, I think I lasted only about 20 seconds in each game after the whistle to start. Within the starting seconds of a game, I would try to throw a ball (resulting in an easy catch) or try to jump to dodge a ball (resulting in a failed dodge.)
Regardless of my skill levels, or perhaps lack of any skill whatsoever, it was a ton of fun. And the husband? He was a natural. I made him play on my team every game. That way, when I was out within seconds of the game starting, at least I could revel in the fact that my team still won. Because the husband would take care of that.
Although I was more of a liability than asset to my team, I am a pro smack talker. And that's just as good as being able to throw and dodge balls right?
Okay. Wrong. But I tried guys. I tried.
I'm sure if you've actually be reading this all you are wondering what it has to do with this awesome Naked Juice Copycat – right? Right. Okay. Well this whole long introduction story can be summed up right now. Basically at this indoor recreation place, when we were taking a break, I got a Naked Juice. Mighty Mango flavored.
And it was amazing. Super fruity with lots of mango flavoring. And the best part? 100% natural fruit – no additives. Pure fruit nirvana right there.
So, naturally, I had to replicate this juice. And it's pretty much perfection in a glass. And super easy to make, hence the lack of instruction in this post.
Parting words: dodgeball is hard. fruit juice for the win!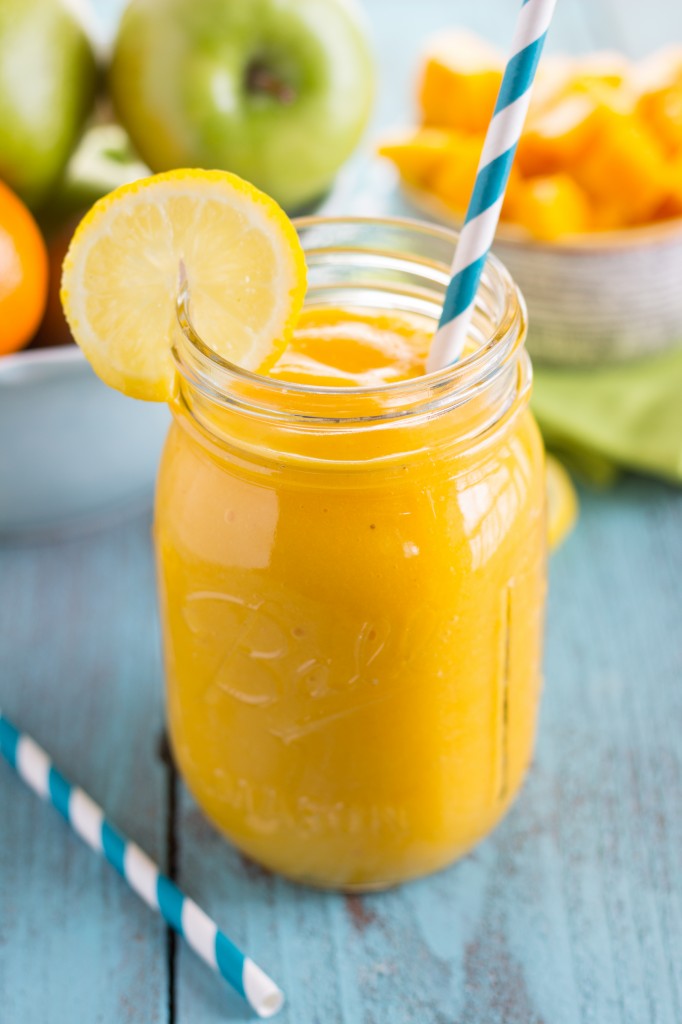 (Copycat) Naked Juice Mighty Mango
Ingredients
2

cups

mango

peeled and cubed, 1 and 1/4 of a large mango

5 and 1/2

tablespoons

orange juice

1/4

cup

apple juice

3

tablespoons

ripe banana

mashed

1 and 1/2

tablespoons

lemon juice
Instructions
Combine all of the ingredients into a blender.

Blend until smooth and no fruit chunks remain.

Enjoy immediately.
Craving more fruity goodness?