This Banana Smoothie takes minutes to whip together and only requires FIVE ingredients: frozen banana, milk, almond butter, vanilla, and a pinch of cinnamon. This smoothie is healthy, filling, creamy, and flavorful! It is also naturally dairy free and vegan.
We're obsessed with smoothies around these parts; they're the perfect way to start your day or quell your sugar cravings! Be sure to try this famous acai bowl, the best green smoothie recipe, or this insanely good blueberry smoothie next.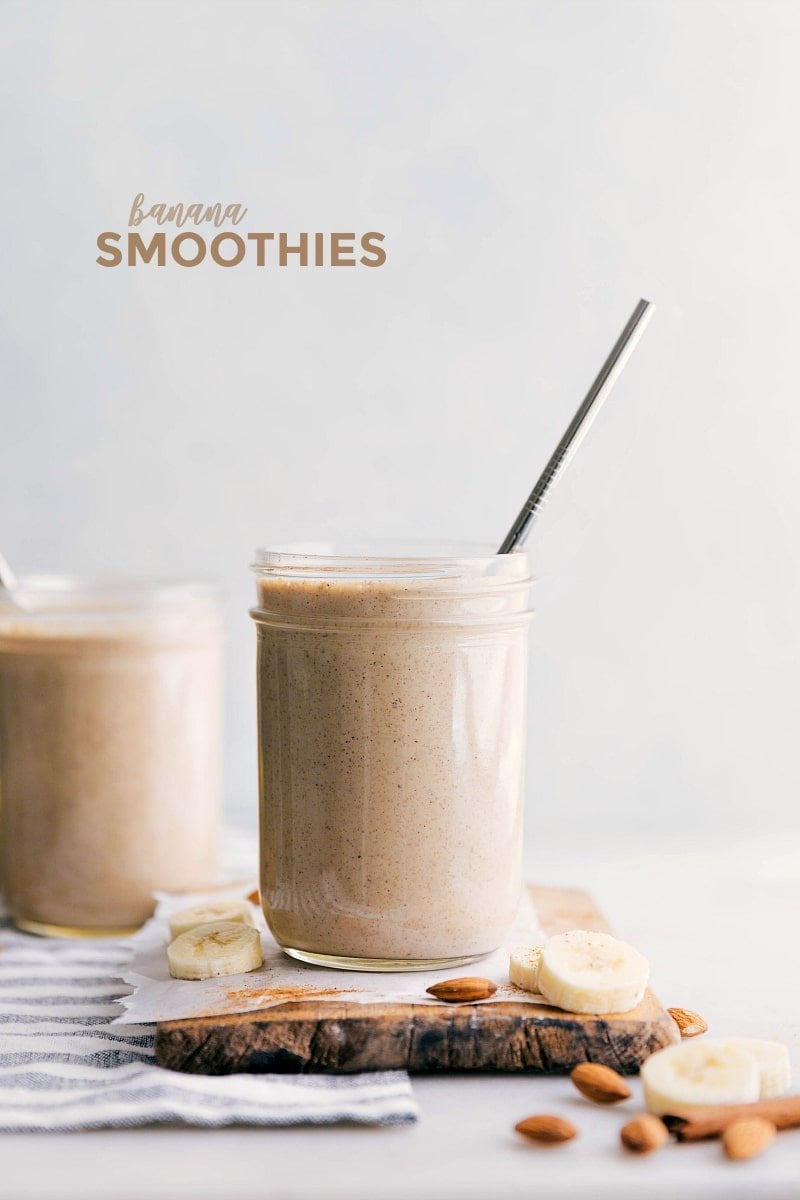 I never liked a "plain" banana smoothie (you know, without a million other fruits added in), until this recipe and now I'm HOOKED! This smoothie is packed with good ingredients, it's smooth and creamy, and it's so filling!
If you like almonds and bananas, you will LOVE this smoothie.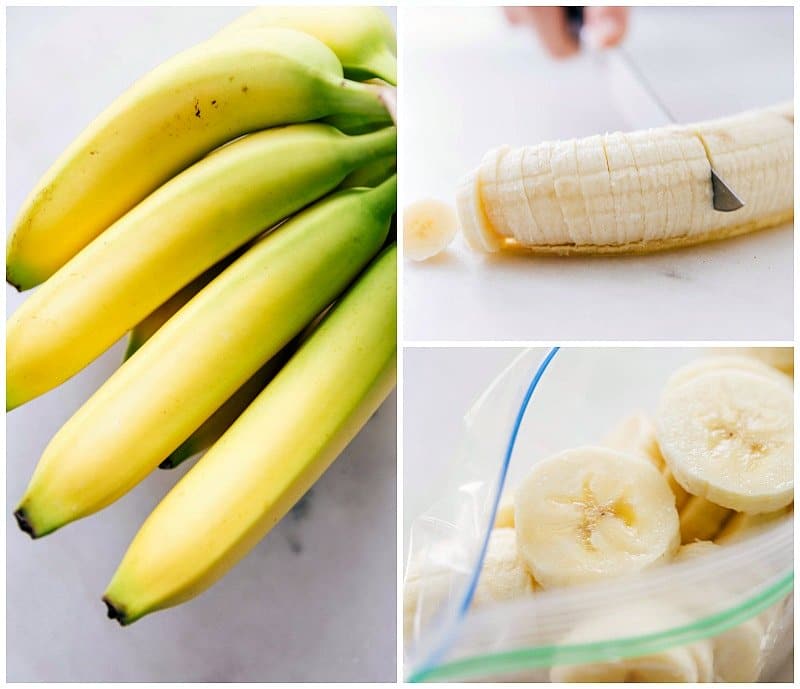 How to make a banana smoothie
Freeze the banana: while this banana smoothie is simple to make, it does require just a bit of planning. I like to prep the bananas right after the grocery store so I don't forget! Remove the peel, slice the banana into coins, place in freezer safe containers or bags, and freeze overnight. Honestly, having a completely frozen banana (as opposed to an unfrozen one) is what MAKES this smoothie.
Measure: while it might seem silly to actually measure out ingredients for a smoothie instead of just throwing everything in, I highly recommend measuring ingredients the first few times you make this or until you have a feel for the quantities. (Throwing random ingredients in a blender can often end up giving you WAY too much smoothie or tasting, well, nasty.) It's also a good idea to measure if you're tracking macros or calories.
Blend: if you have a high powered blender (I recommend a Vitamix or Blendtec), you can add everything in and blend until smooth. If you don't have a high powered blender, follow manufacturer instructions for what ingredients to add first to avoid

cavitation.

Taste: give it a quick taste and IF needed, add in a bit of sweetener. We rarely add in sweetener because the banana sweetens this so much, but the sweetness of bananas can vary (particularly depending on their ripeness).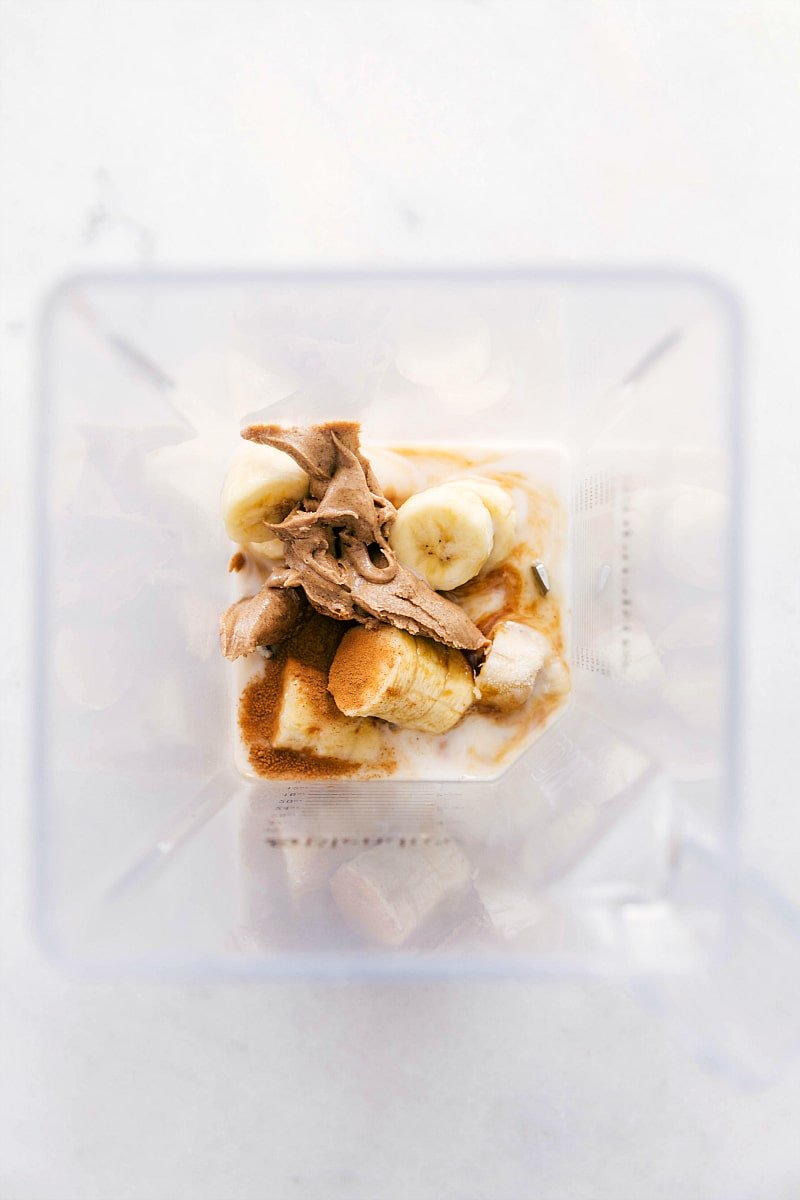 Banana smoothies are good for you!
There are many health benefits to be gained by drinking this banana smoothie. Below are a few of the benefits:
Frozen bananas: this fruit is linked to moderating blood sugar levels, improving digestive health, and an aid to weight loss.*
Almond butter: this nut butter is packed with vitamins, minerals, fiber, and protein. It also gives this smoothie so much flavor and increases the creaminess of it. The almond butter also helps to make this smoothie more filling.
Vanilla almond milk: almond milk is low in calories and low in sugar while being high in calcium and other vitamins. Almond milk is also naturally dairy-free, vegan, and lactose-free. I like using vanilla flavored for an extra punch of flavor. Smoothies taste much better with milk than water!
Cinnamon: this unassuming spice is loaded with health benefits! Cinnamon consumption is linked to a reduced heart disease risk and linked to lowering blood sugar.
*While I do have my background in health, (B.S. Exercise & Wellness) I am not a doctor or certified nutritionist. Make sure to consult your doctor or certified nutritionist as needed.
But wait, there isn't ice listed in the ingredients for this recipe; what's up with that?!
Do you put ice in smoothies?
You generally won't find ice in any of my smoothie recipes because I find it detracts from the recipe. If you have fully frozen fruit that will give you the perfect smoothie consistency without having to "water it down" with ice. No ice in this banana smoothie and I think you'll agree it's best that way! 🙂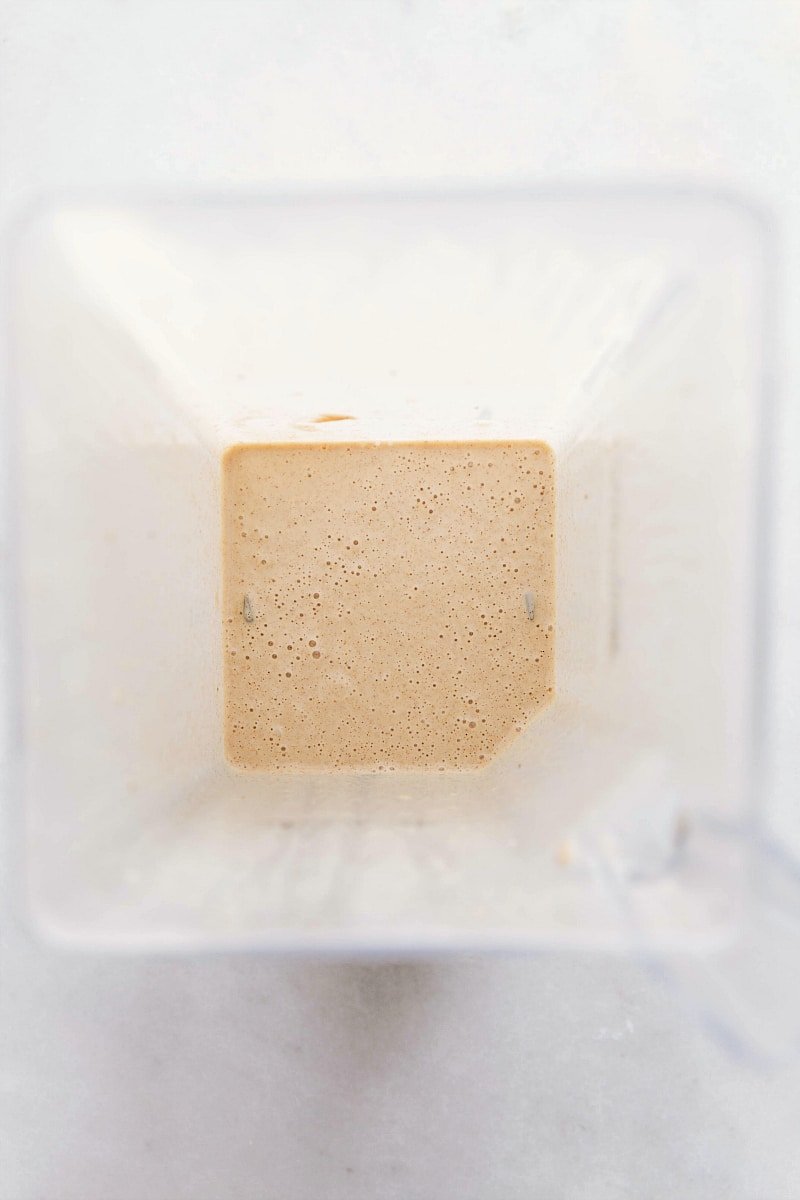 Smoothie tips
I know, how complicated can making a banana smoothie be, right?! But I still have a few tips 🙂
Good ripe bananas make all the difference in this smoothie. Freeze the bananas when they're ripe and use only when completely frozen for the best banana smoothie experience.
If needed add a little honey or maple syrup to additionally sweeten this smoothie. I've found with a really good and ripe banana you don't need the additional sweetener, but this can vary so give your smoothie a quick taste and add a teaspoon or two as needed. (Honey will make it no longer vegan)
How long can you keep a banana smoothie in the fridge?
Generally a smoothie will keep about 8-12 hours in the fridge. A quick smell will clue you into knowing if the smoothie is okay or not. If you do plan on storing a smoothie, store it in a container with an airtight lid. You'll want to fill that container to the very top to prevent air being trapped in the container (this will oxidize (degrade) the nutrients in the smoothie).
For this banana smoothie recipe, I recommend eating it all in one sitting preferably right after making it. I don't find this smoothie sits or stores well.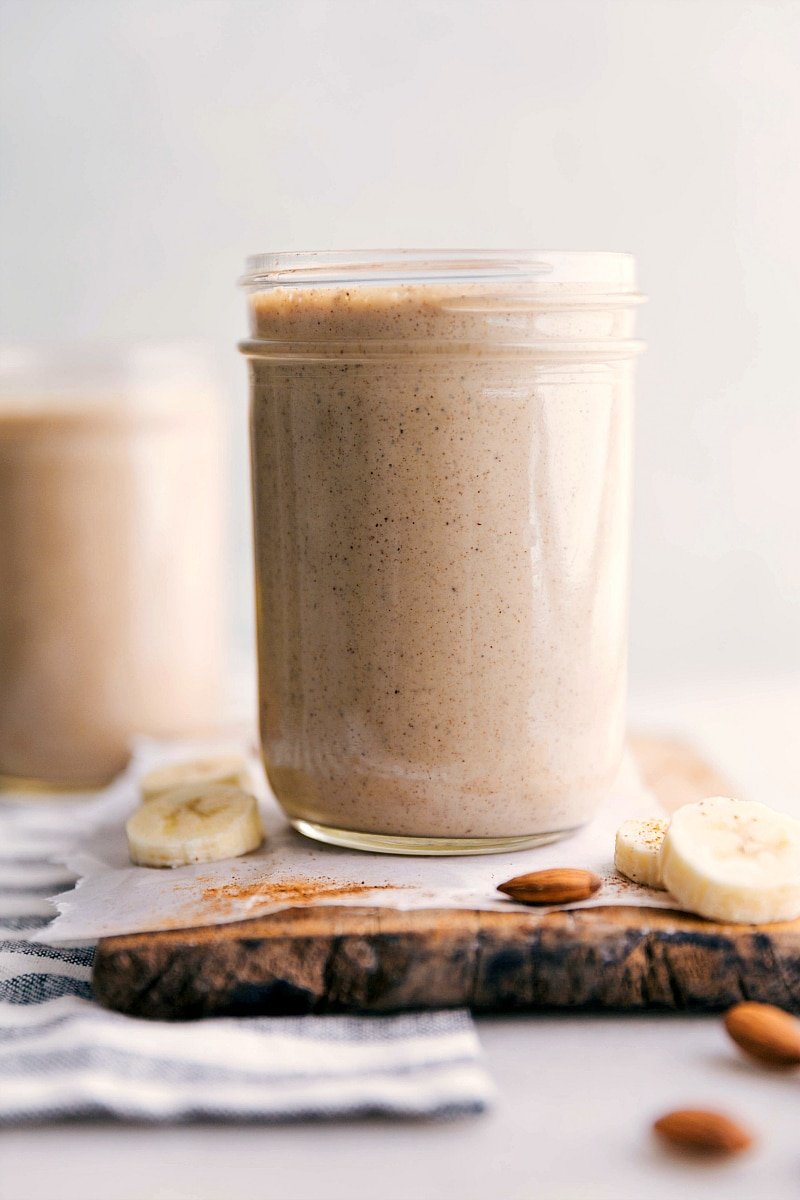 More healthy breakfast recipes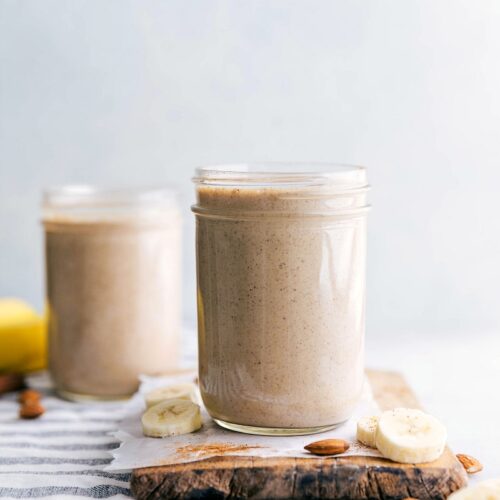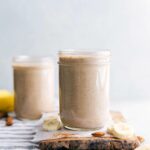 Banana Smoothie
This Banana Smoothie takes minutes to whip together and only requires FIVE ingredients: frozen banana, milk, almond butter, vanilla, and a pinch of cinnamon. This smoothie is healthy, filling, creamy, and flavorful! It is also naturally dairy free and vegan.
Ingredients
1

cup

unsweetened vanilla almond milk

or milk of choice - (Note 1)

1

cup

frozen banana

(~1 large banana)

2

tablespoons

almond butter (or peanut butter, I prefer almond butter)

1/2

teaspoon

pure vanilla extract

scant 1/8

teaspoon

ground cinnamon,

optional
Instructions
NIGHT BEFORE: Peel the banana and slice into coins. Place the coins in a sealed bag in the freezer the night before making this smoothie.* If banana isn't frozen solid, you'll want to add some ice to your smoothie.


DAY OF: Combine the almond milk, frozen banana, almond or peanut butter, vanilla, and cinnamon in a large, powerful blender. Blend until completely smooth (about 60 seconds in a high powered blender).

Enjoy immediately.
Recipe Notes
Note 1: you can use a different milk, just check and make sure it's dairy free if that's a concern.