A healthy soft-serve dole whip smoothie made with tropical and good-for-you ingredients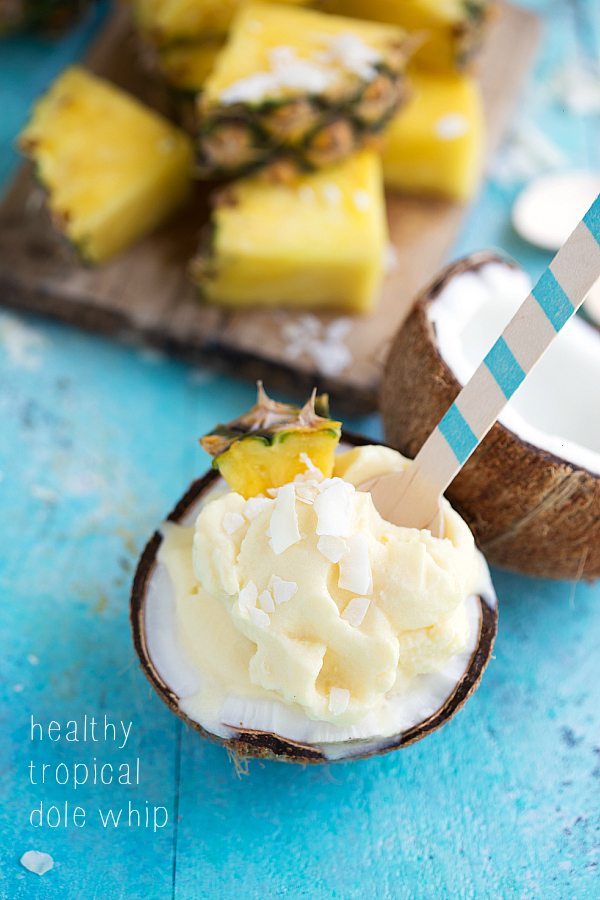 This summer has been scorching hot! I keep telling myself it's because I've been in Cleveland the past couple of years and forgot what a Utah summer is like. I don't think Cleveland ever even got close to be in the 100 degree range while I lived there, but we've been in the 100 range quite a bit here in Utah these past couple of weeks.
The heat really doesn't bother me, even with a big ole pregnant belly. Instead I find it just gives me an excuse to eat all the cold things. The amount of slushies, smoothies, cold protein shakes, and ice cream I have eaten this summer is a little ridiculous.
And this tropical dole whip is going into that list of things I'm going to be making (and eating) the rest of this summer. Fresh, ripe pineapple made into a frozen soft serve smoothie….mmmmm…. It seriously doesn't get too much better than this for combating a hot day!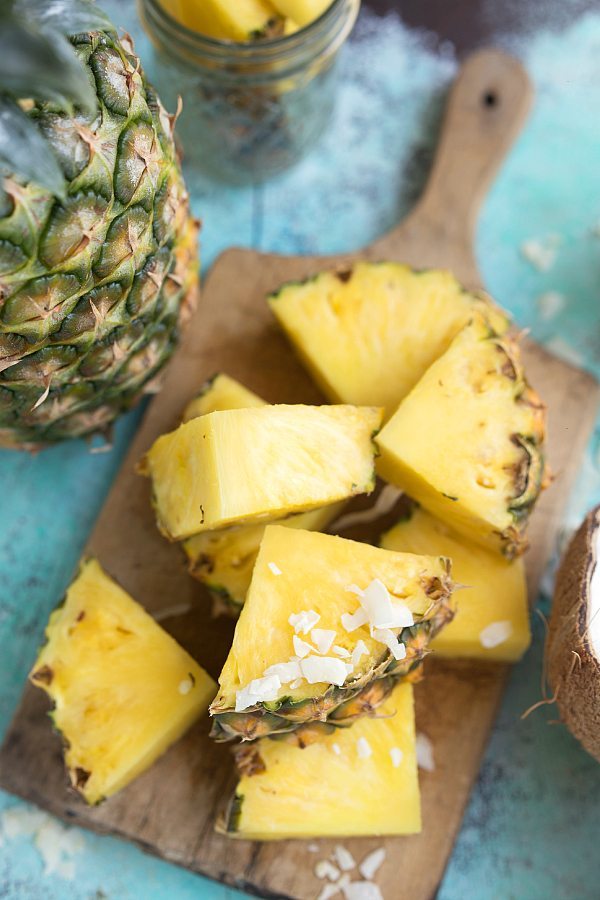 The great news about this dole whip smoothie is you don't even need an ice cream maker to make it! It's not completely authentic soft serve, but it's pretty dang close for a healthy alternative.
Instead of transferring the mixture to an ice cream maker, I just poured it all in a large re-sealable bag and froze it. Cut off the corner of the bag, pipe the mixture into a bowl or cup, and you've got one of the closest things to a soft serve ice cream.
The ingredient list is super simple – fresh and good-for-you ingredients. Because there are so few ingredients, the quality of those ingredients is key to having the best possible Dole Whip. I tried this recipe with store-bought frozen pineapple and then fresh pineapple that I froze. Hands down the fresh pineapple made the Dole Whip about a million times better. Definitely use a ripe and fresh pineapple for this recipe.
Next, I used full-fat canned coconut milk. This is one of the ingredients that is key to the consistency of the Dole Whip. If you use a lighter coconut milk, this will be much more smoothie than soft-serve consistency.
I also used pineapple juice which I found on the juice aisle. However, if you are in a pinch and have some canned pineapple, you can drain that pineapple and used the juice from the can. Use up the pineapple or put it in a bag and freeze it for later use. (So long as the later use isn't in the Dole Whip since fresh is best! :)) The frozen mango was to add more fruity flavor, but you can use extra pineapple if you'd rather have an ultra pineapple drink.
Finally are the two great "flavor enhancers." First off, some delicious Nielsen-Massey Pure Vanilla Extract. They have tons of variations on their vanilla and for this one I used a Tahitian extract. I also have their Mexica vanilla extract which I love in pretty much everything!
The Tahitian vanilla has more of a fruity flavor to it. The delicate flavor of this vanilla is not optimal in heat which makes it totally perfect for cold dishes such as ice cream, fruit sauces, pastry creams, or THIS very dole whip!
The Sweetener is optional, but I always like a little bit. Use whatever kind of sweetener you like and scale it to your personal preference. Here's to hoping this dole whip makes your summer a little more bearable! 🙂
More delicious cold treats: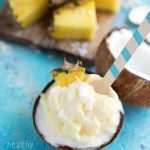 Healthy Dole Whip Smoothie
A healthy soft-serve dole whip smoothie made with tropical and good-for-you ingredients
Ingredients
2

heaping cups

fresh ripe pineapple

must be ripe for the best flavor

1

cup

full-fat coconut milk

3/4

cup

pineapple juice

1/2

cup

frozen mango

1

teaspoon

vanilla extract

1/2

teaspoon

truvia

or sub another sweetener and to taste
Instructions
The fresher (and riper) your pineapple, the better this dole whip tastes! Pre-frozen pineapple tends to be far less flavorful so I highly recommend a fresh pineapple.

Chop the ripe pineapple into bite-sized pieces and then freeze until solid.

In a large, heavy duty blender or food processor, combine the frozen pineapple, coconut milk, pineapple juice, frozen mango, vanilla, and sweetener.

Blend until completely smooth. (Add a bit more pineapple juice or coconut milk if needed to help your blender combine the ingredients)

Transfer the mixture into a large re-sealable plastic bag and tightly seal without any air entering.

Freeze the mixture for 45 minutes to 1 hour.

Cut the tip off of the bag and "pipe" the frozen yogurt into serving bowls or cups.

Enjoy immediately.
Recipe Notes
Cook time refers to freezing time.