A copycat churro ice cream sandwich from the Churro Borough in Los Angeles. These tasty churro ice cream sandwiches are surprisingly super easy to make and one of the best desserts you'll ever have!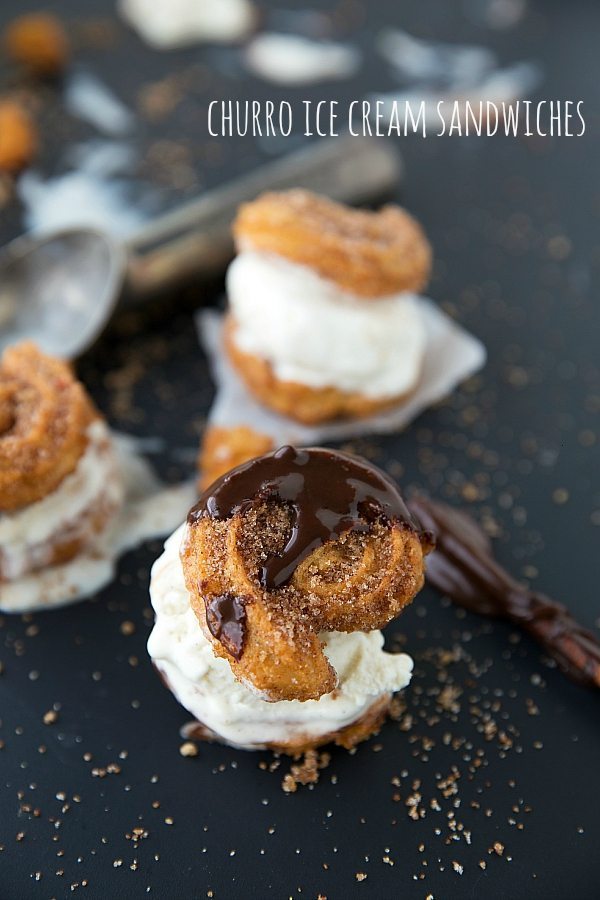 Okay if you love churros, you are in for a whole new level of churro goodness. Remember those churro ice cream bars that debuted here on the blog like just a few days ago? Well, obviously I thought you all needed more churro + ice cream happiness in your lives 🙂
The truth is, after I made the recipe for the churro ice cream bars and wrote up the post, I did a google search to see if my idea was completely original. I used to google my ideas BEFORE I did them, but then I would get hesitant to post my recipe when my idea wasn't totally original. So I make my recipe ideas the way I have them and then search after just to see. Turns out I'm rarely as original as I'd hoped to be, but as far as the churro ice cream bars, I think they were a first!!
What I did find in my search are these famous ice cream sandwiches from a place in LA. I've actually never been to the "Churro Borough" so I can't say that these are exactly like those, but they are a copycat of their idea. Apparently these churro ice cream sandwiches are all the rage – people love them.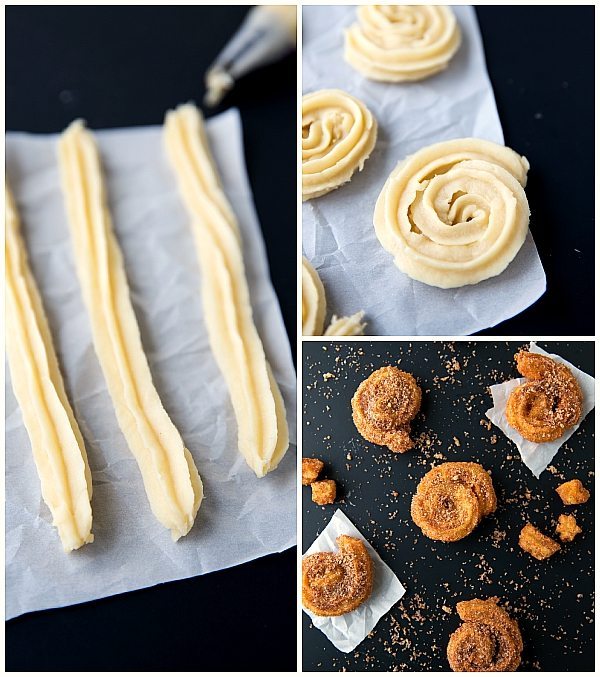 And I can totally see why. I made some as a trial run one night after the babe had gone to bed. The husband and I devoured them. Late night snacking at it's best people. These things are DANG good.
The next day, I knew I had to make the babe one. And the growing babe a few more naturally 😉 Okay fine, they were for me…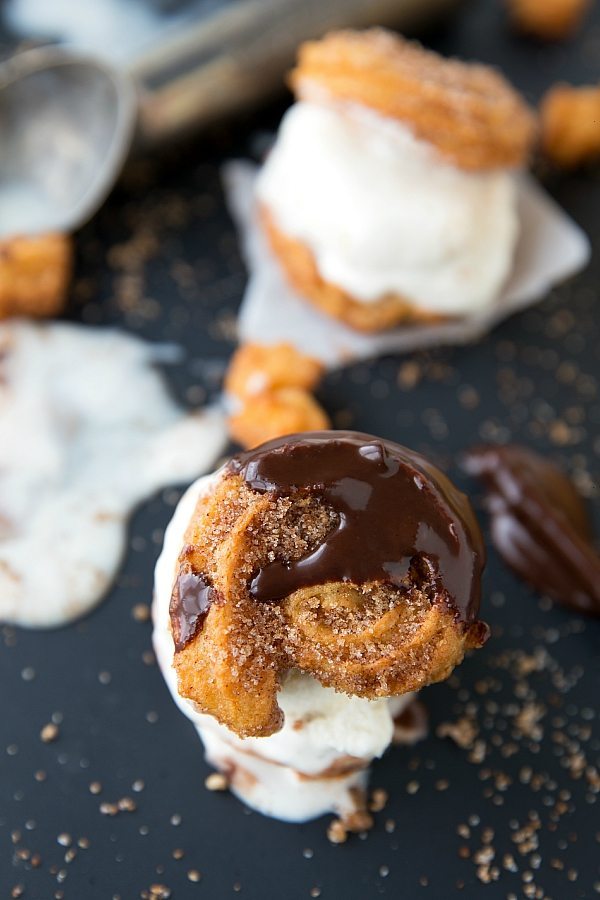 The key to the BEST churro ice cream sandwich is to have the churros as hot/fresh out of the fryer as possible before layering the ice cream in. This makes the ice cream melt quickly, but it's really just incentive to eat it quick and get another one!
They literally melt in your mouth.
I believe from looking at pictures the ones they serve in LA are a bit bigger than the ones I made. Personally, I think the smaller ones are easier to eat (and besides then you can have two or three). The size, however, is completely up to you. You can choose to pipe out your churro dough as short or as long as you want. Then roll it up tightly to keep the circle from unraveling during the deep frying.
And the chocolate ganache? Again, totally up to you. If you are someone that LOVES chocolate or dulce de leche with your churros then go for it. I still prefer churros plain, but every now and again a good chocolate sauce is delicious with a hot churro.
Okay, so what was I saying about those churro ice cream bars being a MUST make before the summer is over? Well, these are too! 🙂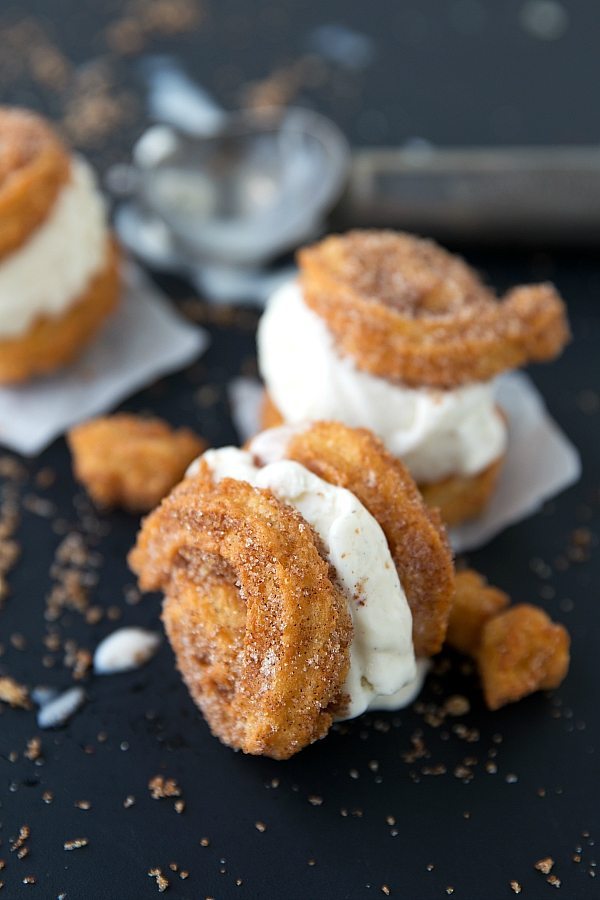 More delicious ice cream treats: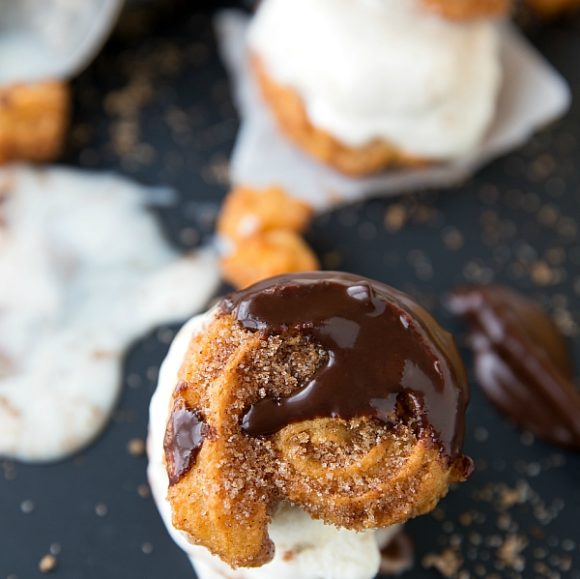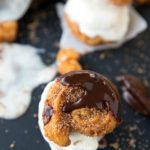 Churro Ice Cream Sandwiches
Servings
:
5
-6 ice cream sandwiches depending on the size
Ingredients
Churros
1/2

cup

whole milk

1/2

cup

water

Pinch of salt

1

tablespoon

white sugar

1/4

cup (4 tablespoons)

unsalted butter

1

teaspoon

Mexican vanilla

1

cup

white flour

1

large

egg

2

tablespoons

white sugar

2

tablespoons

brown sugar

1

teaspoon

cinnamon

Ice cream of choice

I used vanilla bean
Optional Chocolate Ganache
1/4

cup

heavy whipping cream

1/4

cup

dark chocolate
Instructions
In a saucepan over medium-hot heat, combine the milk, water, salt, sugar, and butter. Mix until the butter is melted and bring the mixture to a boil.

As soon as the mixture boils, remove from the heat and stir in the vanilla.

Stir in the flour and, using a rubber spatula, continue to mix (and press out any lumps) until the dough is completely smooth. Let slightly cool and then add in the egg. It will seem hard to mix and gluey, but mix until it comes together.

Transfer the mixture to a large piping bag fitted with an open star tip.

Onto a sheet of parchment paper, pipe long strips of the dough. Allow to rest for 15-20 minutes.

In the meantime, preheat a deep fryer (or heavy bottomed pot over medium heat) to 360 degrees F.

Carefully roll up the long strips of dough into a circle the size you want your sandwich to be.

Place 2 churros circles at a time in the deep fryer or pot.

Allow the churros to fry until they are golden brown flipping about halfway through the cooking time. (In a deep fryer it took about 5-7 minutes total for me)

Remove the churro circles onto a plate lined with paper towels. If you have a deep fryer, you can just dump from the wire mesh and if you are using a pot, use a wire skimmer.

In a small bowl, stir together the 2 tablespoons white sugar, 2 tablespoons brown sugar, and cinnamon.

Place the hot churros in the mixture and coat evenly with the cinnamon sugar mixture.

While still very warm, fill the center with vanilla bean ice cream (or ice cream of choice!).

Enjoy immediately!

If you want to add a chocolate ganache to the sandwich, prepare the ganache by microwaving the heavy whipping cream in a microwave-safe bowl fro 45 seconds to a minute or until very hot. Pour in the dark chocolate chips and stir until smooth and creamy.

Dip the sandwich in the ganache if desired.
Recipe inspired by the Churro Borough.