15-minute pineapple chicken salad served on croissants or in a lettuce wrap. This recipe is a delicious and fun twist on typical chicken salad!
Serve this pineapple chicken salad alongside this panzanella salad or this fruit salad for a simple and delicious meal that won't heat up the kitchen.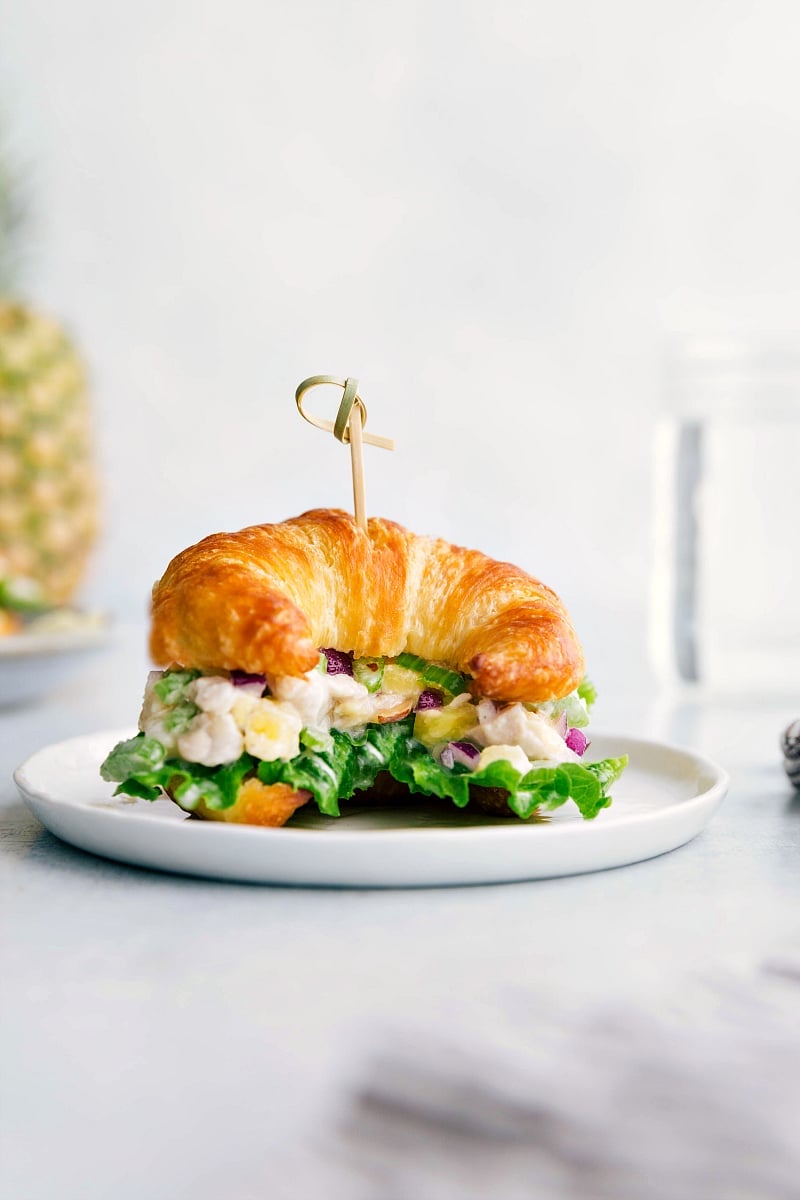 It's no secret I'm obsessed with chicken salad! Variations of the original have made appearances many times throughout the years (hiiii honey mustard chicken salad, low calorie chicken salad sandwiches, & pesto chicken salad). Today I'm adding another favorite to the collection: pineapple chicken salad!
I'm a huge fan of fruit in chicken salad (grapes or dried cranberries are two of my faves), so pineapple is the perfect addition for this slightly tropical chicken salad.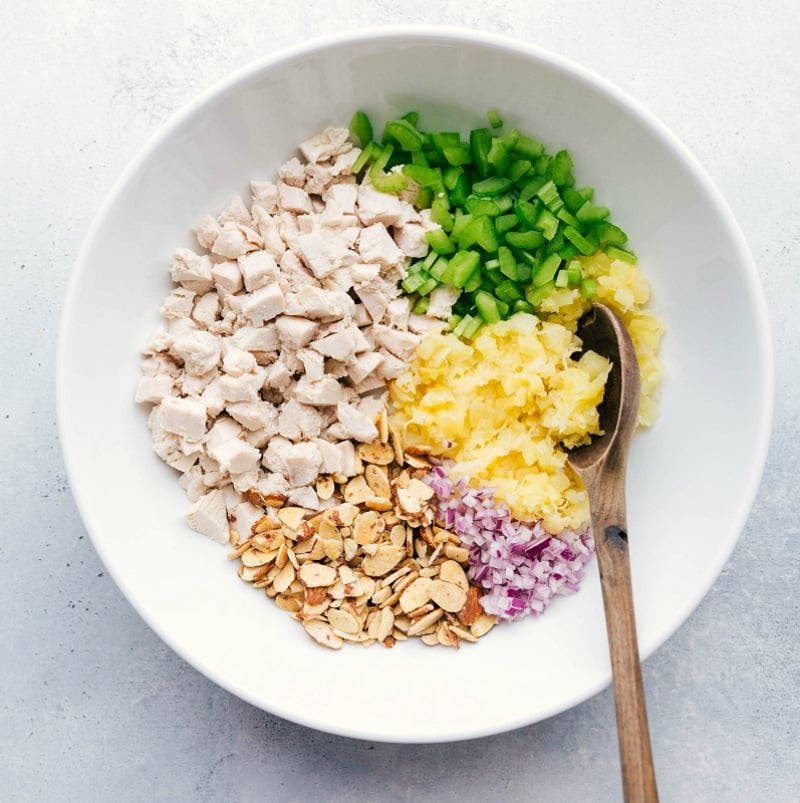 How to make pineapple chicken salad
Prepare chicken: to have a true 15-minute prep time, you'll want to use rotisserie chicken (pre-shredded rotisserie chicken meat is even quicker!) More on this below.
Combine salad ingredients: chopped chicken, almonds, red onion, crushed pineapple, and celery all go in a large bowl.
Whisk together dressing: in a small bowl, whisk together the dressing ingredients — give it a quick taste test and adjust to personal preference.
Combine: pour the dressing over the salad and toss to combine
Assemble: spoon the chicken salad right on top of a lettuce leaf, on a slice of bread, or inside a croissant. Assemble the sandwich and enjoy!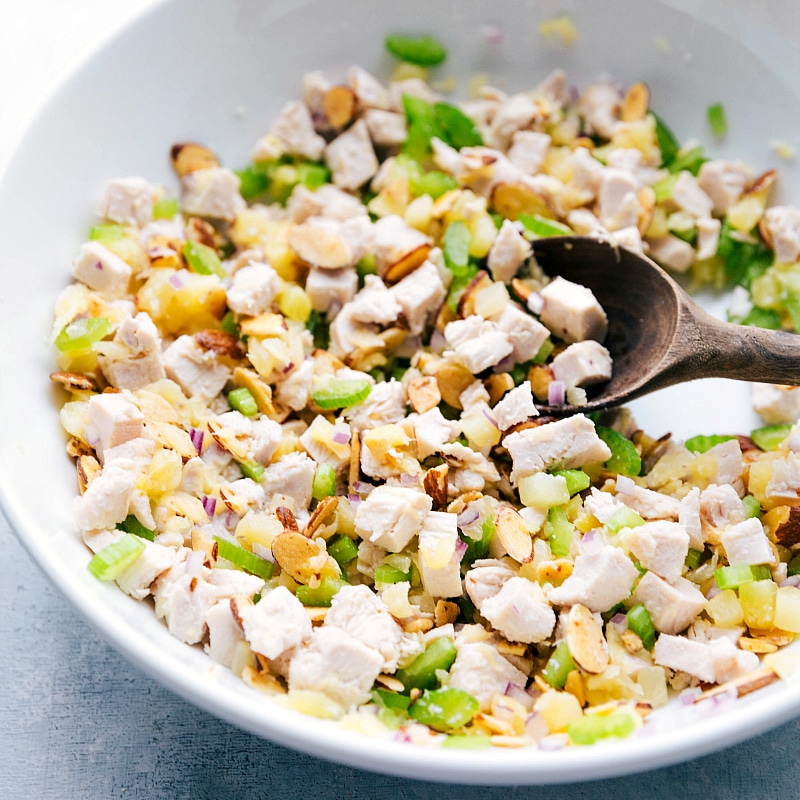 Preparing the chicken
I LOVE using rotisserie chicken: I've already mentioned it, but rotisserie chicken is fast, flavorful, and tender! I like grabbing one from the store (or making one homemade) at the beginning of the week and then using it in recipes throughout the week. Check out this post for more details on that process! If you're really in a time crunch, lots of stores even sell pre-shredded rotisserie chicken meat.
Alternatively, you can grill the chicken: Pound breasts to even thickness and then generously salt and pepper the breasts. Drizzle oil on both sides and grill over medium-high heat (400-450 degrees F) turning once halfway through grilling, about 4-6 minutes per side (until the thickest part of the chicken registers 165 degrees F.). Transfer the chicken to a plate and cover with foil. Allow the chicken to rest for a few minutes so the juices can re-distribute. Thinly slice and then chop the grilled chicken and it's ready for this pineapple chicken salad.
You can cook the chicken in a crockpot and shred it: season chicken breasts generously with salt and pepper and then place in the bottom of a crockpot. Cover the breasts completely with chicken stock or broth. Cook on low for 5-7 hours or high for 3-4 hours. Remove chicken, drain the liquid, and chop the cooked breasts for this recipe.

Pineapple chicken salad variation ideas
Chicken pineapple salad with mayonnaise: this recipe calls for mayo AND sour cream which I've found to be the best combo. In a pinch, you can use only mayo.
Weight watchers pineapple chicken salad: the weight watchers recipe uses light mayo in place of full fat, which you can do for this recipe
Chicken salad with fresh pineapple: place 1 cup of fresh cut pineapple chunks in a blender and put on the chop setting for about 15 to 30 seconds. Pour out your newly crushed pineapple into a fine mesh sieve to drain off additional liquid and it's ready to add in. (See how to cut a pineapple here.)
Switch up the nuts: instead of almonds, you can use toasted (chopped) pecans. For a fun tropical twist, use some toasted (finely chopped) macadamia nuts
Chicken salad with pineapple and mandarin oranges: chop canned (and drained) mandarin oranges to get about 1/2 cup and then stir in gently
Chicken salad with grapes: halve or quarter washed green or red grapes to get about 1/2 cup. Stir in gently.
More easy sandwich or wrap recipes: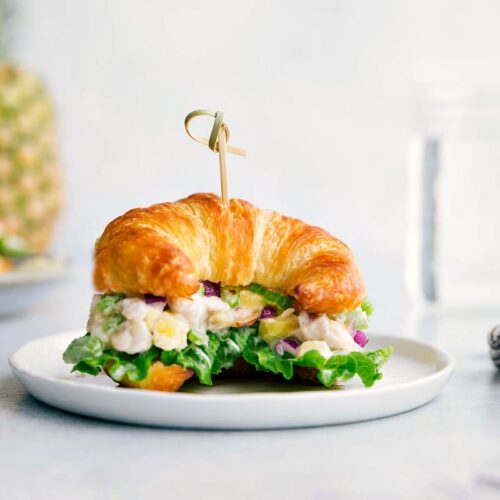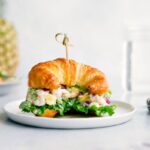 Pineapple Chicken Salad
15-minute pineapple chicken salad served on croissants or in a lettuce wrap. This recipe is a delicious and fun twist on typical chicken salad!
Keyword:
Pineapple Chicken Salad
Ingredients
2

cups

prepared rotisserie chicken,

chopped into small pieces

1/2

cup

canned (in juice not syrup) crushed pineapple,

thoroughly drained/dried

1/3

cup

honey roasted almonds

(Note 1)

1/2

cup

thinly sliced celery

(~2 stalks)

2

tablespoons

finely diced red onion

1/4

cup

full fat (good quality) mayonnaise

2

tablespoons

sour cream

(fat free or light is great!)

1

tablespoon

honey

1 and 1/2

teaspoons

Dijon mustard

1

teaspoon

freshly squeezed lemon juice

Salt and pepper

Serve with

Croissants or other Sandwich bread/rolls

(add some lettuce for a sandwich)
Instructions
In a large bowl, add in the chopped rotisserie chicken, thoroughly drained crushed pineapple, honey roasted almonds, sliced celery, and red onion. Stir to combine.

In a small bowl, whisk together the mayo, sour cream, honey, Dijon mustard, lemon juice, and a generous (or to taste) sprinkle of salt + pepper. I add 1/4 teaspoon salt and 1/8 teaspoon pepper, add to taste. Pour dressing over salad.

Gently stir all of the ingredients together until combined. Taste and adjust for seasonings (salt, pepper, additional lemon, etc.)

Layer the pineapple chicken salad on a croissant/sandwich bread and add some lettuce. Enjoy immediately.
Recipe Notes
Note 1: I use the Fresh Gourmet Honey Roasted Sliced Almonds (not sponsored, just a fan) which add an incredible flavor and don't get "soggy." If not using these almonds, I recommend toasting the almonds before adding them in. To toast almonds: pour the almonds into an even layer in a small, dry (no need to add oil or anything) nonstick skillet over medium-heat and stir them around a bit until they are fragrant, lightly browned, and toasted to your liking. Watch carefully to avoid burning the almonds (they can go from toasted to burned very quickly)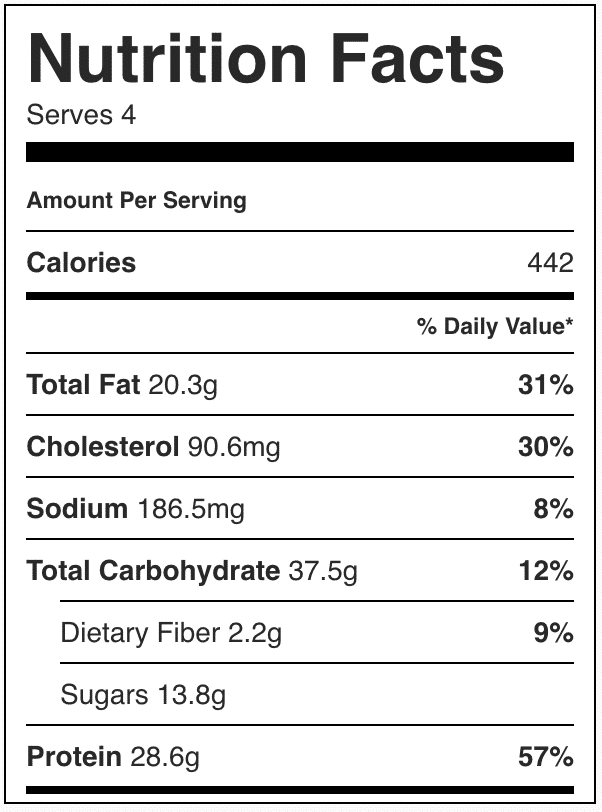 This recipe is inspired by Jason's deli pineapple chicken salad recipe.