A delicious and creamy broccoli, avocado, and berry salad with a creamy 2-ingredient (no mayo) raspberry walnut poppyseed vinaigrette!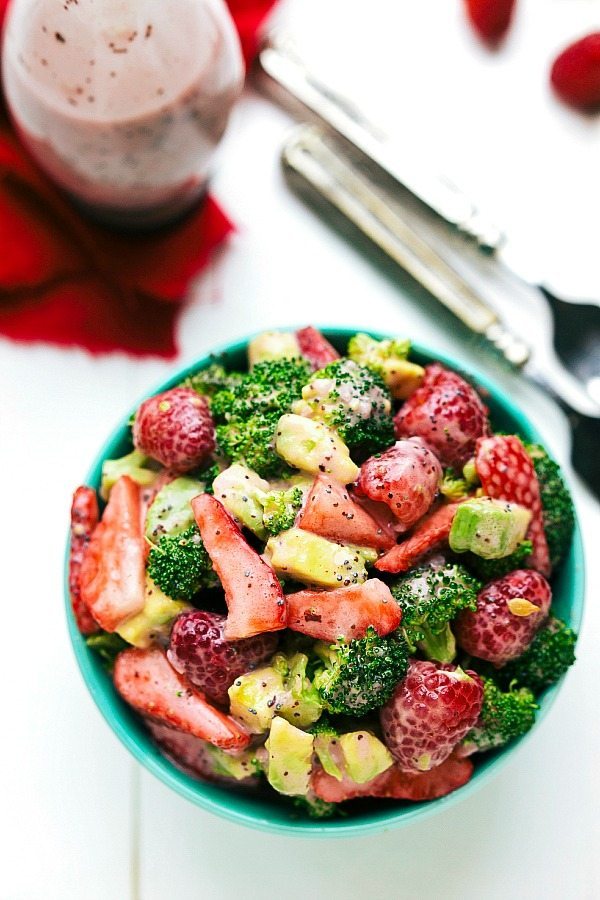 Let's get right to this broccoli-berry salad. I am telling you – this is a must have salad/side dish for Mother's Day. Not only is it extremely tasty and everyone will go crazy over it, BUT it's also one of the easiest salads I've ever made.
When I'm saying 10 minutes prep, that may even be an exaggeration!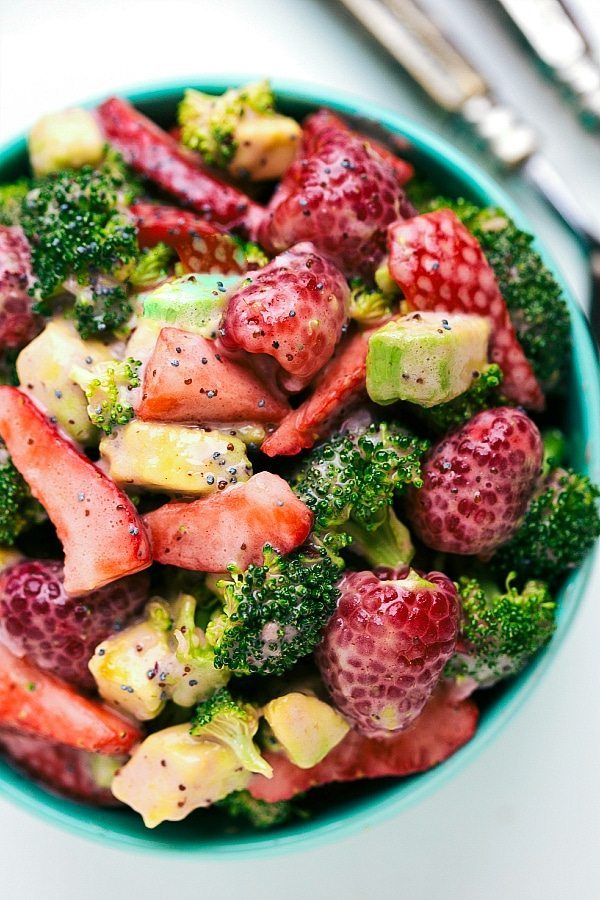 First off the actual salad – just four ingredients: broccoli, raspberries, strawberries, and an avocado. But since we've already had this a few times since making it for the first time ever a couple of weeks ago, let me tell you some other amazing additions: feta cheese (YUM!), candied walnuts or almonds (included in the instructions), plain roasted sliced almonds, pretty much any other berry (blackberries and blueberries both are fantastic).
It's so easy to switch out or add whatever you like because basically all you do is increase or decrease the dressing based on how much ends up in your salad!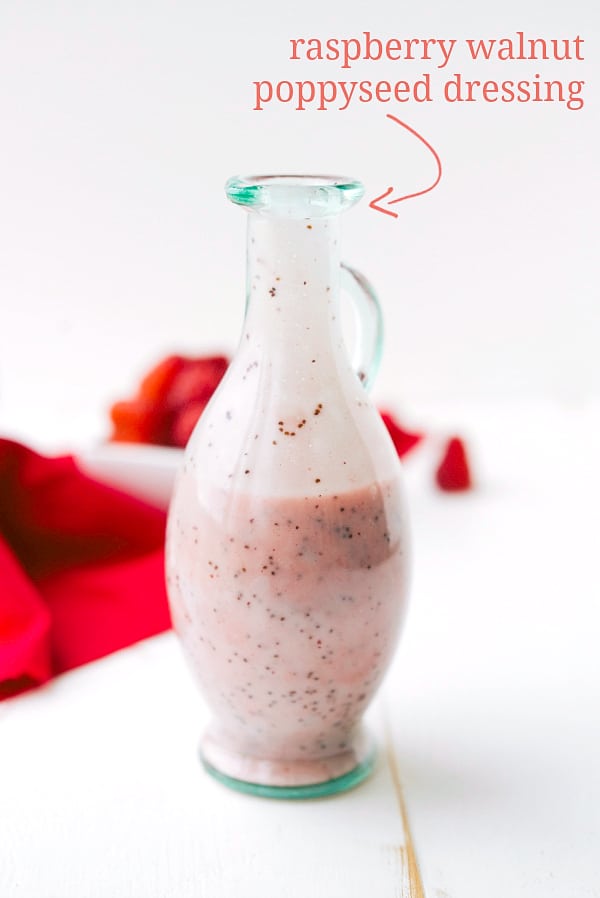 Which brings me to talking about the dressing. Okay so it's kind of a cheater dressing, but since making it a few weeks ago it has gone on just about everything I eat. I'm about to pour it on my cereal that's just how crazy good it is. Just you wait until you try this deliciousness!
So this cheater dressing – it's combining 2 store-bought dressings and whisking them together. So easy right?! But I'm going to get a little specific on the brands here, because I want you to know just how perfect this salad is with the right dressings! For the poppyseed dressing, I used Brianna's Home Style Dressings: Rich Poppy Seed (<–the link is just to show you how it looks). For the other dressing, I used Ken's Steak House Lite Raspberry Walnut Vinaigrette Dressing (<–another picture. I found both of the dressings at my local grocery store and have seen both at Wal-Mart).
And how did I find this magical combo? Well, the Raspberry dressing just so happens to be my husband's absolute favorite dressing and the poppyseed one is my favorite store-bought dressing ever. So the marriage of the two was bound to happen. I'm sure you could use other brands of the same dressings, but I'm only vouching for the perfection of these 2 brands put together. (Neither brand sponsored this post, just our favorites :))
Basically it will take you longer to read about this salad than to actually make it…so that's pretty great. 🙂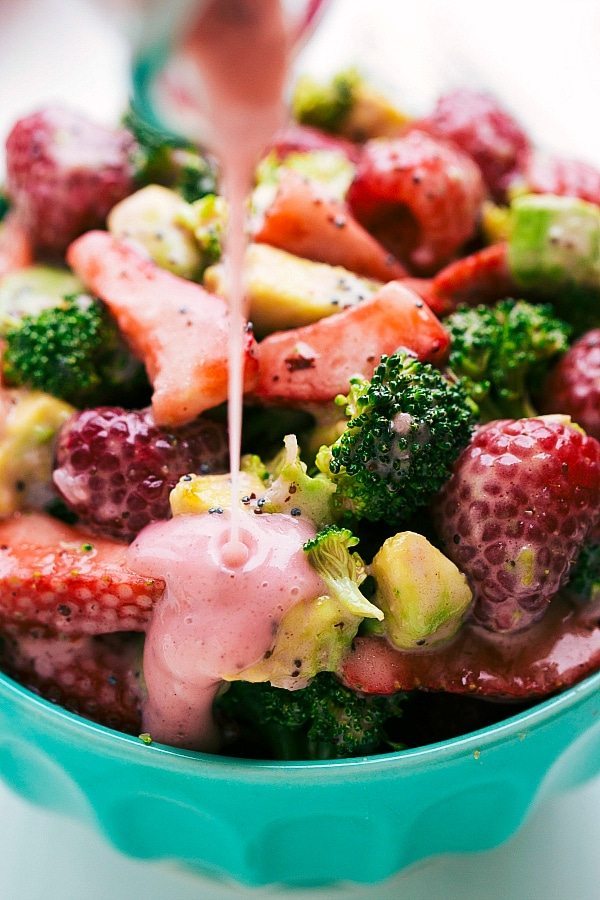 More simple salad recipes: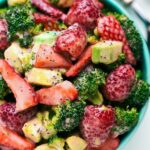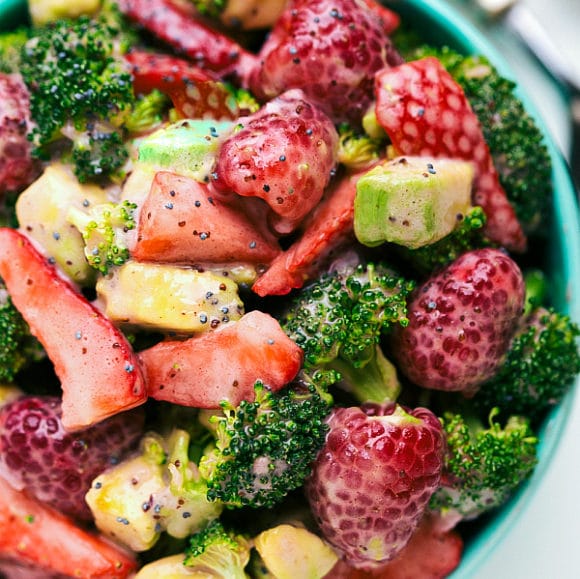 Creamy Broccoli, Avocado, and Berry Salad
Ingredients
Salad
4

cups

rounded chopped broccoli

~2 heads

1

cups

and 1/2 sliced strawberries

1/2

cup

raspberries

1

large and ripe avocado

Other optional toppings: candied walnuts or almonds

chopped mango, blackberries, blueberries, feta cheese
Dressing
1/2

cup

creamy poppyseed dressing*

1/4

cup

raspberry walnut vinaigrette
Instructions
Remove the stems from the broccoli and cut into very small pieces. Fill up a bowl with very cold water and a few cupfuls of ice.

Bring a pot of water to boiling point. Add in a heaping tablespoon of salt.

Pour the broccoli into the boiling water and count to 30. As soon as you get to 30 drain the broccoli and pour the broccoli into your prepared ice/water bath.

Allow the broccoli to sit in the cold water until completely cooled. Then remove with a slotted spoon to a salad spinner or bowl.

Make sure the broccoli is 100% dried before tossing it with anything else (especially the dressing).

Slice the strawberries. Remove the peel and pit of the avocado and chop.

In a large bowl, mix together the broccoli, strawberries, raspberries, and avocado. Add any other toppings as desired.

Right before serving, whisk together the poppyseed dressing and the raspberry vinaigrette. Pour over the salad. (If desired, add more of both dressings to personal preference of an extra dressed salad).

Serve immediately.
Recipe Notes
*The last paragraph of the post links to images of the exact dressings I used and highly recommend.