A delicious pulled pork BBQ pasta salad that makes an easy 30-minute weeknight dinner.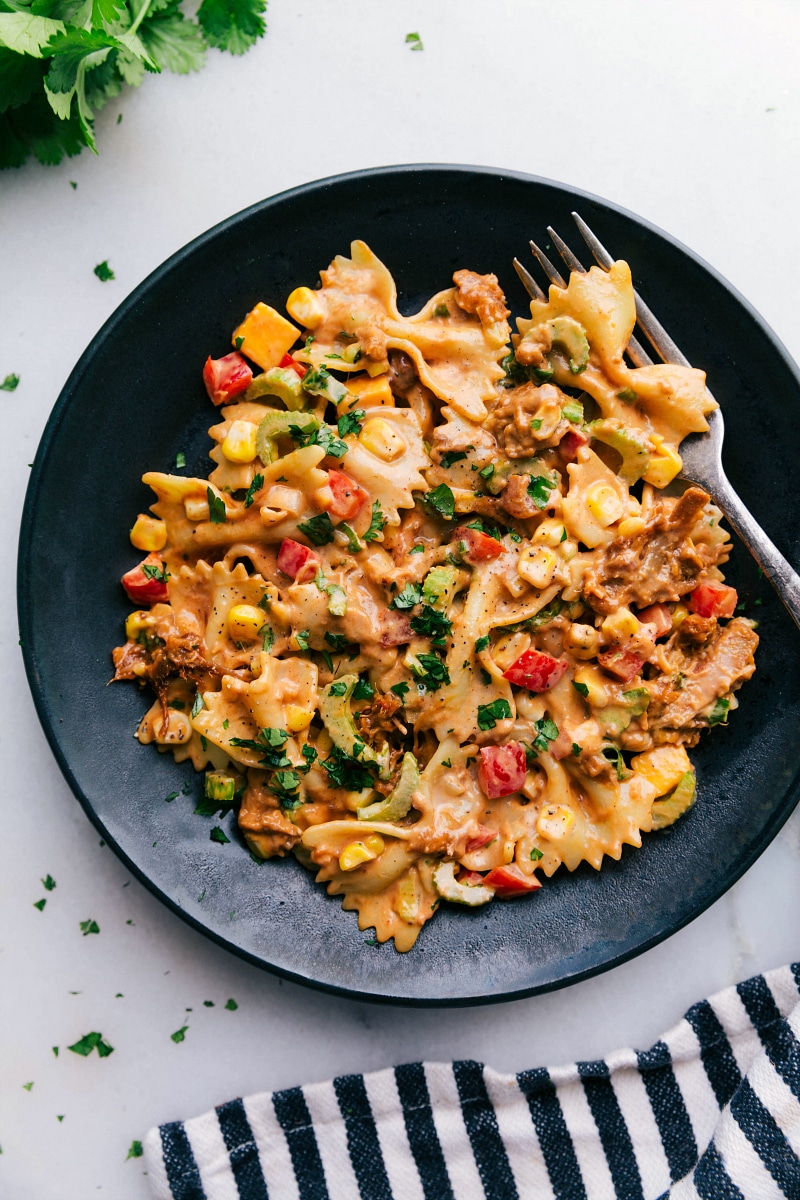 Who else eats pasta salads like crazy during the summer? They have definitely been one of my go-to's this summer and since the whole family loves them, the only catch is coming up with some different varieties of pasta salads. (These three have been on frequent rotations: tortellini pesto salad, catalina chicken pasta salad, and avocado corn pasta salad)
More delicious potluck salads: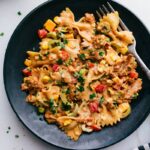 BBQ Pasta Salad
A delicious pulled pork BBQ pasta salad that makes an easy 30-minute weeknight dinner.
Ingredients
8

ounces

bowtie or farfalle pasta

2

small ears

fresh corn

1

small

red bell pepper,

chopped into small pieces (~scant 3/4 cup)

2

stalks celery

(~1/2 cup)

heaping

1/2 cup

sharp cheddar cheese,

cut into small cubes

2

fresh green onions,

(~1/4 cup)

1/2

of 1 container pre-made original BBQ pork

cooked according to package instructions (Note 1)
Salad "Dressing":
1/2

cup

good quality mayonnaise

1/4

cup

high quality BBQ sauce

1

tablespoon

apple cider vinegar

1/2

teaspoon

hot sauce (like TABASCO)

1/4

teaspoon

chili powder

1/8

teaspoon

garlic powder

Small

pinch

cayenne pepper,

optional

Salt and pepper

Optional: chopped cilantro
Instructions
Cook the pasta according to package directions. Drain the pasta and rinse in cold water until the pasta is cold. Allow to thoroughly dry before adding it to the other ingredients.

While the pasta is cooking prep the veggies/other salad additions: grill corn on the cob (Note 2), chop the pepper, slice the celery, cube cheddar cheese pieces, and thinly slice green onions. Cook pork according to package directions and allow to cool to room temperature. In a large bowl add the pulled pork (add as much or as little as you want of the pork - we used just over half of the container but you may want more or less.), cooked and cooled pasta, corn, pepper, celery, cheddar cheese, and green onions.

In another small bowl, whisk together the mayo, BBQ sauce, apple cider vinegar, hot sauce, chili powder, garlic powder, cayenne pepper, salt and pepper (to taste, I add 1/4 teaspoon salt and 1/8 teaspoon pepper). Whisk until well combined.

Pour dressing over the salad. Toss ingredients until combined.

Cover tightly and place in the fridge until ready to eat. (You can eat it right away, but it's better chilled for at least 30 minutes. The longer it chills the more the flavors meld, but don't chill longer than a few hours. Best eaten the same day.) Garnish with fresh cilantro as desired right before eating. Taste again and season with any additional salt/pepper as needed.
Recipe Video
Recipe Notes
Note 1: either use leftover BBQ pulled pork OR grab one from the freezer section in the grocery store. Cook according to package directions.
Note 2: Preheat the grill to 400 degrees F. Shuck and remove silk from corn. Rub oil all over the sides (about 1/2 teaspoon) and lightly sprinkle with sea salt. Place corn on grill and with grill closed, flip every 3-5 minutes (check at 3 mins) (flipping 4 times total) until corn is nicely charred and crisp tender. Remove corn from grill. Allow to slightly cool before cutting off the cob.