Broccoli Grape Pasta Salad has broccoli, farfalle pasta, bacon, grapes, and pecans. The salad is dressed with a creamy mayo-based dressing that is naturally sweetened and loaded with flavor!
Try the classic broccoli salad or this lemon poppyseed broccoli salad next!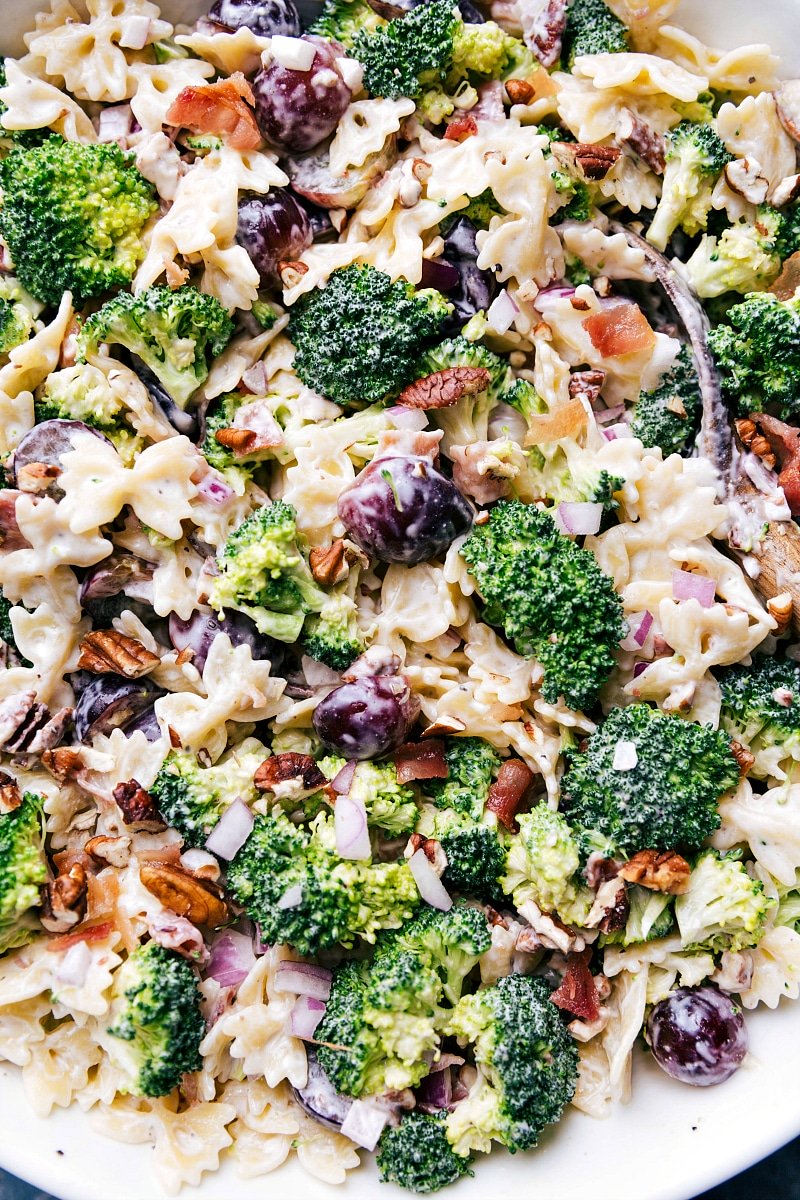 Nothing screams summer to me like creamy potluck salads; today we're combining two of my favorites– pasta salad and broccoli salad– into one unforgettable side dish. Just like when I combined coleslaw and macaroni salad to create this macaroni coleslaw salad, it's the best of two worlds in one salad!
Pasta salad plus broccoli salad makes a combo you'll be craving all summer long.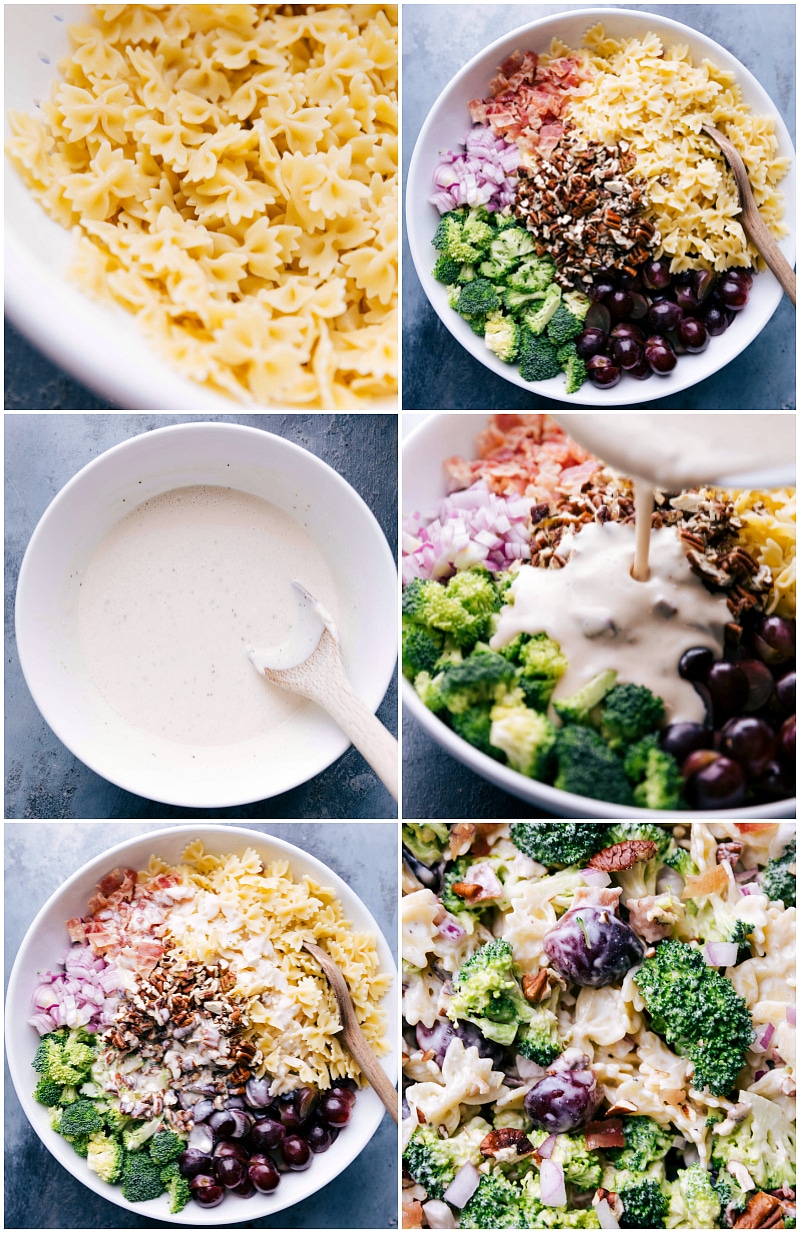 Ingredients in this Broccoli Grape Pasta Salad
Farfalle pasta: Cook according to package directions, drain and rinse under cold water to stop the cooking and keep the pasta from sticking together.
Broccoli: We like the broccoli raw, but you can blanch it first if desired — more on this below.
Grapes: Red grapes add a nice color contrast and slightly sweeter taste, but green grapes would also work.
Red onion: The onion adds a nice tang to the salad. If you're sensitive to the flavor of raw red onion, I have a hack that'll help tone down the bite. Soak the onions in ice cold water (with a pinch of salt added) for 10 minutes. Drain thoroughly and dry before adding to the salad.
Pecans: The pecans add a great nutty savoriness to the salad. We toast the pecans in a skillet to develop a richer flavor.
Bacon: Because it makes everything better. Add at the end to avoid soggy bacon. Even better, serve it on the side as a topper for the salad.
Dressing
The dressing is simple and naturally sweetened with honey instead of tons of sugar. It's also not overpoweringly mayo-flavored thanks to the freshness of the lemon juice, the tang of the sour cream, the pizzazz of Dijon mustard, the sweetness of the honey, and the acidity of the red wine vinegar. Whisk everything together and it's ready to be tossed with the salad.
Should I cook the broccoli first?
Raw broccoli is pretty standard in broccoli salads, and this salad is no exception. The dressing and chilling time does tone down the broccoli. You'll also want to make sure to chop the florets into small pieces for the best possible salad.
If you don't care for raw broccoli, it can be blanched before adding it to the salad. Add the florets to a pot of boiling water and cook for 1 minute, then transfer to an ice bath to stop the cooking. Drain the cooled broccoli thoroughly before using, or it will water down the salad.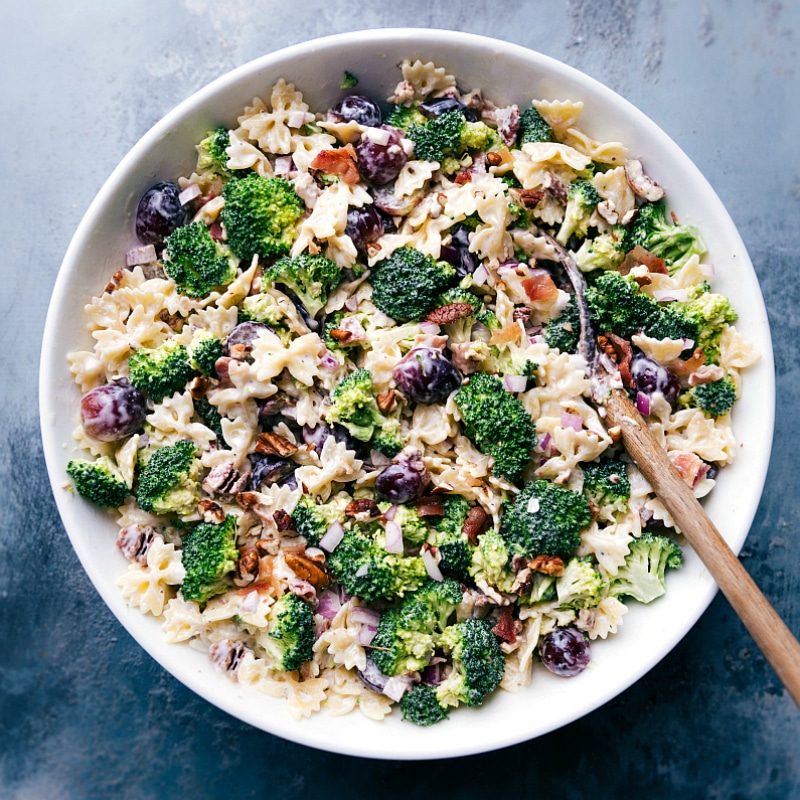 Broccoli Grape Pasta Salad tips
This salad is a classic pasta salad, lots of fruits/veggies, and a thick and creamy mayo-based dressing. Below are a few tips that take this salad from good to wow!
Thoroughly dry the ingredients. Don't add the dressing to wet ingredients. If the pasta is wet from being cooked and the grapes are wet from being washed, it will water down the salad and make the dressing too liquid-y.
Toast the pecans. This is a small step that adds a lot of flavor and doesn't take much extra effort. Fill a dry skillet with an even layer of nuts and cook on low heat, stirring constantly, for 5-7 minutes or until fragrant. Watch the nuts very carefully as it is easy to scorch and burn them.
Mix gently. Use a silicone spatula to gently mix the ingredients so the pasta doesn't fall apart and the grapes don't squish. A spatula like this one is a cook's best friend at a time like this.
Let the salad sit and chill. It's important to let the ingredients meld with the dressing in the fridge for bit. Plan ahead so the salad has time to chill completely before serving.
More potluck salads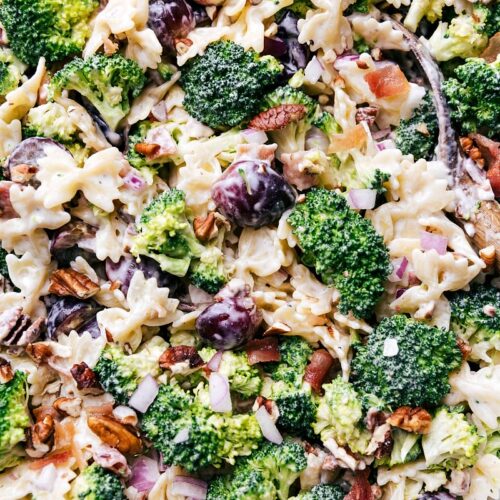 Broccoli Grape Pasta Salad
Broccoli Grape Pasta Salad has broccoli, farfalle pasta, bacon, grapes, and pecans. The salad is dressed with a creamy mayo-based dressing that is naturally sweetened and loaded with flavor.
Keyword:
Broccoli and Grape Pasta Salad
Servings
:
8
-10 as a side
Ingredients
Salad
4-5

cups

fresh broccoli

(~1 pound or 2 stalks)

8

ounces

mini farfalle (bowtie) pasta noodles

(1/2 of 1, 16 ounce package)

2

cups

halved grapes

1

cup

chopped pecans*

Note 1

1/2

cup

dried coarsely chopped cooked bacon

1/3

cup

diced red onion

Note 2
Dressing
3/4

cup

regular full-fat mayo

(I recommend Hellman's/Best Foods)

1/4

cup

sour cream

1

teaspoon

Dijon mustard

1 and 1/2

tablespoons

red wine vinegar

3

tablespoons

honey

1

tablespoon

freshly squeezed lemon juice

Salt and pepper
Instructions
PASTA: Prepare the pasta according to package directions. Make sure to generously salt the water. The salt will season the pasta and add a lot of flavor. Once cooked al dente, drain and rinse under cold water. Set aside to cool to room temperature.

BROCCOLI: Remove the stems from the broccoli and cut into small bite-sized pieces.

SALAD: Combine the chopped broccoli, cooked pasta, and 2 cups halved grapes in a large bowl.

DRESSING: In a small bowl, whisk together the dressing ingredients: 3/4 cup full-fat mayo, 1/4 cup sour cream, 1 teaspoon Dijon mustard, 1 and 1/2 tablespoons red wine vinegar, 3 tablespoons honey, 1 tablespoon lemon juice. Season to taste with salt and pepper. Whisk until smooth.

DRESS SALAD: Combine the dressing with the grapes, broccoli, and pasta. Cover and chill for 30 minutes to 2 hours.

FINISHING: Right before serving add the 1 cup coarsely chopped pecans (See Note 1), 1/2 cup cooked and crumbled bacon, and 1/3 cup diced red onion (See Note 2).

STORAGE: Salad is best eaten the same day it is made.
Recipe Video
Recipe Notes
Note 1: I like to toast the pecans. To do this, spread them evenly in a dry skillet over low heat. Stir around for 5-7 minutes or until fragrant. Be careful because the nuts can easily go from toasted to scorched.
Note 2: To take away the bite of the red onion, peel and dice the red onion and then submerge the pieces in a bowl of cold or ice water. Let sit for at least ten minutes, stirring once or twice, before draining and using in this salad.