The best ever fruit salad coated in a simple fruity dressing. Perfect for potlucks, summer parties, or a side dish to your meals!
This salad is the perfect side to an easy summer meal such as this steak marinade or this grilled chicken marinade OR to a hearty meal like these crockpot cheesy potatoes or this slow cooker pot roast. If it's winter, you may want to try this winter version, or if you're looking for a creamy fruit salad with yogurt that can double as dessert, try this raspberry cheesecake fluff (<–one of our family's favorites!)!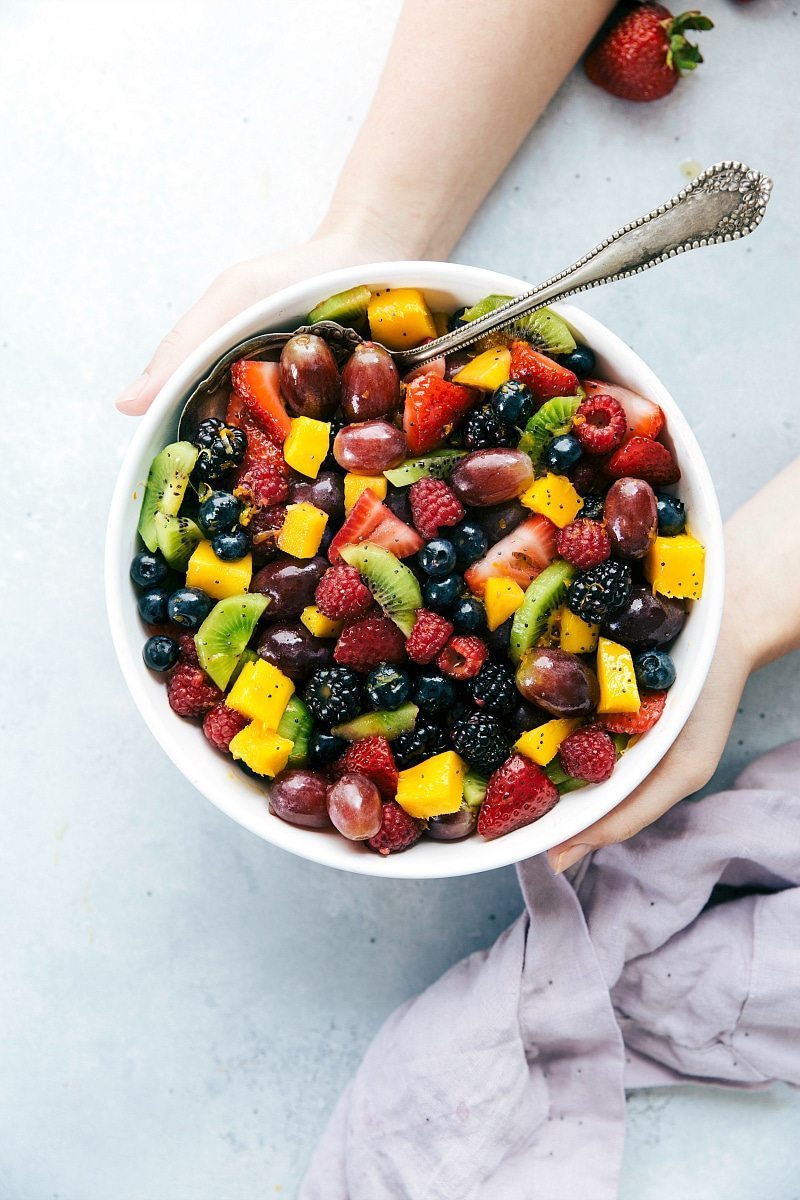 Fruit Salad
Growing up my mom served fruit salad with just about every single dinner we had. The weeknight versions of the fruit salads were pretty simple (usually a few cans of fruit mixed with whipped topping and jell-o or just a can of fruit mixed with sliced bananas) and would make a fancier fruit salad for our Sunday dinners.
We all LOVE her fruit salads. This salad isn't identical to the one she made growing up because the fruit constantly changed. Basically whatever was fresh, ripe, on sale in the store, and/or ready from our fruit trees is what went into her fruit salads.
So today, I've got my ultimate favorite line-up of fruits in a salad, but the fruit can be easily changed out and swapped for whatever you like best. As long as the quantities remain fairly consistent and you've got plenty of variation, this fruit salad will be a hit!
What is usually in a fruit salad?
Whatever fruit is in season and a delicious dressing! Some creamy fruit salads are made with yogurt or pudding. In short, there are SO many different combinations of fruit that can make delicious fruit salads. This fruit salad recipe calls for mandarin oranges, strawberries, kiwis, grapes, blueberries, mangoes, blackberries, raspberries and a citrus dressing.
What fruits make a good fruit salad?
Fresh, ripe fruits and variety are really what makes a good fruit salad. Select fruits that are in season and select a variety of fruits that vary in taste and texture. I always like some berries along with some more fleshy fruits (peaches, mangoes, bananas, etc.). If you like some crispiness in your fruit salads, be sure to add some apples!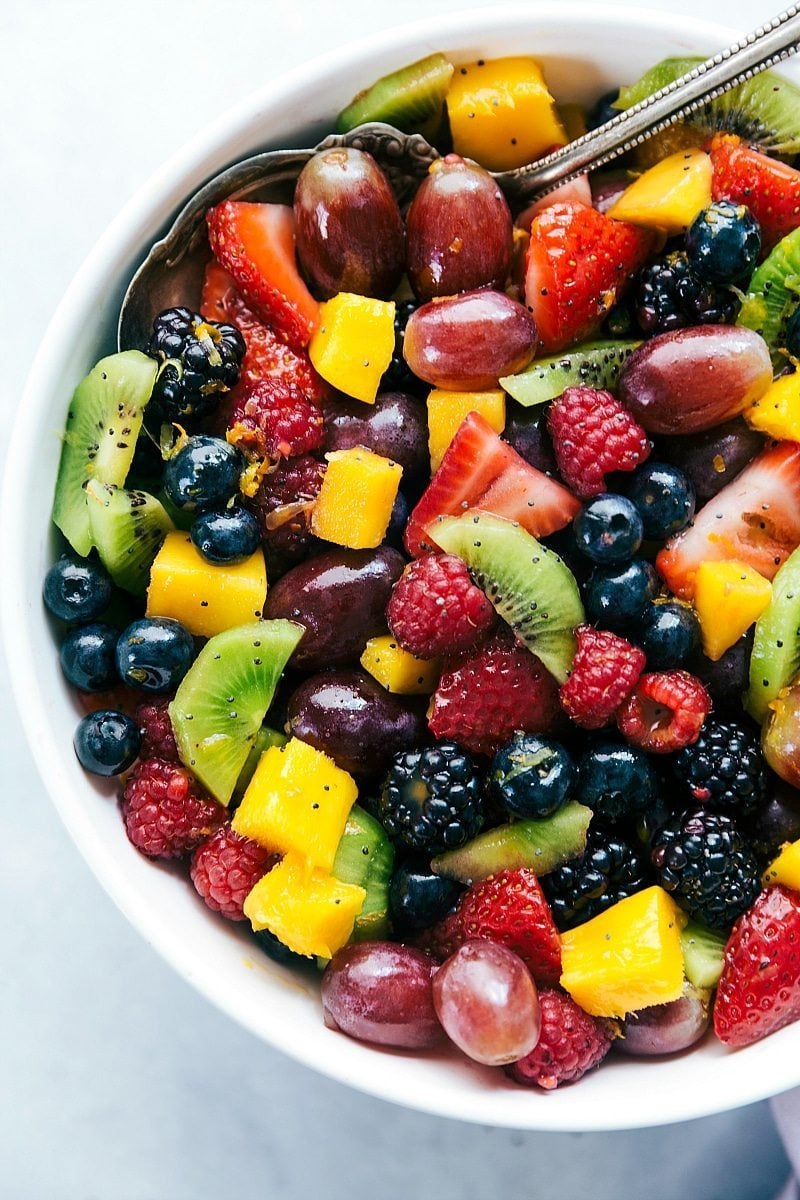 How do you make a simple fruit salad?
Select fresh fruits that are in season
Remove peels when needed, chop fruits into equal, bite-size pieces, leaving small berries uncut.
Pair with a delicious fruit salad dressing
What is the best dressing for a fruit salad?
The best fruit salad dressings typically contain citrus juice and zest (lemon, lime, and/or orange) and sugar, honey or other sweetener.
The citrus adds a bit of tang to complement the sweetness of the fruit. It also plays an important role in preserving the fruit and slowing browning.
The sugar or other sweetener often creates a more syrup like texture to the dressing that enhances and brings out the fruits' natural sugars and juices.
This fruit salad dressing recipe calls for lemon and orange juice and zest, brown sugar, vanilla extract and poppyseeds.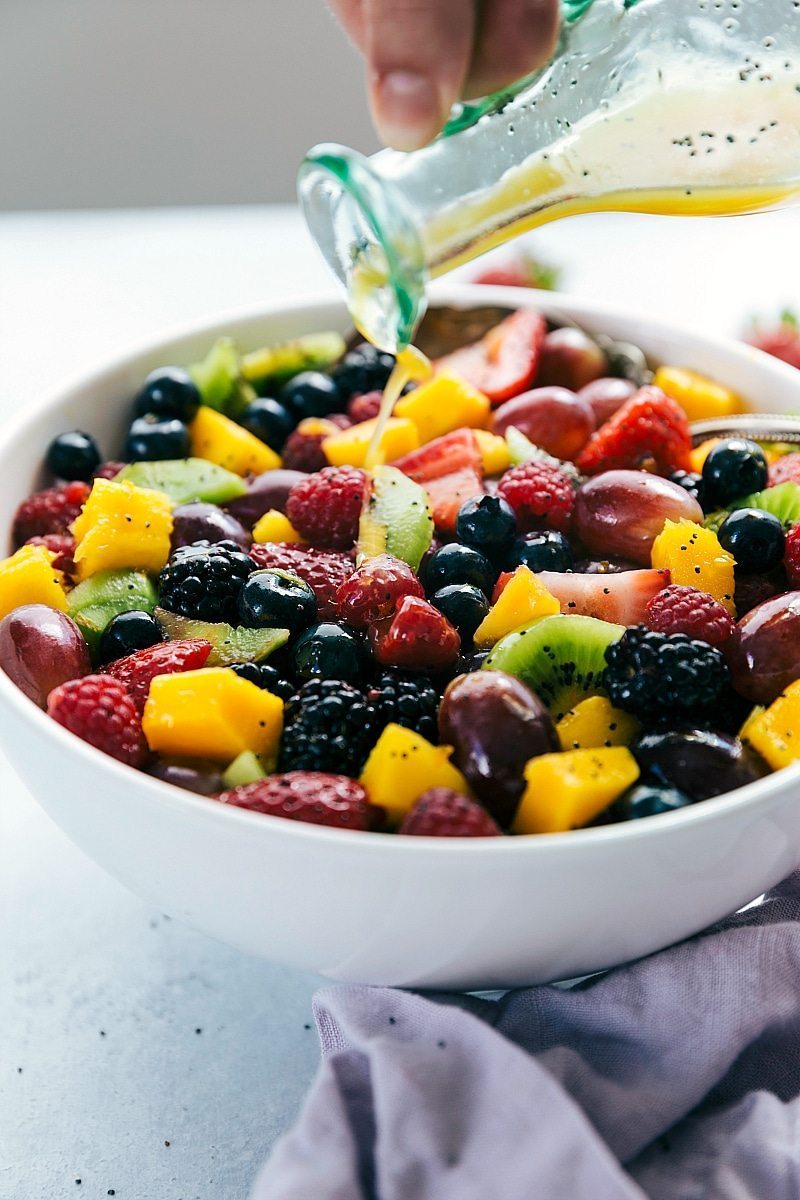 How do you stop a fruit salad from going brown and how do you preserve a fruit salad?
Prepare the fruit salad as close to serving time as possible
Use a citrus dressing and make sure it is evenly distributed across all the fruit.
Store leftovers in the fridge in an airtight container for up to 1-2 days.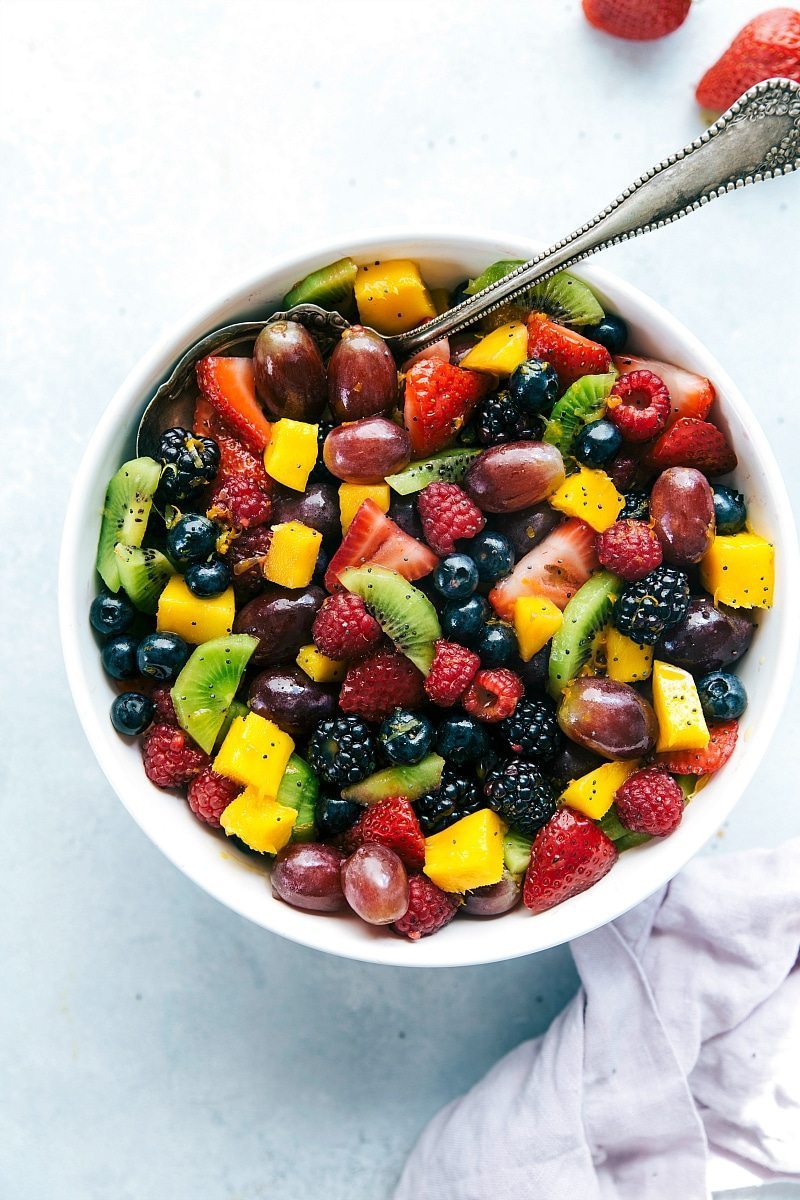 How long can you keep fresh fruit salad in the fridge?
Fresh fruit salads are best eaten the same day they are made.
Depending on the fruit (cut bananas don't store well at all!) and dressing you use, they can remain fresh for a couple of days in the fridge, but will typically get mushier and will not be as good as it was the day it was made.
Using a dressing with a lot of citrus and storing in an airtight container can help the fruit salad last longer.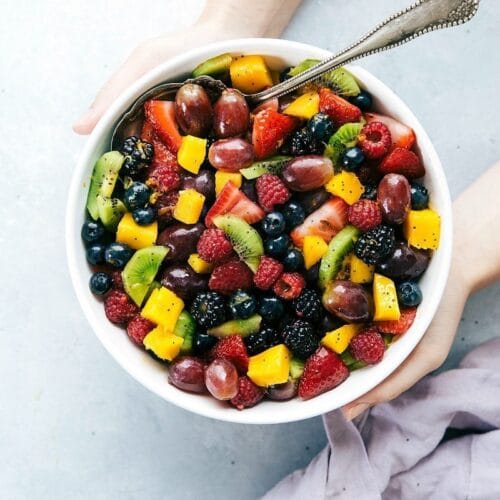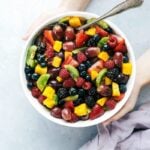 The Best Ever Fruit Salad
The best ever fruit salad coated in a simple fruity dressing. Perfect for potlucks, summer parties, or a side dish to your meals!
Servings
:
8
as a generous side dish
Ingredients
Dressing
2

large

oranges

(2/3 cup fresh orange juice and 1/2 teaspoon zest)

2

large

lemons

(1/3 cup fresh lemon juice and 1/2 teaspoon lemon zest)

1/4

cup

brown sugar

1

teaspoon

vanilla extract

1

teaspoon

poppyseeds
Salad
1

can (15 ounces)

mandarin oranges,

thoroughly drained

2

cups

fresh strawberries,

hulled and sliced

3

kiwis,

peeled, halved, and sliced

1

cup

seedless grapes

1

cups

blueberries

2

large

mangoes,

peeled and diced

1

cup

blackberries

1

cup

raspberries
Instructions
Bring the orange juice and zest, lemon juice and zest, and brown sugar to a boil in a saucepan over medium-high heat. Reduce the heat to medium-low, and simmer until slightly thickened (about 5 minutes). Remove the dressing from the heat and stir in the vanilla extract and poppyseeds. Set aside to cool completely.

Remove the stems from strawberries and chop into large chunks. Add to the bowl.

Thoroughly drain the mandarin oranges, remove the stems and thinly slice the strawberries, and peel the kiwis, halve them, and then thinly slice them. Remove the grapes from the stems.

In a large bowl, add in the prepared mandarin oranges, sliced strawberries, sliced kiwis, grapes, blueberries, mangoes, blackberries, and raspberries.

Pour the dressing over the salad and lightly toss the ingredients together.

Return to the fridge to allow to cool and let the flavors meld.

Serve after the salad has been chilled, tossing once more.
More Amazing Salads:
Almond Berry Chicken Spinach Salad