Broccoli Salad has broccoli, cheese, bacon, sunflower seeds, and dried cranberries. The salad is dressed with a creamy mayo-based dressing that is naturally sweetened and loaded with flavor!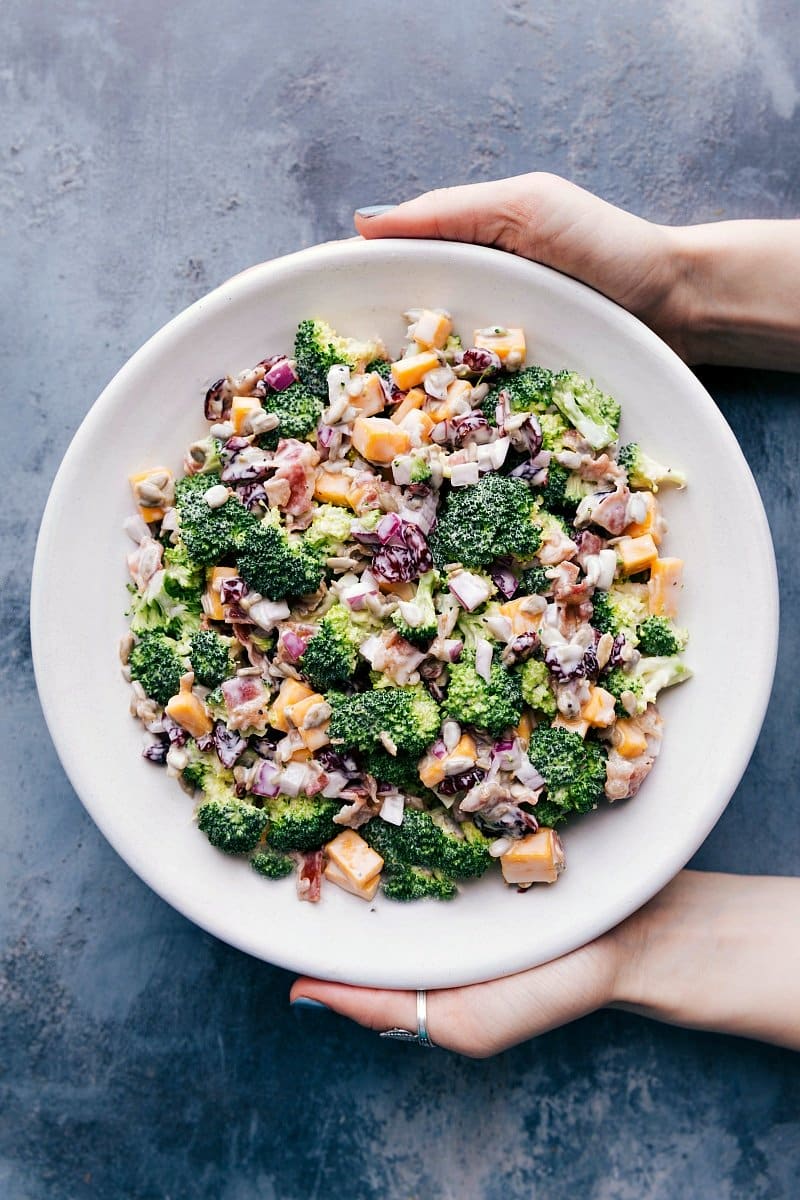 The best Broccoli Salad recipe
You might be wondering what makes this Broccoli Salad so special and I'm here to tell you that it's all because of the spectacular dressing! You'll find most broccoli salad dressing recipes are a combination of mayo and white sugar.
And while my dressing recipe does contain mayo, it doesn't just taste like mayo straight from the jar!
The dressing is simple and naturally sweetened with honey (instead of lots of white sugar). It's got a hit of freshness and acidity thanks to the red wine vinegar and fresh lemon juice. We also add in some sour cream and Dijon mustard for tang and depth of flavor. And finally, it's seasoned with salt and pepper to balance and intensify all the flavors.
This dressing will have you craving Broccoli Salad all year round!
Does the broccoli need to be cooked first?
Raw broccoli is pretty standard in broccoli salads, and this salad is no exception. The dressing and chilling time does tone down the "rawness" of the broccoli. You'll also want to make sure to chop up the florets into small pieces for the best possible salad. (Here's a step by step visual on how to chop broccoli)
If you don't care for raw broccoli, it can be blanched before adding it to the salad. Add the florets to a pot of salted boiling water for 1 minute, then transfer to an ice bath to stop the cooking. Drain the cooled broccoli well before using or it will water down the salad. Here's where a salad spinner can come in handy! 🙂
How to make Broccoli Salad
Combine all the salad ingredients: the chopped broccoli, red onion, sunflower seeds, dried cranberries, cheddar cheese, and bacon. If the salad will be chilling for a bit before eating, add the bacon and sunflower seeds after it's chilled so they remain nice and crisp.
Add all the dressing ingredients to a bowl.
Whisk dressing until smooth and combined.
Pour dressing over the salad.
Toss to combine and coat everything in the dressing.
Serve the salad. We prefer it chilled, but it can be served right after making.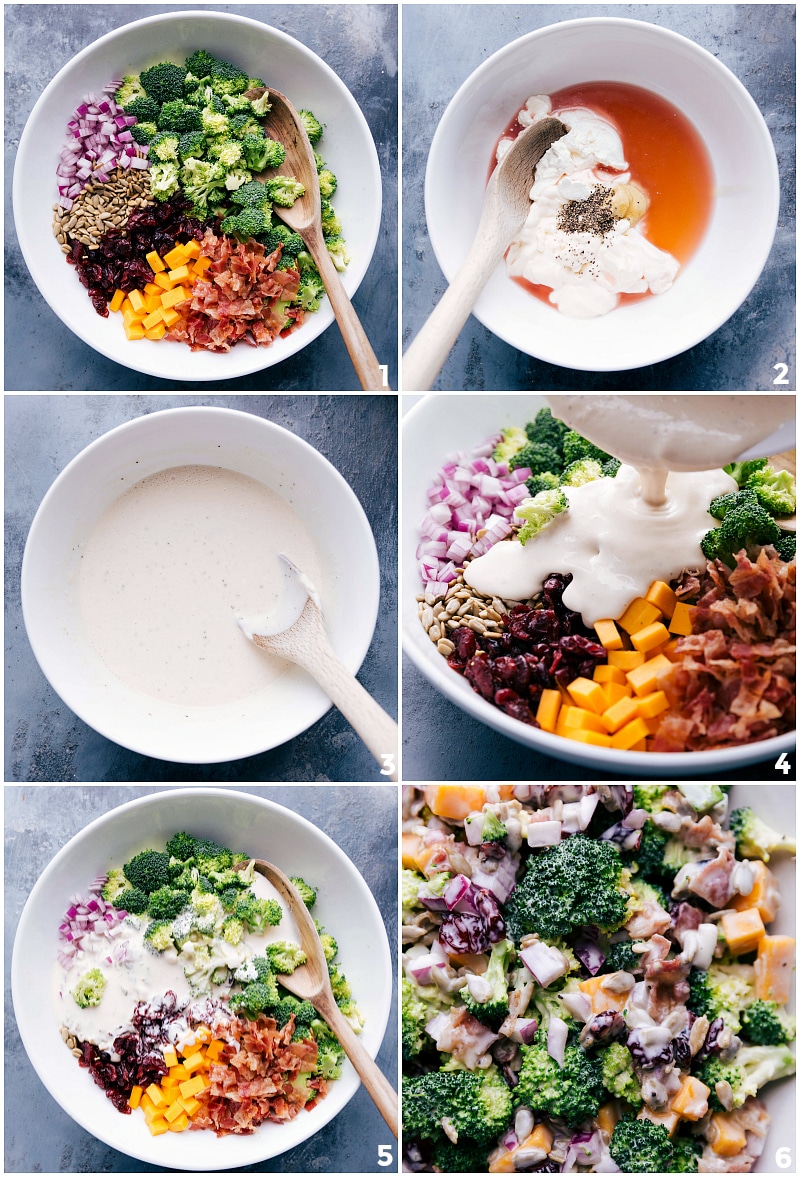 Salad tips
Use dry roasted, salted sunflower seeds. The roasted and salted sunflower seeds are much more flavorful than plain.
Let the salad sit and chill. Before you serve the salad, chill it in the fridge. This gives the broccoli a chance to become a bit more tender and soak in some of the dressing. If chilling, keep the bacon and sunflower seeds out so they can be tossed in right before serving. Serving it right after making it will also work.
How long does Broccoli Salad last?
We like this salad the same day it's made, but it will last 2 days, covered tightly and stored in the fridge. If storing the salad and dressing separately, it can last up to 4 days (Store bacon and sunflower seeds separately so they keep their crunch).
Broccoli Salad goes with…
If serving this salad for a potluck, here are some other great dishes to accompany it:
More potluck salads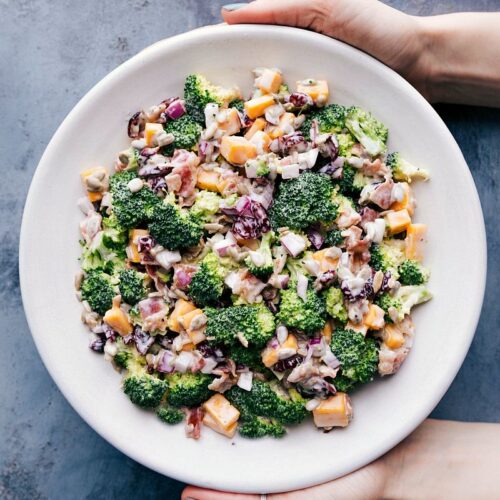 Broccoli Salad
Broccoli salad has broccoli, cheese, bacon, sunflower seeds, and dried cranberries. The salad is dressed with a creamy mayo-based dressing that is naturally sweetened and loaded with flavor.
Ingredients
5-6

cups

broccoli florets

1

cup

sharp cheddar cheese,

cut into small cubes

1/2

cup + 2 tablespoons

dried cranberries

10

slices

center cut bacon,

cooked and crumbled

1/2

cup

salted sunflower seeds (no shells)

1/3

cup

diced red onion

Note 1
Dressing
3/4

cup

full-fat mayonnaise

1/4

cup

sour cream

1

teaspoon

Dijon mustard

1 and 1/2

tablespoon

red wine vinegar

3

tablespoons

honey

1

tablespoon

freshly squeezed lemon juice,

optional

Salt and pepper
Instructions
BROCCOLI: Remove the stems from the broccoli and cut into small bite-sized pieces.

SALAD: Combine the chopped broccoli, 1 cup cubed cheddar cheese, 1/2 cup + 2 tablespoons dried cranberries, and 1/3 cup diced red onion (See Note 1).

DRESSING: In a separate small bowl, whisk together the dressing ingredients: 3/4 cup full-fat mayo, 1/4 cup sour cream, 1 teaspoon Dijon mustard, 1 and 1/2 tablespoons red wine vinegar, 3 tablespoons honey, and 1 tablespoon lemon juice. Season to taste with salt and pepper. Whisk until smooth.

DRESS SALAD: Combine the dressing with the salad. Cover and chill for 30 minutes to 1 one hour. Toss again after chilling.

FINISHING: Right before serving add the cooked and crumbled bacon and 1/2 cup sunflower seeds. Toss and serve.

STORAGE: Salad is best eaten the same day it is made.
Recipe Video
Recipe Notes
Note 1: To remove the "bite" of the red onion: peel and dice the red onion and then submerge the pieces in a bowl of cold or ice water. Let sit for at least ten minutes, stirring once or twice, before draining and using in this salad.