Roasted sweet potatoes and black bean tacos served with a delicious cilantro-lime sauce — these are the BEST easy vegetarian tacos!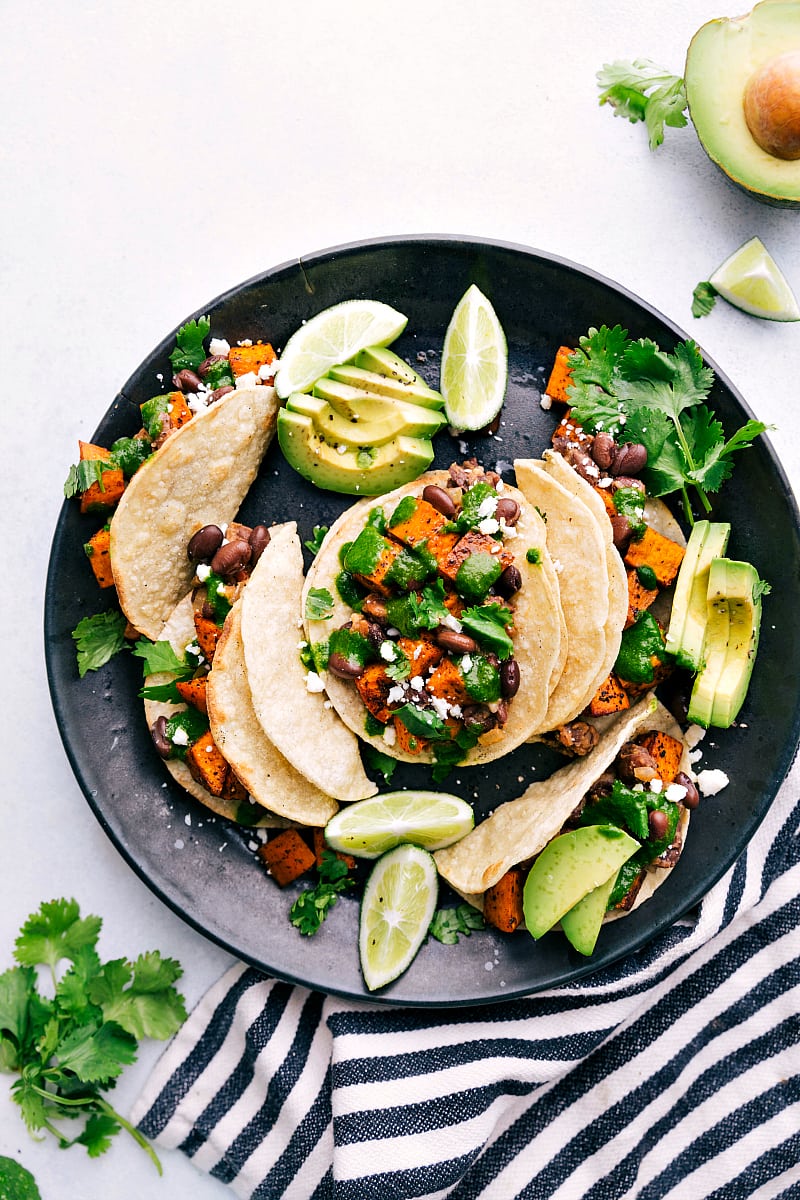 Vegetarian Tacos
I was hosting a party last week where I had planned to make these amazing sweet pork tacos and then got a few late RSVPs from vegetarian guests. I had already bought a lot of the ingredients, so I still made the pork and then served it with a few extra veggie additions. As everyone dished up and we created our own tacos (some meat-filled and some meat-less) these delicious vegetarian tacos with black beans were born and immediately obsessed over.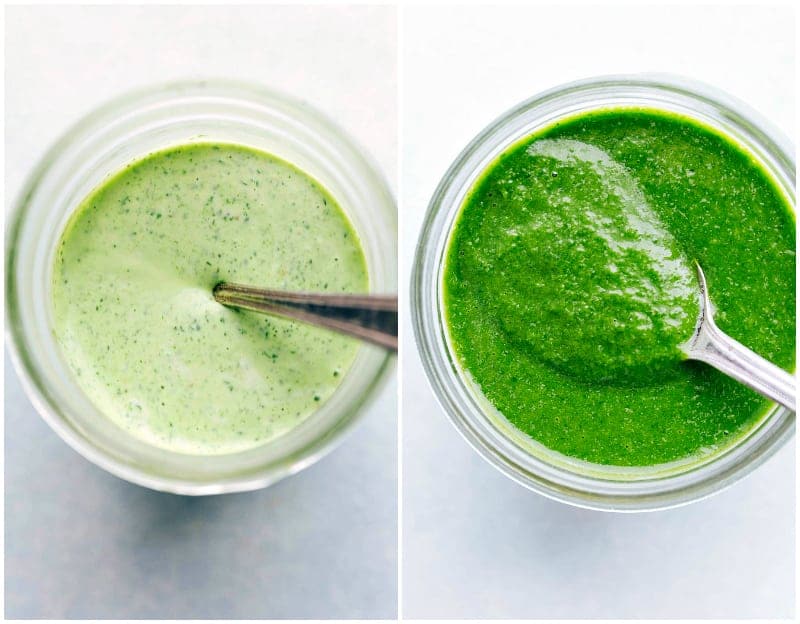 How to make these sweet potato and black bean vegetarian tacos:
Sweet potatoes: Peel and chop the sweet potatoes into bite-sized pieces. Toss the potatoes with olive oil and seasonings, then spread the sweet potatoes evenly on a sheet pan. Cook for about 20 minutes, then mix them around and cook for an additional 5-10 minutes.
Black beans: While the sweet potatoes are cooking you can prepare the black beans. Begin by chopping an onion and sautéing it in olive oil for 3 minutes. Then add in the garlic and stir for 30 more seconds. You can then add in the drained and rinsed black beans, salsa, and spices. The mixture should simmer for about 5 -10 minutes, stirring occasionally. Slightly mash half of the beans for a unique texture that helps hold everything together. (If desired, you can make these vegetarian tacos with kidney beans instead!)
Dressing: The dressing is as easy as it is delicious! Simply put all the ingredients (except the sour cream) into a blender until combined and smooth. Then pulse or whisk in the sour cream. Taste and adjust to your personal preferences, adding more salt/pepper, garlic, etc.
Tortillas: While you can also warm up your tortillas in the oven or on a skillet, if you have a grill, I would recommend grilling them. See below in the post for more information on how to grill your tortillas to perfection!
What to top these easy vegetarian tacos with:
One of my favorite parts of these vegetarian tacos recipe with black beans is the toppings! Here are my favorite toppings that make these black bean tacos even more amazing:
Cheese: I prefer queso fresco or feta, but a sharp cheddar would also be delicious.
Fresh lime: I usually cut a few limes into sixths. This allows people to squeeze as much or as little lime onto their black bean tacos, depending on how much of a citrus kick they're looking for.
Fresh cilantro: I get a small bunch of cilantro (you can use what's left from making the dressing) and cut off the stems and it's ready to go! If you prefer smaller bits of cilantro, you could also chop it up into small pieces that you can sprinkle on.
Fresh avocado: This gives these roasted veggie tacos an extra creamy element that is absolutely delicious!
Sour cream: Use low fat or fat free sour cream if you're looking for a lower calorie meal.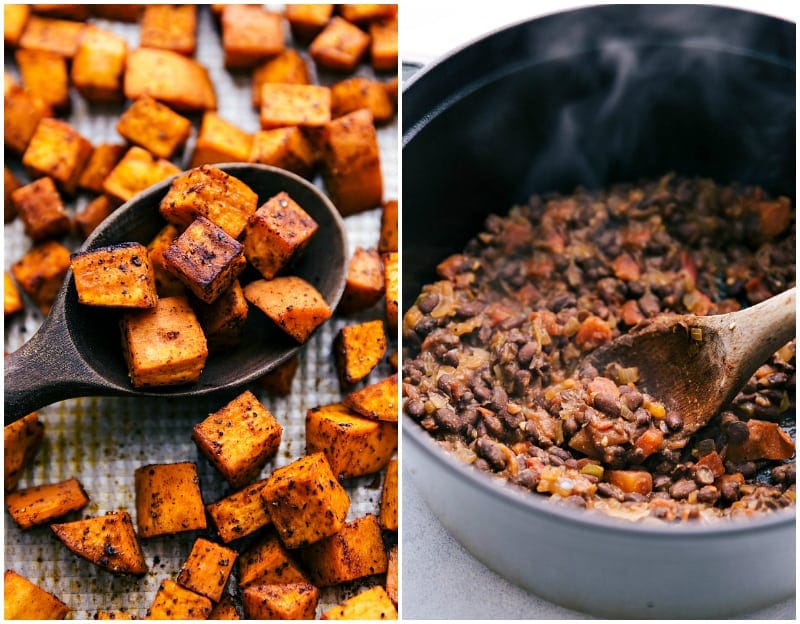 How to meal prep this vegetarian taco recipe:
Get 4 equal-sized meal prep containers, and 4 extra-small containers for the dressing. (You'll want to store the dressing separately to avoid the tacos getting "soggy.") You can buy bulk dressing containers, use tiny (dressing-sized) Tupperware containers, or even use small snack-sized plastic bags.
Prep the different components. Make the black beans, sweet potatoes, and dressing. Separate the black beans and sweet potatoes equally into the 4 meal prep containers. Pour the dressing equally into the 4 smaller containers
Keep the taco "fixins" separate. Keep the tortillas (replacing tortillas with rice may be better for meal prepping), limes, and cheese portioned separately from the containers. Prepare the avocado fresh each day.
Your meal prep should look something like this: Black beans on the left, sweet potatoes in the middle, and the dressing in a separate container on the right. Next to the dressing you could place your toppings (each of which should also be kept separate from one another using snack-size plastic bags). The tortillas can be placed on top (inside the container if there's room or outside if there's not) and should also be kept in their own plastic bag. If you choose to replace the tortillas with rice, you can place the rice directly underneath the black beans and sweet potatoes.
Fun ways to switch up these tacos:
An easy and fun why to switch this meal up is to serve it over rice. I especially like this options when meal prepping!
Another way you can switch it up is by using different dressings. I personally like the one I have in the recipe best (2nd photo; dressing on the left), but the dressing in the taco pictures were also a crowd favorite! The dressing in this recipe is super creamy and delicious, and the recipe in the taco pictures is a healthier, good-for-you dressing that is still equally delicious and easy to make.
Here's the cilantro-lime dressing recipe as an alternate to the one shared in the recipe box: 1 roughly chopped shallot, 2 cups tightly packed fresh cilantro leaves, 1 teaspoon minced garlic, 2 tablespoons red wine vinegar, 1 tablespoon fresh lime juice, and 1/2 cup olive oil. Add all the ingredients except the olive oil and pulse in a blender until combined. Once it is all combined, add olive oil and pulse once quickly until combined. (Over mixing olive oil can create a metallic taste, so it is important to add the olive oil in last.) Season to taste with salt and pepper (I use about 1 teaspoon salt and 1/4 teaspoon pepper).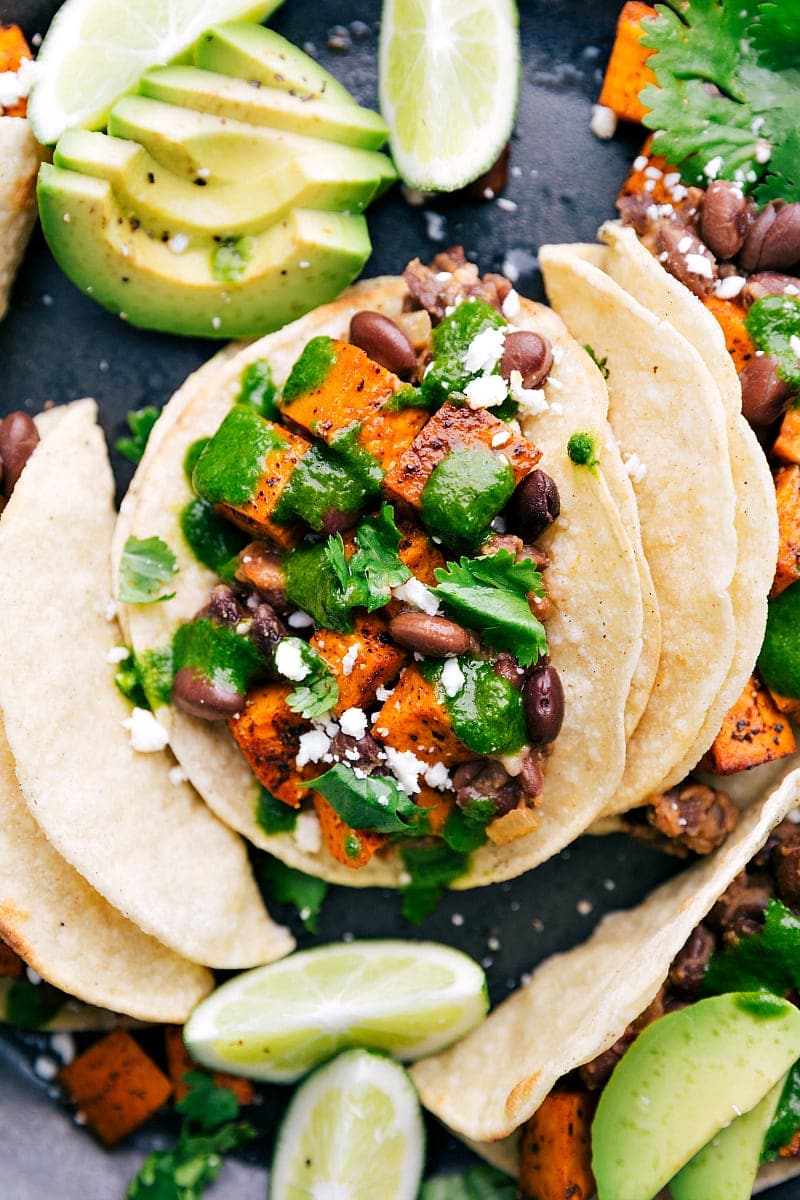 How to grill tortillas:
Preheat a grill to medium-high heat (about 450 degrees F.) Generously oil the grill (I drench a rolled-up paper towel in vegetable oil and, holding it with tongs, rub it over the grill grates.)
Spray both sides of the tortillas with cooking spray, lightly sprinkle with salt, and then place on the grates for 30-45 seconds, flip and leave on for another 30-45 seconds. Remove and immediately fold into taco shape and set aside to slightly cool.
More Delicious Vegetarian Meals: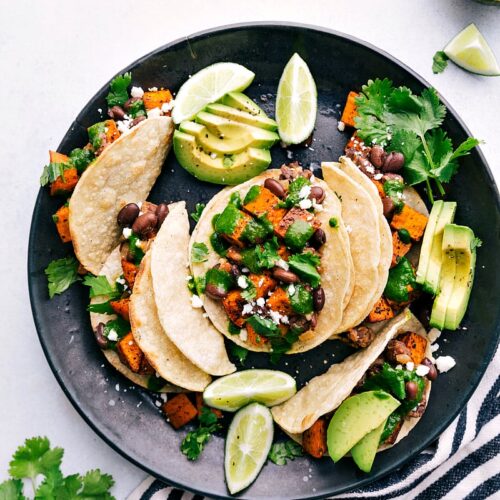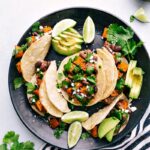 Sweet Potato and Black Bean Tacos
Roasted sweet potatoes with black beans served with a delicious cilantro-lime sauce
Keyword:
easy vegetarian tacos, vegetarian, vegetarian tacos
Ingredients
Sweet Potatoes and Black Beans
4 and 1/2

cups (1.5 pounds total or about 2-3 large potatoes)

sweet potatoes,

peeled and chopped into small pieces

1 and 1/2

teaspoons

chili powder,

separated

1/2

teaspoon

paprika

3

tablespoons

olive oil,

separated

Fine sea salt and freshly ground black pepper

1

small (2/3 cups)

yellow onion,

chopped

1/2

teaspoon

minced garlic

2

(14.5 ounces EACH) cans

black beans,

drained and rinsed

1

cup

mild salsa

1 and 1/2

teaspoon

ground cumin
Tacos
Street Size corn or flour tortillas

OR skip the tortillas and serve over cilantro lime rice!

Fresh avocado, lime, and cilantro, for topping

Optional: queso fresco or feta cheese
Dressing*
1

lime,

juiced and zested

2

tablespoons

prepared ranch seasoning mix dry

1/2 - 1

teaspoon

minced garlic

1

tomatillo,

husk removed and coarsely chopped

1/3

of a large bunch of cilantro

1/2

a jalapeno,

seeds removed for mild and left for spicy dressing

1/2

cup

regular full fat mayo

1/2

cup

sour cream (I use fat free)
Instructions
Sweet Potato/Black Beans
Preheat the oven to 425 degrees F. Peel the sweet potatoes and chop into bite-sized chunks. Toss the potatoes with 1 teaspoon chili powder, 1/2 teaspoon paprika, salt and pepper (I use 1/2 teaspoon of each), and 2 tablespoons olive oil. Toss and spread evenly on a sheet pan. You don't want potatoes overlapping each other or they'll steam instead of roast, so use 2 sheet pans if needed.

Place the potatoes in the oven for 20 minutes. Remove from oven, toss around and return for another 5-10 minutes or until crisp tender.

Meanwhile, prepare the beans. In a medium saucepan, add the remaining 1 tablespoon olive oil. Add in the chopped onion and saute for 3 minutes over medium high heat. Add in the garlic and stir for another 30 seconds. Add in the drained and rinsed black beans, salsa, remaining 1/2 teaspoon chili powder and cumin. Simmer mixture for about 5 -10 minutes, stirring occasionally. Slightly mash half of the beans if desired.
Dressing
Zest and juice 1 lime. Add the juice and zest to the blender along with the prepared ranch seasoning mix, minced garlic, chopped tomatillo, and cilantro (Just cut off the large stems, but the rest is fine).


Add 1/2 a jalapeno (a full one for more kick) and the mayo. Add some seasoned salt and pepper to taste (I use around 1/4 to 1/2 teaspoon of salt and 1/8 teaspoon pepper).

Blend until completely smooth. Taste and adjust to personal preference (more lime, more garlic, salt/pepper)


Whisk or blend in the sour cream. Store in the fridge until ready to serve over the tacos!

Assembling the Tacos
To make the tacos: grill or warm the tortillas (see post for how to grill tortillas) and top with the black bean mixture, followed by the roasted sweet potatoes. Add the sauce and any other additional toppings: fresh lime juice, additional fresh cilantro, and fresh avocado! Add cheese to the tacos if desired. Enjoy while hot!
Recipe Notes
*We made these tacos with the choice of two dressings (see 3rd picture in the post). Everyone loved both dressings, but the one I'm sharing today was the winner! If you want to make the dressing pictured on these tacos (the dark green one), you can find that alternate recipe in the post!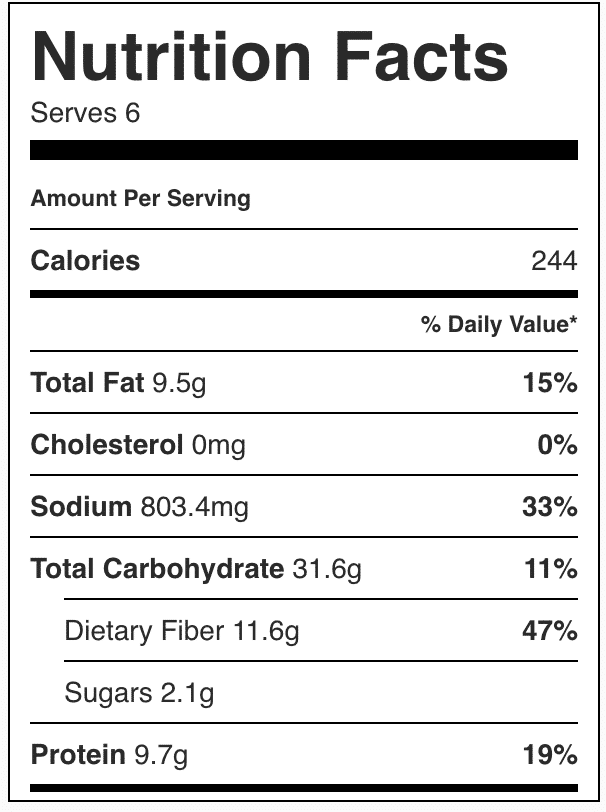 Nutrition Facts are for the roasted sweet potato and black beans (dressing and tortillas not included.)