Hearty, delicious, and veggie-packed spaghetti bolognese is slow cooked to perfection in the crockpot. This spaghetti bolognese is elegant enough to serve for company or can be simplified for an easy weeknight meal. A few ingredients including fire-roasted tomatoes, ground Italian sausage, and the perfect seasonings puts this bolognese over the top!
Pair this spaghetti bolognese with an easy Italian salad, simple bruschetta, or roasted brussel sprouts.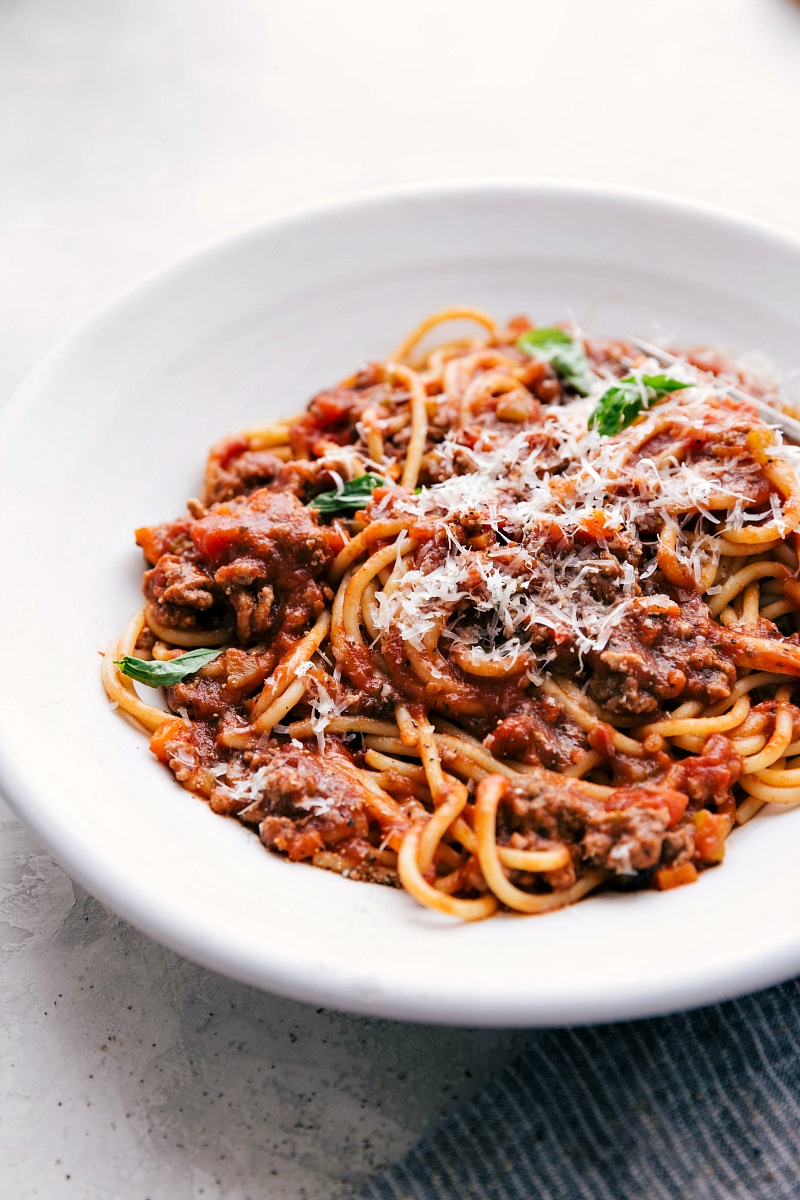 Without question, my oldest boy's favorite meal is spaghetti. I'm convinced he could eat it for every single meal if I let him (and yes, that includes breakfast). And while I love making a good homemade marinara sauce, I usually just give him the plain, canned marinara sauce without any veggies or meat to the mix. But after this beef ragu was such a hit among my boys, (my husband claims it's his favorite meal) I thought I'd give a hearty bolognese sauce a go for a change.
And now, this recipe is the result of my kitchen experimenting! And in case you were wondering, my oldest boy LOVES it.
One thing I'll note about this recipe is that it makes quite a bit of spaghetti bolognese. I did this on purpose since it can take some time to make, and I wanted to make it worth my while. The good thing is that the leftovers will keep, and I've found that we easily finish the bolognese in a couple of days by using the leftover sauce in different recipes (more on this later!) That said, you can easily half this recipe and it will turn out perfectly!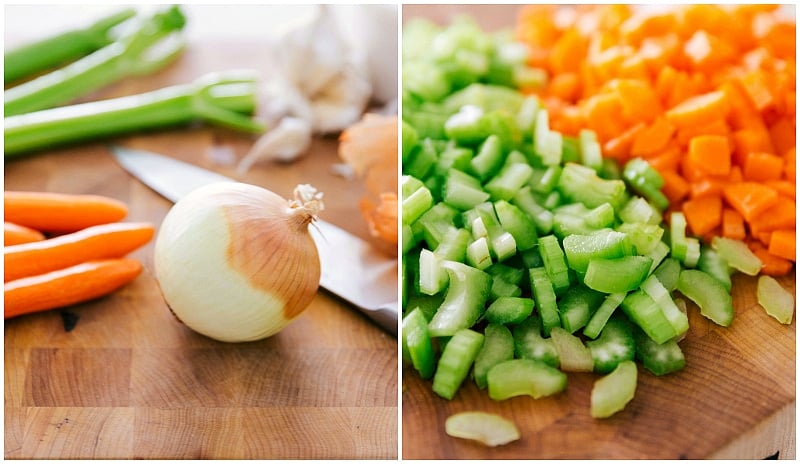 So first things first;
What is the difference between bolognese sauce and spaghetti sauce?
The main difference between this bolognese sauce (American-ized) and marinara (spaghetti) sauce is simply the meat. Marinara sauce is typically made with just tomatoes, olive oil, garlic, and herbs. A bolognese sauce generally includes meat, other liquids (usually wine and milk or cream), tomato, and soffritto (onion, carrot, celery). Bolognese sauce is generally found on pasta and in lasagna.
While I'm not claiming any authenticity on this recipe, it is adapted from a collection of recipes I was given after a cooking class I attended in Italy (more on that here!)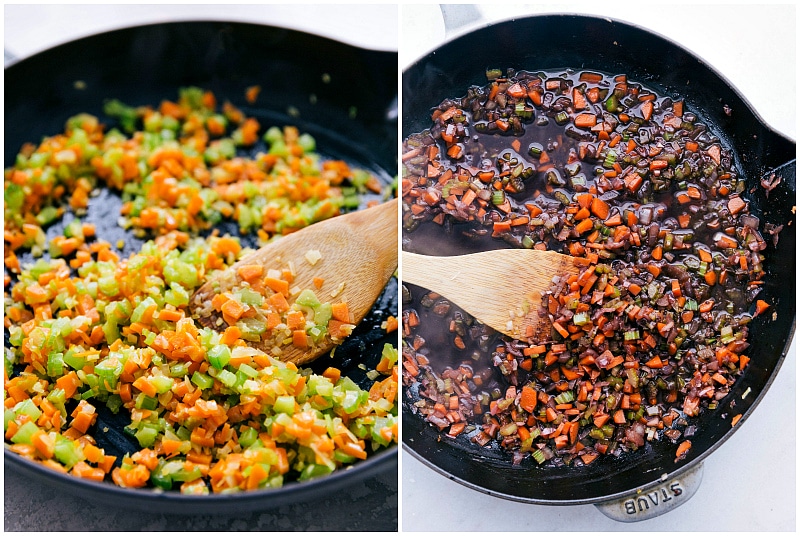 Ingredients used
In Italian cuisine, celery, onion, & carrots chopped and then slowly cooked in olive oil becomes soffritto. Soffritto is used as a base for a lot of pasta sauces. Adding these three vegetables to this bolognese sauce is also a great way to add in some "hidden vegetables" making this sauce more nutritious – and perfect for picky eaters!
Ground beef AND ground sausage: I love these two ground meats together. The sausage adds a lot of flavor and juiciness. Using only sausage tends to overpower the simple flavors of this sauce.
The one ingredient that makes a huge addition to this dish is the crushed tomatoes. I've tried a few different brands and my favorite for this sauce is Muir Glen Organic fire-roasted crushed tomatoes (not sponsored, just a fan!) You can see the picture of these tomatoes below this text. I like the fire-roasted variety for a greater depth of flavor.
Grape juice: This is admittedly a strange ingredient, but I use it in place of wine which is typically used in a spaghetti bolognese sauce. While wine can be cooked off, I wanted to share the version I feel most comfortable making for my kiddos. Plus, the grape juice is sweet and does a great job balancing out the acidity of so many tomatoes! It is absolutely fine to use wine or even beef stock/broth instead of the grape juice.
Cream: bolognese generally has cream or milk in it, but in testing, I liked the sauce best without the cream (plus it's healthier without the cream!) However, if you do want to add cream to this recipe, I'd add 1/2 cup heavy cream. Stir it in right before serving.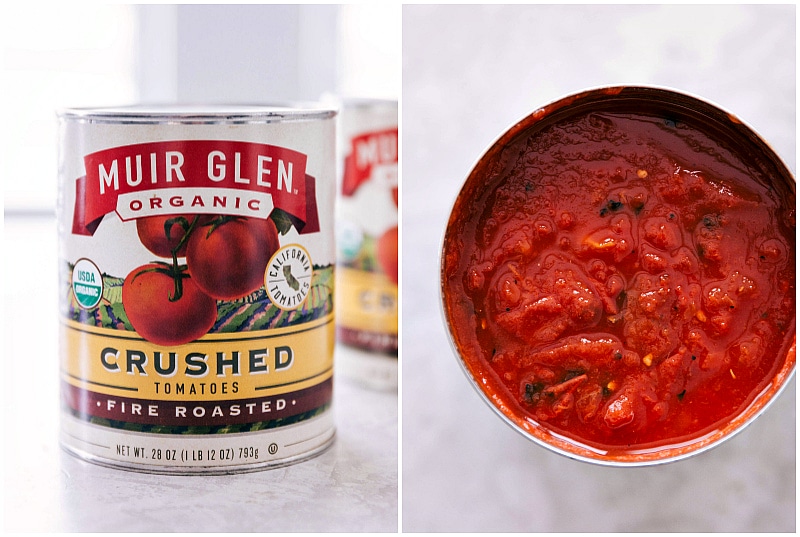 Tips for this recipe
Add sugar if needed: depending on the brand of tomatoes you use (and if you opt to use the beef stock/broth or wine instead of juice), you may need a few teaspoons of white sugar to counteract the acidity. Taste and adjust to preference.
Go light on the salt: This recipe uses reserved SALTED pasta water, bouillon cubes, and salty parmesan cheese. These ingredients provided just the right amount of salt seasoning for me. Of course you can always add a bit more salt if you prefer a bit more salt in your food.
Emulsify the pasta: the final step of tossing the meat with reserved pasta water and hot pasta is one of the "secrets" to Italian pastas. It's called emulsifying and that's how you get a luxurious sauce that coats every bit of pasta. More info here
How to simplify this recipe
Halve the recipe: You can easily halve all the ingredients in this recipe to make a smaller batch of spaghetti bolognese. (See below for other recipes you can use leftover bolognese sauce in).
Use a food processor: Chop the onion, carrot, and celery in a food processor! While a bit less precise, it will get those veggies chopped very quickly!
Skip emulsifying the pasta: To simplify this dish a bit, simplify spoon sauce over the cooked pasta and skip emulsifying.

How to use leftover bolognese sauce
I love how much sauce this recipe makes because I can use the sauce in other recipes during the week. (OR we save the leftover in our freezer for later use) Here are some of the ways we've used leftover sauce:
Stuffed Shells: We use 3 cups of this bolognese sauce on top of this stuffed shells recipe. (Use this spaghetti bolognese sauce in place of the marinara. Pour 1/2 cup below the shells and 2 and 1/2 cups on top.)
Spaghetti Squash: For a veggie-packed meal, I've added a few heaping spoonfuls on top of a roasted spaghetti squash
In Lasagna or Lasagna roll-ups: I've used this sauce in my skillet lasagna and it was a HUGE hit and very easy to assemble. (You'll need about 6 and 1/4 cups for the skillet lasagna.)
Stuffed Peppers: mix some cooked white rice with a few cups of this sauce. Bring a large pot of water to a boil and cook bell peppers for 5 minutes; remove and drain well. Place about 1/2 cup of this bolognese sauce on the bottom of a 9 x 13 pan and then fill up peppers with the rice/bolognese mixture. Top with 1 cup of marinara, cover with foil and bake for 35 minutes at 350 degrees F. Uncover, add 1 cup of shredded mozzarella on top and bake for another 5-10 minutes (until peppers are tender and cheese is melted).
Italian "Sloppy Joes": pile a few spoonfuls of the sauce on top of some crusty rolls, top with mozzarella cheese, and broil for 1-2 minutes in the oven.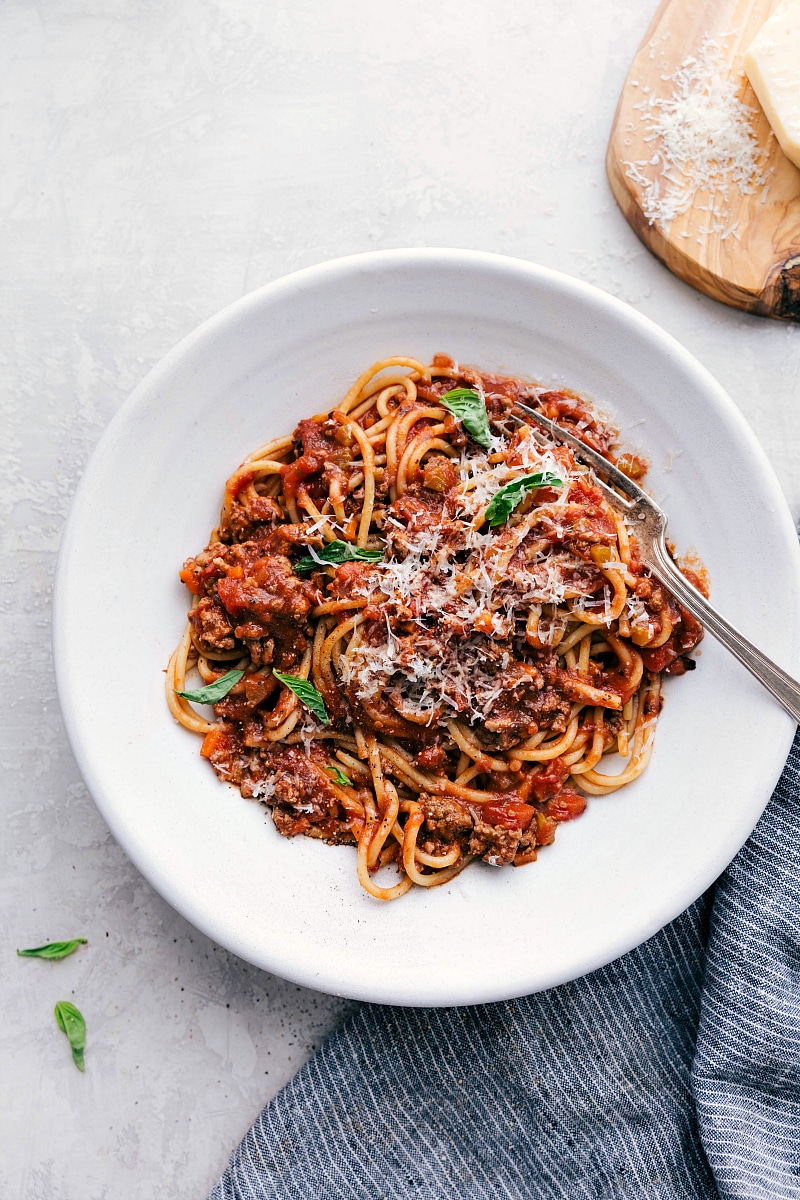 Sides for spaghetti bolognese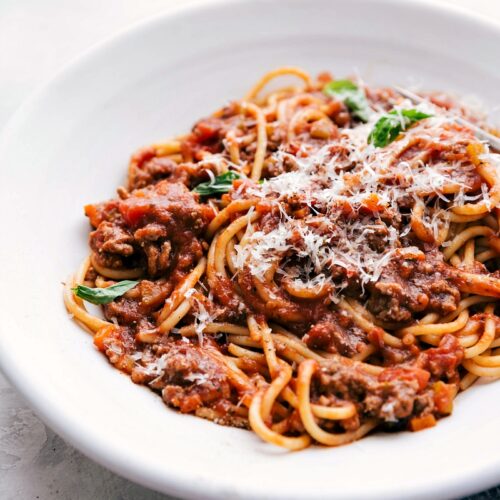 Spaghetti Bolognese
Hearty, delicious, and veggie-packed spaghetti bolognese is slow cooked to perfection in the crockpot. This spaghetti bolognese is elegant enough to serve for company or can be simplified for an easy weeknight meal. A few ingredients including fire-roasted tomatoes, ground Italian sausage, and the perfect seasonings puts this bolognese over the top!
Keyword:
Spaghetti Bolognese, Spaghetti Bolognese recipe
Servings
:
12
servings (Note 2)
Ingredients
2

tablespoons

olive oil,

separated

1

pound

lean ground beef

Fine sea salt and freshly cracked pepper

1

pound

ground mild Italian sausage (OR use ground pork)

3

cups

mirepoix (finely diced yellow onion, carrot, celery - Note 1)

4

cloves

garlic,

minced (reduce if sensitive to garlic)

1

cup

100% pure grape juice

(OR beef broth/stock)

2 cans

(28 ounces EACH)

fire-roasted crushed tomatoes

(I highly recommend Muir Glen or Cento)

1/4

cup

tomato paste

1

tablespoon

Worcestershire sauce

3

bay leaves

1

teaspoon EACH:

dried thyme, dried basil, dried oregano

2

large

beef bouillon cubes

1/2

cup

water

2

packages (16 ounces EACH)

thick spaghetti (Note 2)

Freshly grated Parmesan cheese

Optional: freshly chopped parsley or basil
Instructions
Add 1 tablespoon oil to a large deep skillet over high heat. Once oil is shimmering, add in the ground beef. Season to taste with salt and pepper. Brown the beef, crumbling and breaking it up as you stir. Drain off fat and add meat to a crockpot. Put the pork OR sausage onto the same skillet you cooked the beef with. (If you add sausage you'll likely need to add a tablespoon of oil) Brown the meat, crumbling as you go. Again, drain off any rendered fat and add meat to the crockpot (the reason we separate browning both types of meat is to keep from stewing the meat which helps a lot in the final texture and flavor).

Add last tablespoon of oil to the same skillet, reduce the heat to medium low, and add in the finely diced onion, carrot, and celery. Cook, stirring occasionally, for 3 minutes. Add in the garlic and continue to cook, stirring occasionally for an additional 5-7 minutes until vegetables are softened and straw colored (you don't want to brown the veggies; reduce the heat if they start browning).

While the vegetables are cooking, add the crushed tomatoes, tomato paste, Worcestershire sauce, bay leaves, thyme, basil, oregano, bouillon cubes (crumble them up), and water to the crockpot.


Return to the vegetable mix and turn up the heat to high. Pour in the grape juice or beef stock and bring to a boil. Scrape any browned bits from the skillet. Once boiling, reduce the heat and simmer over medium low heat for 3 minutes or until reduced by half. Remove from heat and dump into the crockpot. Stir everything together.


Cover crockpot and cook on low for 5-6 hours. Stir occasionally if possible. Once finished, taste and adjust salt and pepper to personal preference. Also taste for sourness -- if you use high-quality tomatoes and the grape juice, it shouldn't be sour. On occasion, however, you might need to add a teaspoon or so of white sugar to balance out the acid.

Near the end of the crockpot cook time, follow package directions to cook the spaghetti to al dente. Remove about 1 cup of the pasta water.

Two ways to serve: either emulsify the pasta: (authentic way; see direction #9) OR just spoon the sauce over the al dente noodles.

Garnish with fresh chopped parsley or basil and freshly grated Parmesan cheese as desired.

To EMULSIFY: Bring a large pot of salted water to boil. Follow package directions to cook the pasta but DON'T DRAIN (yet!) Scoop out a cup of pasta cooking water and set aside. Now, you can drain the pasta. In that same pot used to cook the pasta (less dishes!) add half of the bolognese sauce. Add hot drained pasta right on top. Toss the pasta and sauce gently for a couple of minutes, slowly adding the reserved pasta water as needed until the sauce thickens and generously coats the noodles. (I usually only use about 1/2 cup of reserved pasta water, but it varies depending on a lot of factors, so add just enough until you have a thick rich sauce coating the noodles).
Recipe Notes
Note 1: Very finely chop vegetables to get 1 cup of each which is about: 2 stalks celery, 1/2 of 1 large yellow onion, and 2 large carrots.
Note 2: This batch of bolognese makes enough for 2 batches of spaghetti meals (about 10-11 cups total of sauce). I like making more bolognese because it's easy to make all at once, easy to freeze, and/or repurpose into other meals. I like using half of the bolognese with spaghetti one night and then for another meal a different night OR freezing the other half for an easy dinner down the road. (See the text above this recipe for several of our favorite ways to repurpose this sauce!)