A delicious and healthy mediterranean pasta salad with arugula, veggie, and chicken salad with the best lemon vinaigrette! (Vegetarian Option)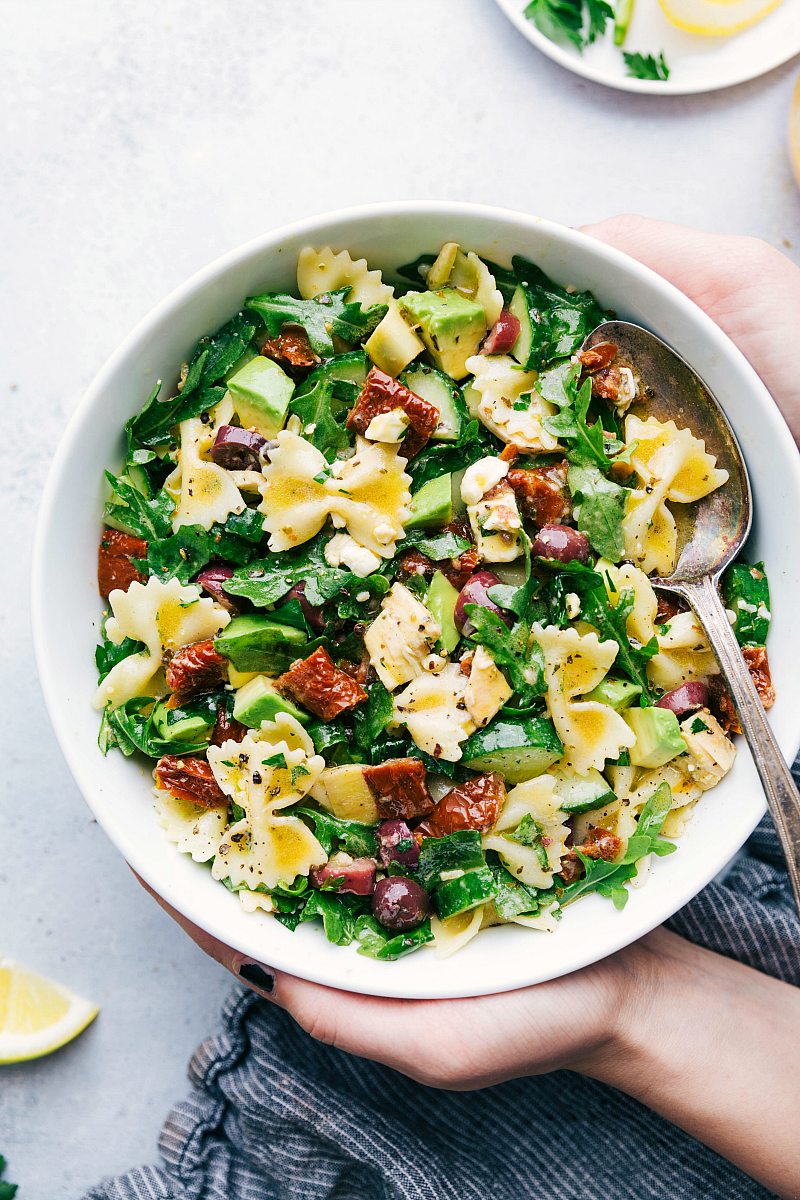 Several weeks ago, on a girl's Bunco night, we were served a delicious Mediterranean pasta salad and ever since then I have not been able to stop thinking about it! So many of my favorite ingredients – sundried tomatoes, pasta, kalamata olives, parsley, and arugula…
And since I can't get it out of my mind, I had to create my own take/twist on that recipe! I've added a few more of my favorite ingredients: avocado (I'm thinking you aren't surprised with this one!), cucumbers, rotisserie chicken, and feta cheese. I couldn't quite remember the dressing my friend used on her salad but it tasted light and fresh, so I've used a favorite here on the blog (this lemon vinaigrette from this sweet potato quinoa salad) and tweaked it slightly to pair perfectly with this salad. Picking a favorite pasta salad I've shared on this site feels akin to picking a favorite child, but I do have to say this one ranks pretty up there.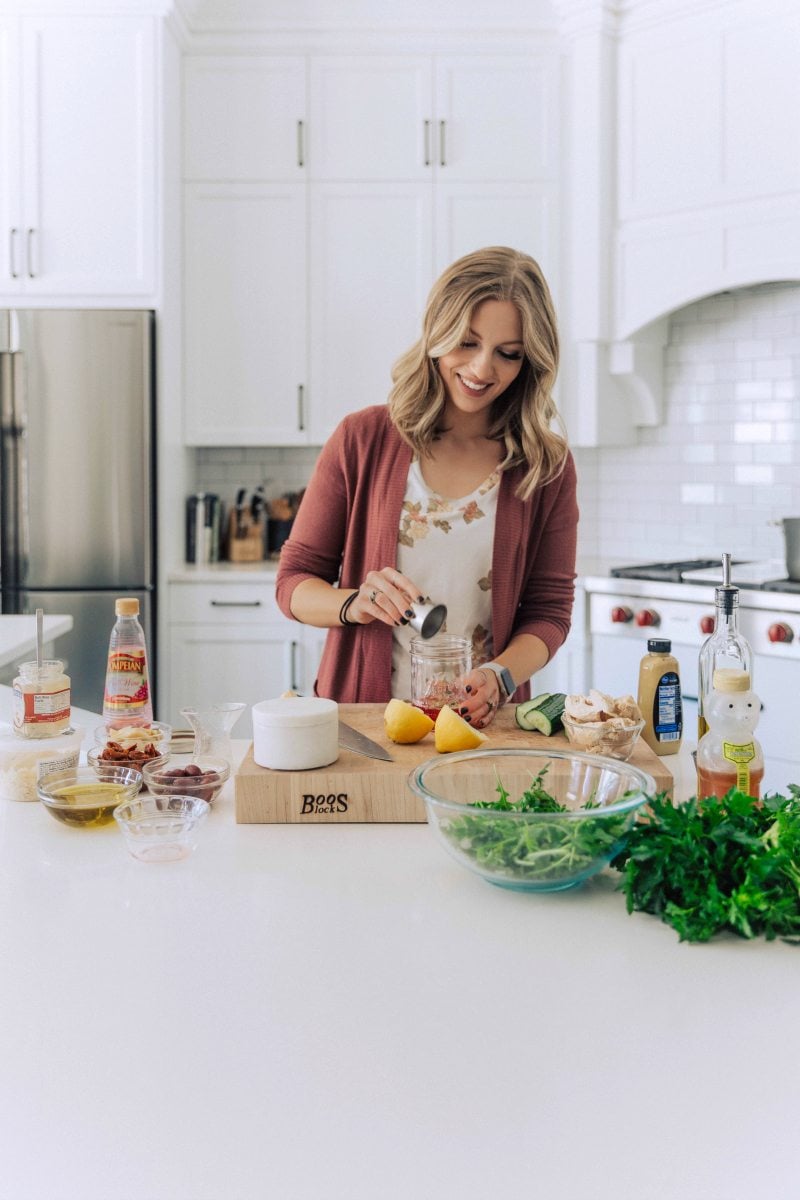 A few notes on this mediterranean pasta salad:
Grab a pasta that has a lot of ridges: I like using a pasta that has a lot of ridges and texture as it allows for the dressing to coat it better and get into all the nooks and crannies leaving you with a more flavorful pasta salad!
Add your favorites! This mediterranean pasta salad is LOADED with lots of ingredients. If you aren't a fan of some (or even a few) of the ingredients, leave them out and simply increase the quantities of the other salad additions. This salad is very easily customizable and you can make it exactly how you'll love it!
This salad has some chopped rotisserie chicken in it, but you can easily leave it out to make this salad vegetarian. Alternatively, you can cook your own chicken or use some chopped leftover grilled chicken to add some extra protein to the salad.
Use good quality jarred ingredients. The jarred artichokes, olives, and sun-dried tomatoes can be meh or really great depending on the brands you buy. I highly recommend DeLallo's (not sponsored, I just love their products) sun-dried tomatoes and oil packed artichokes for this salad. You also want to make sure you get the sun-dried tomatoes that are packed in oil and not the sun-dried tomatoes in a packet.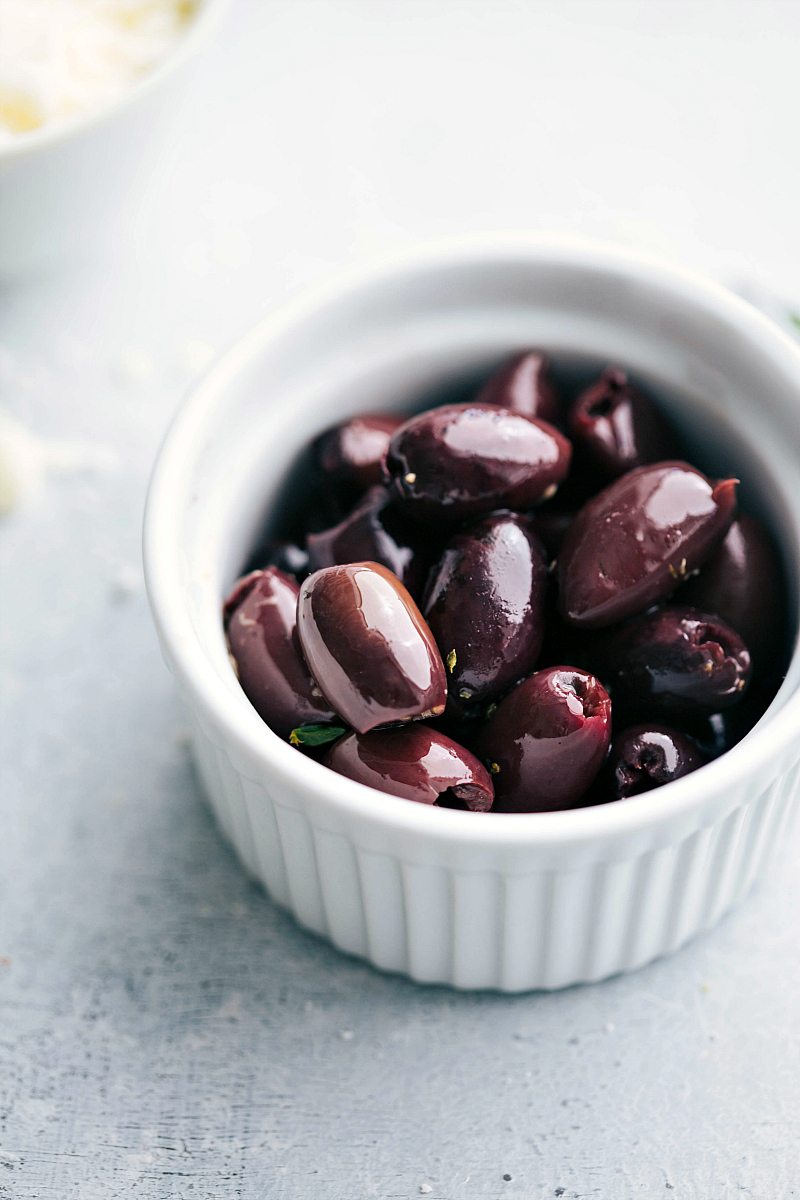 Can you make this Mediterranean Pasta Salad ahead of time?
Short answer: YES! Longer answer: It actually sits really well as long as the avocado, feta cheese, and dressing aren't added initially. Store the salad separate from the avocado, feta, and dressing and add those three ingrdients right before serving for a fresh and delicious salad!
I like to keep all of the dressing ingredients in a mason jar and then add the dressing RIGHT before serving. Dress this salad to taste as the dressing recipe does make a lot (I'm a fan of a heavily dressed pasta salad!)
Can I meal prep this Mediterranean Pasta Salad?
Yes! This salad is best eaten within 3-4 days but it does meal prep really well if you keep the dressing, avocado, and feta cheese separately. If I meal prep with this salad, I'll divide the salad into 3-4 equal parts and then put the dressing and cheese in small separate containers to be added right before eating. As far as the avocado, I'll usually separate it in 3-4 parts and keep each part in a plastic bag. Pro Tip: squeeze on some lemon juice on the exposed side of the avocado and keep in the fridge until you add it to the salad!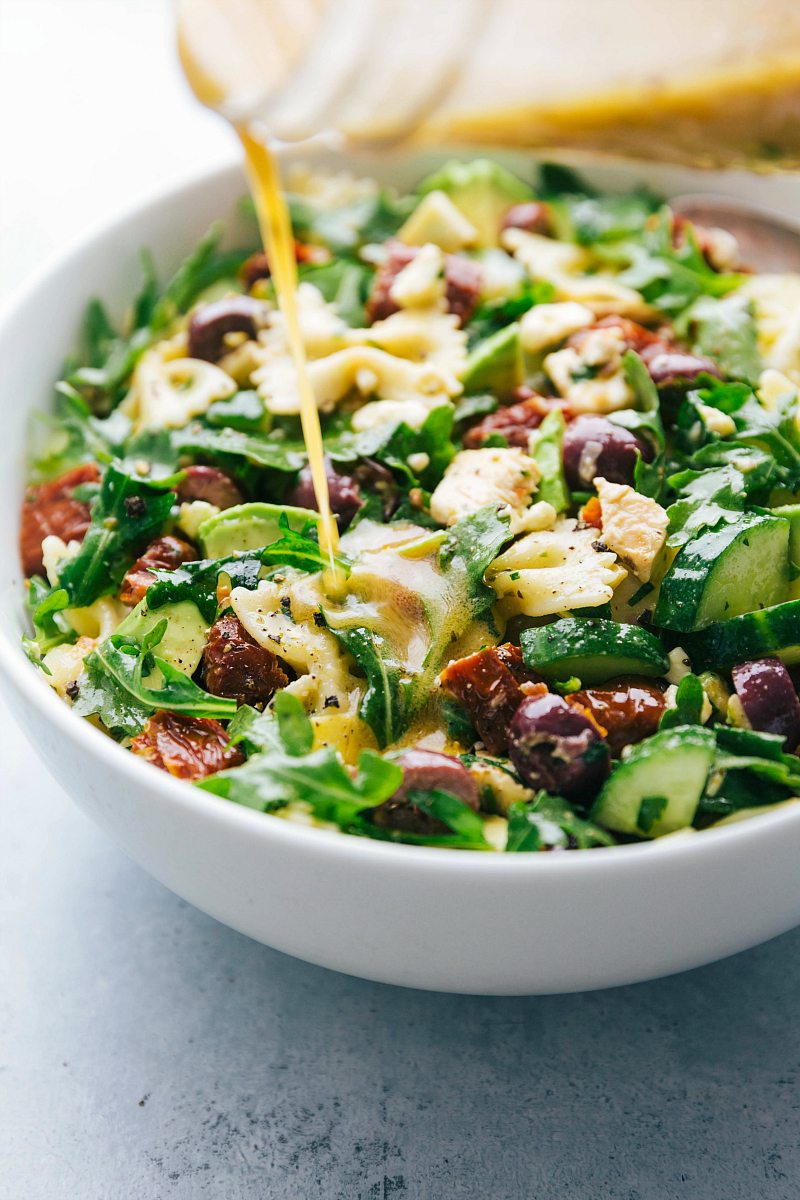 Can I make this Mediterranean Pasta Salad for a crowd?
This recipe easily doubles, triples, etc. It scales really well either to increase or decrease the quantities! Simple divide or times the ingredients by the amount of people you want to feed with this salad.
As a meal, this salad serves 4 and as a side it serves 8.
Is this Mediterranean Pasta Salad Healthy?
With a healthful dressing (no mayo or sour cream in this dressing) and plenty of vegetables I'd say this pasta salad is much healthier than most pasta salads you'll see floating around the internet! Although olive oil and avocados are high in fat and calories, they are good-for-you ingredients and contain healthy fats your body needs!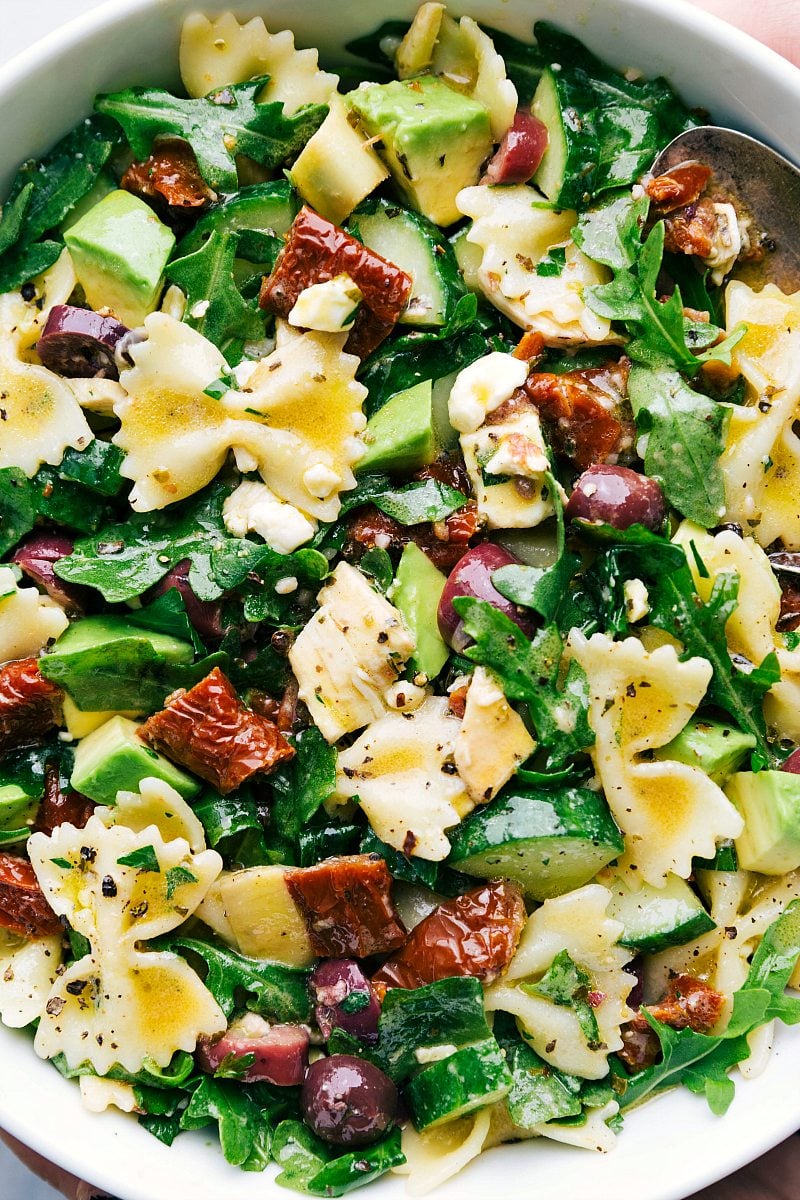 More Pasta Salads:
Mexican Street Corn Pasta Salad (READER FAVORITE)
For more delicious recipes, follow along on Pinterest, Instagram, Facebook, and YouTube ?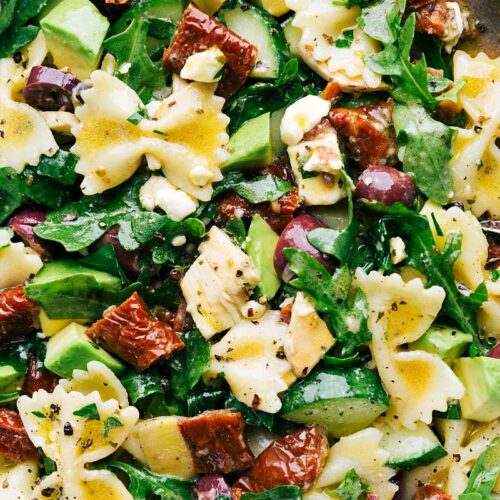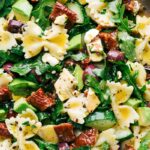 Mediterranean Pasta Salad
A delicious mediterranean inspired pasta, arugula, veggie, and chicken salad with the best lemon vinaigrette!
Servings
:
8
servings, as a side
Ingredients
Salad
8

ounces

pasta,

I used farfalle, any smallish pasta works great!

1

cup

rotisserie chicken,

chopped

1/2

cup

sun-dried tomatoes (packed in oil),

drained and coarsely chopped

1/2

cup

jarred marinated artichoke hearts,

drained and coarsely chopped

1/2

of 1 full

English cucumber,

chopped

1/3

cup

kalamata olives,

coarsely chopped

2

cups

lightly packed fresh arugula

1/4

cup

fresh flat leaf Italian parsley,

coarsely chopped

1

small

avocado,

pit removed and coarsely chopped

1/3

cup

feta cheese
Dressing
4

tablespoons

red wine vinegar

1 and 1/2

tablespoons

dijon mustard

(do not use regular mustard)

1/2

teaspoon

dried oregano

1

teaspoon

dried basil

1

clove

garlic,

minced

1-2

teaspoons

honey

1/2

cup

olive oil

3

tablespoons

freshly squeezed lemon juice

Fine sea salt and freshly cracked pepper,

to taste
Instructions
Cook the pasta according to package directions until al dente. Drain the pasta and allow it to completely cool to room temperature before adding it to a large bowl.

Add the chopped rotisserie chicken, coarsely chopped sun-dried tomatoes, coarsely chopped artichoke hearts, chopped cucumber, coarsely chopped kalamata olives, arugula, and parsley. Toss. If not eating it right away, cover the salad and store in the fridge. If you are eating this right away (and not having leftovers*) add in the avocado and feta cheese.

Meanwhile, prep the dressing. In a mason jar, combine the red wine vinegar, Dijon mustard, dried oregano, dried basil, garlic, 1/2 teaspoon salt (or to taste), and 1/4 teaspoon pepper (or to taste, honey (add to sweetness preference), olive oil, and freshly squeezed lemon juice. Place the lid on the mason jar and shake to combine. Store dressing in the fridge until ready to dress the salad.

When you're ready to serve, add the feta and chopped avocado. Dress with the prepared dressing. Adjust any seasonings (salt and pepper) to taste and serve.
Recipe Notes
*If you want to have leftovers, store the dressing, feta, and avocado separately and add those three ingredients to only what you will be eating.