We're using pantry staples and buttermilk to create rich and indulgent Buttermilk Syrup with a hint of vanilla flavor. This syrup can be ready in less than ten minutes on the stove top.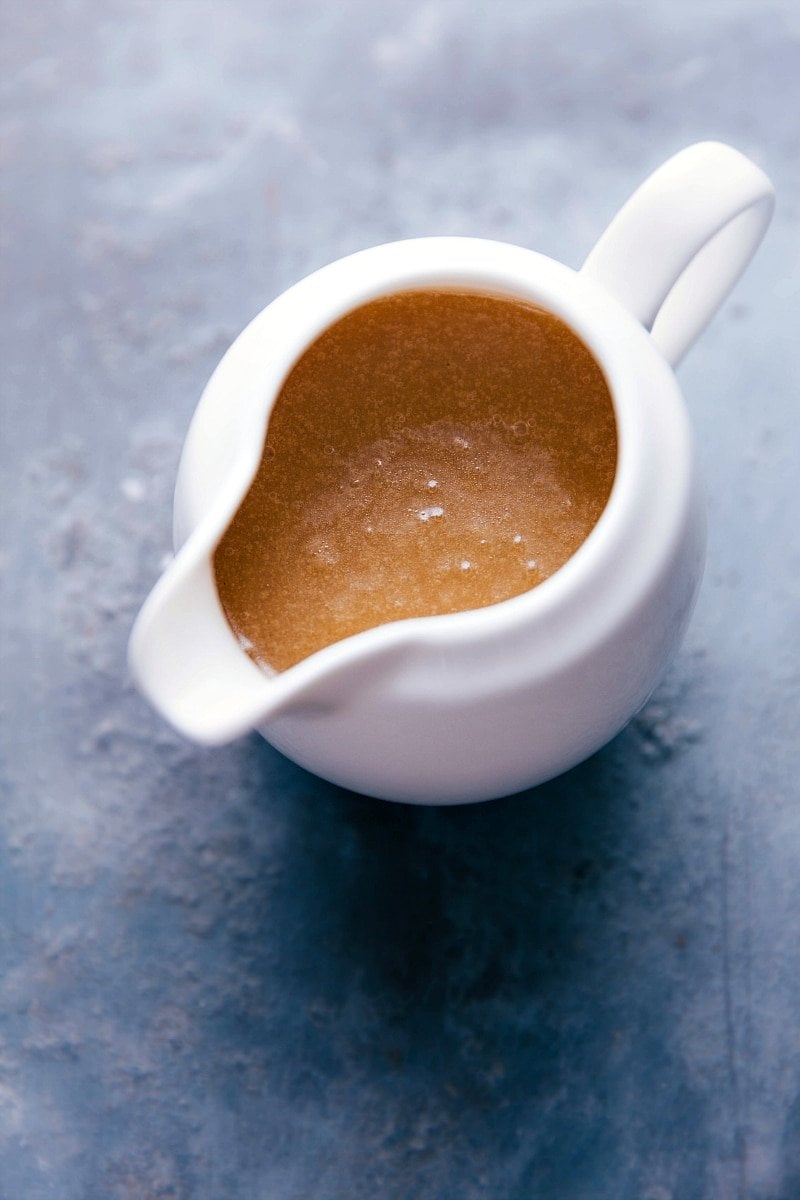 Most mornings, we stick to a pretty easy and mostly healthy breakfast — in the summer, my go-to is this green smoothie and if it's cold outside, I always crave this strawberry & cream oatmeal. But whenever we have a special occasion, I'm all about the sweet, syrup-covered, should-actually-be-served-for-dessert kind of breakfast choices.
Take
Nutella crepes
or
cinnamon roll monkey bread
for instance– those are my special-occasion kinds of breakfasts. And special breakfasts always require an equally decadent sauce or syrup
.
This buttermilk syrup is just the sauce to drench your breakfasts in. It's smooth, slightly tangy, sweet, flavorful, and the perfect companion for so many different breakfast recipes. In fact, I'm sharing my favorite below!
Our favorite ways to use Buttermilk Syrup
There are so many delicious uses for this syrup. Below are our favorite ways to use the syrup, but I'd love to hear how you use buttermilk syrup in the comment section! What am I missing out on?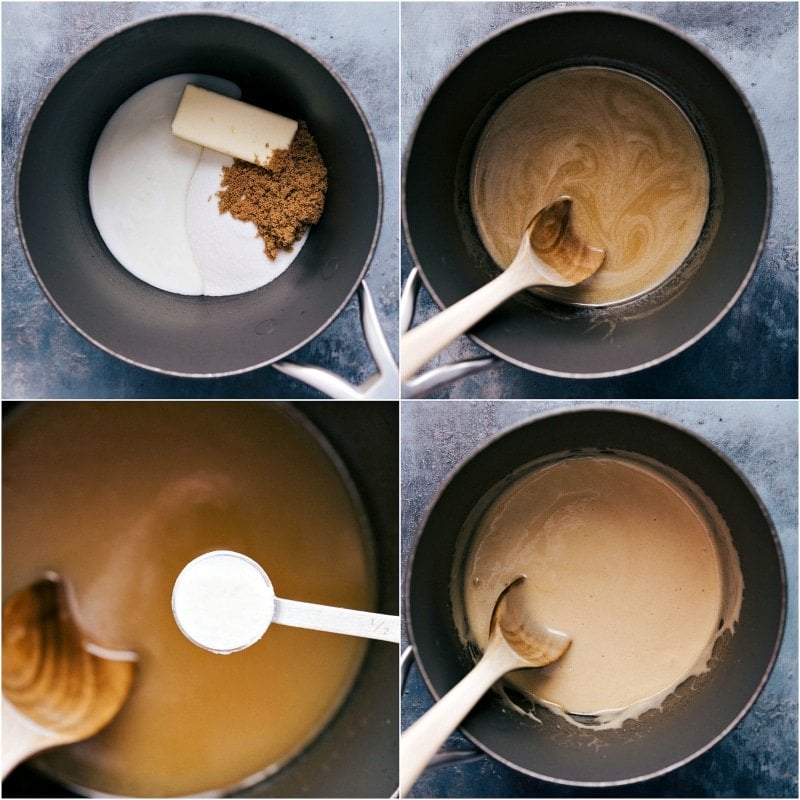 What's the difference between sour milk and buttermilk?
Substituting sour milk for buttermilk is popular and easy, but they are not the same thing. Just add vinegar or lemon juice to regular milk to create sour milk. The acid causes the milk to sour and curdle.
Traditionally buttermilk is the liquid leftover after churning butter; true buttermilk ferments naturally into a thick and tangy cream. Commercialized buttermilk is made by introducing a bacterial culture into low-fat milk and then heating the mixture.
How can you substitute buttermilk?
Sour milk is a great substitute for buttermilk in many recipes, but not this one. Stick to real buttermilk for this syrup! Read more details on how to make this buttermilk substitute here.
How long does Buttermilk Syrup last?
Buttermilk syrup will stay fresh in the fridge for about 1-2 weeks, when properly stored.
How do I store Buttermilk Syrup?
Transfer any leftover buttermilk syrup to an airtight container, and refrigerate. (We like to store our buttermilk syrup in a mason jar.)
As far as freezing goes, I've never tried it (our leftovers never last more than a couple days!). I haven't personally had a lot of success with freezing and thawing dairy products, and I'm not sure how the buttermilk would stand up to that process. If you try it, I'd love to hear your results.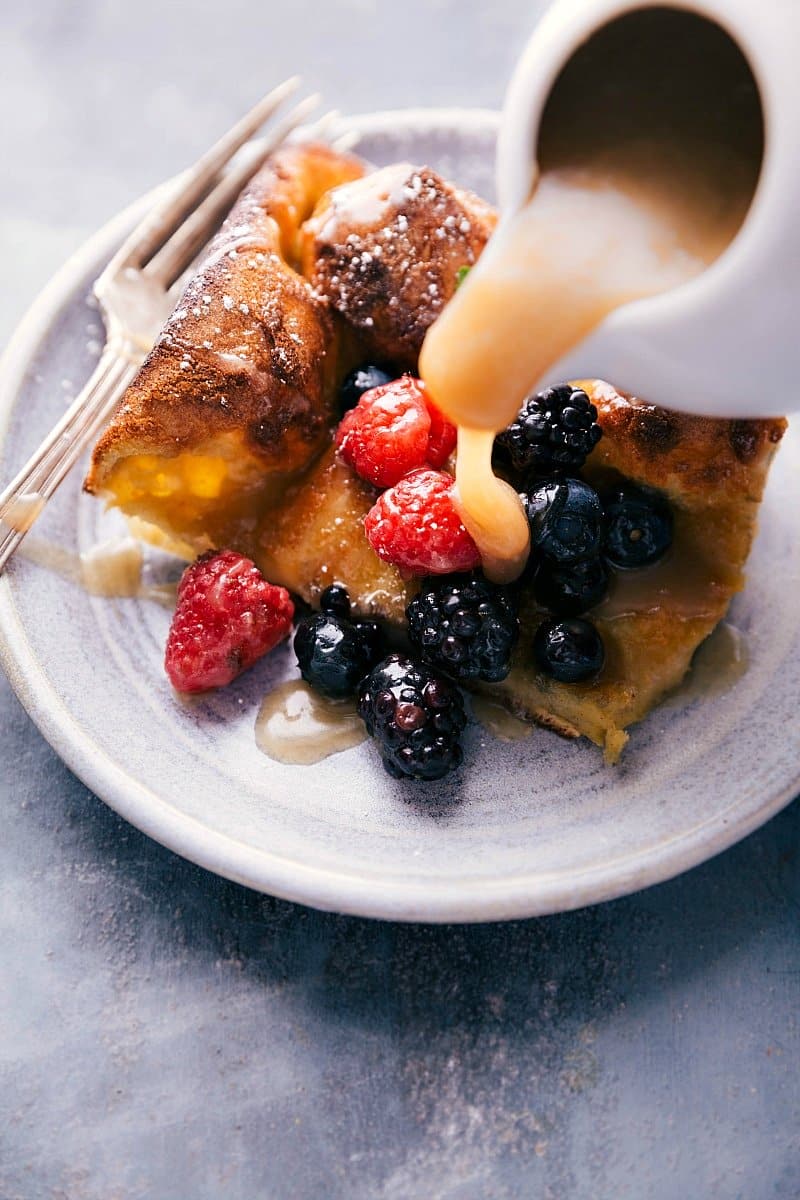 Quick tips
I strongly recommend a good nonstick pan; you want one with a heavy bottom so you don't burn the buttermilk syrup.
Use a pot bigger than you think because the syrup "grows" when the baking soda is added in. This is an impressive thing to watch, and it's a great opportunity to have a mini science lesson with your kids on how acids and bases react. Younger children might be tickled to simply watch the magic happen.
Wait for the syrup to cool a bit before adding in the vanilla extract. This helps the flavor be more prevalent instead of "cooking off" with the heat.
Not a buttermilk fan? Don't worry; this syrup won't taste like drinking a glass of buttermilk. There's a tiny tang and a nice smoothness, but adding the baking soda tames most of the sharp flavor of plain buttermilk.
More delicious breakfast recipes: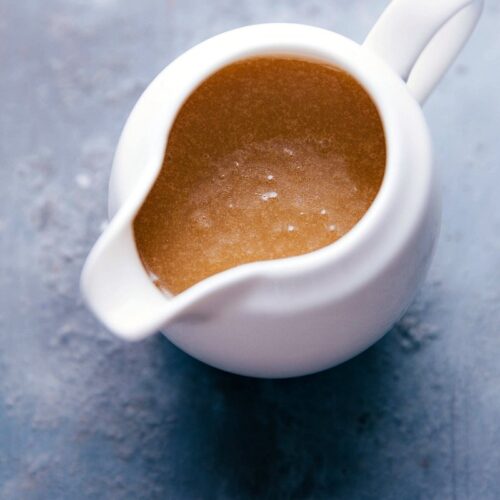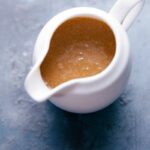 Buttermilk Syrup
We're using pantry staples and buttermilk to create a rich and indulgent buttermilk syrup with a hint of vanilla flavor. This syrup can be made in under ten minutes on the stove top. 
Course:
Breakfast, Dessert
Keyword:
buttermilk syrup
Ingredients
1/4

cup

dark brown sugar,

loosely measured/not packed (can use light brown sugar)

3/4

cup

white granulated sugar

1/2

cup (8 tablespoons)

unsalted butter

1/8

teaspoon

fine sea salt

1/2

cup

buttermilk

1/2

teaspoon

baking soda

1

teaspoon

pure vanilla extract
Instructions
In a medium sized pot (bigger than you think, because this syrup doubles or triples in volume!) add in the loosely measured 1/4 cup of dark or light brown sugar, 3/4 cup white sugar, 1/2 cup butter, 1/8 teaspoon salt, and 1/2 cup buttermilk. Heat over medium heat and stir occasionally until butter melts, sugar dissolves and syrup is smooth. Reduce the heat to low and simmer for 6-8 minutes. Remove from heat and immediately stir in 1/2 teaspoon baking soda. Whisk quickly to dissolve and evenly disperse the soda. The volume of the syrup will greatly increase. Stir in vanilla extract.

Serve warm over breakfast of your choice. Syrup continues to thicken as it cools.

Store in an airtight container for up to 2 weeks in the fridge. To serve, warm gently on the stove top over medium-low heat.