Cinnamon sugar coated French Toast Sticks are dredged in an egg mixture and crushed cinnamon cereal. This easy breakfast option is delicious, kid-friendly, and easy-to-make!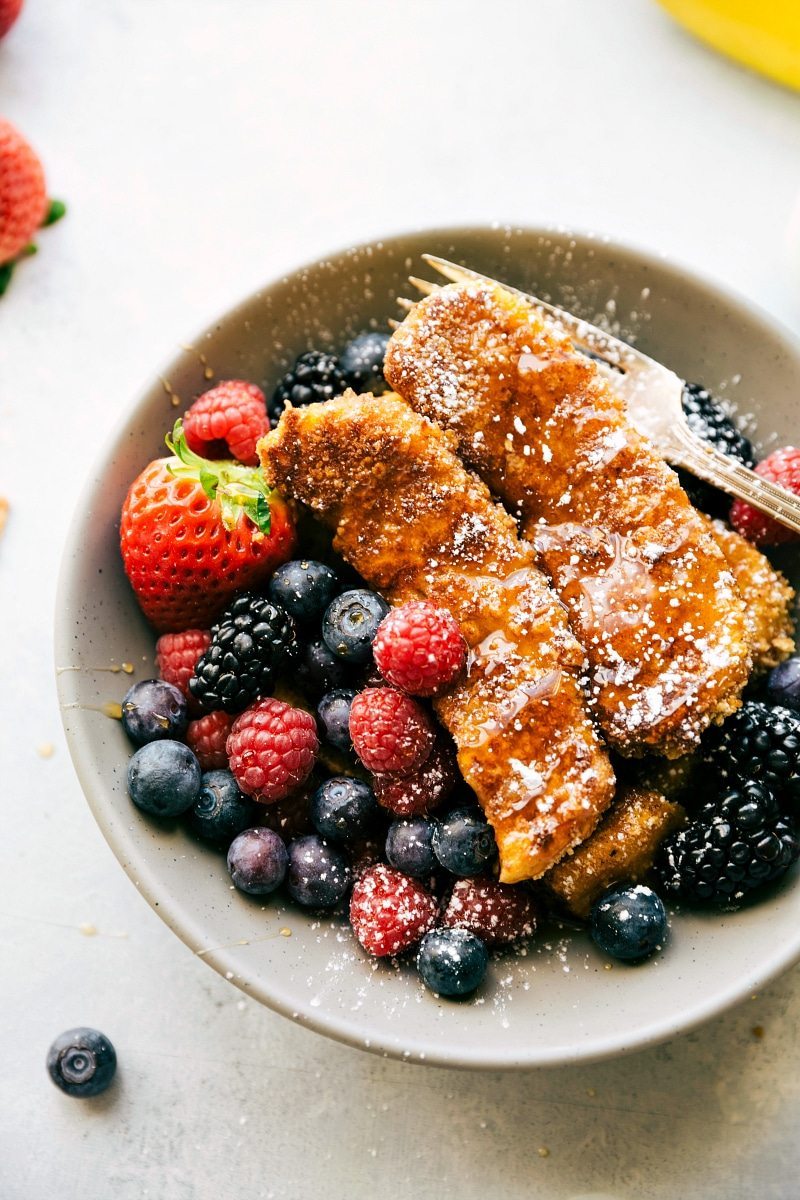 One of my favorite cereals growing up was cinnamon toast crunch. While I'm not a huge cereal person any more these days (I'll go for this green smoothie recipe or blueberry smoothie most mornings) I can still do a good amount of damage to a box of cinnamon toast crunch!
So why not crush it up and add it to one of my family's favorite (French toast) breakfasts? Yes, I went there and I don't know if my kids will ever let me make French toast sticks any other way!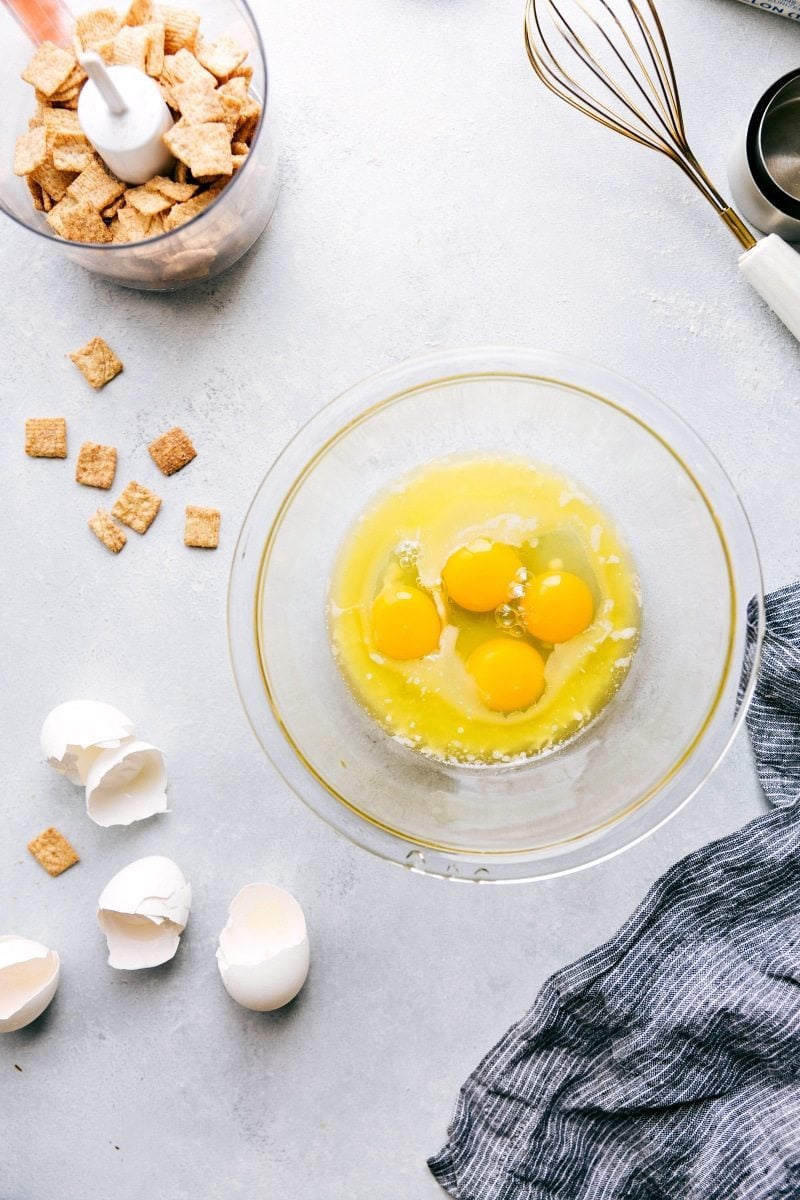 Serve these French toast sticks alongside: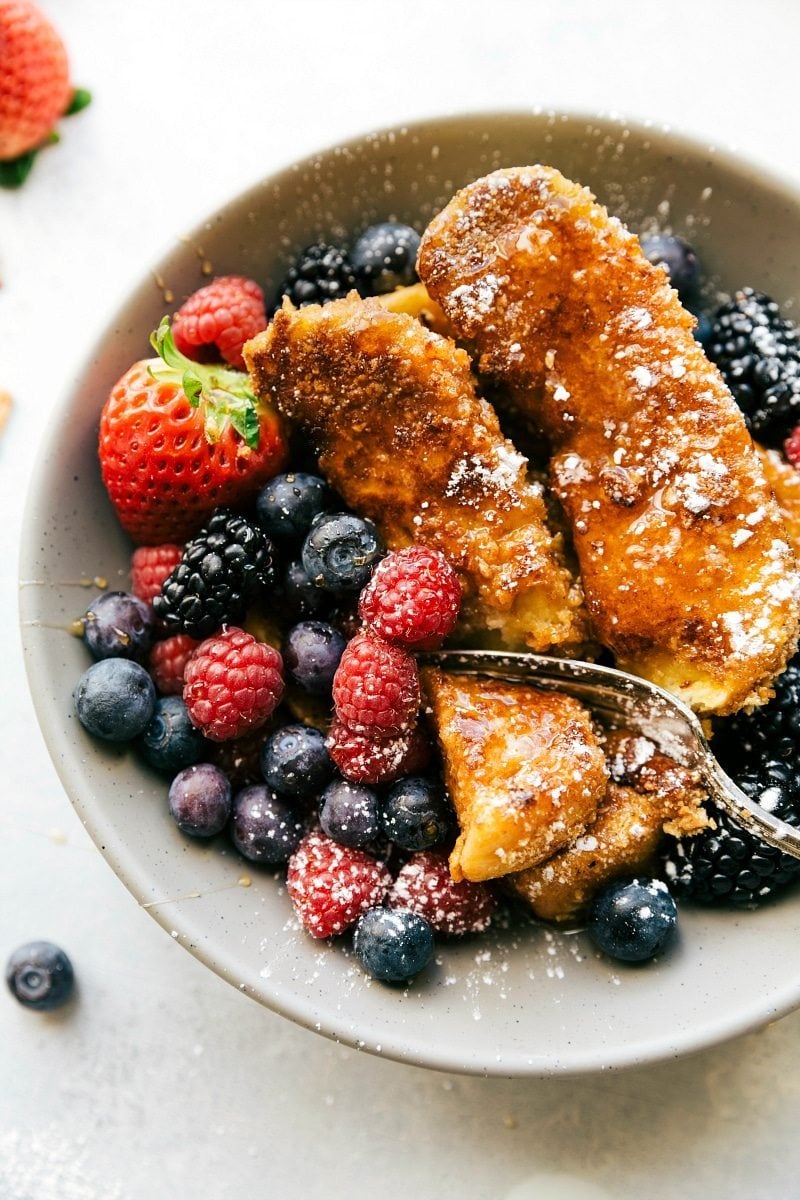 More delicious breakfast recipes: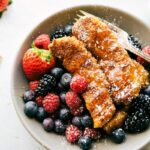 French Toast Sticks
Simple to make cereal-coated French toast sticks
Keyword:
french toast sticks
Ingredients
8-10

large slices

Texas toast or French toast

(day old/stale is best)

4

large

eggs

2/3

cup

whole milk

2

tablespoons

brown sugar,

lightly packed

1

tablespoon

vanilla extract

generous pinch of salt

2

cups

crunchy cinnamon cereal (like cinnamon toast crunch)

(measured when dry)

4

tablespoons

unsalted butter

Serve with: fresh berries and pure maple syrup

Optional: dust of powdered sugar
Instructions
If using French toast, slice into 3/4th inch thick pieces. Slice each piece into 2-3 thick "sticks." If using Texas toast, cut each piece into 3-4 "sticks."

In a large bowl, briskly whisk the 4 eggs. Pour in the milk, brown sugar, vanilla extract, and pinch of salt. Whisk to combine.

In a blender or food processor, add the cereal and pulse until it forms crumbs.

Dredge each French toast stick in the egg + milk mixture and then generously coat with cereal crumbs. Repeat until all of the bread is coated. Depending on how generously you dredge the sticks into the cereal crumbs, you may need to pulse another 1/2 to full 1 cup.

Place a large nonstick skillet over medium-low heat and add a pat of butter. Once the butter has melted, add in 5 french toast sticks into a single layer in the pan. (Don't over-crowd.) Cook the sticks until they are crispy and golden brown and then flip to the other side. Once that side is crispy, get the sides and then transfer to a plate.

Cook the rest using the same method (adding a pat of butter, putting down 5 sticks, cook and flip) and then serve immediately with a dust of powdered sugar, fresh berries, and maple syrup as desired.

Recipe Video