The best cinnamon sugar French toast topped with whipped cream, fresh berries, and a 4-ingredient caramel syrup. The recipe from a famous Utah bakery was shared online and this is my adaptation of that recipe!
Pair this sweet breakfast with a savory dish like this quiche lorraine or this ham and cheese quiche.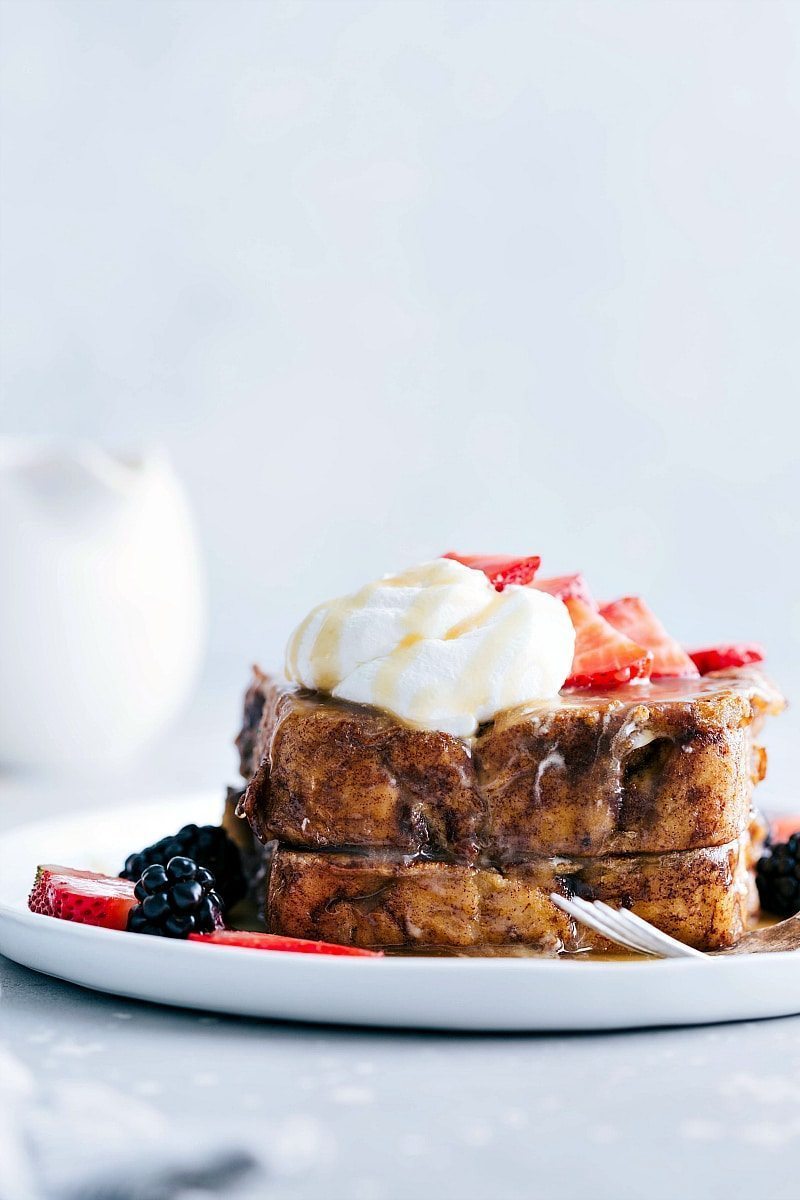 The best French toast recipe!
Once you try this French toast recipe you'll never want to try a different one! The recipe is slightly adapted from a famous Utah restaurant called Kneaders. They're probably most famously known for their French toast and if you've tried it you know why. It's sweet and cinnamon-y, has a creamy interior and crisp edges, and has the perfect toppings — freshly whipped cream, strawberries, and a caramel syrup.
They shared their recipe online (it's since been removed) several years back and I've made it ever since barely tweaking it to give you this very recipe. My boys love this recipe so much, it's requested every year for their birthday breakfast!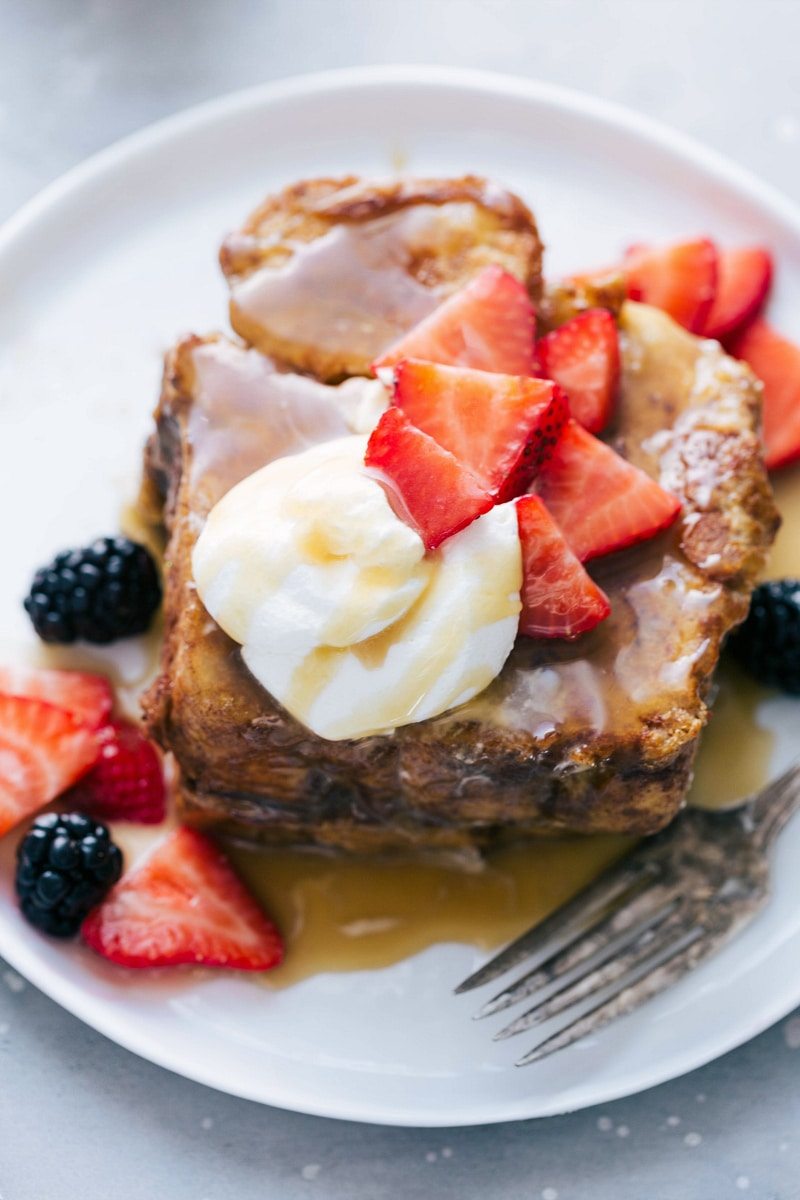 What kind of bread do you use for French toast?
To get an authentic copycat of Kneader's French Toast, you'll want to use the bread they use in theirs: Chunky Cinnamon Bread.
However, if you aren't near a Kneader's or want an alternative you can use:
Brioche bread
Challah
French Bread (a really sturdy French bread)
Another Bakery fresh Cinnamon Swirl Bread
Cinnamon Bread
Why is my French toast soggy?
The best way to tell if your French toast is undercooked is to see if it's soggy. If it's soggy this means the egg mixture was not cooked through so it is undercooked. An easy fix: stick the dredged bread back on the skillet/griddle for a minute until it has a crispy golden brown surface.
Is it safe to eat soggy French toast?
Soggy French toast means there is too much egg mixture on your toast OR it wasn't cooked long enough. If it wasn't cooked long enough this means your bread is topped with semi-raw eggs which can be unsafe. If your French toast is soggy from being undercooked, add it back to the skillet or griddle before consuming. (Eating raw/undercooked eggs carries with it the risk of salmonella).
Can I make the batter in advance?
Yes! This batter mixture can be 1 day in advance and stored in the fridge. Just whisk everything together again before dipping in the bread.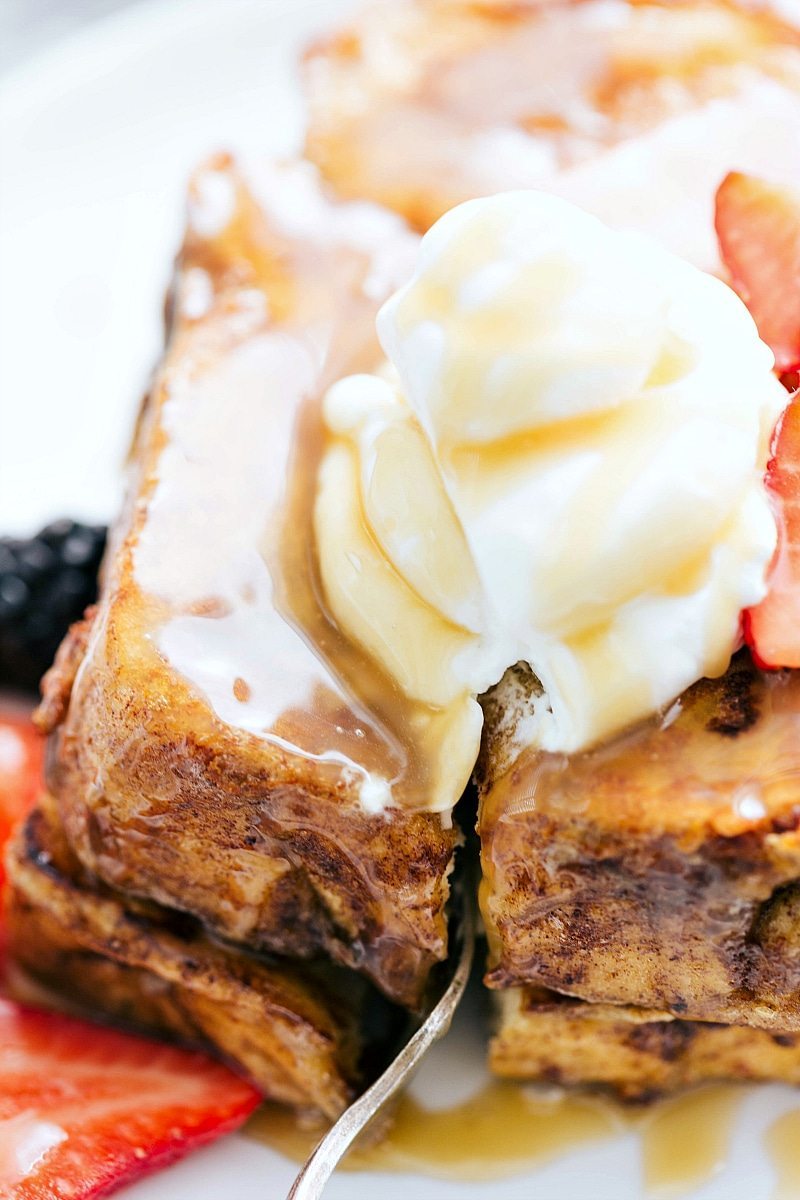 Great sides for French toast:
Fresh berries or fruit (we love sliced strawberries)
Freshly sliced banana
With the caramel syrup in the recipe (highly recommended), maple syrup, blueberry syrup, or this vanilla sauce.
With whipped cream (how to make whipped cream tutorial here)
Scrambled eggs
Cooked bacon
Cooked hashbrowns
More delicious breakfast recipes: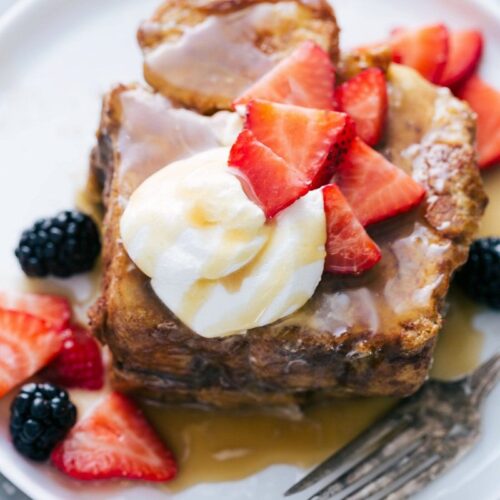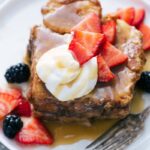 The Best French Toast
The best cinnamon sugar French toast topped with whipped cream, fresh berries, and a 4-ingredient caramel syrup
Servings
:
8
large pieces French toast
Ingredients
French Toast
2

tablespoons

unsalted butter

1

un-sliced loaf of cinnamon-sugar swirled bread

(I buy this bread from Kneaders) OR use brioche, sturdy French bread, or challah bread

6

large

eggs

1/2

cup

1%, 2%, or whole milk

1

teaspoon

ground cinnamon

3/4

teaspoon

salt

1 and 1/2

teaspoon

vanilla extract

1

tablespoon

light brown sugar
Caramel Syrup
1/2

cup

light brown sugar,

lightly packed

1/2

cup

heavy whipping cream

1/2

cup

light Karo syrup

1

teaspoon

vanilla extract
Serve with:
1/2

cup

heavy whipping cream,

whipped to soft peaks*

1

tablespoon

powdered sugar

Fresh berries,

for serving
Instructions
Slice the cinnamon bread into 8 even sized slices. Preheat a large griddle to 325 degrees F or a large skillet over the stovetop to medium heat.

In a large bowl, combine the eggs, milk, cinnamon, salt, vanilla, and brown sugar. Dip each bread slice into the mixture, coating evenly. Add 1 tablespoon of butter to the skillet or griddle and melt. Place the coated piece of bread and cook until both sides of the bread are golden brown. (Add the other tablespoon of butter once you've cooked 3-4 slices)

For the syrup: combine all the ingredients in a saucepan over medium heat. Stir and heat until the sugar is completely dissolved and then remove from heat.

To make whipped cream: Pour heavy whipping cream and powdered sugar into a cold bowl attached to a stand mixer and whisk on high speed until medium to stiff peaks form, (about 1 minute). Be careful to not over mix.

Serve french toast with the warm caramel syrup, freshly whipped cream, and fresh berries.
Is French toast healthy?
It's my belief that most food can be healthy when eaten in moderation. Bread has nutrient and carbs, cinnamon offers many health benefits, and the milk and eggs contribute by adding vitamin D and protein. That said, this French toast recipe is more of a treat/dessert when paired with the caramel syrup and whipped cream. It's a great treat to have on occasion and in moderation.