This post may contain affiliate links. Please read my disclosure policy.
This dutch baby (also known as German pancakes) is the best I've ever had! It's got a light custard base, fluffy sides and edges, and a rich buttery flavor.
There are so many ways to top your dutch baby, but today I'm sharing our favorite way — with plenty of fresh berries, a sprinkle of powdered sugar, and an easy buttermilk syrup.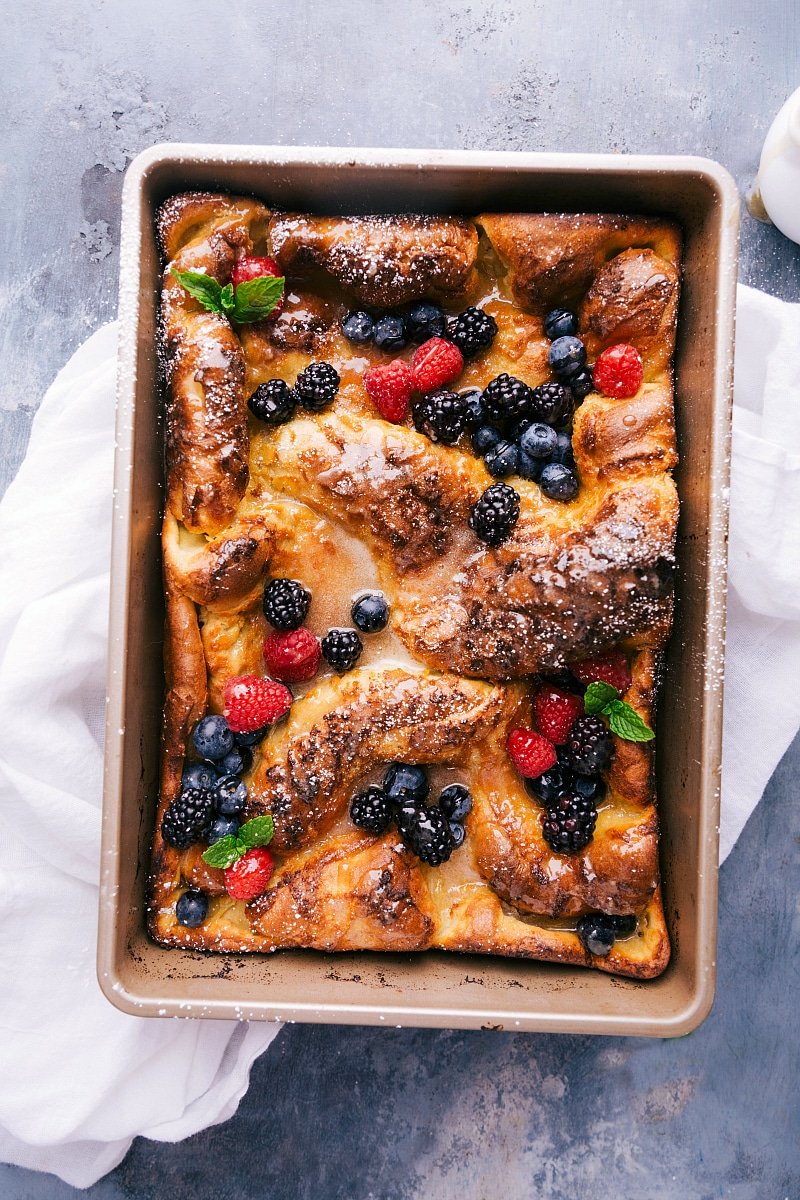 My toddler, Bentley, is probably the biggest breakfast eater around. He'll wake up most mornings bright-eyed at 5:30 or 6:00am, rush into my room, and beg me to make him "a big breakfast." He has a checklist of what this "big breakfast" entails: eggs (scrambled or over medium), bacon, fruit of some kind (usually clementines), toast, and either waffles, pancakes, crepes, or a German pancake.
While I certainly don't make him his dream breakfast every morning, we'll have a big breakfast a few times a week and he's totally on cloud 9 from it.
The past little bit I've been working on perfecting a dutch baby since I realized I'd neglected to share a recipe for one here. I'm so excited to share this recipe with you today. My boys are obsessed with it and I hope you love it as much as we have!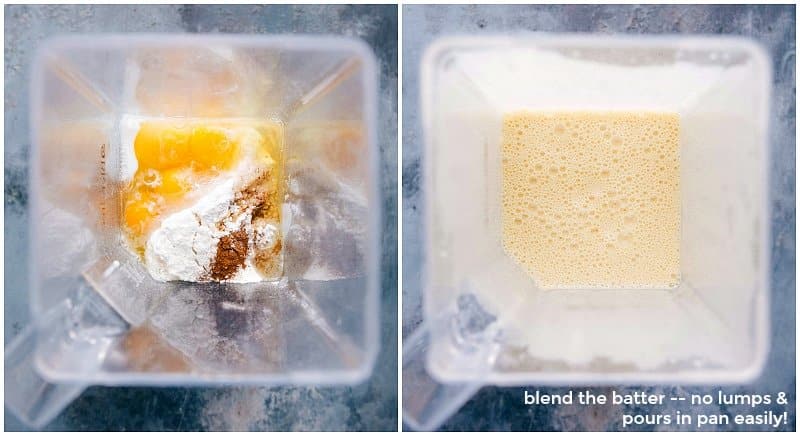 First things first though, a little background in case you're not familiar:
What is a Dutch pancake called?
You may have noticed I've used the two terms dutch baby and German pancakes interchangeably and that is because they are the same thing. There are actually several other names; they also go by a Dutch puff, large American popover, or a Bismarck.
Why do they call it a Dutch baby?
According to Wikipedia, Dutch babies were introduced in the 1900s in a family-owned restaurant owned by Victor Manca. The name "dutch baby" was coined by the owner's daughter.
Dutch baby pancakes are basically a hybrid of a pancake, a crepe, and a popover — all in one giant pan. They're also often made in a skillet, and today I'll share how to make them either way. 🙂
What is a German pancake made of?
The ingredients in German pancakes are simple and straightforward, here's what you'll need:
White, all-purpose flour
White sugar
Whole eggs
1 egg yolk
Vanilla extract: optional, but adds a hint of vanilla flavor
Salt: enhances the flavors and balances everything
Butter
Cinnamon: optional, but adds a great subtle flavor
Some people roll up Dutch pancakes (topping and all) before they cut the roll-up into pieces and eat it (or eat it by hand like a burrito).
We like cutting the pancake into large pieces and serving it on a plate (with fork and knife). Either way works 🙂
Our favorite way to top Dutch pancakes is with fresh berries, a light sprinkle of powdered sugar, and buttermilk syrup.
Some other ways to enjoy Dutch pancakes:
Squeeze on freshly squeezed lemon juice and powdered sugar (my husband's family always served it with a lemon butter syrup)
Drizzle with maple syrup and fresh berries
Add a scoop of fresh whipped cream and berries (How to make whipped cream tutorial here).
With sliced bananas and a caramel sauce or dulce de leche
Drizzle with this vanilla sauce and fresh berries
Add a sprinkle of cinnamon sugar and whipped cream
Spoon on lemon curd and fresh blueberries
Add nutella, peanut butter, or almond butter
Fruit-filled Dutch baby: Arrange fruits like blueberries, raspberries, or sliced peaches over the bottom of the skillet and then pour the batter over top. (Scattering fruit on top of the batter will keep it from rising as impressively.)
How to make a dutch baby in a cast iron skillet:
Frequently German pancakes are made in a cast iron skillet. I'd say the skillet typically serves 2 people, so it's never enough for our family which is why I'm sharing a version made in a 9 x 13 pan. That said, I have tested it both ways — in a skillet or pan.
The skillet you use doesn't have to be cast iron; you can use any oven-safe pan (or baking dish) that is 9-10 inches. You can even make a dutch baby in a pie pan!
Halve the recipe to the following quantities:

1/2 cup white flour
1/2 cup + 3 tablespoons whole milk
1 large egg and 2 large egg yolks
1/4 teaspoon salt
1 and 1/2 tablespoons white sugar
1/2 teaspoon vanilla extract
1/8 teaspoon cinnamon
3 tablespoons butter

Follow the same recipe instructions below using the skillet instead of 9×13 pan. Bake for 13-17 minutes (ours takes 15 minutes).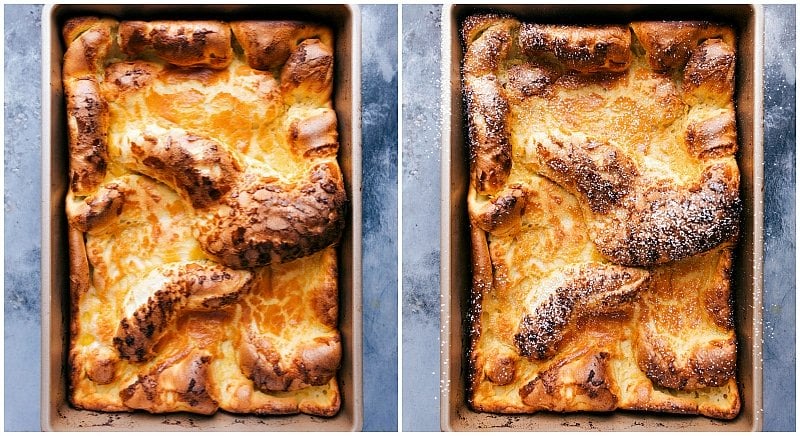 Buttermilk syrup
This syrup is sweet, barely tangy, and in my opinion the perfect topping for a dutch baby. It's easy to make and the perfect thing to work on while your dutch baby is cooking!
One tip here, when the baking soda is added to the syrup, the volume with double (or even triple) so make sure to start with a large enough pot so it doesn't spill over.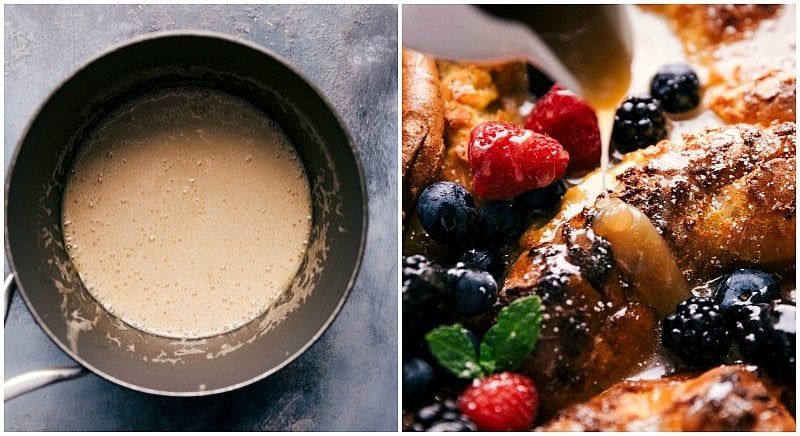 Dutch baby: quick tips on how to make them better!
Blend the batter: not only is this the easiest way to make the batter, it also makes it easier to pour into the hot pan. Blending the batter will ensure there are no lumps of flour and all the ingredients are well combined.
When pouring the batter into the pan, swirl the batter in a figure 8 pattern: this helps give the German pancake peaks and valleys which contributes to a better overall texture.
Use a light colored metal pan: this 9 x 13 pan is my favorite for dutch babies (affiliate link). Since it's baking in the bottom 1/3 of the oven, you don't want a dark pan or the bottom of the pancake will get overly dark.
Use a hot skillet or hot pan: this will help the pancake puff and you'll get those beautiful caramelized edges.
Bake in the bottom 1/3 of your oven: I've seen the best results from baking lower in the oven.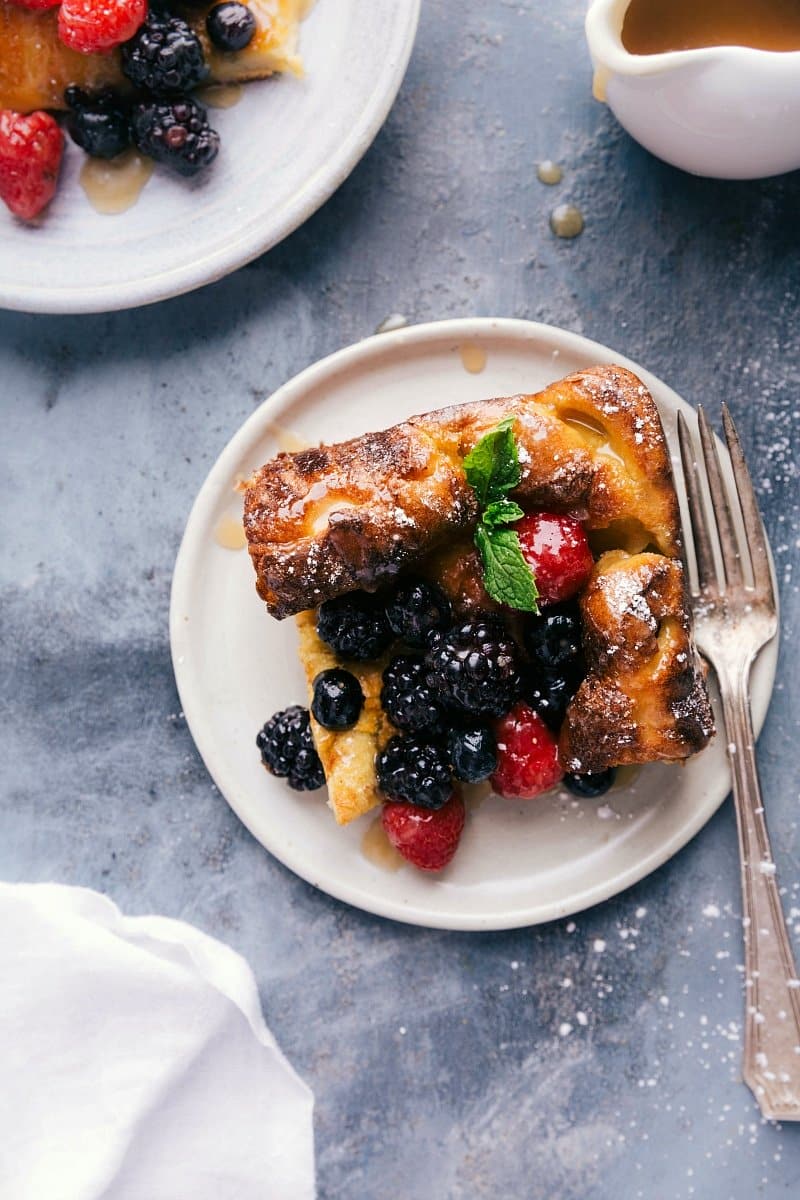 More breakfast recipes: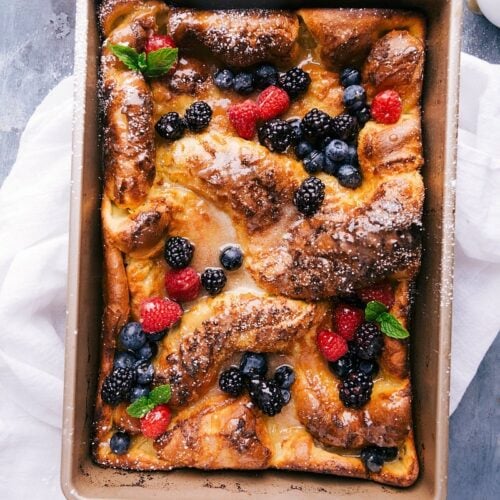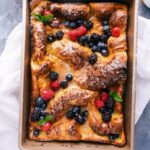 Dutch Baby (German Pancakes)
This dutch baby (also known as German pancakes) is the best I've ever had! It's got a light custard base, fluffy sides and edges, and a rich buttery flavor.
Keyword:
dutch baby, german pancakes
Ingredients
1

cup

white all-purpose flour

1 and 1/3

cups

whole milk

3

large

eggs

1

large

egg yolk

1/2

teaspoon

fine sea salt

(or 1/4 teaspoon table salt)

1

teaspoon

pure vanilla extract

3

tablespoons

white sugar

1/4

teaspoon

ground cinnamon,

optional

6

tablespoons

unsalted butter

Optional: fresh berries for serving
Buttermilk syrup (optional)
1/4

cup

dark brown sugar,

loosely measured/not packed (can use light brown sugar)

3/4

cup

white, granulated sugar

1/2

cup (8 tablespoons)

butter

1/8

teaspoon

fine sea salt

1/2

cup

buttermilk

1/2

teaspoon

baking soda

1

teaspoon

vanilla
Instructions
PREP: Move a rack in the oven to the bottom 1/3 of the oven. Preheat the oven to 425 degrees F. Grab out a 9x13 pan and generously spray the bottom and sides with cooking spray. Place 6 tablespoons of butter in it (straight from the fridge).

COMBINE: In a high powered blender, combine 1 cup flour, 1 and 1/3 cups whole milk, 3 large eggs, 1 egg yolk, 1/2 teaspoon salt (reduce if using table salt or if sensitive to salt), 1 teaspoon vanilla, 3 tablespoons of white sugar, and (if desired) 1/4 teaspoon ground cinnamon. Before blending mixture, place the prepared pan (with butter in it) on the rack in the bottom 1/3 of the oven.

BLEND: Blend the batter until combined and smooth. Now check the pan in the oven. The butter should be mostly melted, pull out the pan and swirl it around to get the butter to coat all the bottom of the pan. Return to the oven until 100% melted. As soon as the butter is completely melted, pull the pan out of the oven. Immediately pour the batter from the blender into the pan. As you pour, pour in a figure 8 pattern.

BAKE: Place the pan in the oven and bake for 18-23 minutes or until puffed, lightly browned at edges and peaks, and no longer glossy. (This is right at 20 minutes for me!) Remove from the oven.

SERVE: immediately sprinkle on powdered sugar and cut into slices to serve. Serve with fresh berries if desired, and if desired, buttermilk syrup. There are lots of other serving ideas in the post -- be sure to read that if you don't want the syrup and berries 🙂 Dutch baby best enjoyed right after being made -- it doesn't store well.

BUTTERMILK SYRUP (optional): in a medium sized pot (bigger than you think, this syrup doubles or triples in volume!) Add in the loosely measured 1/4 cup of dark or light brown sugar, 3/4 cup white sugar, 1/2 cup butter, 1/8 teaspoon salt, and 1/2 cup buttermilk. Heat over medium heat and stir occasionally until butter is melted, sugar dissolved and syrup is smooth. Reduce the heat to low and simmer for 6-8 minutes. Remove from heat and immediately stir in 1/2 teaspoon baking soda. Whisk quickly to dissolve and evenly disperse the soda. The volume of the syrup will greatly increase. Stir in vanilla extract. Serve warm over pancakes.