How do you fold and stuff crepes?
Place your crepe on a plate and spread slightly melted (see above) Nutella on the bottom half of the crepe. IF adding fruit, pile right on top of the Nutella.
Fold the crepe in half by grabbing the side without Nutella and fruit and folding it right on top of the Nutella/fruit side.
Now fold this half in half again to form a triangle.
Garnish and serve! 🙂
How many calories are in a Nutella crepe?
A 10-inch diameter crepe has about 90 calories in it and then the rest of the calories will depend on how much Nutella and/or fruit is added in. Two tablespoons of Nutella is 200 calories and 1/2 cup of strawberries has 24 calories in it.

More delicious breakfast recipes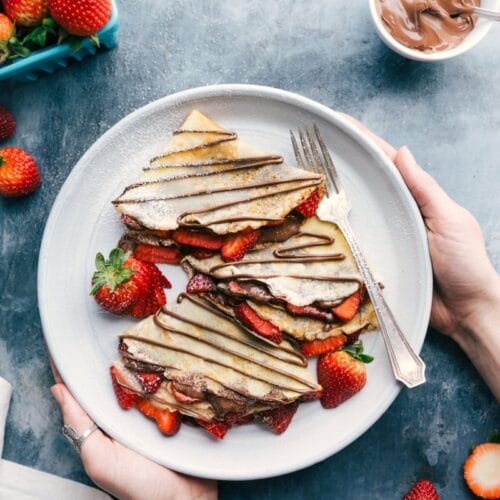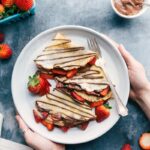 Nutella Crepes
Resting/Chilling Time for Batter
Nutella Crepes are made simple by blending together the batter, cooking the batter in a skillet, and slathering with Nutella! 
Course:
Breakfast, Dessert
Cuisine:
American, French
Ingredients
2 and 1/2

cups

whole milk

(I don't recommend a lower fat percentage)

2

cups

white all-purpose flour

(measure by spooning and leveling)

1/4

cup

granulated white sugar

1/4

teaspoon

fine sea salt

(or heaping 1/8 teaspoon of table salt)

4

tablespoons

unsalted butter,

melted and slightly cooled

2

teaspoons

vanilla extract

4

large

eggs

Nutella

Fresh fruit such as sliced bananas and/or sliced strawberries

Optional: powdered sugar and/or whipped cream
Instructions
Add milk, flour, sugar, salt, melted and slightly cooled butter, vanilla and eggs to a high powered blender. Blend on low speed until well combined, about 10-15 seconds.

Scrape sides and bottom of blender if there's any flour sticking and blend a few seconds longer. Cover and chill in the fridge for 1 hour (or overnight if desired).

Cut small squares of parchment to separate crepes. This is important so they don't all stick together after being cooked and especially important if you are saving/storing crepes in the fridge for later.

Heat an 8 to 10-inch NONSTICK skillet over medium to medium low heat. Remove the batter from the fridge and give it a quick stir. Place a large tray or platter out and put one square of parchment paper down. This is where you'll place all the crepes as they are cooked.

Lightly butter the skillet with melted butter and a pastry brush or paper towel dipped in the butter and rubbed over the skillet. Barely lift the pan off the heat and immediately pour 1/4 cup crepe batter into the pan. Immediately, and working quickly, tilt and swirl the crepe pan in a circular motion to evenly coat the bottom of the pan with batter. Return skillet to the heat.

Cook until crepe is golden brown on bottom (1-2 minuteand then use an offset spatula (I like to use a rubber spatulto lift an edge of the crepe. Gently grab that edge of the crepe and using your fingers and the spatula, flip the crepe to the other side. Cook until golden brown spots appear (another 1-2 minute on bottom and then remove to prepared plate/tray. Place a piece of parchment or wax paper on top of the crepe.

Repeat until all of the batter has been used up. If crepes are cooking too quickly, reduce the temperature of the burner as needed and alternatively increase if they are taking longer than 1-2 minutes per side to cook.

TO SERVE: soften nutella in the microwave by transferring it to a microwave safe bowl and microwaving for 15 seconds and then stirring. (Microwave another 15 seconds IF needed). You don't want it too warm/melty, just want it so it can easily spread. Spread nutella alongside the bottom half of the crepe. If desired, top the nutella with fresh, thinly sliced fruit. Fold crepes in half, and then half again to form triangles. Sprinkle with powdered sugar and add some whipped cream as desired. You can also add a drizzle of nutella if desired. (Transfer nutella to a ziplock bag, seal without air, and cut off the tip with scissors. Pipe all over the nutella triangles.

TO STORE: let cooked crepes cool COMPLETELY and then transfer the crepes to a large ziplock bag. Seal without any air and store in the fridge for up to 5 days.