This pull-apart cinnamon roll monkey bread is sweet, perfectly cinnamon spiced, and drizzled with a cream cheese glaze.
This cinnamon roll monkey bread is the perfect breakfast for a fun occasion or can be served as a delicious dessert. With less than 15 minutes prep, you can have this treat on the table in no time.
My oldest boy's favorite treat is a homemade cinnamon roll. He actually doesn't have much of a sweet tooth, but when it comes to cinnamon rolls, he can do some serious damage.
While he prefers homemade, he'll happily eat them from the can if that means he gets a cinnamon roll. The other day he had several friends over so I thought it would be fun to make a twist on traditional monkey bread and make it with canned cinnamon rolls. Not only did this cinnamon roll monkey bread get two thumbs up all around the table, but my son also requested it for his birthday cake in a couple of weeks ?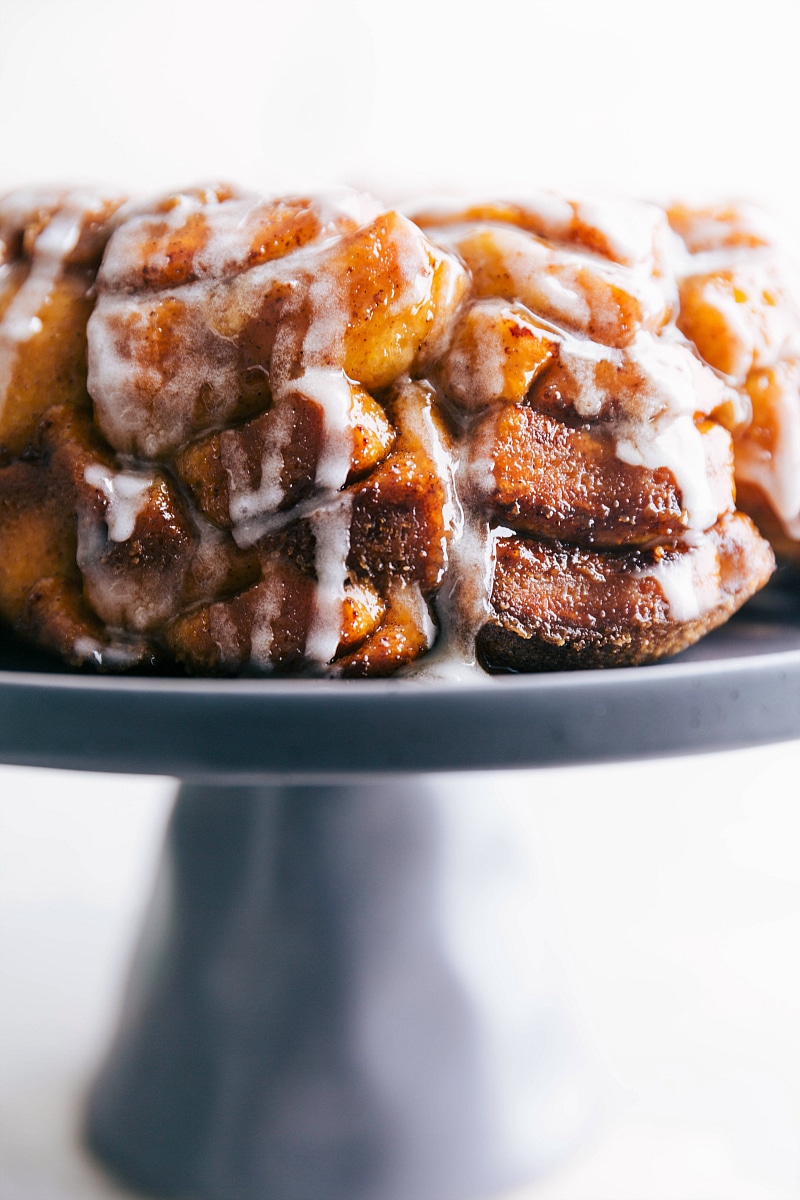 What cinnamon rolls to use:
I recommend using Pillsbury Grands Cinnabon cinnamon rolls with cream cheese icing (not sponsored). Not only are they delicious (for canned cinnamon rolls), but they are the perfect size to use in this monkey bread.
If you aren't a fan of the cream cheese icing, Pillsbury also makes one with "original icing" instead. Make sure to grab the grands size for this recipe.

Beyond getting the right cinnamon rolls, the most important tip for this cake: generously grease and flour the pan! Below is a quick break down.
How to grease a bundt pan
First make sure you're using a high quality bundt pan: use a solid metal bundt pan and NOT a springform pan or pan with a removable bottom (the sugar/sauce will leak through and ruin the cake/get messy). (If you don't have a bundt pan, see below for baking this in a 9 x 13 pan!)
Spray the bundt pan with cooking spray or brush an even layer of softened butter all over. Make sure every part of the inside of the bundt pan is covered so nothing sticks while cooking.
Loosely sprinkle flour over the spray or butter and then tap and turn the pan to evenly coat with a light dusting of flour.
Tap the pan upside down (over the sink) to remove any excess flour.
Pan is ready for use now!

Quick tips
Remove monkey bread after 10-15 minutes: it's important that you give this cinnamon roll monkey bread time to cool, but you don't want to give it too much time. Remove the monkey bread after about 10-15 minutes of cooling. If it cools for too long the sugar mixture will harden too hard and it will become difficult to remove.
Fix up any loose pieces: if a piece does stick to the pan after you've transferred the monkey bread to a plate simply use the sugary glaze to place the pieces right back from where they fell. You can also use the glaze to cover up any small imperfections 🙂
Pretty drizzle: transfer the icing from the can into a plastic bag. Snip off the tip with scissors and pipe it all over this cake for a picture perfect iced cake!

Cinnamon roll monkey bread storage
Does cinnamon roll monkey bread need to be refrigerated?
Monkey bread typically doesn't need to be refrigerated, but if you use the cream cheese icing, it does need to be. Storing monkey bread in the fridge will make the cake stale and hard, so I recommend avoiding leftovers altogether if possible.
How to make ahead of time
Quarter the cinnamon rolls and then placing them in a well greased bundt pan
Cover pan with plastic wrap and place it in the fridge until ready to bake.
When you are ready to bake the monkey bread, remove the bundt pan from the fridge and allow the cinnamon roll pieces to come to room temperature (this should take no more than 30 minutes).
Whip together the brown sugar mixture, pour it over the dough in the bundt pan, and bake for 2o minutes at 400 degrees F.
How to freeze cinnamon roll monkey bread
Package your leftover monkey bread tightly wrapped in plastic wrap and then in an airtight container and freeze for up to 3 months. Thaw in the fridge. Freezing and thawing monkey bread will cause a loss in texture and flavor.
Never freeze the uncooked monkey bread dough as freezing will render the yeast inactive.
Cinnamon roll monkey bread variations
Cinnamon roll monkey bread from scratch: to make this from scratch, you're going to want to make your own biscuits. I'd recommend Sally's Baking Addiction for a from-scratch recipe!
Add ins: you can add finely chopped apples, raisins, and/or nuts to this monkey bread. Add half the cinnamon roll pieces and then sprinkle add-ins in the middle and a few more on top. For an apple add in, peel and then finely dice the apple and sprinkle throughout the cinnamon roll pieces.
Cinnamon roll monkey bread casserole: this recipe works in a casserole or 9 x 13 dish. To do so: follow the same steps as we do below on this recipe (place cut up sugared cinnamon roll pieces in greased pan and drizzle sauce over top.) Bake at 350 degrees F for 25-30 minutes.
Make in a loaf pan: make sure you grease 2 light colored (don't use dark coated) loaf pans well and follow the below directions. Divide cinnamon rolls evenly between the two pans and then bake at 400 degrees F for 19-25 minutes. Removal from the loaf pan will be super similar to removing the monkey bread from a bundt pan. More details here.
Cinnamon roll monkey bread in a crockpot: I actually shared a similar recipe to this one, but prepared this cake in the crockpot. Check it out here!
Cinnamon roll monkey bread muffins: follow the ingredients in this recipe and then grease each individual muffin tin and add 4 cinnamon roll pieces to each muffin tin. Individually drizzle the brown sugar sauce on top of each muffin. Bake at 350 degrees F for 12-15 minutes. More details here.
Add caramel: in place of the glaze, you can add caramel sauce instead!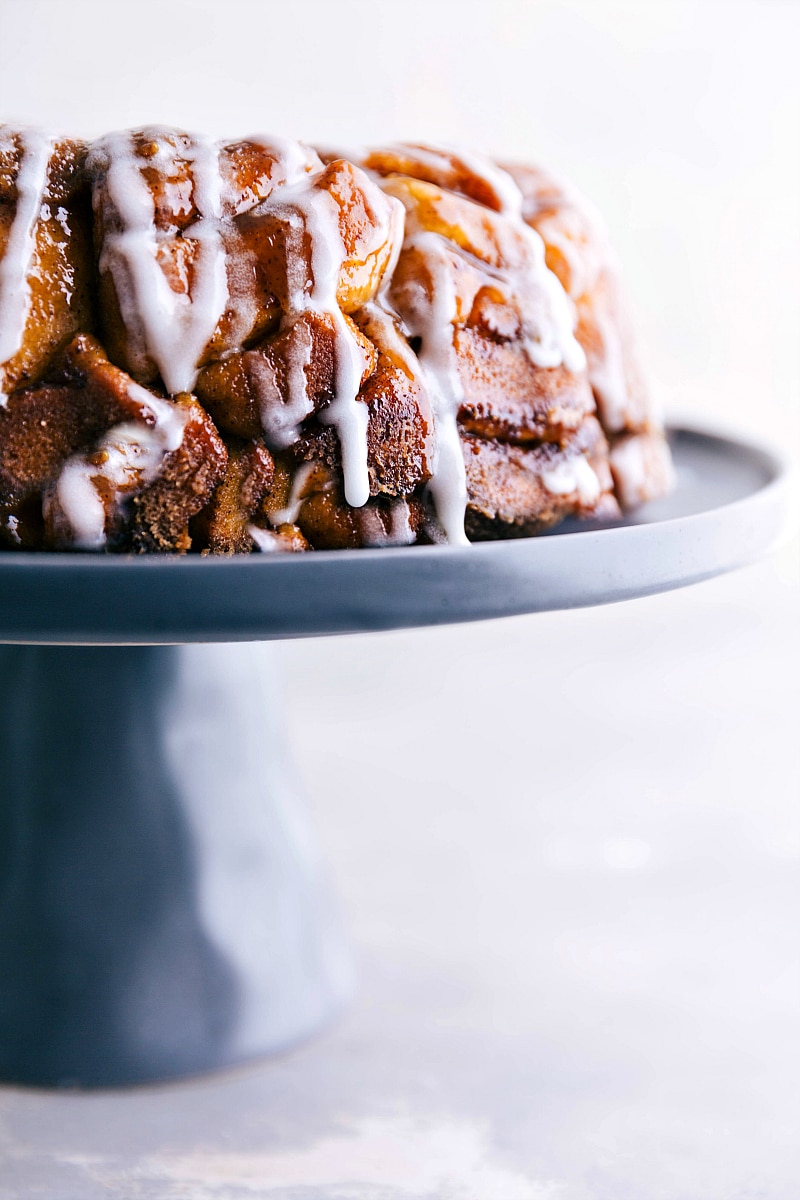 If you're planning to make this cinnamon roll monkey bread bake for a holiday or special occasion breakfast, below are some great options to serve on the side.
Savory side dishes: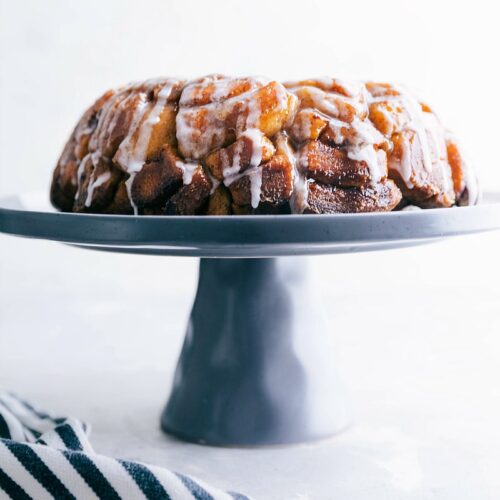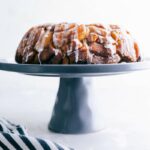 Cinnamon Roll Monkey Bread
This pull-apart cinnamon roll monkey bread is sweet, perfectly cinnamon spiced, and drizzled with a cream cheese glaze.
Keyword:
cinnamon roll monkey bread
Servings
:
4
- 6 servings (it's sweet, so a little goes a long way!)
Ingredients
2

cans (17.5 ounces)

Pillsbury Grands cinnamon rolls (cinnabon)

1/2

cup

white sugar

2

teaspoons

ground cinnamon

1/2

cup

unsalted butter,

melted

1/4

cup

brown sugar

1

teaspoon

pure vanilla extract
Instructions
Preheat the oven to 400 degrees F. Generously grease (with cooking spray) and then lightly flour a large bundt pan (12 cup).

Remove the cinnamon roll dough and cut each roll into quarters.

In a medium bowl, mix together cinnamon and sugar and then toss the cinnamon roll dough quarters in the bowl until well coated.

Once well coated, add them to the prepared bundt pan.

Melt butter and stir in the brown sugar and vanilla, then pour over the dough inside the bundt pan.

Bake for 20 minutes, then let cool for 10-15 minutes. Once it's warm, no longer hot, you can flip the cinnamon roll monkey bread onto a plate from the bundt pan.

Transfer the icing from the can into a plastic bag. Snip off the tip with scissors and pipe it all over this cake!