Light and fluffy Greek yogurt pancakes made with wholesome ingredients and a refined-sugar free blueberry-peach syrup. The syrup is a delicious addition to these pancakes made with 100% fruit and only 3 ingredients.
These are the first ever pancakes on Chelsea's Messy Apron. This is a momentous occasion, right?! I don't really make pancakes all that often for a few reasons which are all changing thanks to this recipe.
First, I feel like they are just WAY too much sugar in the morning. (I know, coming from me who loves dessert for breakfast. But generally, my "dessert" breakfast recipes are fairly low on sugar and high on other wholesome ingredients. So there's that.) It's not the pancakes that have too much sugar for me, it's the syrup.
Which syrup brings me to item number two: I feel like with most pancake recipes I have to DRENCH them in syrup for them to be tasty. Otherwise they are kind of just blah…bland. (Am I always just trying the wrong recipes?!)
And third, they usually don't have any super healthy ingredients. Generally pancakes are flour, sugar, baking agents, buttermilk and eggs right?
Well I am so excited to tell you that these pancakes are filled with good-for-you ingredients! They have Greek yogurt, almond milk, and white whole-wheat flour. But that's only the pancakes. You see, the syrup is one you can (guilt-free) DRENCH your pancakes in because it is 100% made from fruit!
The syrup is an easy blueberries + peaches + pineapple juice and it is to.die.for.yum.
Plus it's so simple to make – the fruit gets cooked on the stovetop while you are flipping pancakes and they are both finished the same time which is perfect.
The syrup is adapted slightly from Food Network so I tried it once and knew it was a huge winner and perfect for a healthier version of pancakes.
The pancakes however were tested multiple times until I had a batch I absolutely loved. Through the course of testing with different ingredients, here's what I learned to hopefully save you some questions:
Greek yogurt – use FULL fat Greek yogurt. Why? It will bring a lot of flavor, texture, and general "fluffiness" to your pancakes. I found that the very best Greek yogurt to use is vanilla flavored. It definitely gives these pancakes more flavor than with plain Greek yogurt and "makes" these pancakes! (Next I am going to experiment with a fruity version which I think would also be delicious.) Full-fat Greek yogurt contains healthy fats that keep you more full for longer and give you more energy throughout the morning. I would not recommend using a lower fat Greek yogurt (it tends to be a lot more watery), but if you try it please let other readers know in the comments!
Milk – I tried unsweetened vanilla almond milk (my favorite kind of milk) AND I tried whole milk (the babes milk). Obviously the batch with the whole milk was divine and richer than the other batch. However, flavor-wise the almond milk was spot on and super tasty. If you are making these to impress people – go for the whole milk. If you are making these for a healthy breakfast – a lower fat milk will be great.
Sugar – my last test was to make these with honey instead of refined sugar. I SO wanted it to work, but I didn't love the honey in these unfortunately. So stick to the sugar (I liked the brown more than white) as it's only 2 tablespoons for the entire recipe.
Honestly these are the favorite pancakes I've ever had. Vanilla Greek yogurt and fruity syrups for the win!
Healthy Greek Yogurt Pancakes with a Blueberry-Peach Syrup
Ingredients
Blueberry Peach Syrup
3/4

cup

pineapple juice

1

cup

frozen blueberries

2

fresh peaches
Pancakes
2

cups

white whole wheat flour

or sub all purpose

2

teaspoons

baking powder

1

teaspoon

scant baking soda

2

tablespoons

brown sugar

lightly packed

2

large eggs

2

cups

vanilla Greek yogurt

full fat

1/2

cup

unsweetened almond milk

or sub another milk

1

teaspoons

and 1/2 vanilla extract
Instructions
Start with the syrup. Combine the pineapple juice and frozen blueberries in a small pot over medium heat. Bring to a boil and then reduce the heat to low and allow to simmer (stirring every once and a while) for about 10-12 minutes.

Finely chop one of the peaches and add it in with the blueberry-pineapple mix and allow the syrup to simmer for another 5 minutes.

Pre-heat a griddle or a large skillet to medium heat. Grease well with butter-flavored cooking spray.

Stir together the flour (make sure to spoon and level your measurement of flour so you don't pack in too much flour), baking powder, baking soda, and brown sugar until all ingredients are well mixed together.

In another bowl, beat the eggs with a fork for about 15 seconds and then stir in the vanilla Greek yogurt, almond milk, and vanilla extract.

Combine wet and dry and mix until just combined. Over mixing will result in less fluffy pancakes.

Pour 1/3 cup onto the preheated skillet or griddle and flip when bubbles start to show up on the top. Cook for another 1-2 minutes or until lightly browned.

Cover the pancakes in your homemade fruit syrup and garnish with extra sliced peaches.
More breakfast ideas:
Peanut Butter Cup Overnight Oats
No-Bake Healthy Breakfast Cookies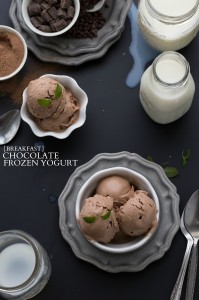 Breakfast Chocolate Frozen Yogurt