Pack your pancakes with nutrition and protein by adding greek yogurt! These healthy greek yogurt pancakes are flavorful, filling, and easy-to-make.
Pair these Greek yogurt pancakes with a delicious homemade blueberry syrup, a caramel syrup, or this vanilla sauce! Serve alongside these amazing breakfast potatoes.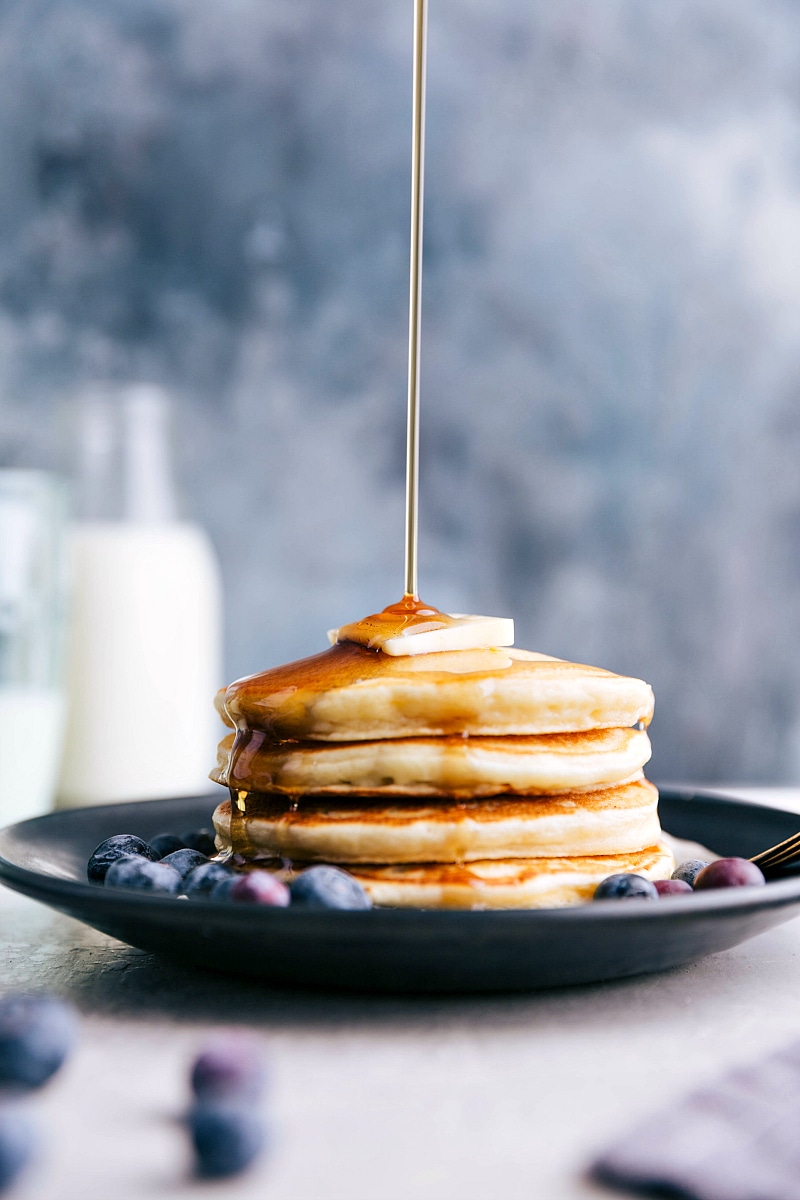 My boys are obsessed with pancakes! They beg me to make them for breakfast, lunch, and dinner. While, I don't make them as often as they'd like, I do make them at least one to two times a week.
So I thought it was time to make a slightly more wholesome recipe with loads more protein in the form of Greek yogurt and whole milk. And the good news is, they liked these even better than our usual pancakes!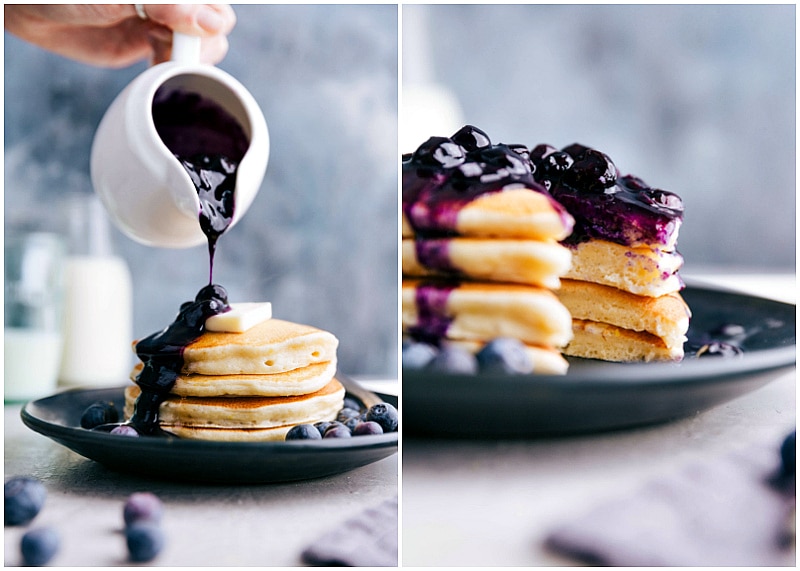 Let's start out with talking about the ingredients in this Greek yogurt pancake recipe, as well as possible substitutions.
Ingredients in greek yogurt pancakes
Vanilla Greek yogurt: use whole milk (full fat) Greek yogurt. I prefer a sweetened and flavored variety (my favorite is Greek Gods Vanilla Honey Greek yogurt) because it makes the pancakes sweeter and more flavorful. Full fat Greek yogurt contains healthy fats that keep you more full for longer and give you more energy throughout the morning. If you want to use plain Greek yogurt you may need to adjust the amount of sugar in the recipe. You can also add a fun flavor twist to these Greek yogurt pancakes by using a different flavor of Greek yogurt.
Milk: while whole milk is going to give you the richest tasting pancakes, any milk will work in these pancakes. Even dairy free milks — such as almond or soy milk will work in these pancakes.
Lemon zest OR cinnamon: while you don't want to add both, adding either a bit of lemon zest or a pinch of cinnamon adds a really nice muted flavor to these Greek yogurt pancakes.
Toppings for pancakes:
Below are some fun ways to top your Greek yogurt pancakes.
Pure maple syrup
Whipped Cream (How to make whipped cream guide here!)
Fresh Berries (blueberries, raspberries, blackberries, etc.)
Sliced banana and a sprinkle of cinnamon
Flaked Unsweetened Coconut
Chopped Nuts (Pistachios, almond slivers, walnuts, etc.)
A sprinkle of cinnamon sugar
Blueberry syrup
How to make thick and fluffy pancakes
As you can see from the photos, these Greek yogurt pancakes are super fluffy. Here are a few reasons they are so thick and fluffy:
Leavening agents. The fluffiness comes from the addition of baking powder and baking soda to give them a nice rise.
Eggs. Eggs also add to the fluffiness of these Greek yogurt pancakes.
Greek Yogurt. Using yogurt instead of milk makes these healthy pancakes super thick
Greek Yogurt Pancakes FAQs
Below are a few commonly asked questions when it comes to making these fluffy Greek yogurt pancakes.
Can you use Greek yogurt in place of eggs for these pancakes?
I do not recommend using yogurt as a substitute for eggs. In this Greek yogurt pancake recipe the eggs are very important ingredient to achieving fluffy pancakes.
Can you make Greek pancakes without milk?
I wouldn't recommend leaving out the milk in this Greek yogurt pancake recipe. You can however use dairy free milk alternatives 🙂
What makes pancakes light and fluffy?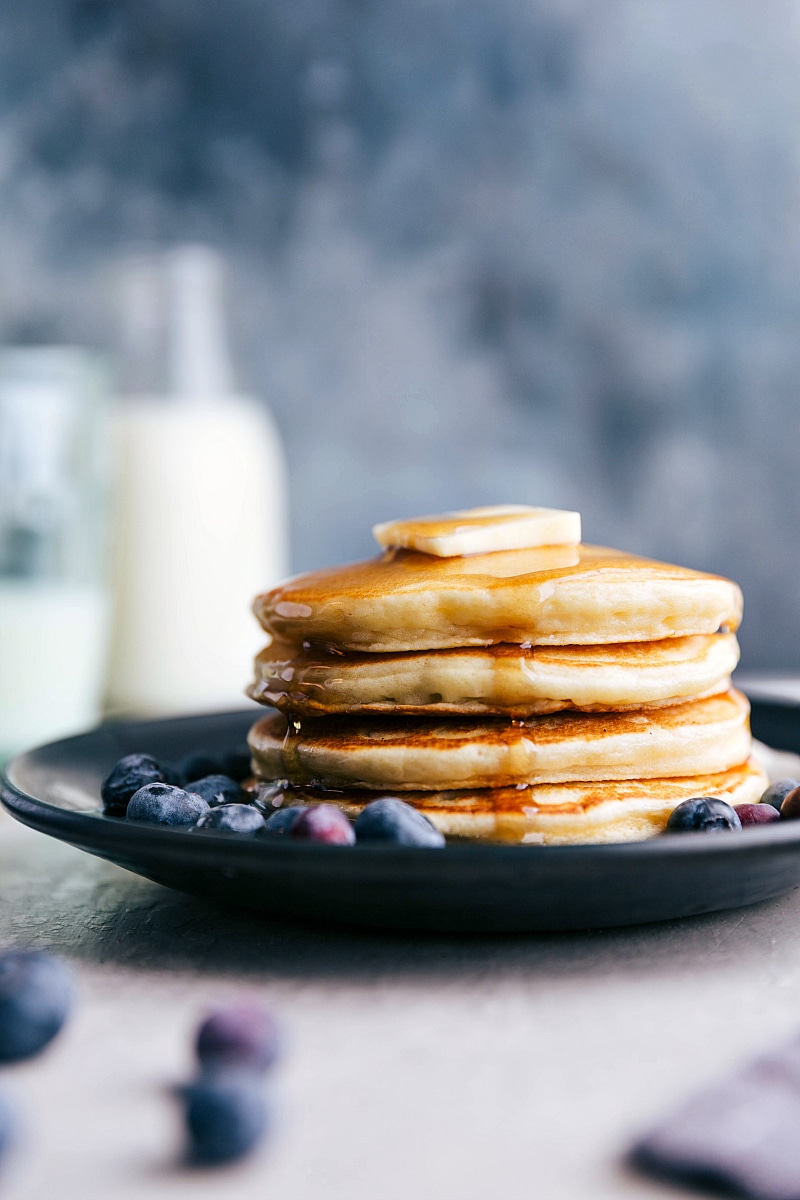 Use the rest of your Greek yogurt in these recipes: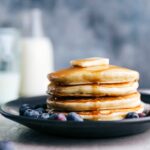 Greek Yogurt Pancakes
Pack your pancakes with nutrition and protein by adding greek yogurt! These healthy greek yogurt pancakes are flavorful, filling, and easy-to-make.
Keyword:
greek yogurt pancakes
Ingredients
1 and 1/2

cups

all purpose flour

1 and 1/2

teaspoons

cornstarch

3

tablespoons

white granulated sugar

2

teaspoons

baking powder

3/4

teaspoon

fine sea salt

1/2

cup

full-fat vanilla honey Greek yogurt (I highly recommend Greek Gods)

3/4

cup

whole milk

(plus 1-3 tablespoons)

2

large

eggs

1 and 1/2

teaspoons

pure vanilla extract

1

teaspoon

grated lemon zest OR 1/2 teaspoon cinnamon,

optional

Unsalted butter,

for cooking
Instructions
Stir together the flour, cornstarch, sugar, baking powder, and salt. In a separate bowl, whisk together the yogurt, milk, eggs, and vanilla. For a fun hint of flavor add in EITHER lemon zest or cinnamon (not both!) Add the wet ingredients to the dry ones, mixing only until JUST combined. Be careful to not overmix.

Melt 1 tablespoon of butter in a large skillet OR griddle over low to medium-low heat until it bubbles. Pour the pancake batter into the pan to make 3 or 4 pancakes. Cook for 2 to 3 minutes or until bubbles appear on top and the underside is lightly browned. Flip the pancakes and then cook for another 1 to 2 minutes until browned. Wipe out the pan with a paper towel, add more butter to the pan, and continue cooking pancakes until all the batter is used.

Serve with maple syrup OR blueberry syrup (see post for recipe).