A delicious and healthy copycat of the Nature Valley Soft-Baked Blueberry Oatmeal Squares. The perfect on-the-go snack the whole family will enjoy!
Well, it's about time. There are two other soft-baked Nature-Valley Copycat bars on this blog and finally I have a much requested third one for you all!
I've gotten countless emails and comments asking for a blueberry copycat after people have enjoyed the peanut butter bars and the brown sugar cinnamon bars. The reason I've been holding out on you all? I had actually never tried the blueberry ones until a couple of weeks ago! I regularly bought the other two flavors until I created a copycat recipe for them and never went back to try any of the other flavors.
Finally, I made a trip to the grocery store with JUST these bars in mind and nabbed a box. I ate one on the way home and liked it — I thought it was a bit dry and hard, but that may have just been the batch I got. Other than that, the flavors are pretty great. So the experimenting began to make a (less dry/hard) flavorful blueberry soft-baked oatmeal bar!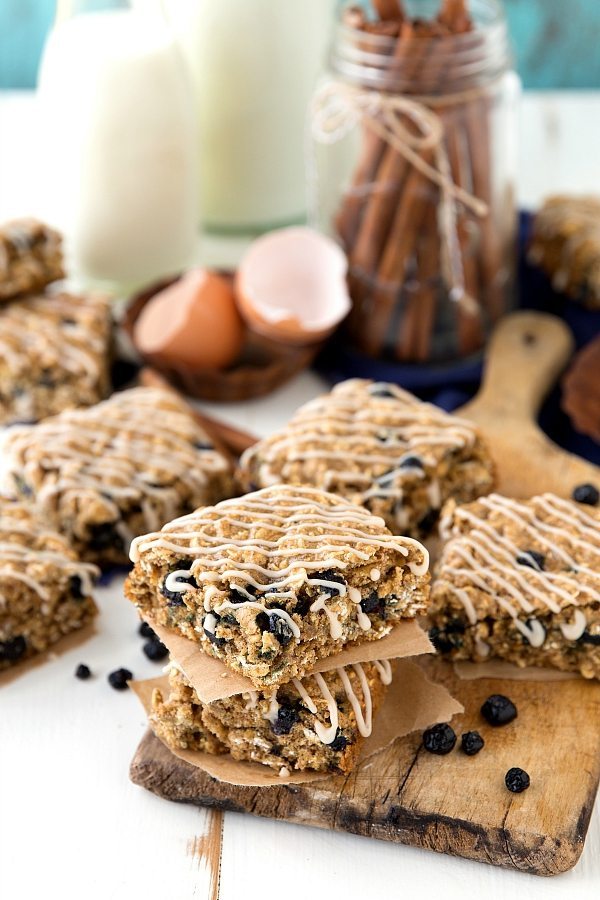 I pulled a lot of the same ingredients from the brown sugar bar recipe since these bars are pretty similar to those. The big differences: a pretty strong maple syrup taste, the dried blueberries (of course), a stronger vanilla flavor, and the vanilla drizzle.
There is a definite maple syrup flavor in these and although pure maple syrup can be quite expensive, it's totally worth it. The recipe only calls for 3 tablespoons, but those 3 tablespoons are pretty huge for the flavor of these bars.
When having people taste these bars against the original, everyone said the copycat was better (!!), softer, and even a little bit sweeter tasting. All in all, they taste very similar! I used 5 tablespoons of brown sugar in the test of comparing these bars to the Nature Valley bars. If you are used to healthier snacks you can probably reduce to 3-4 tablespoons brown sugar and these bars will still be plenty sweet. However, if you are new to healthier snacks or just want a sweeter bar, use 5-7 tablespoons of the brown sugar. Taste the "dough" and adjust the sugar to your personal preference.
Unfortunately, frozen and fresh blueberries were not successful in my testing. I use dried blueberries in these bars (I found them right by dried fruit and nuts in the grocery store – by dried cranberries, mango, etc.) and they work perfectly!
Finally, try not to overmix or overcook these bars. Over-mixing will yield a denser bar and over baking will make these more dry and harder. You'll also want to make sure to store these in an airtight container or they will get quite hard in a hurry! Enjoy these bars! 🙂
Recently my little boy has been hooked on the Clif Z bars…what do you think…interested in a copycat recipe for those?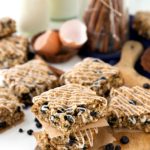 Soft-baked Blueberry Oatmeal Squares
Servings
:
9
-12 bars, depending on how you cut these
Ingredients
Bars
1

cups

and 1/2 old-fashioned oats

1/2

cup

oat flour

blended oats

3/4

cup

white whole wheat flour

or sub white

1

teaspoon

baking soda

1/4

teaspoon

baking powder

1/4

teaspoon

salt

1

teaspoon

and 1/2 cinnamon

or more to taste

4-5

tablespoons

brown sugar

lightly packed

1

teaspoons

and 1/2 vanilla extract

1/2

cup

unsweetened vanilla almond milk

or sub another milk

1

large organic egg

3

tablespoons

pure maple syrup

1/2

cup

dried blueberries

must be dried
Vanilla Drizzle
3/4

teaspoon

vanilla extract

1/2

cup

powdered sugar

Pinch of salt

1/2- 3/4

tablespoon

milk
Instructions
For the bars:
Preheat the oven to 350 degrees F. Line an 8 x 8 baking pan with parchment paper. (These will be near impossible to get out if you don't use it)

To make oat flour, just place old fashioned or quick oats in a blender and pulse until they resemble flour. Measure AFTER blending to make sure you have the right amount.

Combine the oats, oat flour, white whole wheat flour, baking soda, baking powder, salt, cinnamon, and brown sugar (use 4 tablespoons if you are used to healthier treats and 5 or even 6 tablespoons if you want a sweeter bar) in a large bowl. Stir until combined.

In a small bowl, combine the vanilla extract, milk, large egg, and pure maple syrup. Lightly beat with a fork.

Mix together the dry and wet ingredients until just combined (do not overstir as this results in denser bars). Stir in the dried blueberries. The mixture will be very thick and wet. Press the mixture into the parchment lined pan. Press until it it evenly spread throughout the pan.

Bake for 18-20 minutes or until the center is slightly inflated and the edges are lightly browned.
For the vanilla drizzle:
Combine all of the ingredients in a medium sized bowl starting with only 1/2 tablespoon milk. Whisk briskly until a very thick frosting has formed. Add up to 1/4 tablespoon milk if needed.

Transfer the frosting to a plastic resealable bag and cut off the very tip. Once the bars have cooled, press the frosting through the small hole onto the bars to create a thin drizzle.
Storing
Store these bars in an airtight container or sealable bag. I like keep them in the fridge and microwave for a little right before eating.

Best eaten (or frozen for later) within 3 days.
Recipe Notes
I recommend organic eggs as I believe they result in a more flavorful bar.
More healthy breakfast or snack options: