Incredible buttermilk pancakes bursting with fresh blueberries and cooked to perfection! These blueberry pancakes are light and fluffy and perfect with syrup and fresh berries (truthfully, they're even delicious without syrup!)
We're huge fans of everything breakfast around these parts! Top these delicious blueberry pancakes with this vanilla sauce, caramel syrup, or whipped cream and (more) berries.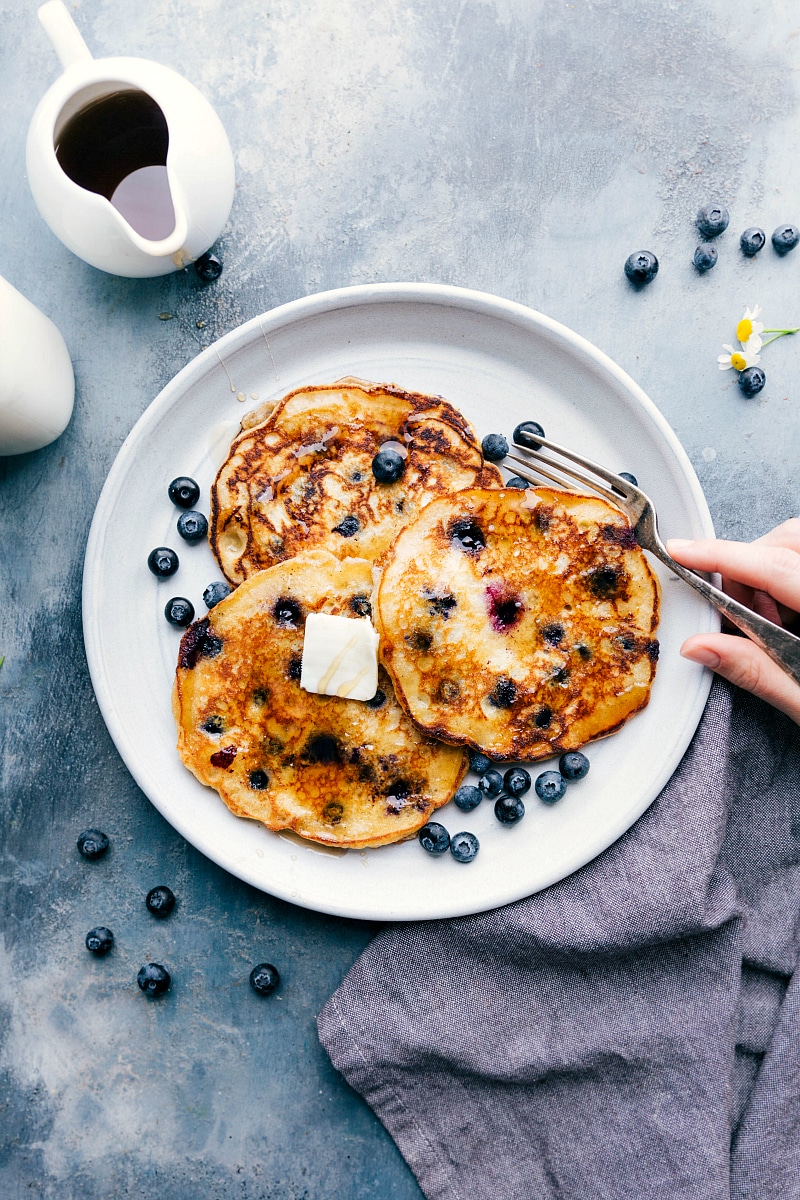 From this blueberry smoothie to these healthy blueberry muffins and this lemon blueberry bread, we are obsessed with blueberries in our breakfasts! These fluffy & flavorful blueberry pancakes are our current favorite. They're adapted from my homemade pancakes recipe which never disappoints 🙂
Today I'm sharing how to make these pancakes, my top tips/tricks for success, and briefly going into the nutrition on blueberry pancakes. Let's get started!
How to make blueberry pancakes
Tips for the best blueberry pancakes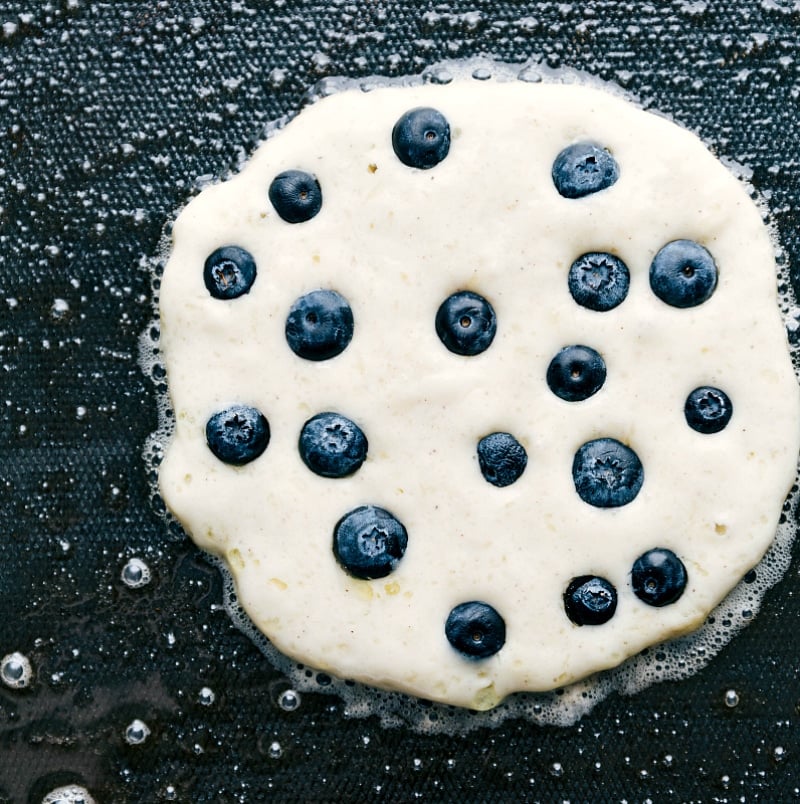 Blueberry Pancakes FAQS
While I do recommend fresh blueberries for this pancake recipe, frozen blueberries can be used! They do not need to be thawed per se, but make sure they aren't frozen rock solid before adding to the batter. I recommend pulling frozen blueberries out of the freezer before beginning to make these pancakes.

DIY Buttermilk
Don't have buttermilk? No problem! You can make your own. The pancakes do tend to be a little flatter with DIY buttermilk as opposed to regular, but it still works great (I've tested both!) Below are the instructions:
Pour 1 tablespoon distilled white vinegar OR lemon juice into the bottom of your liquid measuring cup. Fill up the rest with whole milk and give it a quick stir. Let it sit for 5-10 minutes before adding it into the recipe. This "recipe" can be increased or decreased proportionately.
For this particular recipe, I add 1 tablespoon and 1 teaspoon vinegar to a liquid measuring cup and add milk until reaching the 1 and 1/4 cup line.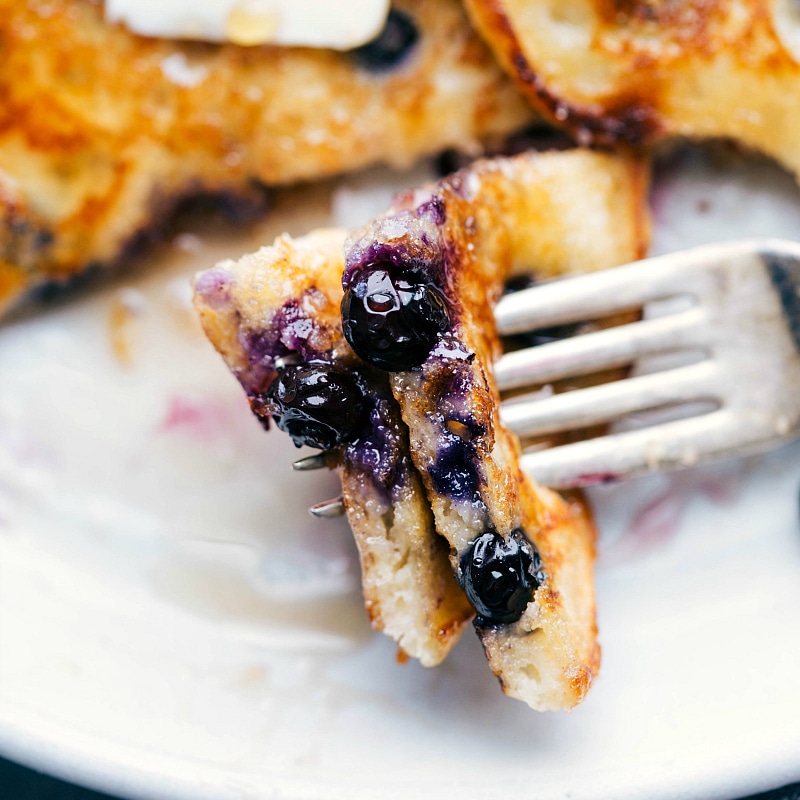 The best thing about making your own blueberry pancakes is you get to pick exactly how you want them topped! Below are some ideas:
Toppings for blueberry pancakes:
I hope you enjoy these syrup-drenched, blueberry-bursting, perfect pancakes!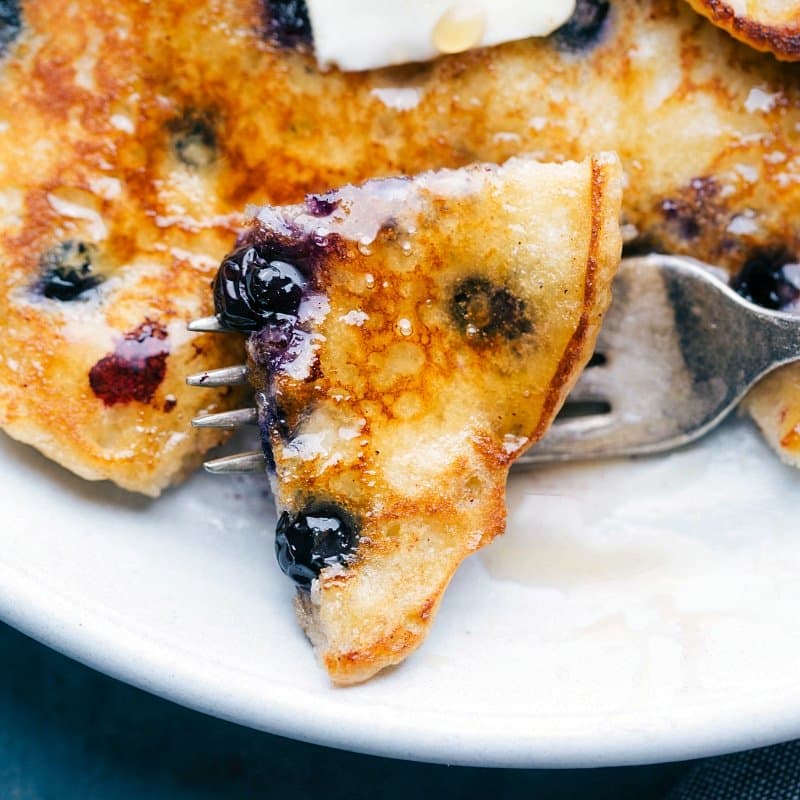 More delicious breakfast recipes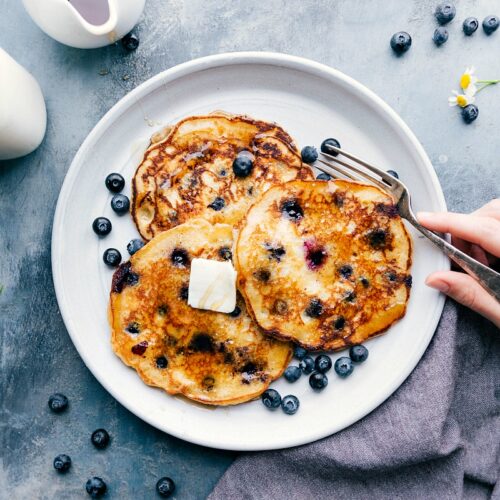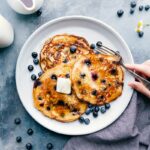 Blueberry Pancakes
Incredible buttermilk pancakes bursting with fresh blueberries and cooked to perfection! These blueberry pancakes are light and fluffy and perfect with syrup and fresh berries (truthfully, they're even delicious without syrup!)
Keyword:
blueberry pancakes
Ingredients
8

tablespoons

unsalted butter,

separated

1 and 1/4

cup

full fat buttermilk

1

large egg

1

teaspoon

pure vanilla extract

1 and 1/4

cups

white all-purpose flour

2

tablespoons

white granulated sugar

1/4

teaspoon

ground cinnamon

3/4

teaspoon

fine sea salt

1

teaspoon

cornstarch

1/2

teaspoon

baking powder

1/2

teaspoon

baking soda

1

pint

fresh blueberries
Instructions
Heat the oven to 200 degrees F and prepare a large baking sheet by setting a cooling rack on top of the tray. Place both in the oven. Start by melting 5 tablespoons of butter. Once completely melted, stick in the fridge to get to room temperature.

Whisk together buttermilk, egg, and vanilla. Set aside.

In a very large bowl, whisk together the flour, sugar, cinnamon, salt, cornstarch, baking powder, and baking soda. Make a well in the center of the dry ingredients and set aside.

Drizzle melted and cooled to room temperature butter into the wet ingredients. Mix until smooth.

Pour wet ingredients into the well of the dry ingredients and mix until JUST combined. Do not overmix; just mix until you don't see streaks of flour. Don't overmix; the batter should be a bit lumpy. Let the mix stand for 5-10 minutes.

Heat a large skillet or griddle over medium-high heat (~300 degrees F). When hot, run the cold stick of remaining 3 tablespoons butter across the skillet/griddle (I like to hold butter with tongs to keep the heat away from my fingers). Lower the heat to medium-low and use a 1/3 cup measuring cup to scoop and drop pancake batter onto the skillet or griddle.

The batter should spread into a pancake about 3-inches wide. As soon as the batter has spread (use a butter knife to coax if needed), press blueberries into the batter. Add as many or as few as you like. Cook until bubbles are forming on the edges of the pancakes and then use a thin spatula to gently lift one side and look underneath. If the pancake is golden brown, flip and cook on the other side for 1 and 1/2 to 2 and 1/2 minutes, or until the bottom of the pancake is golden brown and pancake is cooked through. (If the pancake or butter is burning, lower the heat.)

As soon as you pull a pancake off the skillet/griddle place on the prepared sheet pan lined with a cooling rack (this keeps it from getting soggy underneath!). Place the pan in the oven as you continue to cook more pancakes. Wipe down the skillet/griddle with a paper towel. Rub the butter across the skillet again and repeat until batter is all used up.

Serve pancakes as soon as possible. Topped with an extra pat of butter (optional) and your favorite syrup -- maple syrup or some of the options listed in the post!