This moist and flavorful easy banana bread recipe is a family favorite! If you're looking for a way to use your ripe bananas, give this simple banana bread recipe a try.
Today I'm sharing how to make our favorite banana bread, all my tips and tricks for the perfect loaf, how to speed up the ripening process for bananas, and how to freeze/store any leftover banana bread.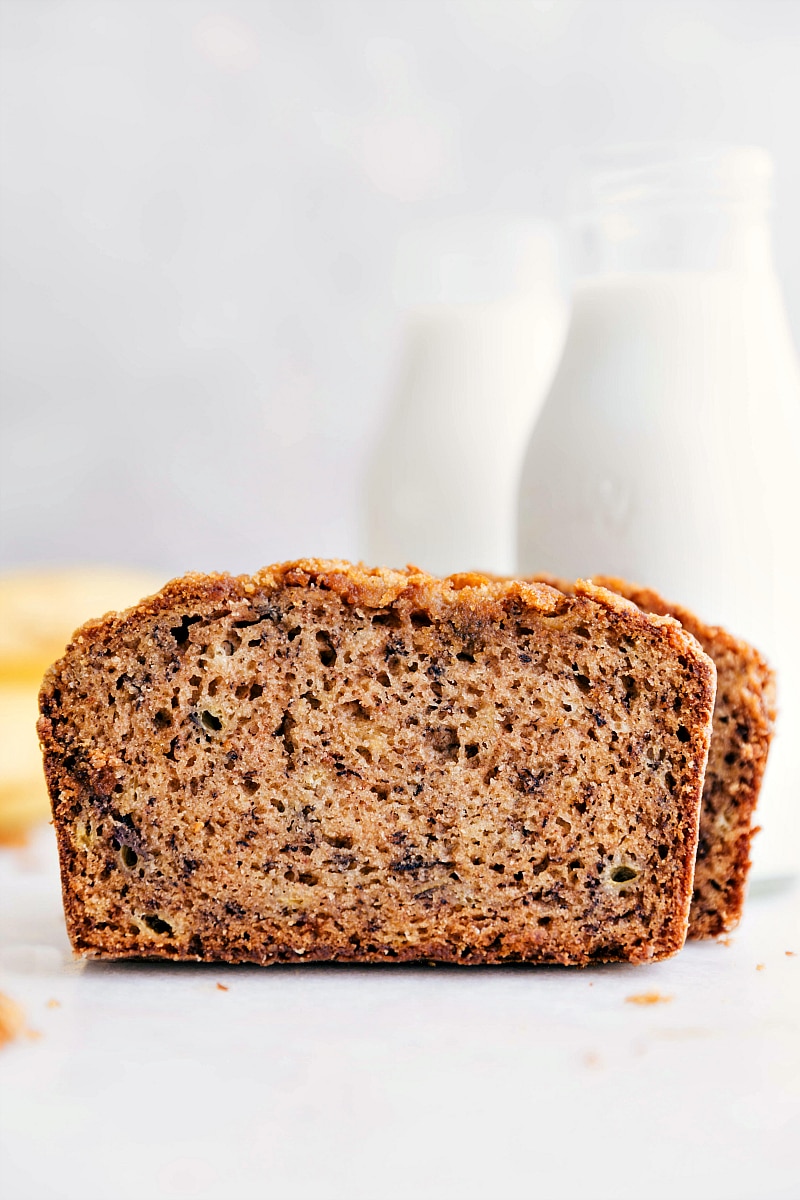 I firmly believe having a reliable (and delicious!) recipe for making homemade banana bread is a necessity! Whenever you start to see the freckle-y spots cover those bananas sitting on your counter (that, let's be honest, you likely bought to wait for them to be overripe anyways) you can whip out that very recipe. And, give or take a few minutes, in an hour you can a a home filled with the smell of freshly baked banana bread and a few minutes after that you can be eating a slice of freshly baked, warm and moist, sweetly spiced banana bread.
Is there anything better in life that you can get from overripe speckle-y fruit? Not that I know of.
This easy recipe is all that and more — it's reliable, easy to whip together, and will have your home smelling a bakery!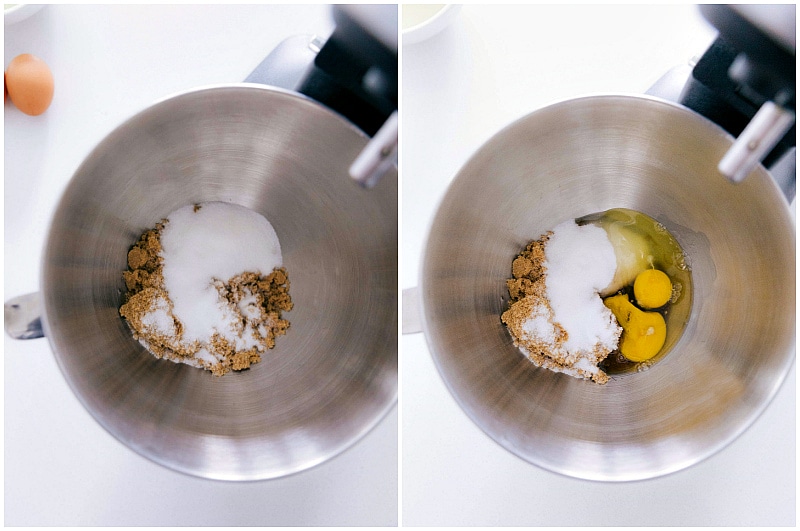 I told you this bread is EASY to make. Below is a quick breakdown of the steps.
How do you make easy banana bread?
Sift dry ingredients: the flour, baking soda, cinnamon and salt all get sifted in a bowl and set aside.
Beat wet ingredients: With a stand mixer fitted with the whip attachment, beat together the sugar and eggs on medium speed until light and fluffy and then beat in oil, butter, bananas, sour cream, and vanilla. Mix til it is all combined.
Combine wet and dry: add the dry ingredients to the wet and beat until JUST combined. Over mixing causes an activation of the gluten in the flour which will result in denser/drier banana bread.
Bake: fill greased and lightly floured bread pan with the batter and bake!
What can you put in banana bread?
Banana bread add ins: If you're looking to "spice" up your banana bread you can add one of the following ingredients:
Chocolate chips: toss 1 cup with dry ingredients. I like to use a mix of regular sized and miniature sized chocolate chips (1/2 cup milk and 1/2 cup semi sweet), but add your favorite type of chocolate to this recipe.
Nuts: (walnuts, pecans, almonds) toss 1 cup coarsely chopped nuts with the dry ingredients.
Dried fruits: (cranberries, raisins) toss 1 cup with the dry ingredients
Flaked coconut: toss 1 cup (sweetened or unsweetened) coconut with the dry ingredients.
To add in one of the previously mentioned ingredients make sure to toss with the dry ingredients which will help get an even dispersion throughout the bread.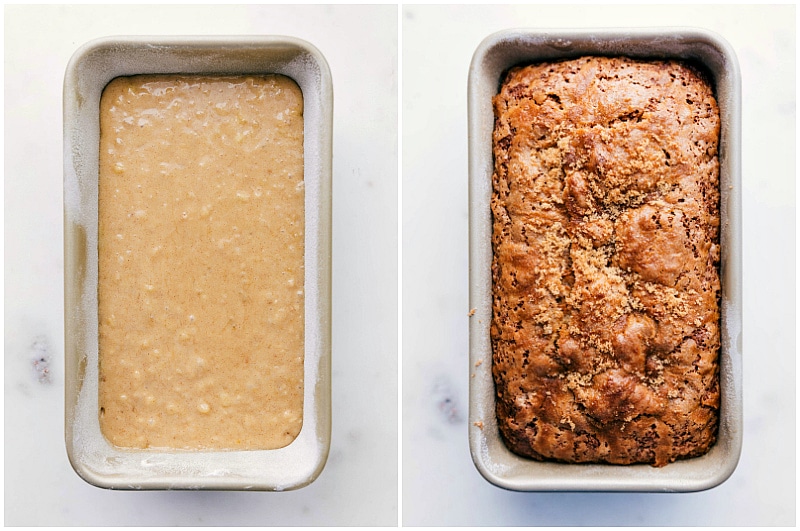 FAQs: Easy Banana Bread
Can I freeze this banana bread?
Yes! Freeze the freshest bread you have. If you've just baked it, allow the bread to cool completely before freezing to avoid soggy bread or mold.
Wrap the bread tightly in plastic wrap and then seal it completely in an airtight container or bag. Freeze the loaf of bread (or even better, individual slices).
This bread freezes safely for 3 months.
Individual slices of this bread defrost in under 10 minutes at room temperature and take slightly longer to defrost in the refrigerator.
How long is this banana bread good for?
2-3 days at normal room temperature (wrapped tightly/stored in an airtight container). After 3-4 days, this bread is more prone to molding because of the ingredients used and overall moistness of the bread.
Do I need to put banana bread in the fridge?
After 1 day of the bread being at room temperature, I recommend refrigerating it and warming individual slices in the microwave for 5-10 seconds. While not necessary to refrigerate the bread, it will keep it fresher for longer.
How can I speed up the ripening process for bananas?
Simply place a few bananas on a baking tray and bake at 350 degrees F for 6-12 minutes (depending on how ripe the bananas are to begin with). They're ready to go when the skins turn black.
What do you eat banana bread with?
I personally love banana bread by itself, but if you're serving it as part of a brunch, it would go well with this bread pudding recipe and this simple ham and cheese quiche. Here are some other ideas for what to pair this bread with.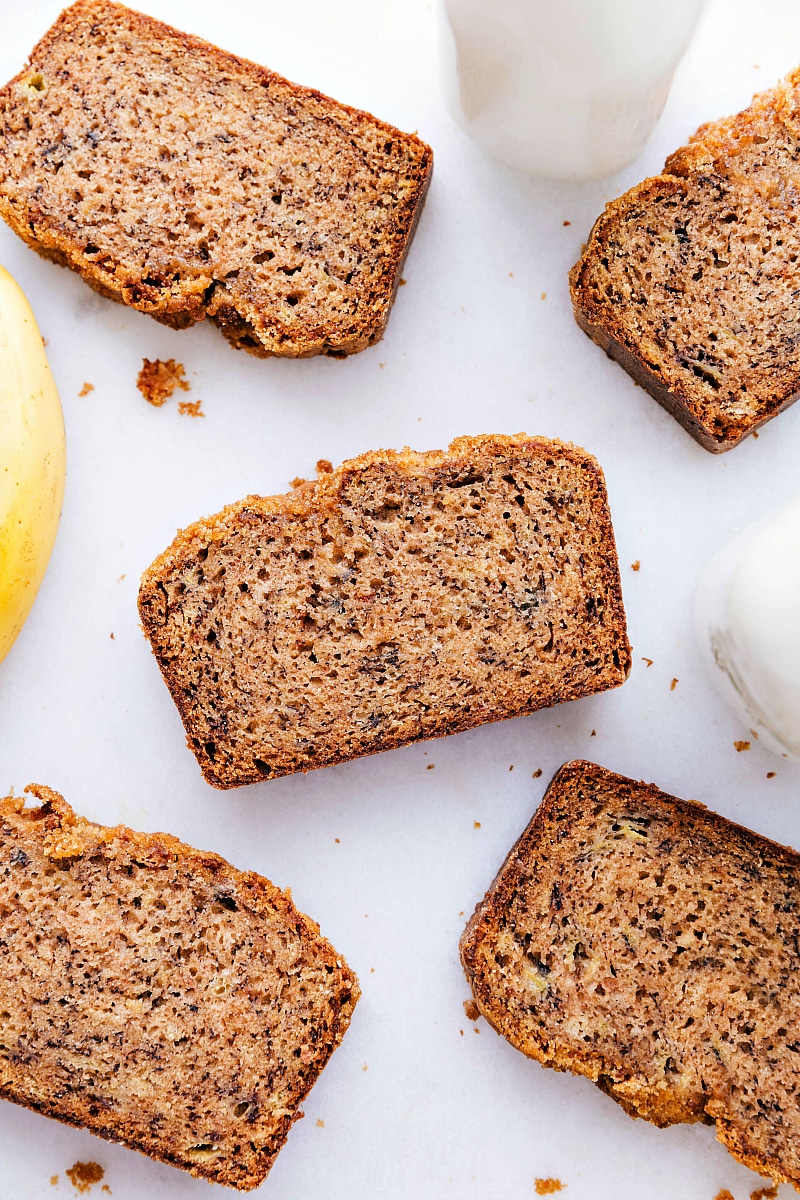 More Banana Recipes:
How do I make a simple banana cake?
Unfortunately, this recipe doesn't convert to cake super easily, but luckily I have a recipe that does: give this simple banana cake recipe a try! And if you're looking to make cupcakes, these banana cupcakes are a favorite on this site! And finally if you're looking for muffins, try these banana muffins.
Can I make this bread healthy?
While there are some swaps you can make, I recommend trying this healthy banana bread recipe instead. It's quite a bit healthier than this recipe and it's received glowing reviews — definitely a reader favorite!
More Delicious Baked Goods: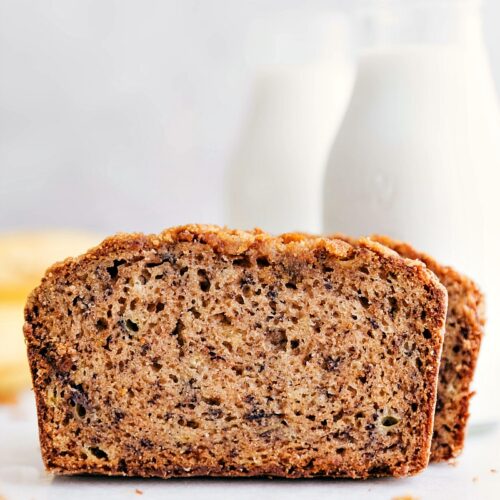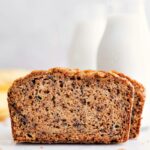 Easy Banana Bread
This moist, flavorful, and delicious easy banana bread recipe is a family favorite! If you're looking for a way to use your ripe bananas, give this recipe a try!
Course:
Breakfast, Dessert
Keyword:
banana bread, easy banana bread
Servings
:
1
loaf banana bread
Ingredients
3/4

cup

light brown sugar,

packed

1/2

cup

white sugar

2

large

eggs,

at room temperature

1/4

cup

canola oil (vegetable oil works)

1/4

cup

unsalted butter,

melted and slightly cooled

1 and 1/2

cups

mashed bananas (~3-4 overripe bananas)

2

tablespoons

vanilla full-fat Greek yogurt

(or use sour cream)

1 and 1/2

teaspoons

pure vanilla extract

1 and 2/3

cups

white all purpose flour

1

teaspoon

baking soda

1/2

teaspoon

ground cinnamon

1/2

teaspoon

fine sea salt

Optional topping: 2 tablespoons brown sugar + 1 tablespoon cane sugar for topping
Instructions
With the rack in the center of the oven, preheat to 325 degrees F. Lightly grease and flour the bread pan. This recipe works the best in a 9 x 5 inch bread loaf pan. Remove the peels and place the bananas in a small bowl. With a fork, thoroughly mash the bananas.


With a stand mixer fitted with the whisk attachment, beat together the brown sugar, white sugar, and eggs on medium speed until pale and fluffy, about 3-5 minutes.


Switch the mixture speed to low and slowly drizzle in the oil, then slowly drizzle in the butter (make sure it's cooled down from being melted). Add the thoroughly mashed bananas, yogurt OR sour cream, and vanilla extract. Continue to mix on low speed until just combined.


In another large bowl, mix together the flour, baking soda, cinnamon, and salt.


Add all of the dry ingredients to the wet ingredients and using a spatula (don't use the mixer) gently fold in the dry ingredients until just combined. You don't want to over-mix this batter, just fold until you don't see any streaks of the dry ingredients.


Pour that batter into the prepared loaf pan. If desired, sprinkle the 2 tablespoons brown sugar and 1 tablespoon can sugar evenly over the top of the bread.


Place the bread on a baking sheet. Bake for 50-70 minutes (wide variance depending on the actual pan you used, actual heat of your oven, humidity, etc.). The bread should be lightly golden brown on top, will spring back when you press it, and a toothpick when inserted in the center should come out clean or with moist crumbs.


Remove the bread and allow to cool in loaf pan for 8-10 minutes. Invert onto a cooling rack to finish cooling and then slice with a sharp serrated knife.