These classic turkey meatballs are healthy, super moist, and packed with flavor! They're easy to make, work well for meal prep, and freeze beautifully.
Pair these turkey meatballs with a simple side dish such as this cucumber salad, Italian salad, or roasted brussel sprouts.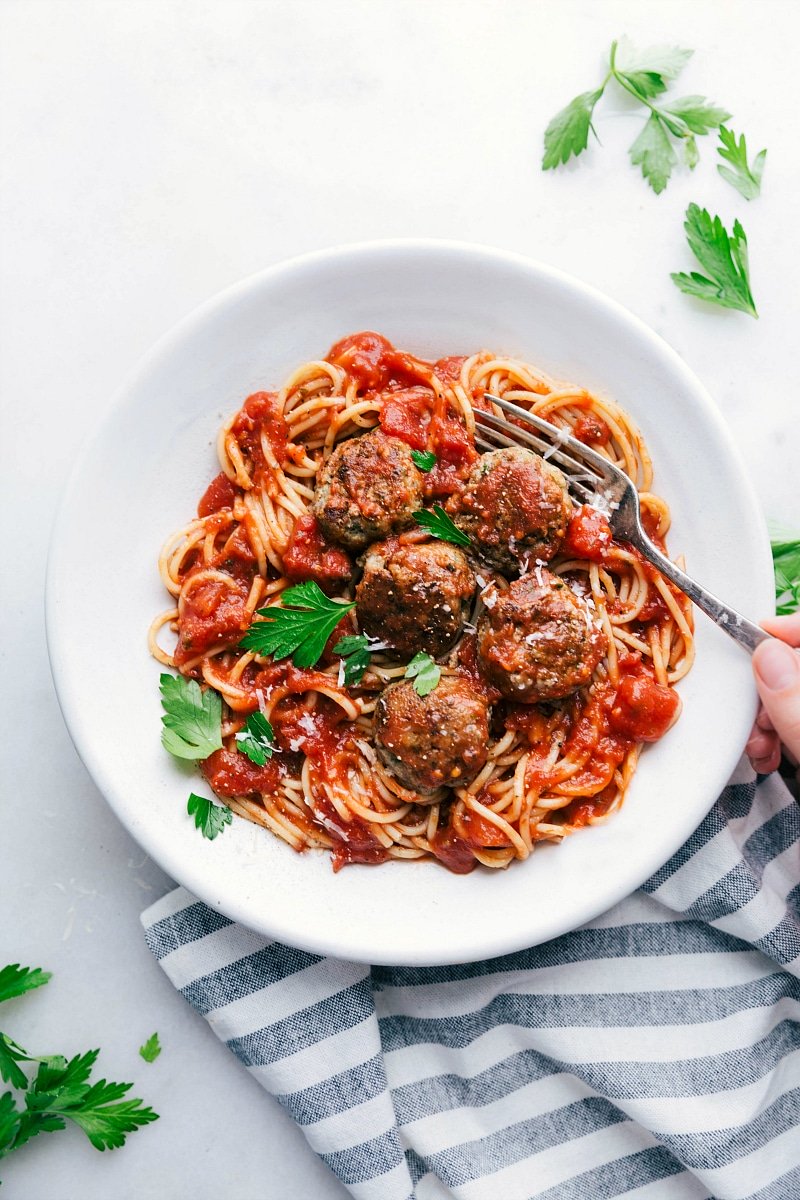 My family is obsessed with turkey meatloaf, so I thought I'd switch it up a bit and make turkey meatballs. Meatballs have always been one of my favorite comfort foods (my go-to recipe here), but as I'm often trying to make dinners a little healthier, I thought it was about time to try out a leaner meat.
And honestly we do not miss the beef or sausage in these meatballs. The flavor is robust and the textures are spot on!
And while the boys insist they must be served over a bed of marinara coated noodles, they're truly delicious on their own or with a lower carb base such as spaghetti squash or zucchini noodles.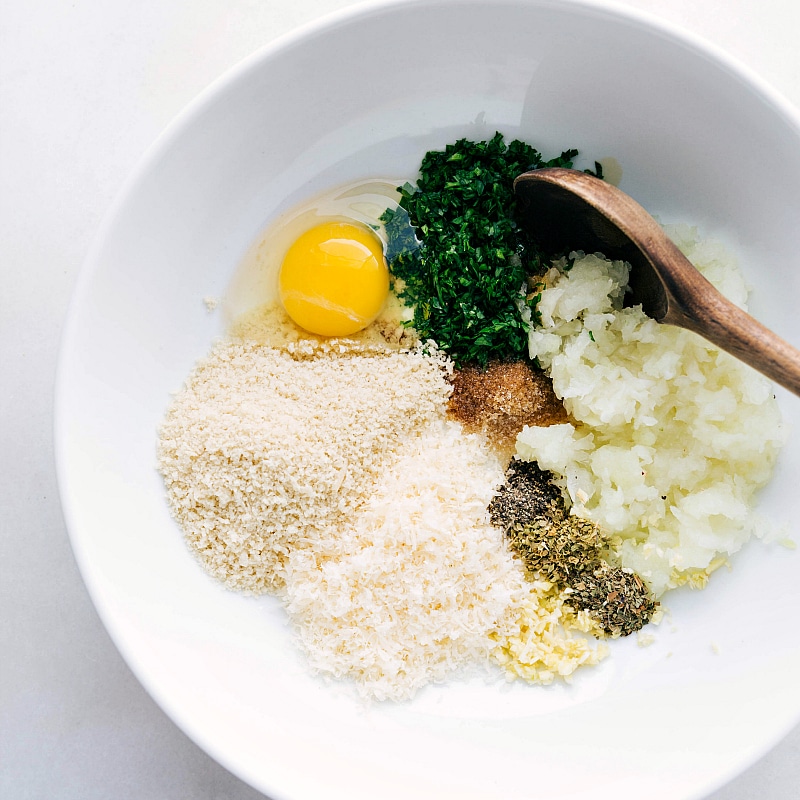 So today I'm sharing the recipe along with some quick tips, answering some meatball FAQs, and sharing how to freeze and reheat these lil bites of happiness.
Turkey meatball tips
Keep the ground turkey as COLD as possible: ground turkey is easiest to form into meatballs when it's cold. Grab it out from the fridge right when you need it and be careful to not overwork it (which will also warm it up).
Grate the onion: while this step is (admittedly) annoying, it gives these meatballs the best possible taste and texture. No large chunks of (uncooked) onions, but all the great flavor dispersed throughout.
Use a NONSTICK skillet: unfortunately these meatballs stick and subsequently fall apart on cast iron skillets. I've never had a problem with these meatballs falling apart in a nonstick skillet.
Use a microplane: I recommend grating the Parmesan cheese and garlic on a microplane to get the best texture and even dispersion of ingredients in these meatballs.

Meatball FAQS & Troubleshooting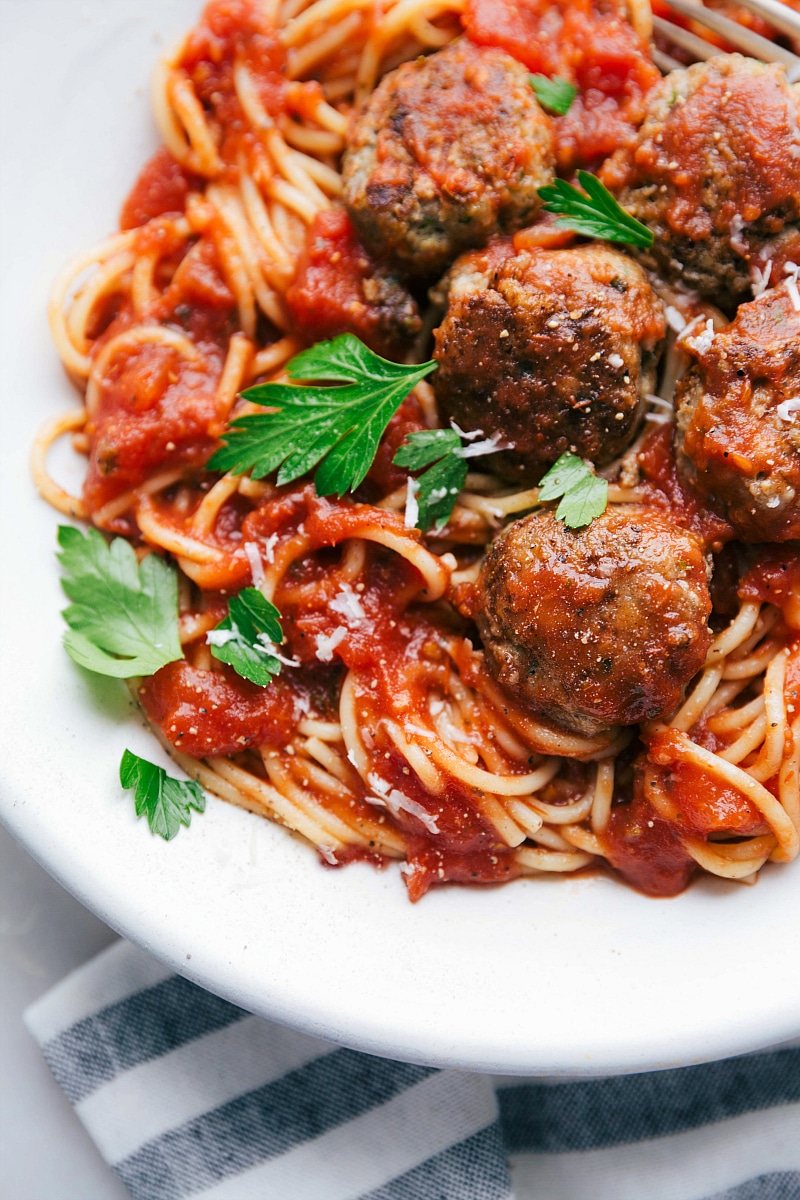 How to measure turkey meatballs
When cooking a batch of meatballs with a myriad of different sizes, smaller meatballs will end up dry and overcooked, while the larger ones will end up undercooked.
To keep sizes consistent, I recommend using a small ice cream scoop or 1/8th cup (2 tablespoons) measuring cup. For this recipe you should get around 28 to 29 meatballs.
How to freeze and reheat meatballs
Cook the meatballs according to directions in the recipe card and allow to completely cool
Place on a parchment paper lined sheet pan, uncovered, in the freezer
Place in the freezer for 1 hour (or until frozen solid)
Transfer the meatballs to a freezer safe bag or container and make sure to label and date the meatballs
To reheat: remove from bag or container and place (straight from freezer) meatballs on a foil lined sheet pan. Bake for 15 minutes at 300 degrees F or until meatballs are fully thawed and heated through.
Alternatively, add the (straight from freezer) meatballs into about 3 cups marinara in a large skillet. Cook over low heat, stirring occasionally, for 10 minutes or until meatballs are heated through.
Turkey meatballs variation ideas
Turkey meatballs in sauce: serve these meatballs with marinara; for this recipe you'll want about 3 cups marinara sauce. You can also serve them with gravy (Swedish style turkey meatballs).
Turkey meatballs and spaghetti: this is our favorite way to enjoy turkey meatballs! Cook up a pound of spaghetti and prepare (or buy) about 3 cups marinara sauce. Toss the cooked spaghetti with the marinara and serve the meatballs right on top with a little more marinara spooned over them.
Italian turkey meatballs: this meatball recipe does have an Italian inspired flavor. To amp up the Italian flavor, add 1 to 2 teaspoons Italian seasoning.
Turkey meatballs in the crockpot: to cook these in the crockpot, follow the directions below:

Line a sheet pan with foil. Place an oven safe cooling rack on top and spritz with cooking spray.

Add meatballs in an even layer on top.

Broil in the oven (on high) for 2 minutes on per side.

Spray your slow cooker with cooking spray.

Add half of the meatballs to the crockpot. Cover with pasta sauce. Add remaining meatballs.

Very gently stir until all the meatballs are coated in the sauce.

Cover and cook on low for 4-6 hours. High setting not recommended.

Turkey meatballs without breadcrumbs: you can substitute quick oats, crushed Ritz or Saltine crackers, or crushed up croutons for the Panko/breadcrumbs in this recipe. (Details on substituting here).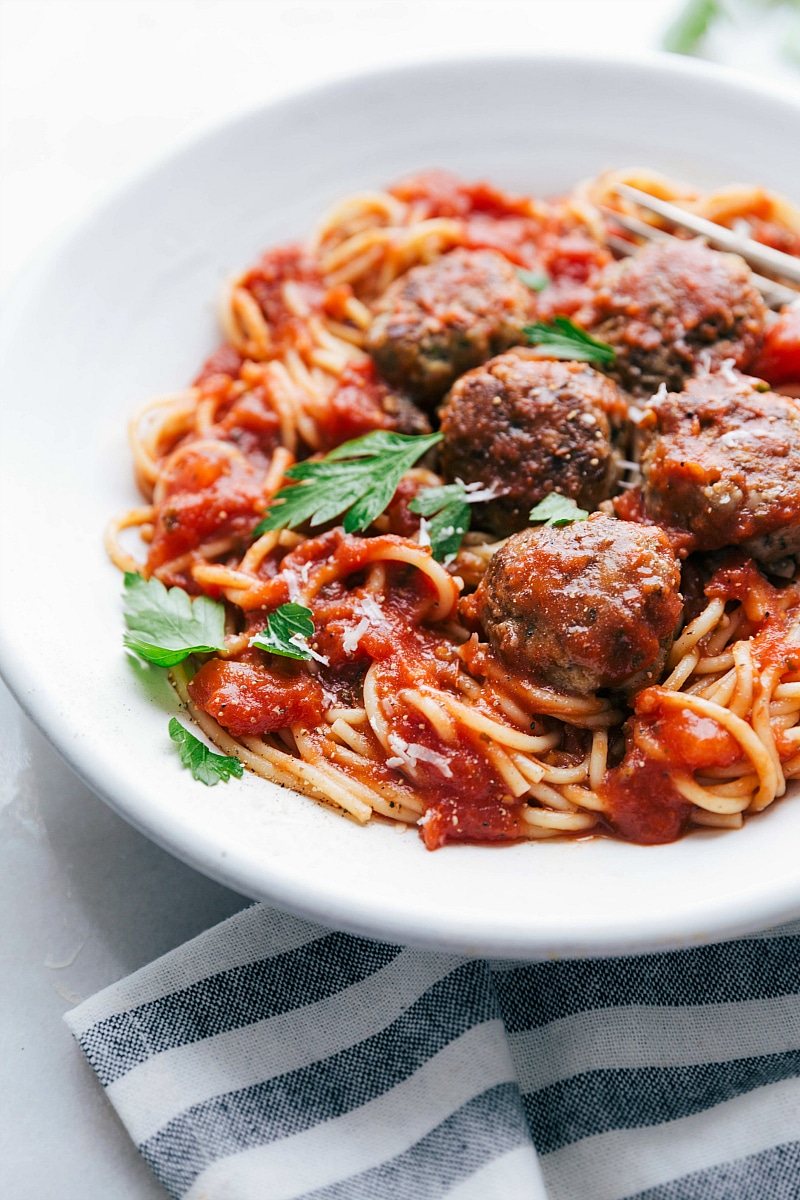 More turkey recipes: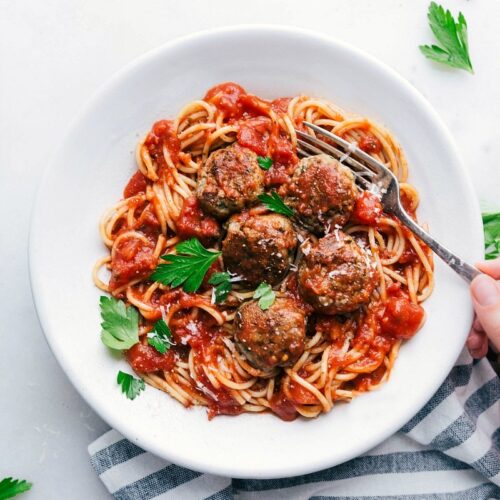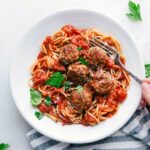 Turkey Meatballs
These classic turkey meatballs are super moist, healthy, and packed with flavor! They're easy to make, work well for meal prep, and freeze beautifully!
Keyword:
turkey meatballs
Servings
:
28
-29 meatballs
Ingredients
1

large

yellow onion,

grated (measured to 2/3 cup)

3

garlic cloves,

finely minced

1 and 1/2

teaspoon

fine sea salt

1/2

teaspoon EACH:

oregano, basil, freshly cracked pepper

1/4

cup

flat leaf parsley,

finely chopped

1/2

cup

Parmesan cheese,

freshly grated (on a microplane)

1/2

cup

Panko

(breadcrumbs)

1

large

egg

2

teaspoons

Worcestershire sauce

1 and 1/2

pounds

lean ground turkey (90%)

Serve with: 1 pound dry spaghetti (cooked according to package instructions) and 3 cups marinara sauce (homemade or store bought), fresh Italian parsley, freshly grated Parmesan cheese
Instructions
MEATBALLS: IF baking, preheat the oven to 400 degrees F. Using the large holes on a cheese grater, grate an onion until you have 2/3 a cup. Add to a very large bowl. Finely mince OR grate the garlic on a microplane and add to the bowl. Add the salt, oregano, basil, pepper, finely chopped parsley (measured AFTER being chopped), finely grated Parmesan cheese (I like to use a microplane here to grate the Parmesan), Panko, egg, and Worcestershire sauce. Stir until all the ingredients are well combined. Add in the ground turkey straight from the fridge (keep the turkey as cold as possible as it's easier to work with). Gently knead the ingredients until combined being careful to not overwork the meat. This will yield tough/rubbery meatballs.

MEATBALLS CONT.: Shape the meat mixture into meatballs. I use a 1/8th measuring cup (2 tablespoons) to ensure meatballs all end up the same size. Place measured balls on a large plate and refrigerate the first half while working on forming the last half of the meat into meatballs.

BAKING: Line a large sheet pan with foil (don't skip or clean up is a lot harder!) Add a wire cooling rack right on top and spray with nonstick cooking spray. Arrange meatballs on the rack. Brush the meatballs with oil (about 2-3 teaspoons total). Bake until browned, about 15 to 20 minutes. A thermometer should read 160 degrees F. (Carry over heat will increase it to 165 degrees F).

SKILLET: Add 2 tablespoons olive oil to a large NONSTICK skillet (cast iron skillet won't work for these) over medium-high heat. Fry the meatballs in batches until browned on all sides and the meatballs are cooked through, about 5 to 8 minutes per batch. Do not overcrowd the skillet or the meatballs won't cook properly. Add additional 1-2 tablespoons oil in between batches as needed. IF serving with in marinara, brown meatballs for 4-6 minutes or until browned on all sides. Transfer to a plate until all meatballs are browned. When they're all browned, add the marinara sauce to the pan and return the meatballs and all the juices to the pan. Gently cover the meatballs in the sauce and lower the heat. Partially cover the pan with a lid and simmer until meatballs are fully cooked through about 15-20 minutes or until a thermometer reads 160 degrees F.

CROCKPOT: to cook these meatballs in the crockpot, read the blogpost for instructions

SERVE: if serving these meatballs with marinara and spaghetti: cook the spaghetti according to package directions. Prepare homemade marinara or use store bought (you'll need about 3 cups); toss noodles with all but 1/2 cup marinara and top plates with turkey meatballs. Evenly drizzle remaining 1/2 cup marinara over meatballs. If desired, garnish with fresh parsley and freshly grated Parmesan cheese. Add additional cracked pepper and a drizzle of olive oil to plates if desired.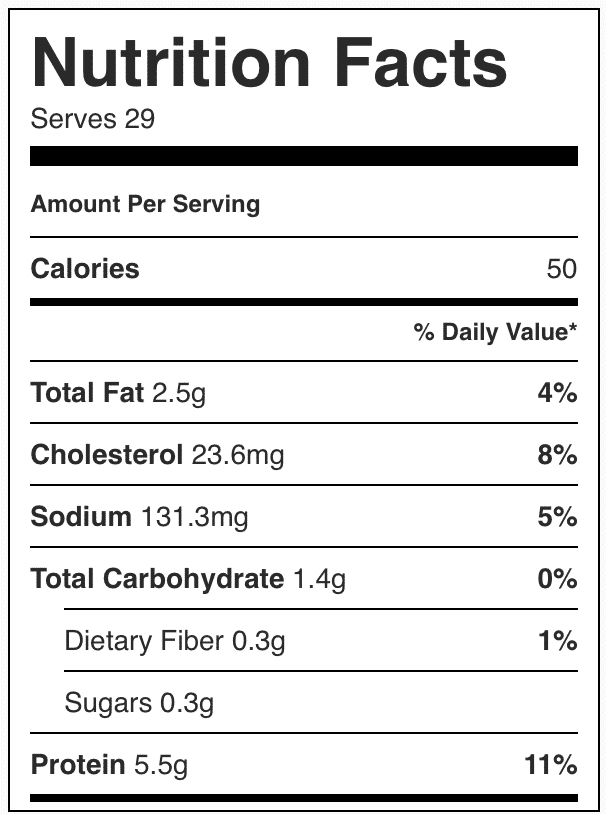 (Nutrition Facts is per individual meatball; I recommend calculating further facts on MyFitnessPal depending on what you decide to serve these meatballs over or with)