Ultra tender miniature meatballs stuffed with mozzarella and served over a fresh homemade marinara and Roasted Garlic & Chive Pappardelle pasta.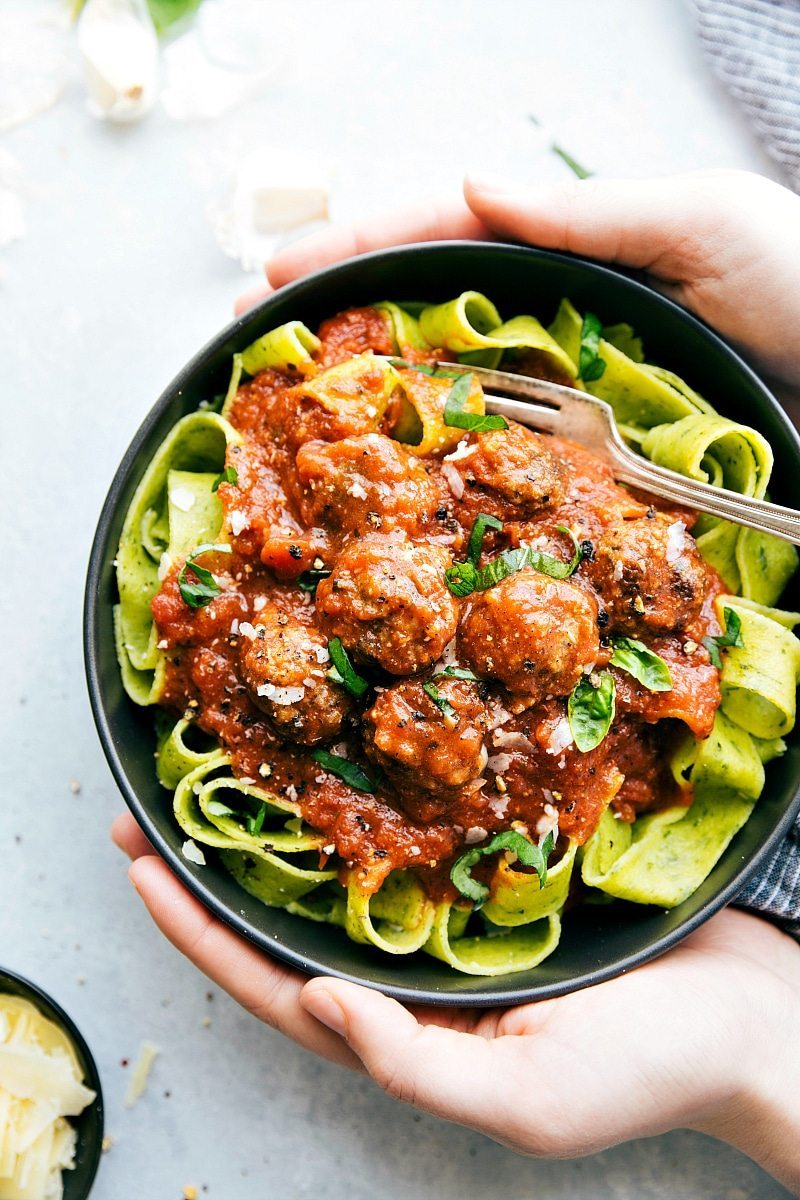 Growing up, spaghetti and meatballs were one of my all-time favorite meals. I can do pasta + red sauce for honestly any meal (yes even breakfast), but add meatballs to it and it has now become my favorite.
Since I really feel passionate about meatballs and the noodles, I'm beyond excited to share this recipe with you all.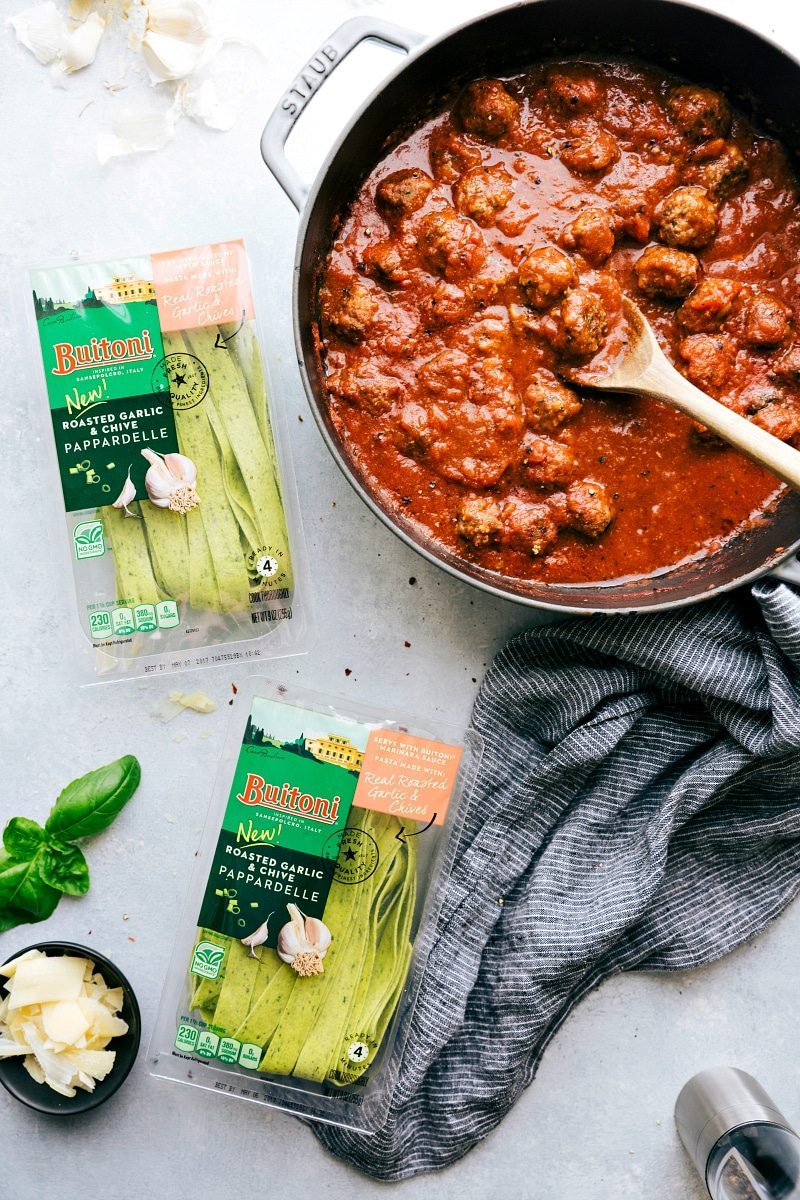 I've tested and re-tested, made and re-made these meatballs dozens of times until they are exactly what I would consider the perfect meatball! Plenty of flavor, perfect consistency, great texture, and BONUS they're stuffed with cheese.
A cube of delicious, melty, mozzarella cheese right in the middle. ?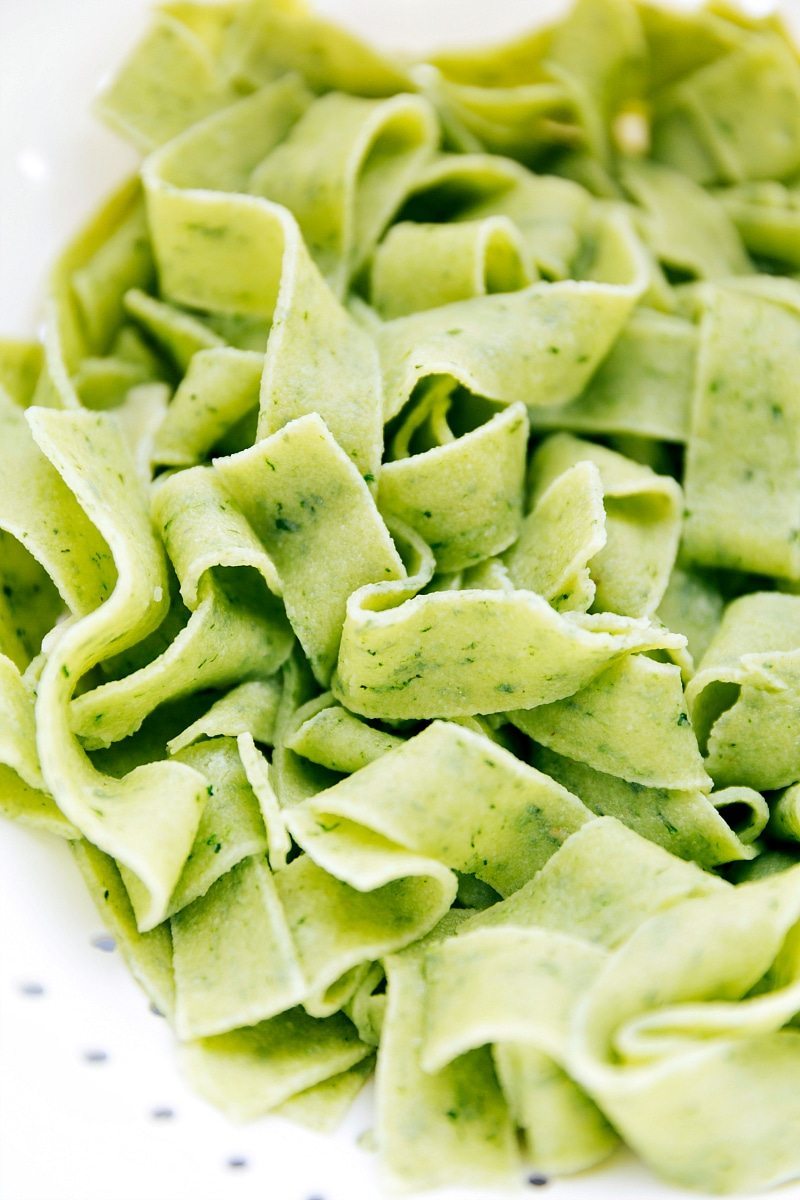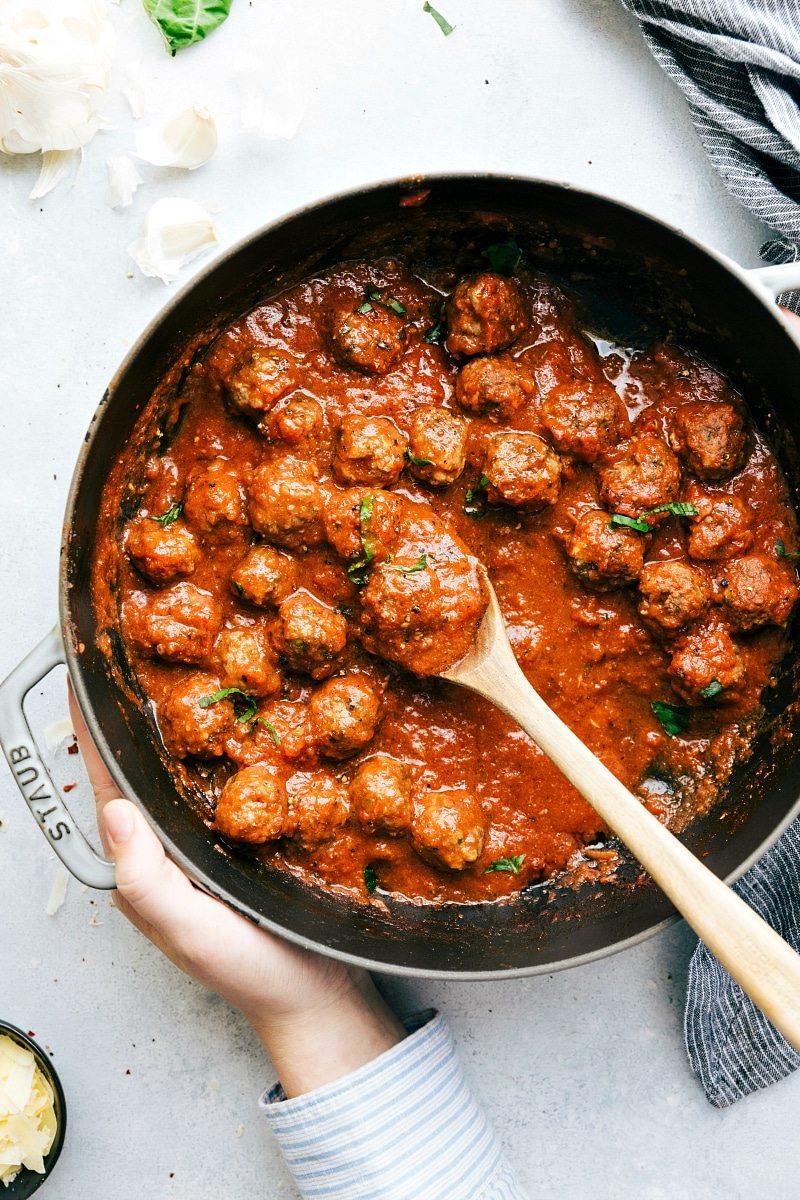 And while the sauce + meatballs are simmering and getting all sorts of delicious, it's time to whip up the pasta. I'm using BUITONI's Roasted Garlic & Chive Pappardelle pasta which is so delicious! These wide cut and flat pasta ribbons have REAL roasted garlic and chives that have been infused into the pasta dough. All while keeping made with no GMO ingredients. The noodles add so much flavor to the dish!
The pasta is done in about 4 minutes and then it's ready to be covered in meatballs and sauce. And of course, you can't forget the Parmesan cheese + fresh basil to top it all off!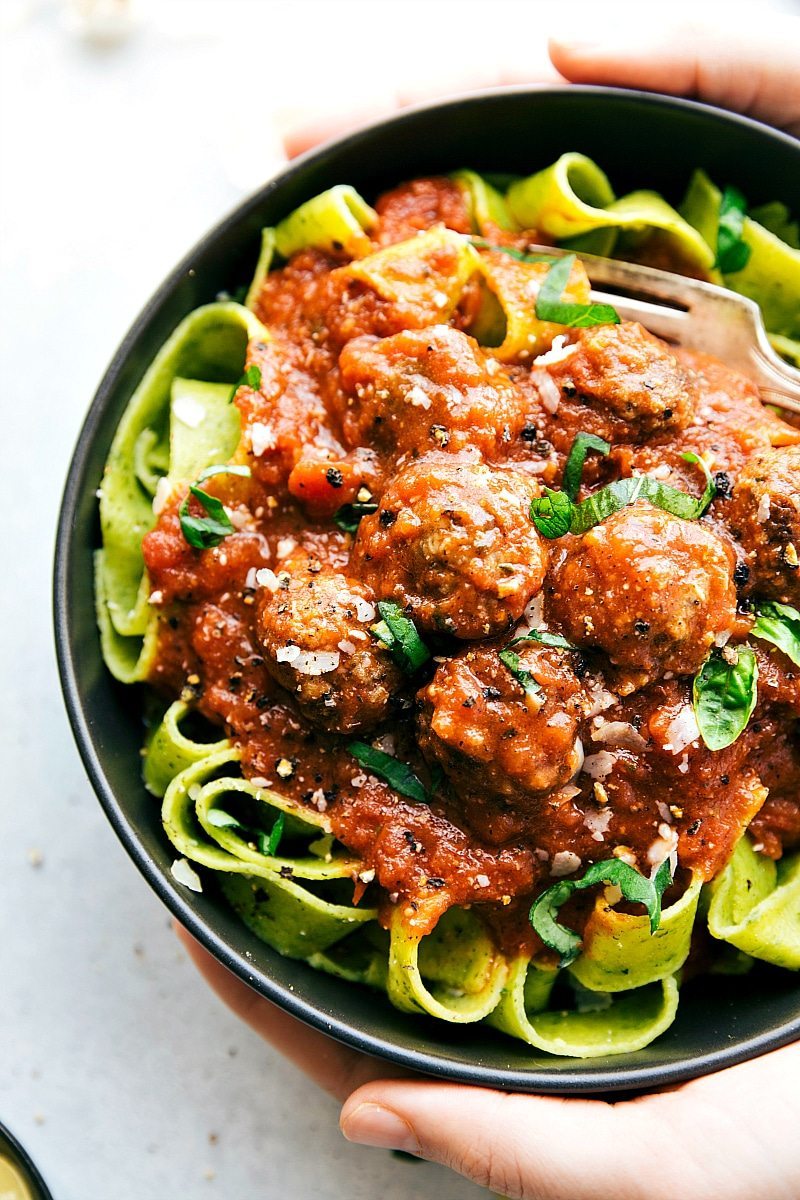 Mini Mozzarella Meatballs & Pappardelle
Ingredients
Mini Meatballs
45

miniature or little

mozzarella pearls

1/3

cup

yellow onion

2

tablespoons

whole milk

1/2

cup

Panko

scant 1/2

cup

Parmesan cheese,

freshly grated

1

pound

ground beef

2

cloves

garlic

1/2

teaspoon

dried oregano

3

tablespoons

fresh parsley

1

large

egg

Salt and Freshly Cracked Pepper
Sauce and Pasta
3

tablespoons + 1/4 cup

olive oil

separated

1 can

(28 ounces)

crushed tomatoes

5-6

cloves

garlic

minced

Fresh basil

1/4

teaspoon

dried oregano

1

teaspoon

Italian seasoning

1

package

BUITONI Roasted Garlic & Chive Pappardelle

1/4

teaspoon

red pepper flakes

Optional: freshly grated Parmesan cheese
Instructions
Slice each mozzarella into two pieces and set aside. Using a cheese grater, finely grate the onion. In a large bowl, combine the milk, Panko, Parmesan cheese, ground beef, minced garlic, dried oregano, fresh parsley, egg, and grated yellow onion. Add about 1 teaspoon salt and 1/2 teaspoon freshly cracked pepper.

Knead the mixture with your hands until combined. Measure out a scant 1 tablespoon of the mixture and gently form a ball. Press 1 mozzarella piece into the center and ensure the meatball mixture is completely covering the mozzarella. Repeat with all of the meat mixture until it is all used up. You should get around 44-46 "mini" meatballs.

In a large nonstick skillet, add 1 and 1/2 tablespoons olive oil. Heat to medium high and then add in about 1/2 of the meatballs. Gently turn the meatballs over and cook for about 3-4 minutes or until they are browned (but not cooked through). Remove to a plate. And another 1 and 1/2 tablespoons oil and repeat with the rest of the meatballs. Remove the rest of those meatballs to the plate.

In the same skillet, add remaining 1/4 cup olive oil. When the oil is hot, add in the garlic. As soon as the garlic sizzles, add in the canned tomatoes. Pour 1 cup water into the can of tomatoes and slosh around to get the rest of the tomatoes. Pour that into the skillet as well. Add red pepper flakes, oregano, and about 1 teaspoon salt. Stir. Add 1 sprig of basil and submerge it in the sauce.

Add the cooked meatballs into the mixture and press to be covered in the sauce. Simmer for 8-12 minutes, turning every now and again, or until completely cooked through. Discard the basil sprig.

Meanwhile, prepare the pasta according to package directions. Drain.

Top the pasta with meatballs and sauce. Garnish with fresh ribboned basil, additional cracked pepper, & freshly grated Parmesan cheese.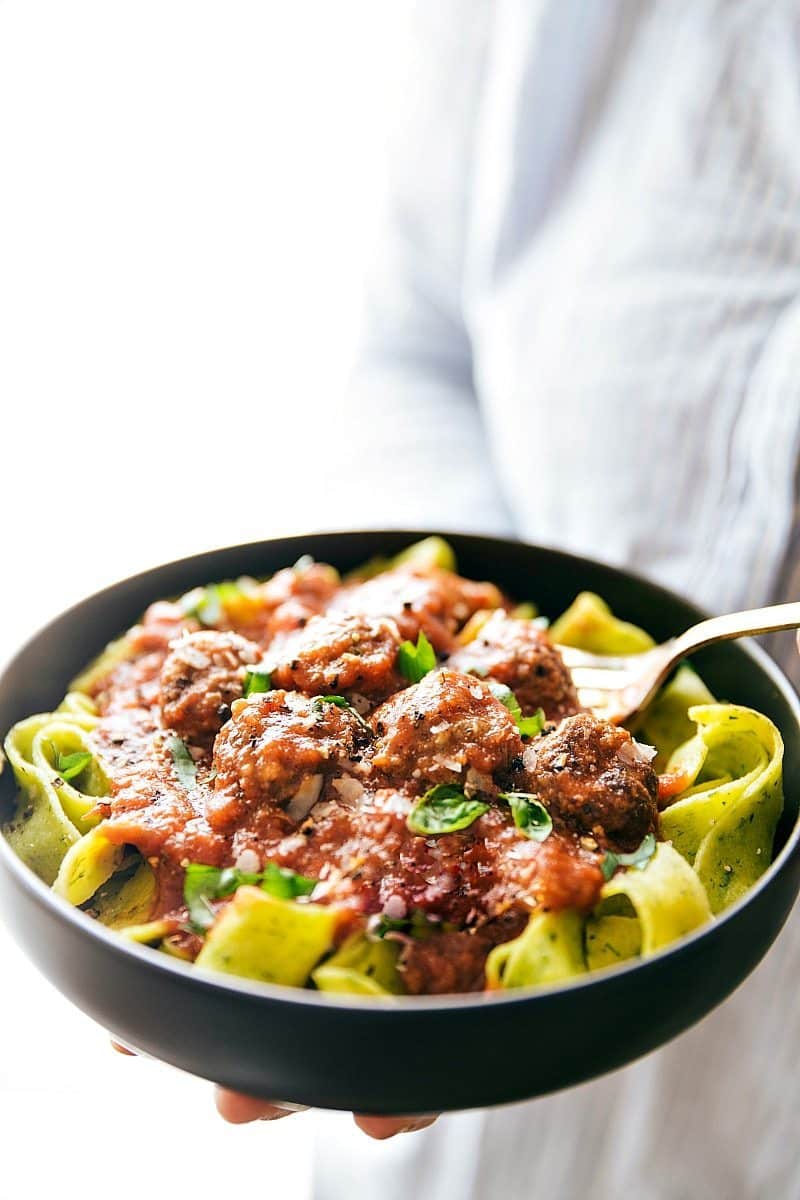 Special thanks to Buitoni for sponsoring this post. As always, all opinions are my own.