Only four ingredients and 15 minutes prep time to make this delicious red and white pasta casserole. This kid-friendly casserole is a great make ahead dinner, can be frozen, and is a great budget-friendly meal!
Serve this pasta casserole alongside this Italian salad, dinner rolls, and/or these roasted brussels sprouts.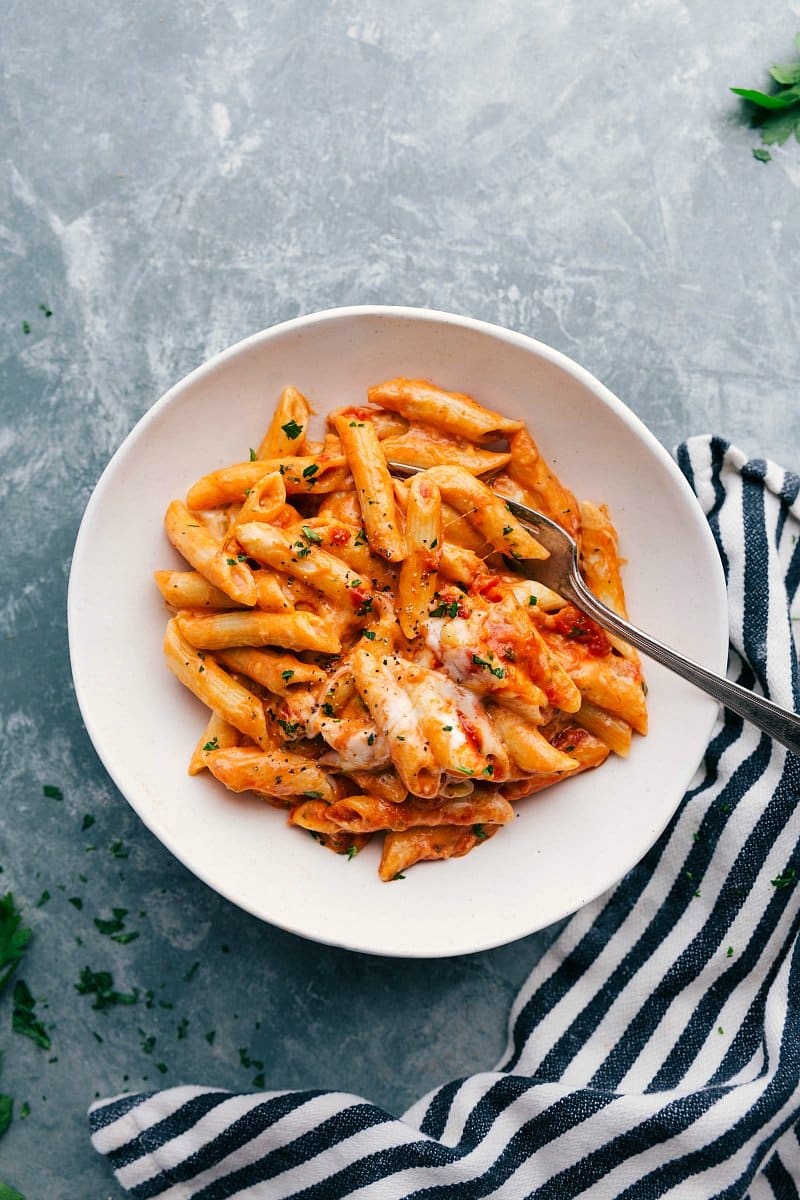 At my wedding shower, guests were asked to bring a recipe card with their favorite recipe on it. We had so much fun cooking through the handwritten recipe cards throughout the first year of being married. One of our go-to recipes is this very recipe I'm sharing today from my friend Janae: red and white pasta.
It's ridiculously easy and a great filling meal (especially on our limited college budgets). And now that I have three hungry kiddos of my own, this is the best meal to make on a busy night. They love this red and white pasta!

How to make red and white pasta
Cook the pasta and drain. I like to cook it a minute less than the package says since the pasta will also be baking. You don't want mushy pasta and this helps it to retain a "bite" to it.
Layer: once the pasta is cooked, it's time to layer the casserole starting with a little marinara. Next goes half the pasta, half the alfredo, half the marinara and half the cheese.
Layer continued: And the last set of layers: rest of the pasta, rest of the alfredo, rest of the marinara, and rest of the cheese.
Bake: cover with foil and bake until hot and bubbly.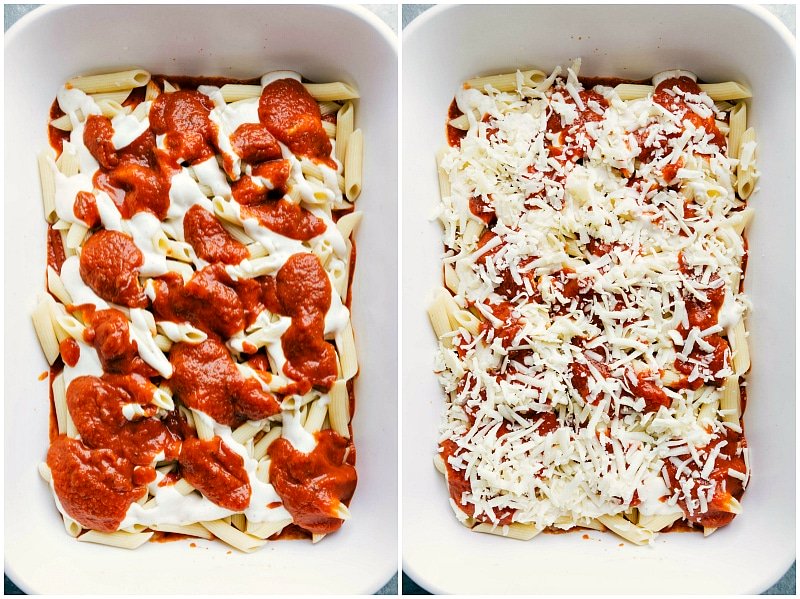 Red and white pasta recipe variations
The red and white pasta recipe card I received included adding a chopped green bell pepper. The pepper is nice because it adds freshness and a pop of color. Dice it up and add it in layers right after the pasta.
Add sautéed mushrooms, again right after adding in the pasta. I'd sauté them in a little olive oil and season them with salt + pepper before adding.
A few other veggie addition ideas: sautéed yellow onion, sautéed zucchini, and sautéed yellow squash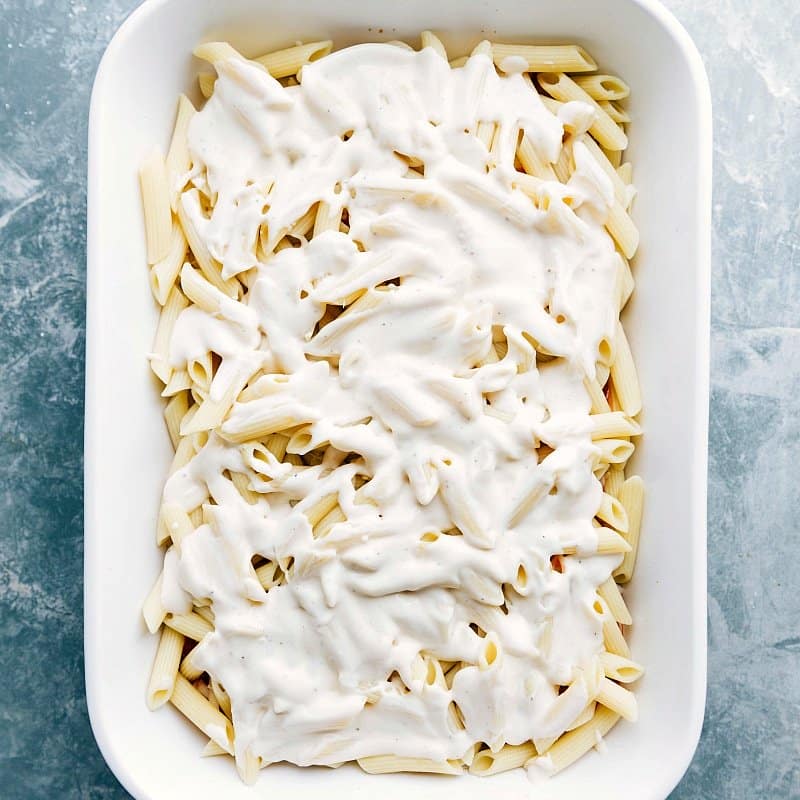 Recipe variations continued
Switch up the noodles: use farfalle, rotini, or ziti noodles instead of penne. OR use a healthier noodle alternative such as chickpea cavatappi, veggie rotini, or lentil penne.
Make homemade alfredo sauce: while this will add quite a bit to prep time, it makes the dish delicious and is a great alternative if you're avoiding store bought sauces!
Similarly to the above point, make homemade marinara sauce: again it will add to the prep time but works well in this red and white pasta.

Adding protein
This is a great, filling meal that happens to be vegetarian. If you're wanting to add some protein, I'd recommend a side of grilled chicken. Or adding some thinly sliced/shredded rotisserie chicken to the casserole. If preparing chicken, I recommend using this grilled chicken marinade, its a reader favorite recipe!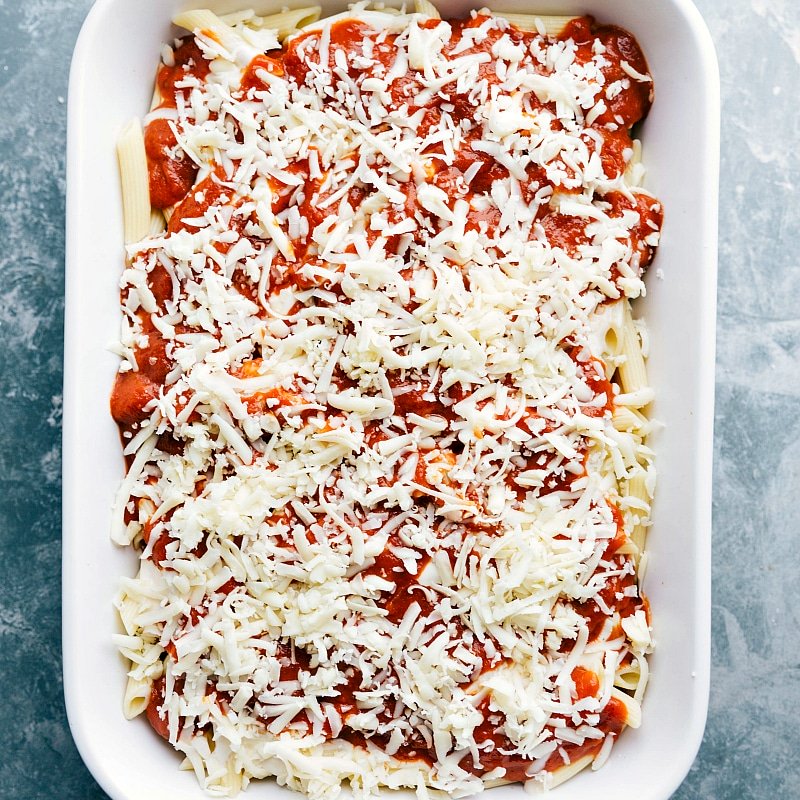 Store bought sauces
Not sure what sauces to use? Here's a list of the top store bought Alfredo sauces and top store bought marinara sauces. Personally, Rao's marinara and Bertolli alfredo are my favorite in this red and white pasta.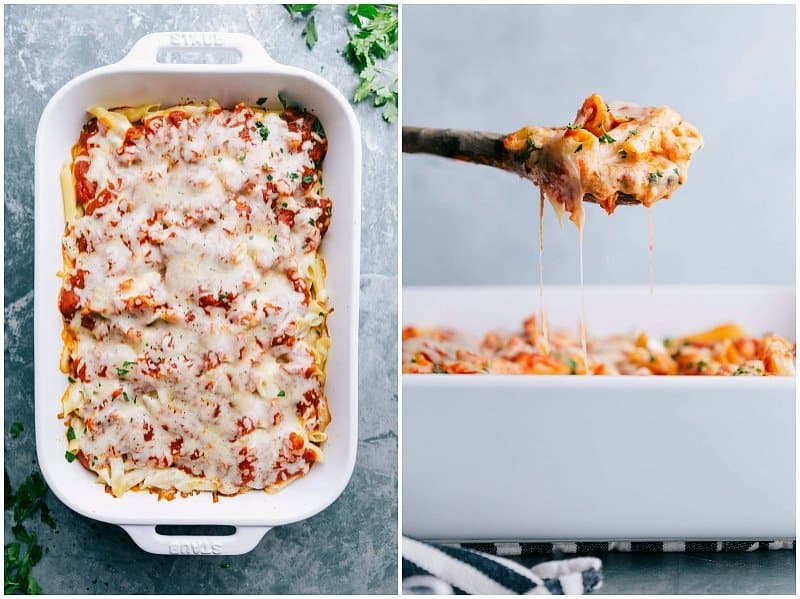 Red and white pasta quick tips
Use freshly grated mozzarella: not only is it more cost effective, but it melts much better. (Pre-grated cheese has a cellulose coating to keep it from clumping together.)
Cook the pasta a minute shy of al dente and drain it well: we don't want mushy or watery pasta! I let it sit in the colander for a minute or too ensure it's thoughorly dry.
Completely cover the pasta noodles: aim to cover all the pasta with the sauces so you don't end up with crispy/overcooked edges.
Add fresh herbs: totally optional, but a little sprinkle of chopped parsley adds a nice freshness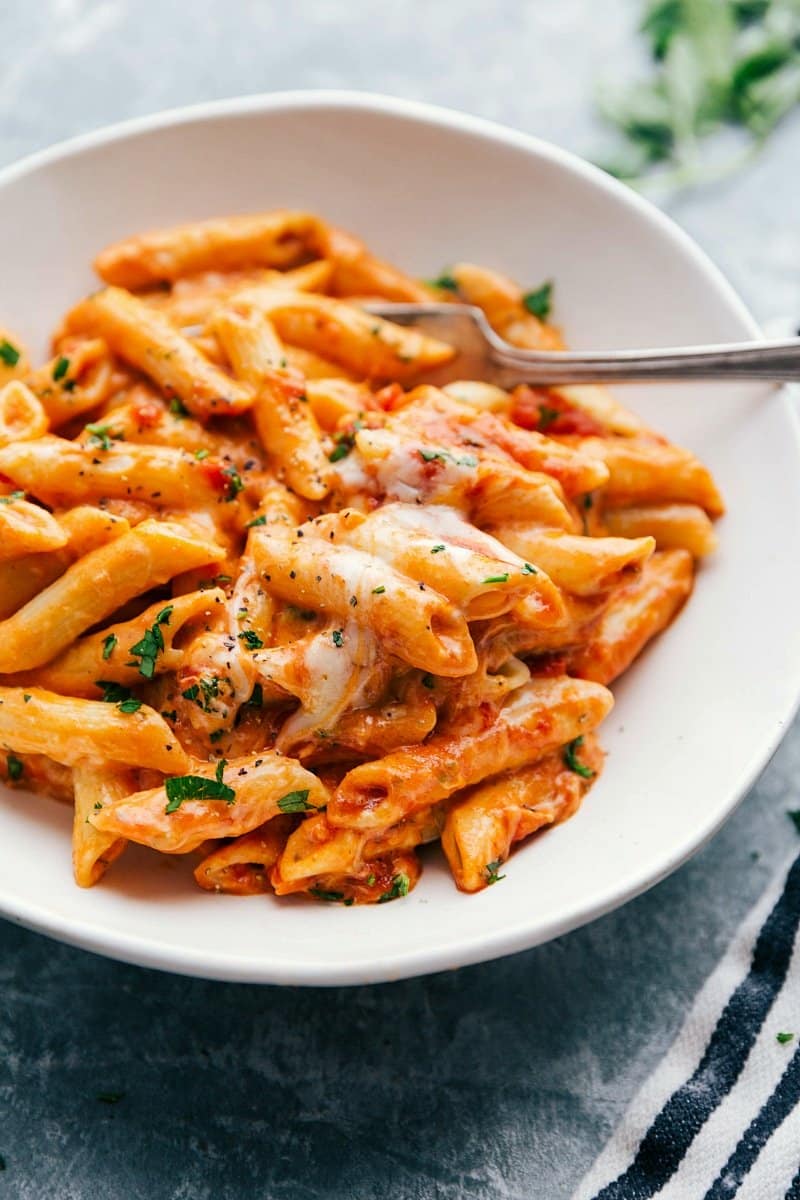 More easy dinner recipes: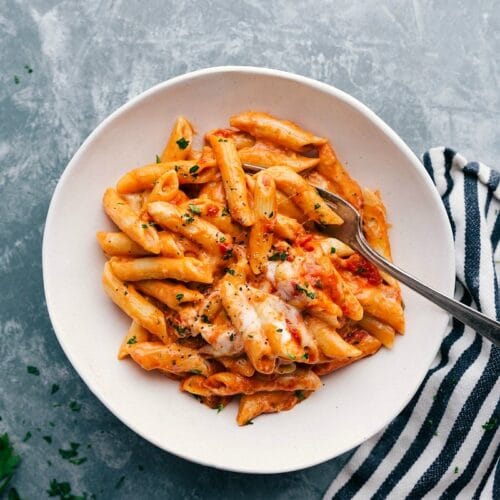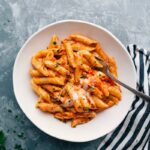 Red and White Pasta
Only four ingredients and 15 minutes prep time to make this delicious red and white pasta casserole. This kid-friendly casserole is a great make ahead dinner, can be frozen, and is a great budget-friendly meal!
Keyword:
red and white pasta
Ingredients
1

box (16 ounces)

penne pasta

1

jar (24 ounces)

good quality marinara sauce

1

jar (16 ounces)

roasted garlic Alfredo sauce

2 and 1/4

cups

freshly grated Mozzarella Cheese

(1, 8 ounce block)

Optional: fresh chopped parsley
Instructions
Preheat oven to 375 degrees Fahrenheit. Cook pasta according to package directions, cooking for 1 minute less than the package says. Drain thoroughly and set aside.

In a 9×13 glass or ceramic baking dish, spread 1/2 cup of marinara sauce on bottom. Pour half of the cooked pasta on top. Pour half the alfredo sauce, half the marinara sauce and 1 cup of cheese evenly over pasta. Repeat layers: remaining pasta, remaining alfredo sauce, remaining marinara, and finally remaining cheese.

Cover with foil and bake for 30 minutes or until hot & bubbly. Enjoy right out of the oven! Garnish with chopped fresh parsley if desired.