Curly noodles tossed with marinara and alfredo sauce. Mozzarella cheese, Parmesan cheese, corn, and spinach are added to this one-skillet meal. Ready in under 30 minutes and a crowd-pleasing, family-friendly meal.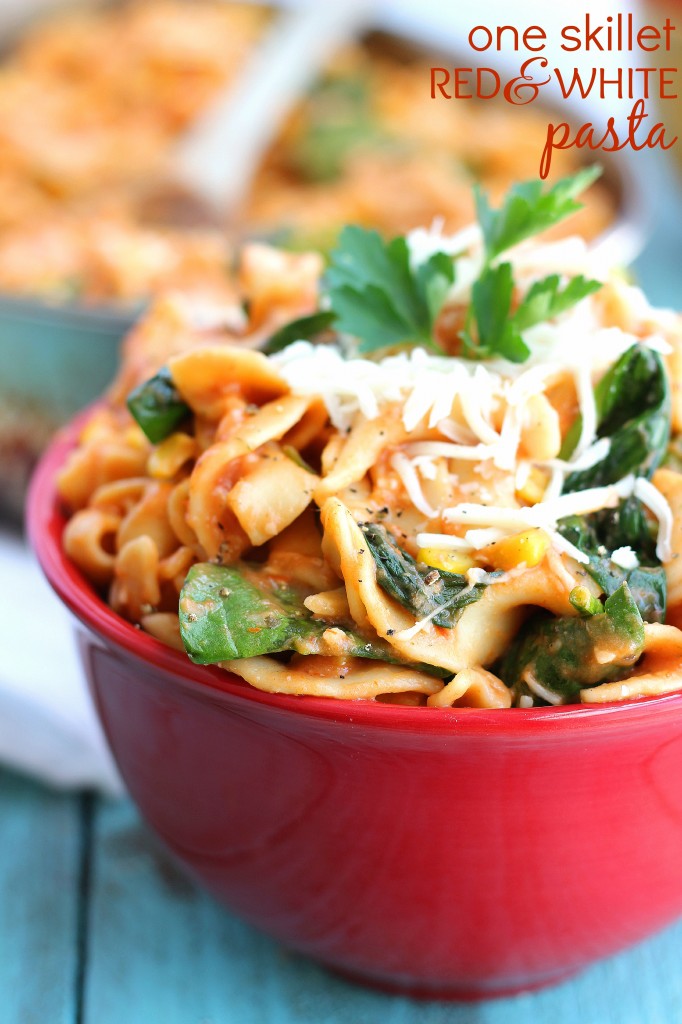 So earlier this week, I was baking away in my kitchen. Recipe experimenting and as per usual, making plenty of dirty dishes. In fact, making dishes dirty tends to be one of my better talents. I can dirty every measuring cup, spatula, mixing bowl, and spoon within about 10 minutes of baking.
I so wish I were joking.
Okay so here I was in the kitchen making dishes dirty while singing the wrong words to some silly song my baby was playing over and oven again while sitting in his highchair right by me. I never seem to get the words right, but it doesn't seem to bother him much and that's not really where this story was going anyways.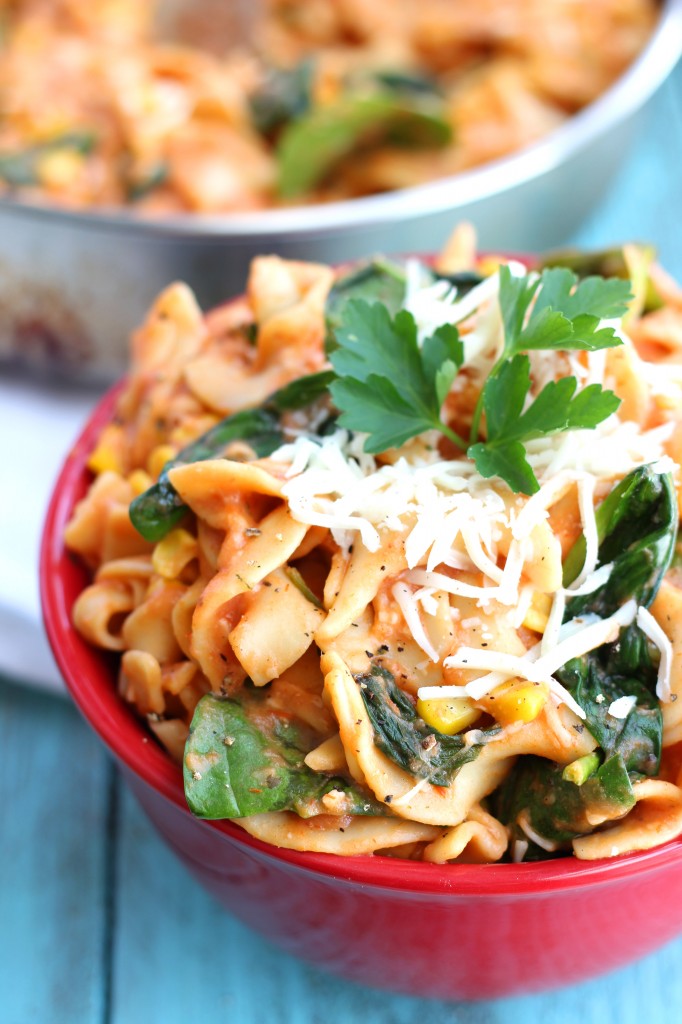 All of the sudden in the middle of my incorrect words to this song, water touched my feet. I was standing in a puddle, in my kitchen.
Turns out the kitchen sink had a faulty part and leaked all over the kitchen. So, I quickly called a plumber, turned off the water, grabbed every towel in the house and dried it all up.
Okay, so a bit of a mess, but not a huuuuge problem. Until the plumber came. And didn't have the right part. And wouldn't have it for 3-4 more days. And now we have the part, but no plumber. Because the plumber was supposed to come yesterday and then something came up and now he is coming Monday.
So in the meantime, the water in the kitchen is turned off. Which proves tricky when there are lots of dirty dishes.
Remember how I was telling you of the stockpile of dirty dishes I had created? And I can't just leave all the dishes sitting in the sink… Soooo I had the brilliant idea (okay, I can't take credit, it was my husband's idea) to take dishes upstairs to the bathroom to wash them. And so that was a very fun adventure.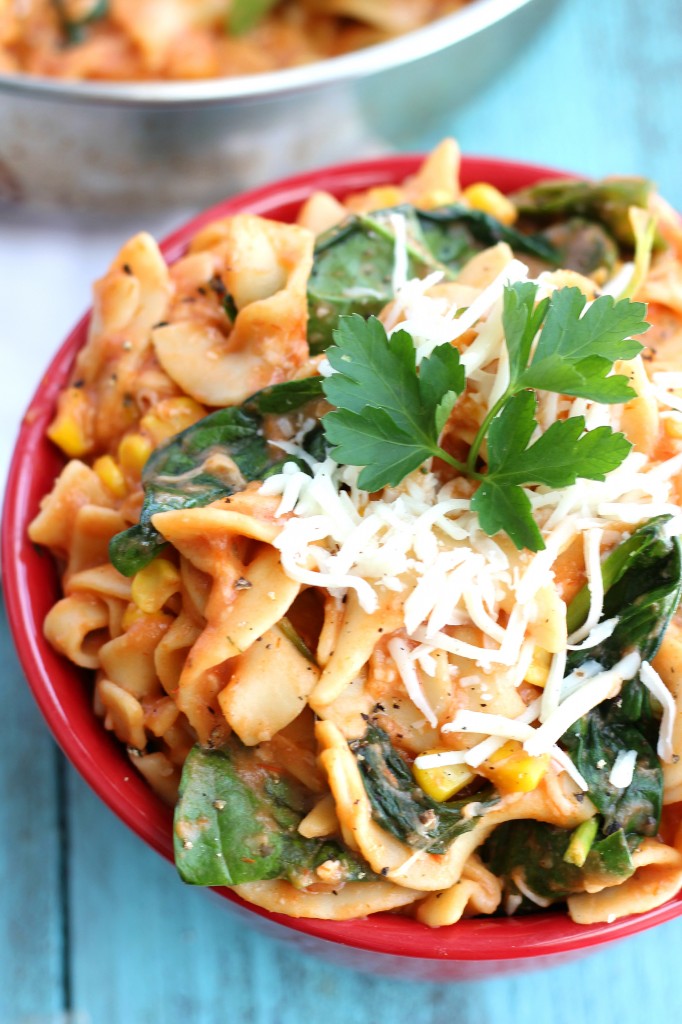 But basically, the moral of this story and the fact that I haven't talked about this meal yet? It's to tell you three life lessons: 1.) Sometimes one skillet and little mess dinners are a MUST and a great thing in life 2.) If you are bored of cleaning dishes in your sink or using your dishwasher, hauling dishes upstairs to a bathroom is a must-try thrill. 3.) When life gives you lemons, try to make as little dirty dishes as possible because #2 turns out to be not as exciting as I led you on to believe.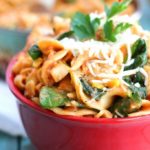 One-Skillet Red and White Pasta with Spinach
Ingredients
1 bag

(16 ounces)

extra wide egg noodles

2

cups

frozen corn

1 jar

(16 ounces)

classic alfredo sauce

1 jar

(24 ounces)

traditional marinara sauce

4

cups

baby spinach

washed and dried*

1 and 1/2 to 2

cups

freshly grated mozzarella cheese

to taste preference

1/2

cup

Parmesan cheese

Salt and Pepper

to taste
Instructions
In a large pot, bring salted water to boil and cook the noodles.

While the noodles are cooking, wash and dry the spinach and shred the cheese.

When there is about 2 minutes left until the noodles are done, add the frozen corn to the pot.

Drain the noodles and corn.

Return the pot to the stove and turn the temperature down to low heat.

Immediately stir in the alfredo sauce, marinara sauce, and spinach. When everything is mixed together, stir in the cheese to taste preference and serve immediately.

Optionally garnish with additional Parmesan cheese.
Recipe Notes
*If you don't like cooked spinach, you can omit the spinach and it won't affect the meal. I've made it without spinach and it tastes great!
Here are some other easy dinners: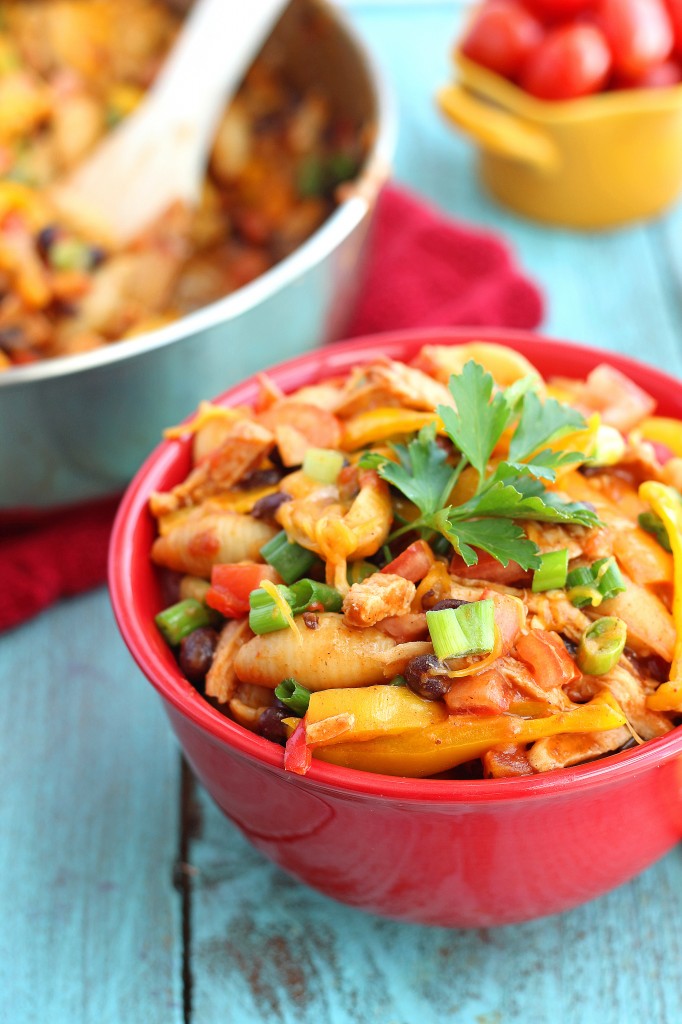 One-Skillet Chicken Enchilada Pasta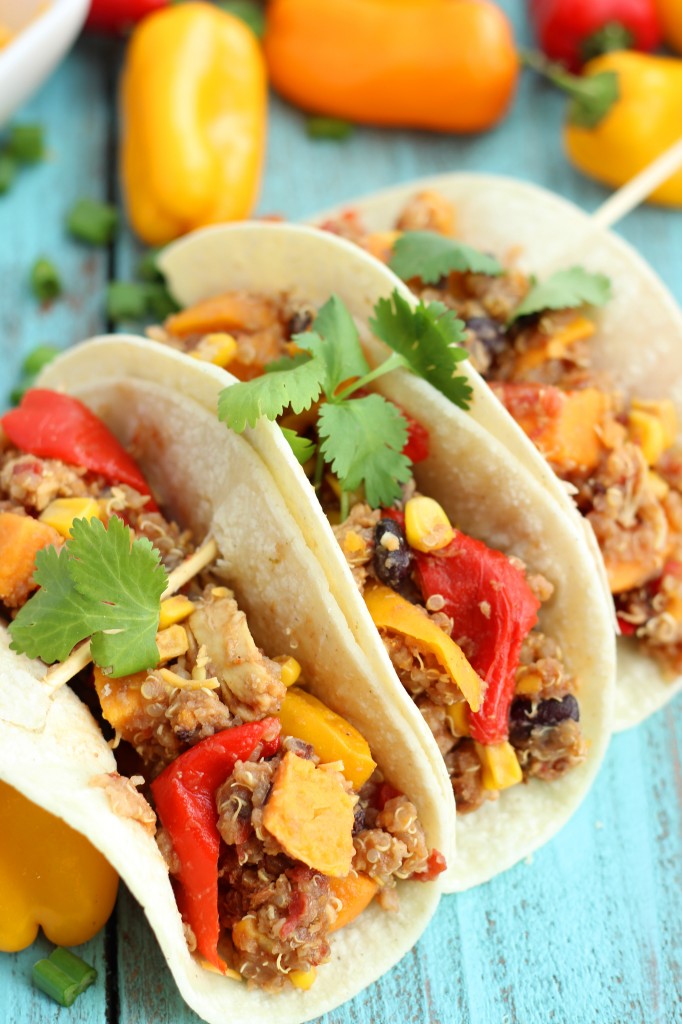 Crockpot Sweet Potato and Quinoa Fajitas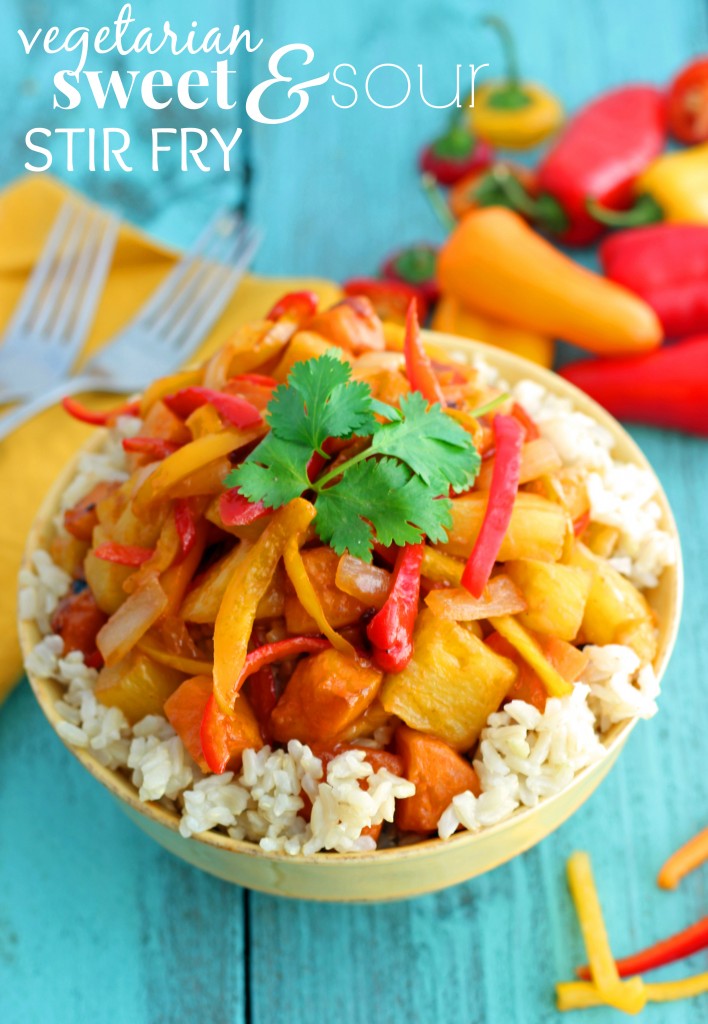 Vegetarian Sweet and Sour Stir-Fry